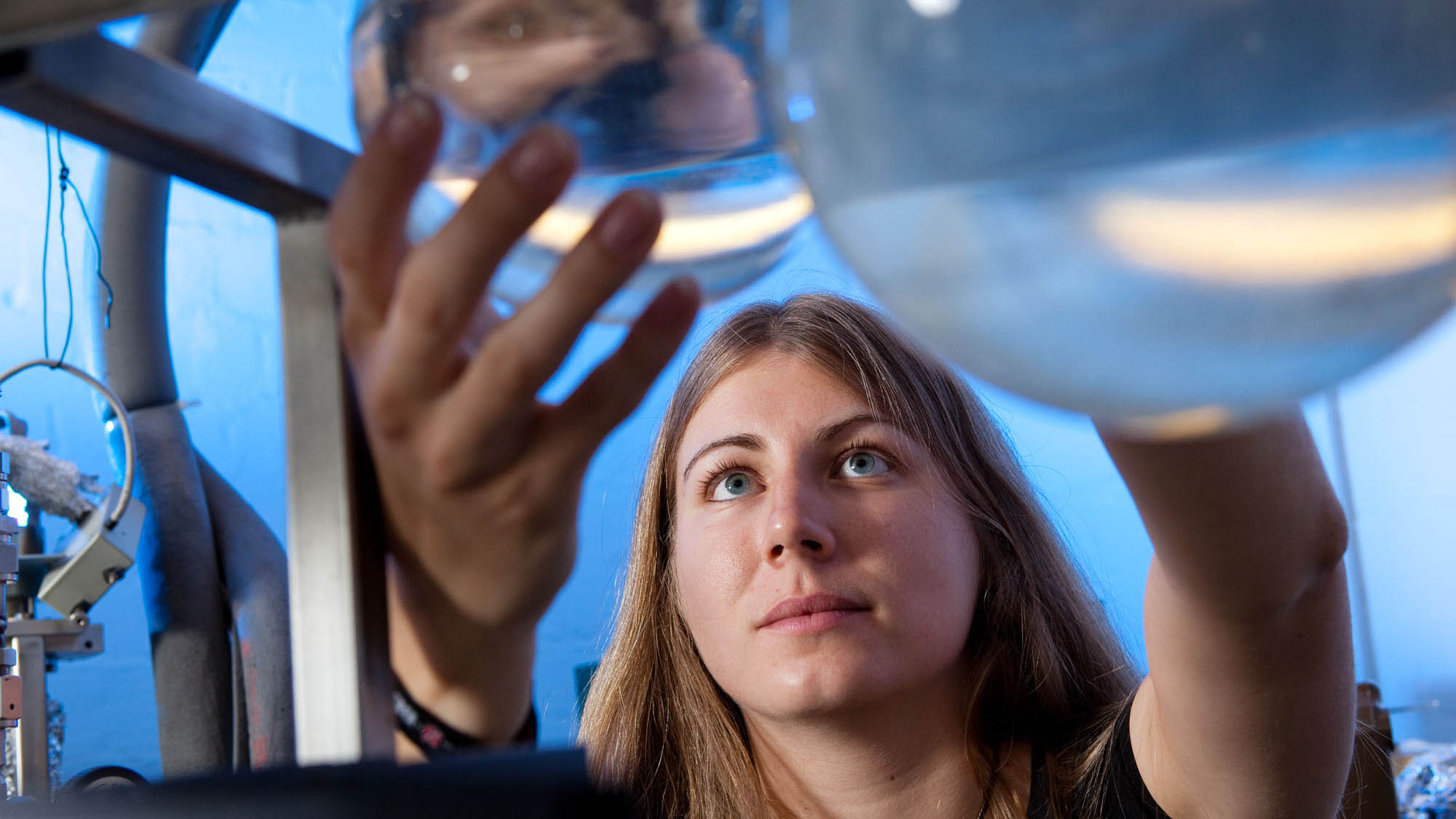 A Leader in Research
Facts and Figures about 50 Years of the University of Bremen. Part 2: Research.
The university of Bremen is turning 50 years old in 2021. Much has changed since 1971. To this day, however, hat retained what was distinguished it for five decades - it is open to everyone. We take a look back at the University of Bremen's impressive evolution. Using facts and figures, we illustrate how a courageous reform project became one of Europe's top research universities with more than 19,000 students in just five decades.
Over the past 50 years, the university has evolved into a European research university. What makes it unique? The open-minded and free spirit embraced at the university and the courage to conduct independent research. The university advocates for responsible research and academic independence, and against any and all forms of discrimination.
Even though much has changed over the past 50 years, the university has remained true to itself in these fundamental issues since its founding.
Please note:
Because certain 2020 figures have been skewed by the coronavirus pandemic, the most recent data in some of the diagrams is from 2019.
Award-Winning Research
The university is one of the top higher education institutions for research, both in Germany and internationally. Researchers at the University of Bremen work on national and international projects that range from frontier research to practical applications and generate important ideas for civil society. The high level of commitment and close collaboration across disciplines has led to numerous awards.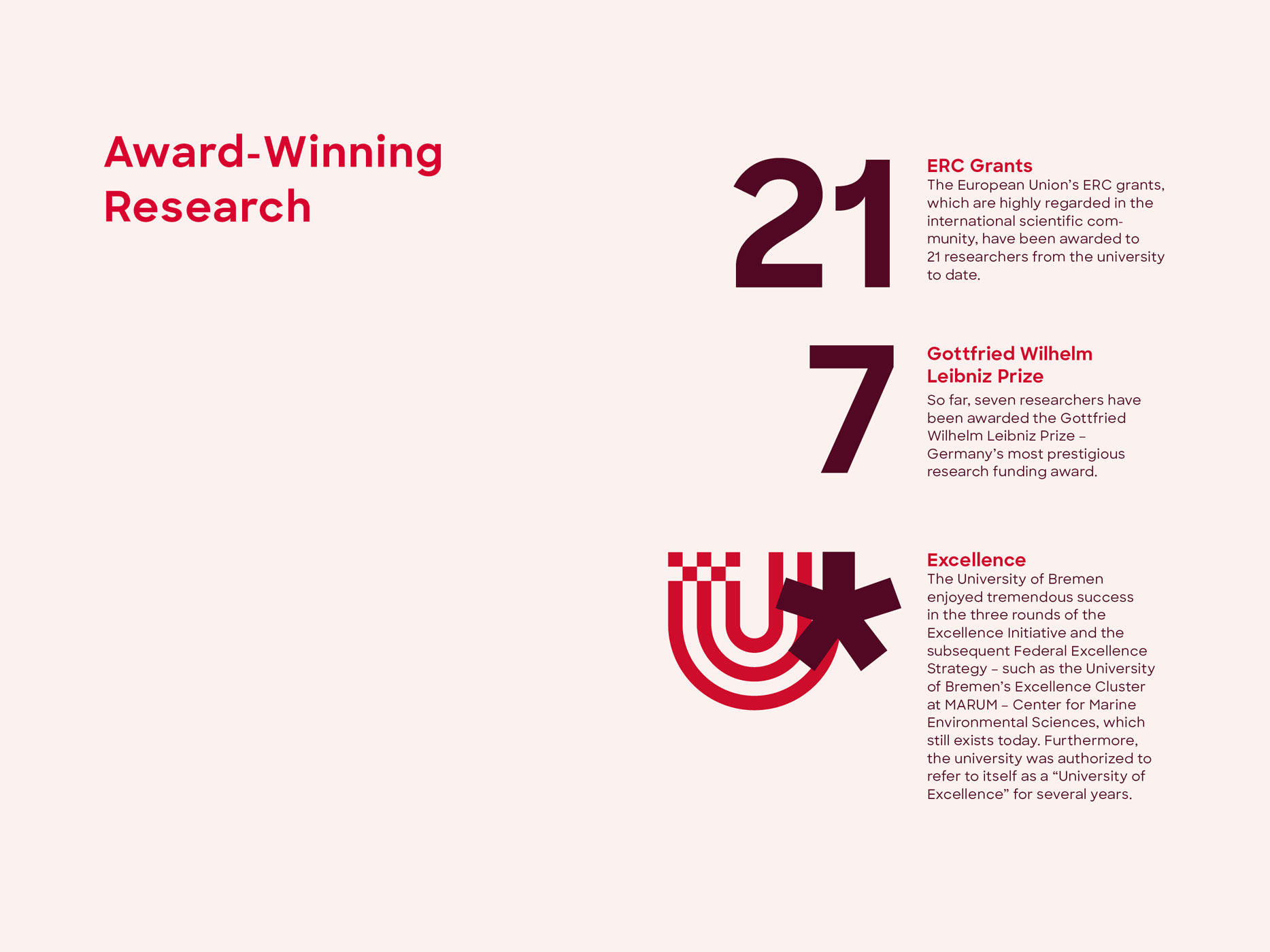 Research Across Disciplines
The university has promoted collaboration in what is known as "research focus areas" since 1977. The first research focus, "Dynamic Systems," was created for the mathematics and physics degree courses. The founders were convinced that this was the only way to find the answers to society's pressing questions. Today, the university is considered a leader in research in its five interdisciplinary high-profile areas.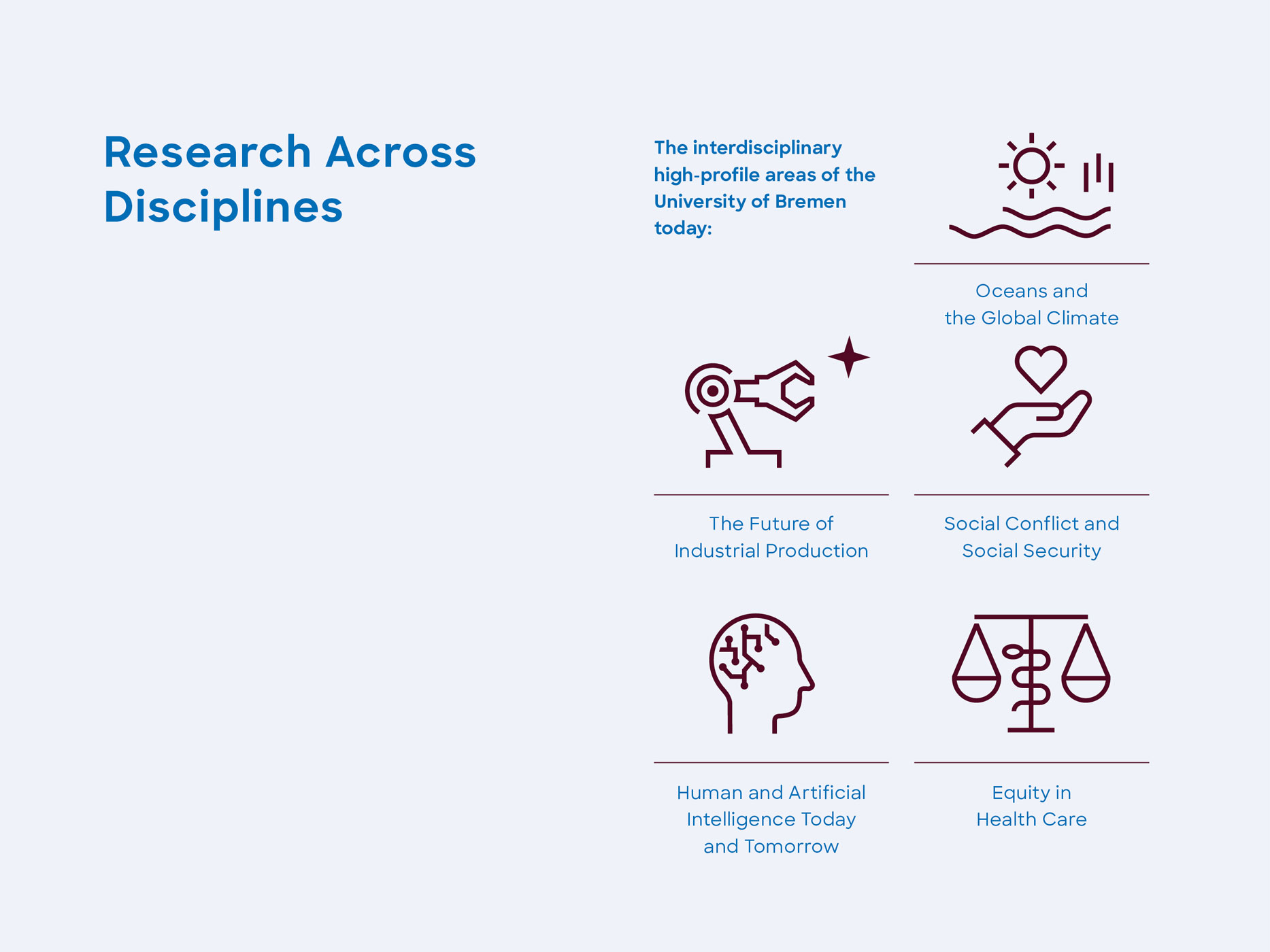 A Leader in External Funding
The university was accepted into the Deutsche Forschungsgemeinschaft (German Research Foundation – DFG), marking the start of its extremely successful acquisition of external funding – both for excellent individual researchers and for larger alliances.
Examples: In addition to the Excellence Cluster at MARUM – Center for Marine Environmental Sciences at the University of Bremen, in 2021 it is also participating in five Collabora¬tive Research Centers as well as in several DFG Research Units and DFG Priority Programs.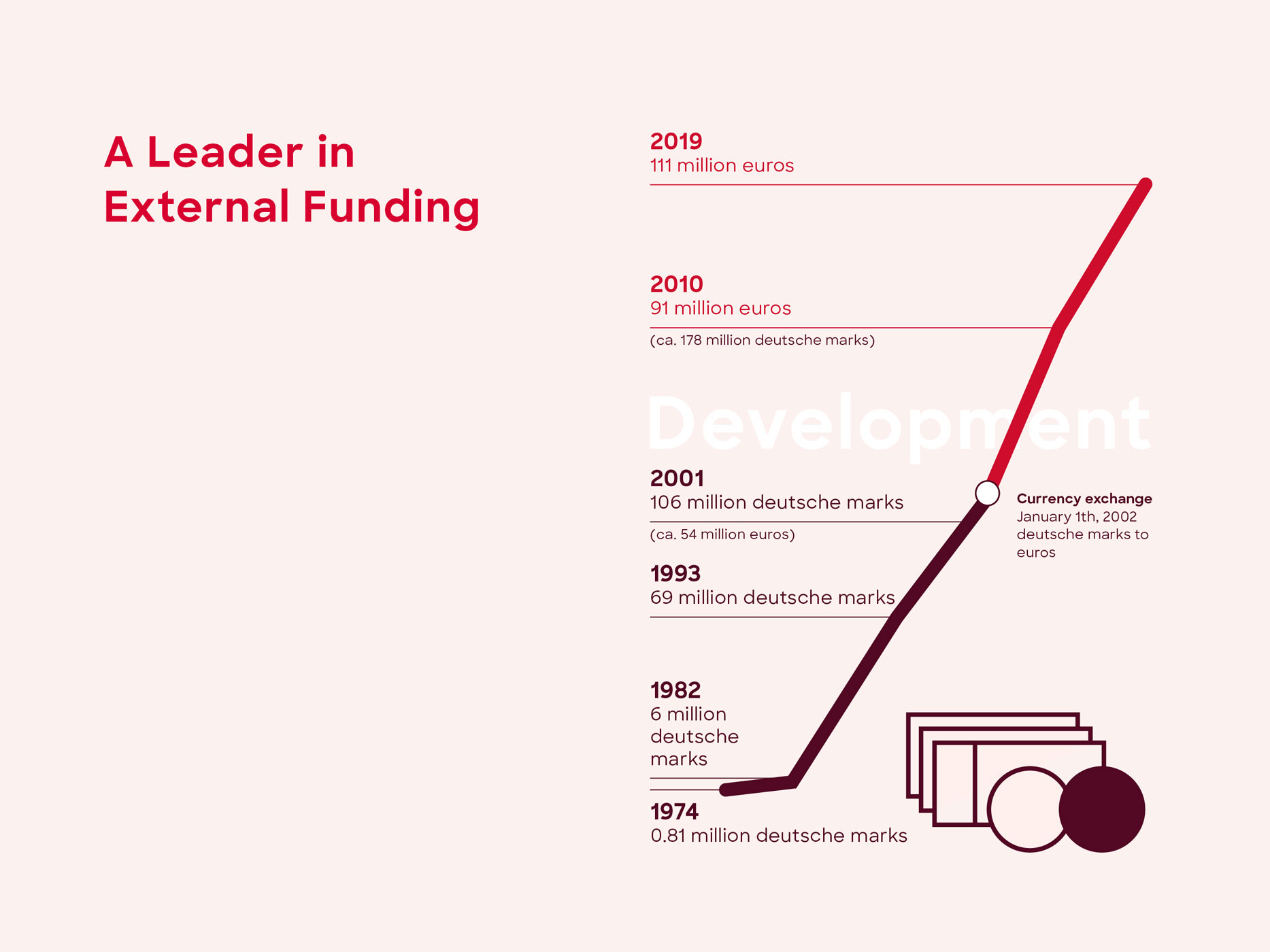 Fostering Talented Young People
In order to fully develop their own potential, talented young people need freedom, support for their own ideas, and the oppor¬tunity to conduct research independently and on their own responsibility. In 2001, the University of Bremen became the first German higher education institution (HEI) to introduce a "tenure track" for junior professors – the "Bremen Perspective" – offering a new career path in addition to a professorship.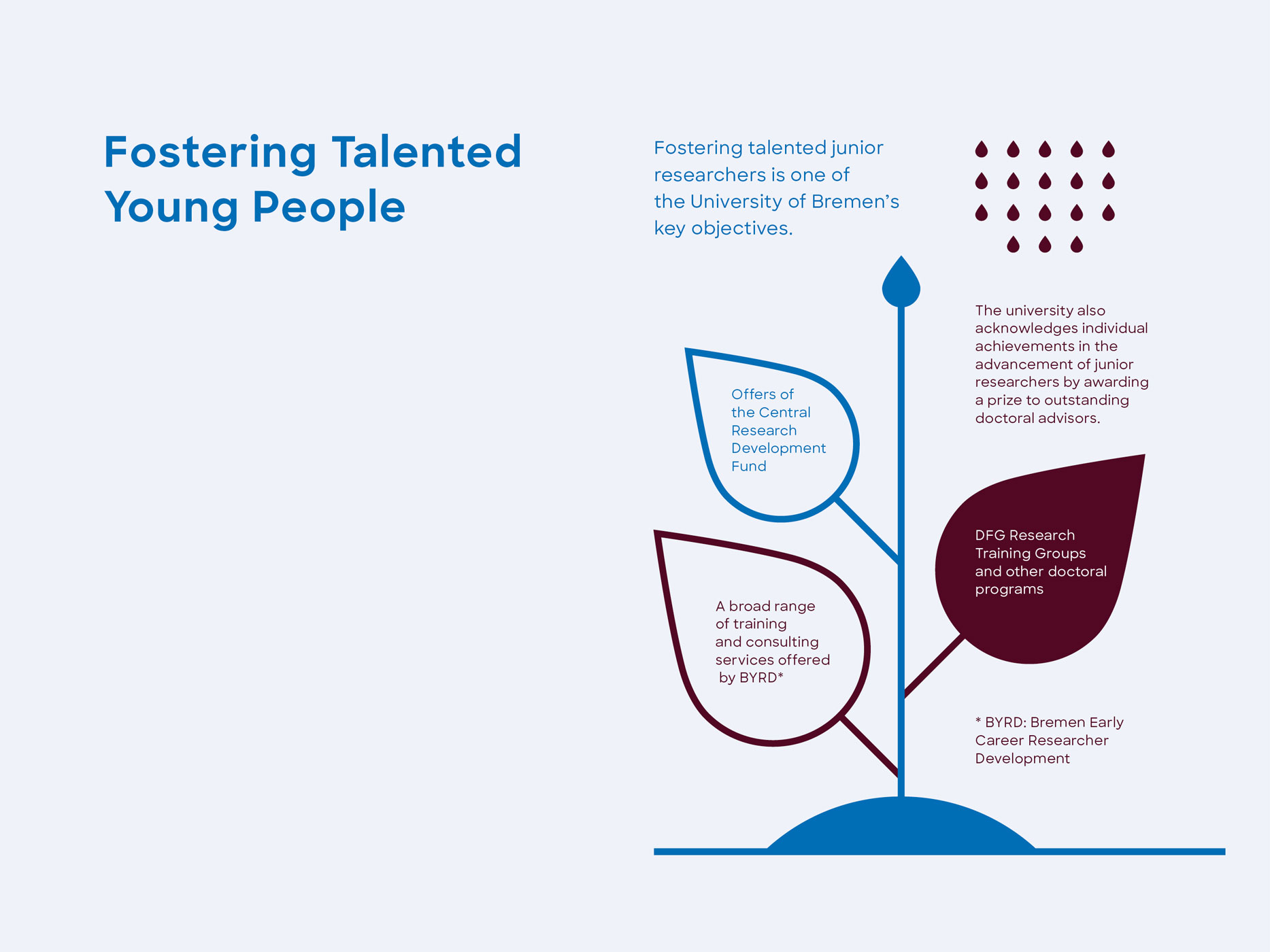 Gender Equity
Sustainable and successful: the University of Bremen has been actively pursuing its gender equality policy for almost three decades. As such, it tailored its service and advisory structures to gender equality at an early stage, established exemplary support services for various career stages even before launching its women profes¬sors program, set up professorships for gender research, and embraced gender equality as an ongoing challenge for the entire institution.
It actively implements the DFG's research-oriented gender equality standards, and it continues to evolve: towards linking gender and diversity policy.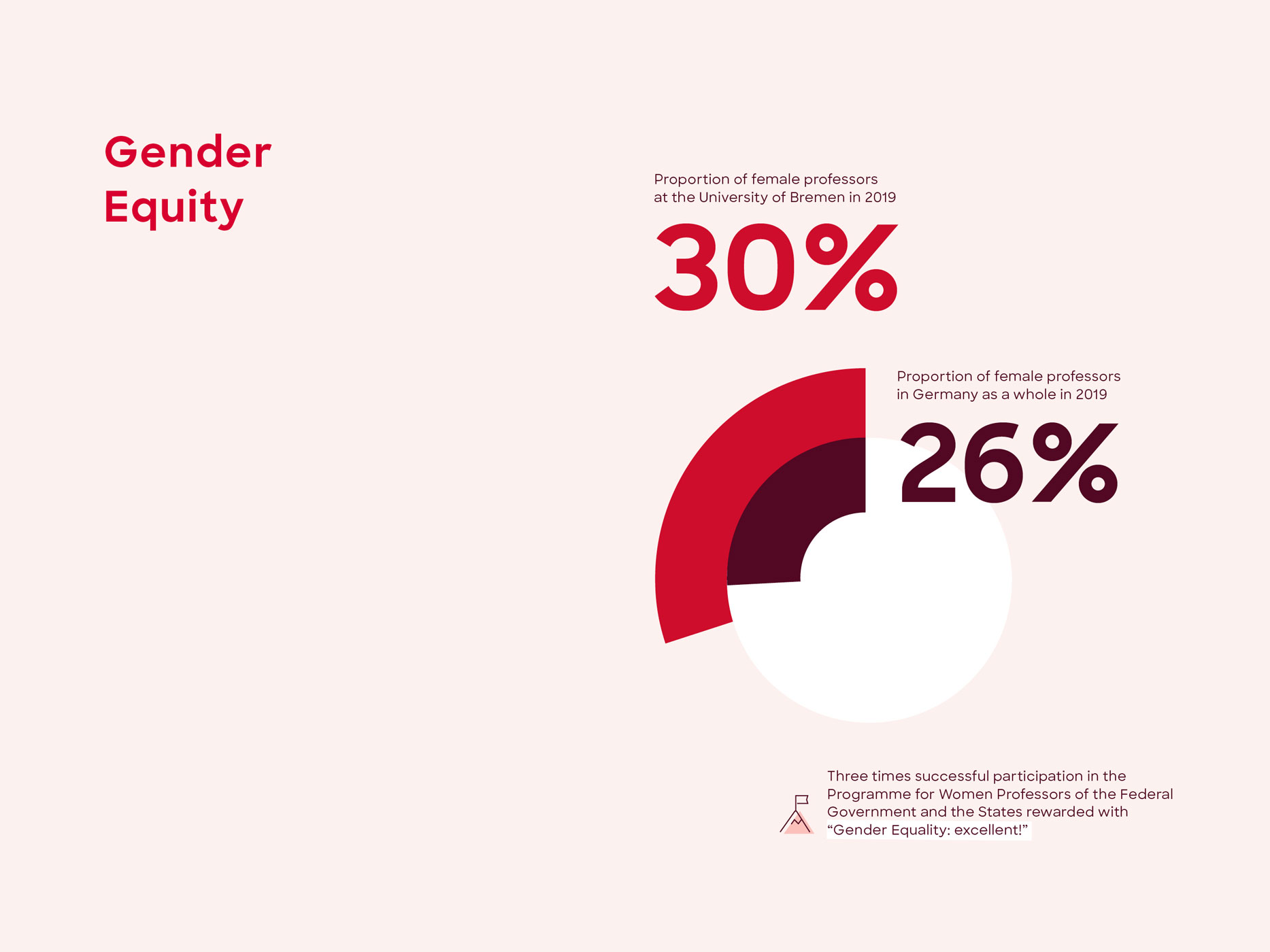 Research Data for All
Vast quantities of data are collected when conducting research. Archiving this data and making it accessible to others is extremely important. The university is a pioneer in this field: in the late 1980s, researchers archived their data in digital form. Today, the University of Bremen is renowned throughout Germany for its expertise in research databases. It supported the establishment of a National Research Data Infrastructure (NFDI). Extracting new knowledge from these now complex and highly dimensional data sets is the role of the new key discipline of data science. This data-driven scientific field has been clustered in the university's Data Science Center since 2020.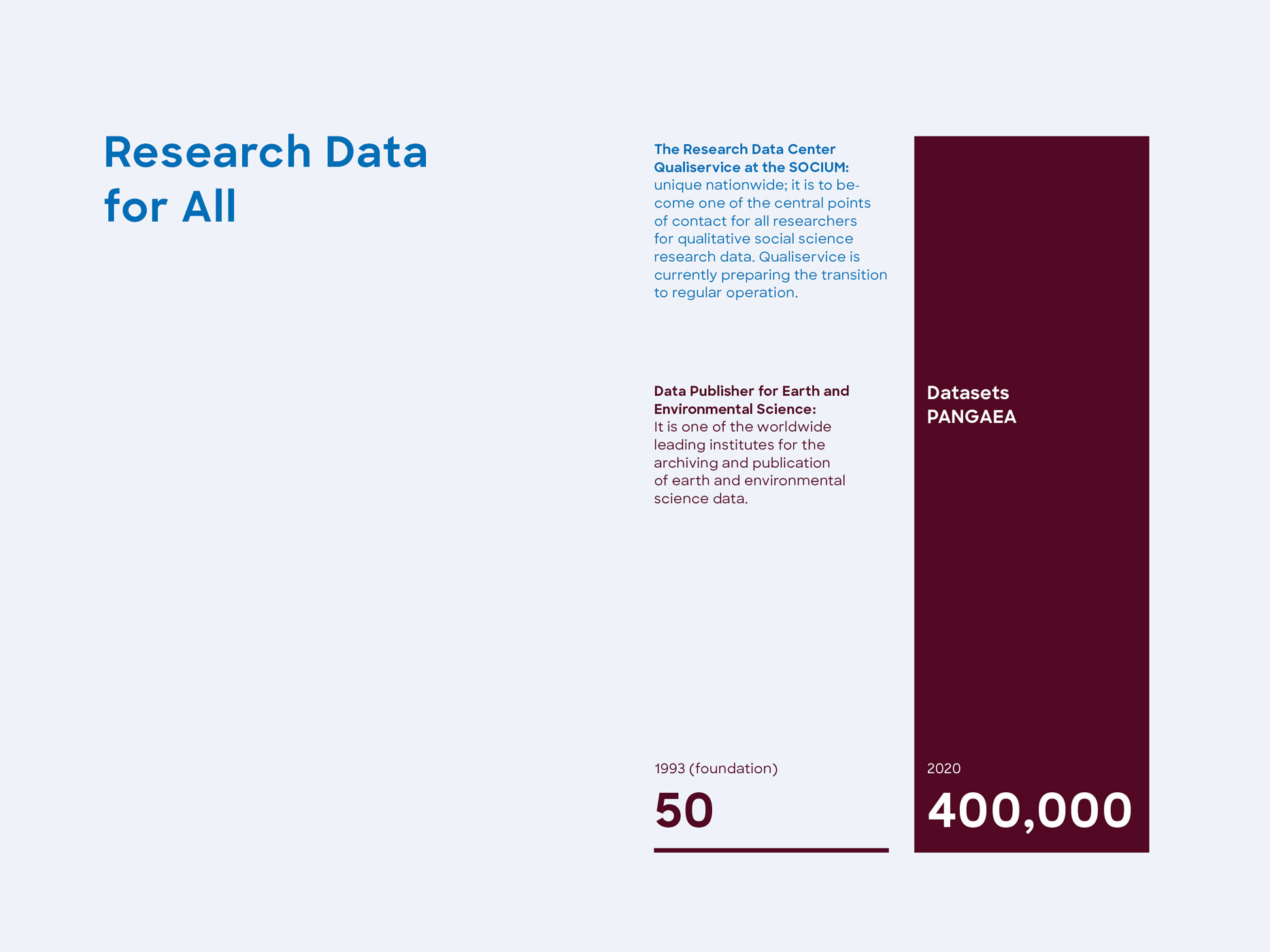 More Information
More facts and figures wanted? Have a look in the Yearbook
Check out our website 50 Years of the University of Bremen