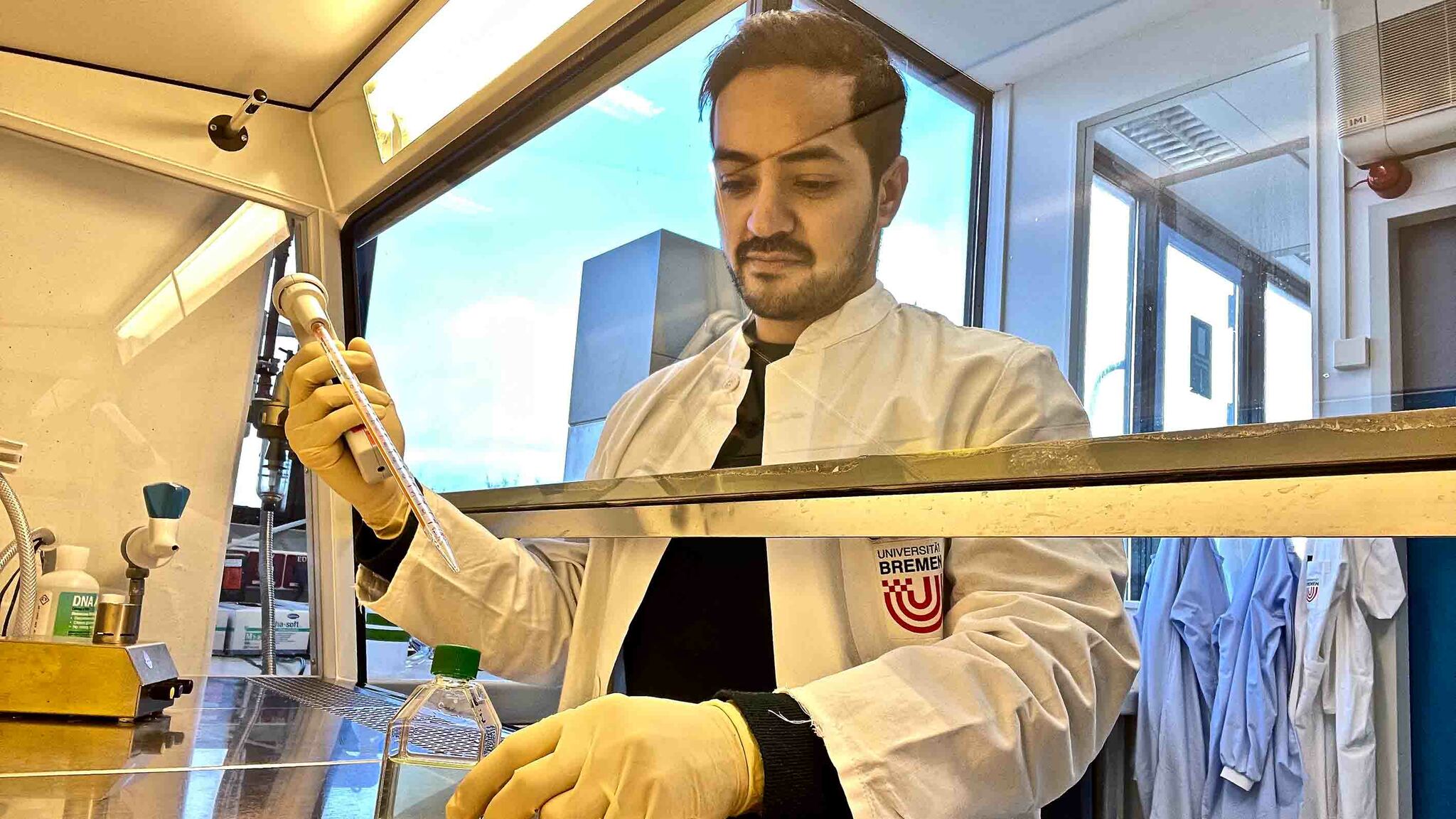 "Biochemically, We're Like a Lollipop"
The academic mid-level sector in focus: Dr. Mario Waespy from the Faculty of Biology / Chemistry
Glycobiochemistry. It initially sounds very specific, yet the word in itself basically reveals everything. It's about glycol – thus sugar – at the interface between biology and chemistry. Dr. Mario Waespy has yielded outstanding research successes in the eponymous working group within the Faculty of Biology/Chemistry. He has been at the University of Bremen since 2004 – first as a student, then as a PhD candidate, now as a post-doctoral researcher.
The natural sciences have been lamenting a lack of early-career researchers for years. Even better then, that a chemistry teacher from the "Schulzentrum Bremen-Mitte" school won over Mario Waespy for science between 2001 and 2004. "I actually was thinking about jobs like office clerk or hotel manager back then," states the biochemist when looking back at his senior years in secondary school. "But the teacher in my chemistry class presented the materials in such an interesting and exciting way that I really enjoy it." And then the now post-doctoral researcher was pushed in the "right" direction in the working group led by Professor Sørge Kelm. The University of Bremen says "thank you!"
Mario Waespy is a successful early-career researcher in the Faculty of Biology / Chemistry, who had initially not planned an academic career. He studied chemistry at the University of Bremen from 2004 to 2010 – "a degree course which had only a small biochemistry section," according to Waespy. However, in the frame of his diploma thesis, he used the freedom that was given back then for final theses ("master's degree courses are more school-like than the diploma courses back then in my opinion") and came into contact with one of Sørge Kelm's research topics: glycobiochemistry. Since then, the science surrounding this special field has had him transfixed.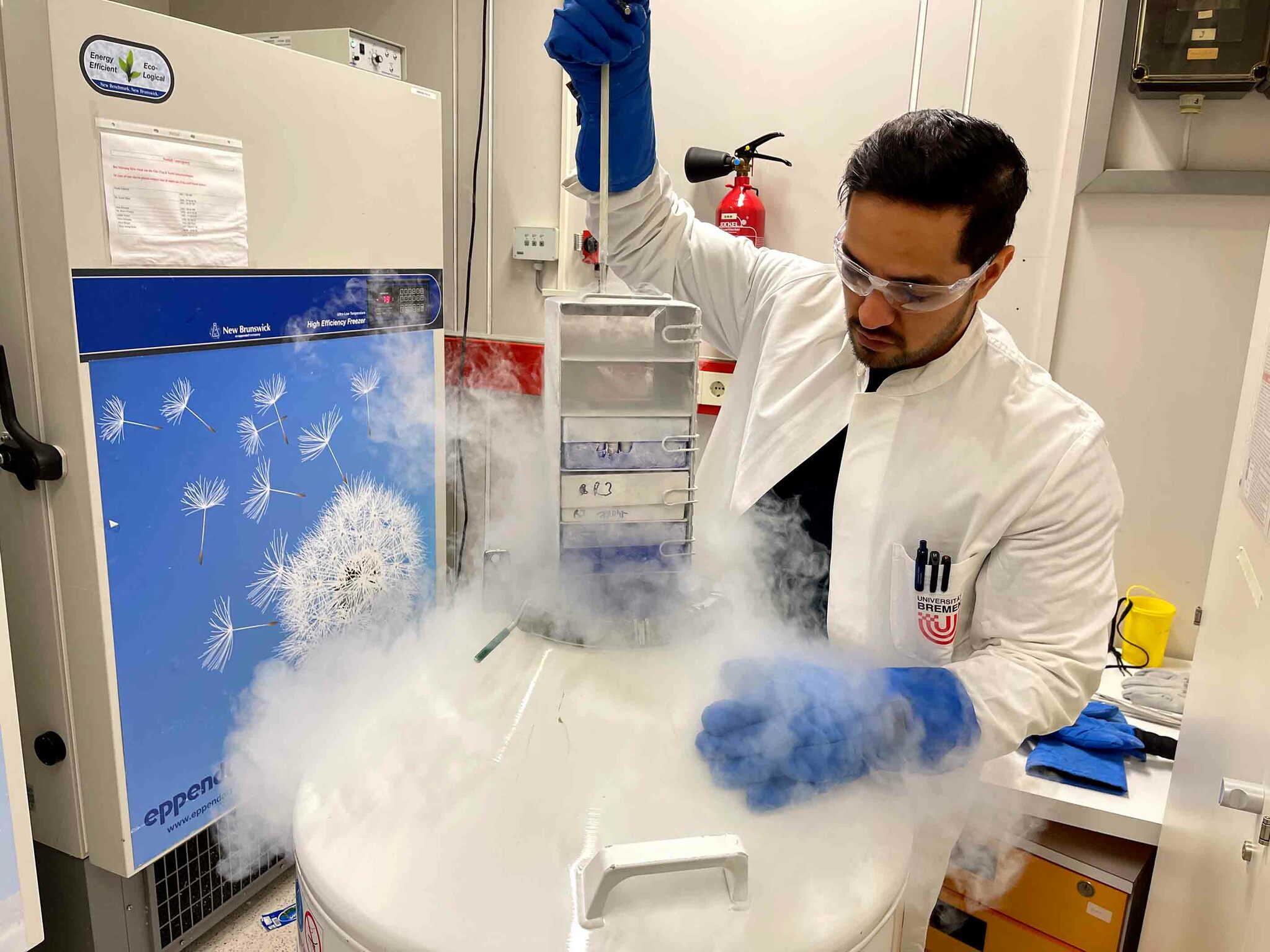 Sleeping Illness Research
"Our cells are surrounded by various glycans – thus sugar," explains the 37-year-old in relation to his field of work. "Biochemically, we're like a type of lollipop." The characterization of interactions between sugar molecules and proteins is the focus of his work in Kelm's working group. His diploma thesis and PhD work both had something to do with his roots to some extent: Mario Waespy was born in Columbia, but has been living in Germany since he was two. There are parasites – trypanosomes – in South America and Central Africa, which cause the so-called chagas disease, or rather trypanosomiasis (sleeping disease) in humans. No truly effective and side effect-free therapies have been found for this disease to date. The comparably insufficient research infrastructures in the affected countries stand in the way of development in the fight against the disease. "The World Health Organization has recognized that this is a neglected tropical disease," states the post-doctoral researcher.
The biochemist has focused on one particular enzyme in these parasites since then: "I have found a really special function that these interesting enzymes have and further investigated it, as it may hold new approaches for novel therapies, medication, or active substances." He does not carry out research on the parasites themselves in the laboratory but rather the connections on a molecular level: "We look at the enzymes or proteins and their biological functions. It is obviously not possible to see something like that with a usual light microscope." That's why the computer is his equipment of choice.
"You're either lucky or you're in the right project."
Reviewers from Abroad
Biochemical tests with photometric determination, calibration grades, concentration investigations, enzyme kinetics…when Mario Waespy explain his research, you start to wish that you'd listened more in chemistry lessons. What is true is that the Bremen scientist is very successful with his research in a field that only has a small scientific community. The reviewers of his work were impressed. He had to find them in Great Britain, South America, and Africa, as the experts for this field work there.
Jobs do not grow on trees for early-career researchers – that is also the case for Mario Waespy. "You're either lucky or you're in the right project," is what he says when summarizing the search for a job. Right at the end of his PhD, Professor Kelm and his colleague Ursula Mirastschijski – scientific assistant at the Centre for Biomolecular Interactions at the University of Bremen and specialist physician for plastic and aesthetic surgery (formerly at the "Klinikum Bremen-Mitte" hospital), initiated a research project which focused on therapy for the treatment of chronic wounds. "As a chemist, I took on the necessary organic syntheses in the project," says Waespy. "It was initially just a job for me – a possibility to remain at the university and in Bremen, to earn a living, and continue with research. But then the project developed so well and amazed me so much that I now I am really committed to it."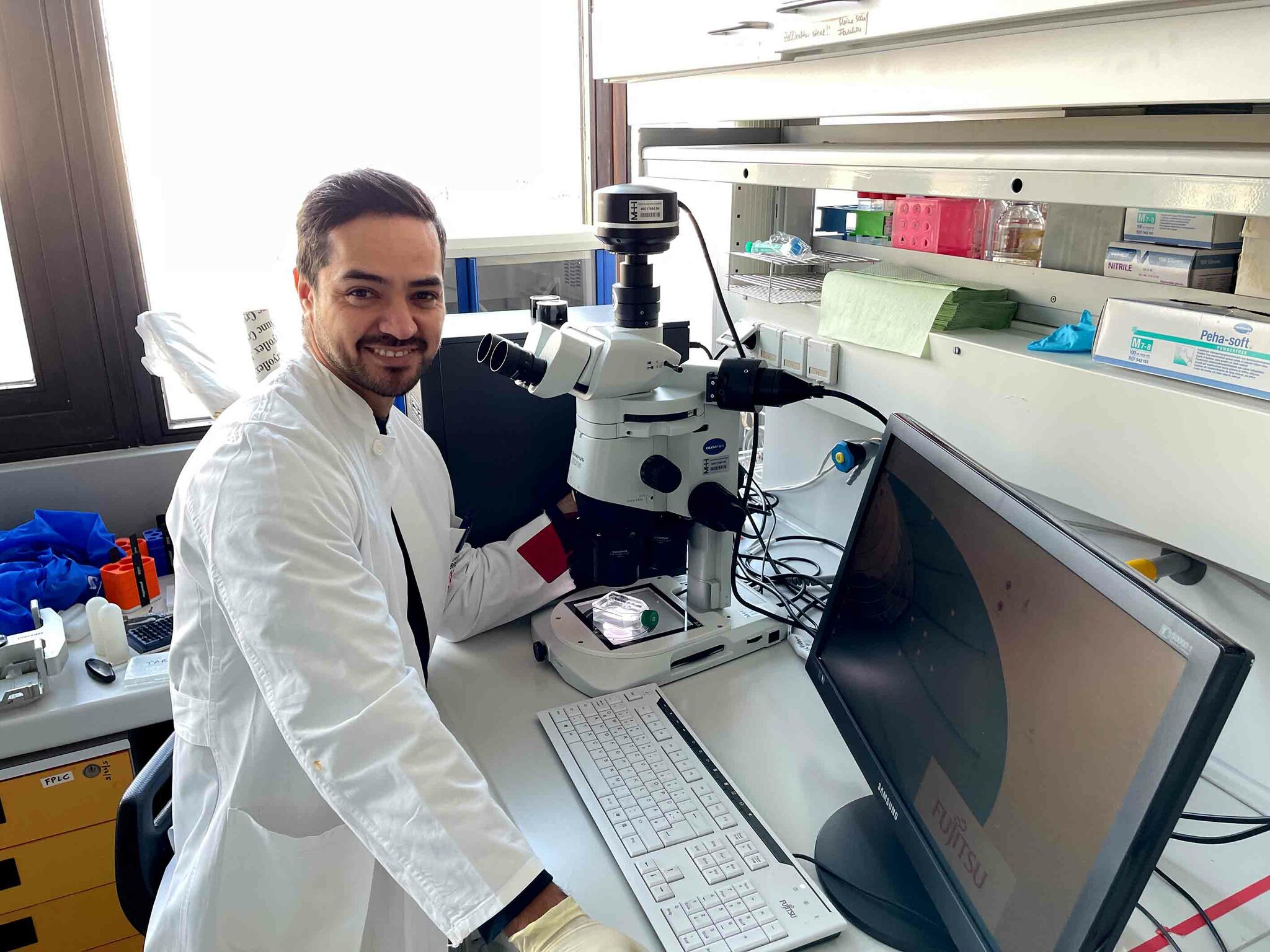 From a Part-Time Position to Project Manager
It's one way for a post-doctoral career to go: After joining the project with a part-time position in 2016, first positive results led to funding from the VW Foundation a year later. A subsequent proposal in 2018 resulted in Mario Waespy taking over the management of the project and thus being given a full-time role. A further application for continuation is to follow at the beginning of 2021.
Thanks to his research findings, the young scientist is recognized within his faculty and is in contact with many professors. "Projects to which I can contribute keep on popping up – they are restricted in terms of time but result in me being able to stay within the faculty and continue with my research." Personal reasons also play a role in why Mario Waespy would like to stay in the hanseatic city – he has started his own family and feels at home in Bremen. "There are phases of uncertainty or also stress in every job, also as a scientific assistant of course. But when you start overthinking it you stop moving forward."
"I am Still Looking for Classes!"
It is better to work hard, publish papers, build your network, and "to be there where new things are happening," he states when describing his path as a scientific assistant. He would like to teach more, especially foundation teaching, "as they are important classes and look good on your CV. But it's hard to get them. One could say that I am still looking for classes!"
"There are phases of uncertainty or also stress in every job, also as a scientific assistant of course."
The option of continuing his career into a habilitation phase and maybe even a professorship is one that Mario Waespy has at the back of his mind. "In order to receive a professorship, I would have to leave Bremen one day, which is something that I can't imagine at the moment," explains the biochemist. "Additionally, the extremely good interdisciplinary networking of the working groups from varying faculties is sort of a unique feature of the University of Bremen. It's not found often at such a level at universities, and it allows for the creation of an outstanding scientific environment for early-career researchers like me." Of course, he could work as an adjunct professor after habilitating. He would then have the right to award doctorate titles and that is something that tempts him. He already completes many tasks that need to be carried out in the frame of habilitating.
Keeping Balls in the Air – The More, the Better
The early-career scientist is currently in the early stages of another project: "You need to have several things on the go at once!" It's about mitochondria research - "the powerhouses of our cells." Experts from several faculties and external institutes want to go in a new direction and establish a new research focus on a very high level. The most important thing for Mario Waespy is that he's involved. "You have to keep the balls in the air," is what he says when describing his life as a scientific assistant – "the more, the better!"