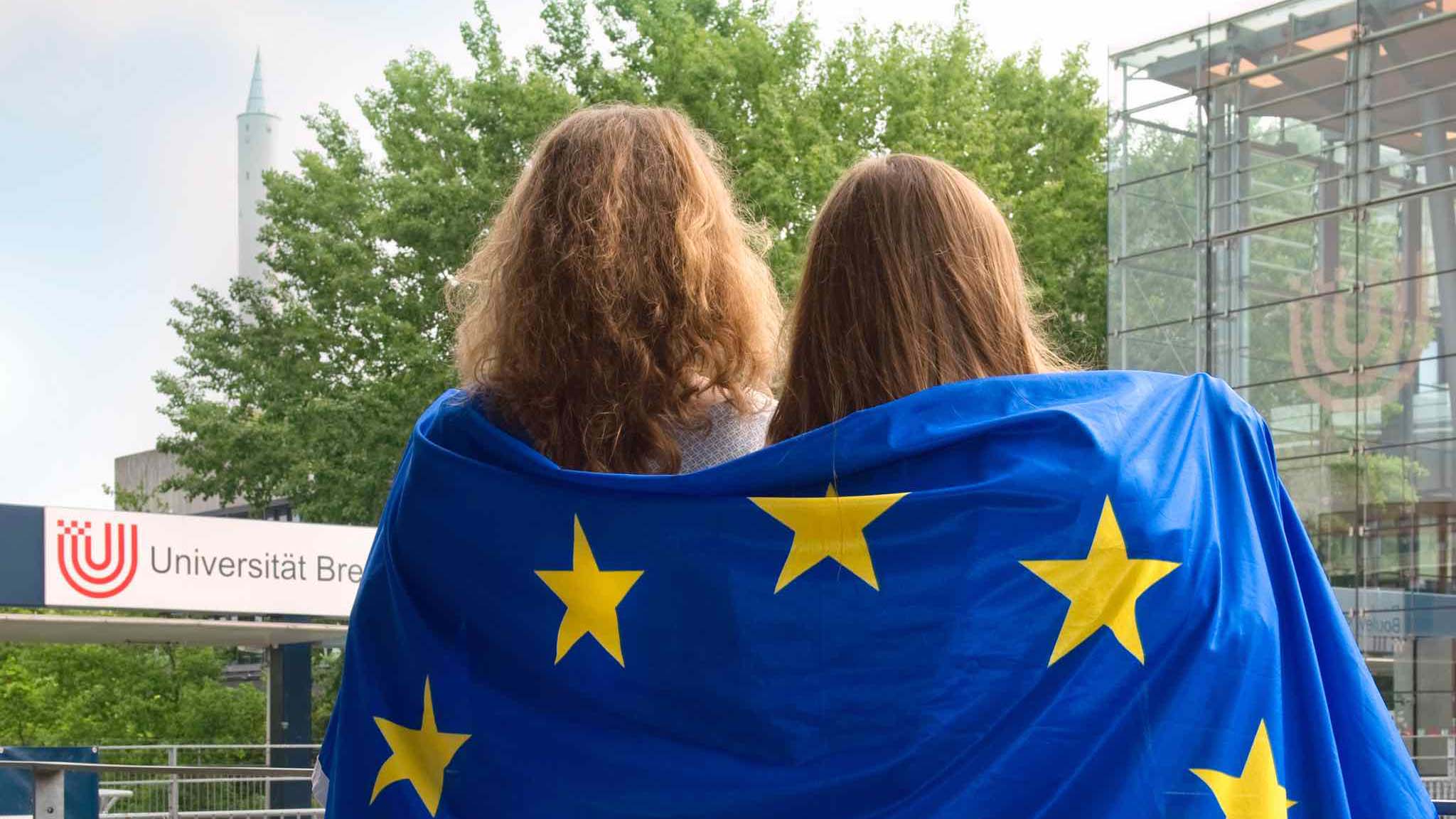 Committed to a Strong Europe
Students study, research and are in an exchange with one another across country borders – something which has, in Europe, been matter of course for already many years
The future is, however, looking increasingly uncertain. Authoritarian governments in Hungary and Poland, growing right-wing extremism and populism as well as an impending Brexit threaten to jeopardize Europe's future. The University of Bremen, together with its partners, is committed to strengthening the idea of a united and free Europe and feels it has an obligation to these values.
March 2019: It is almost exactly two years ago that the United Kingdom notified the European Council in writing of its intention to leave the European Union (EU). Whilst the parliamentary members in London are in heated ­debates on Brexit, UK's Cardiff University and the University of Bremen are growing closer and have agreed the "Bremen-Cardiff Alliance" – a strategic partnership which involves a particularly intense cooperation. Hereby researchers of both universities are able to become fully integrated in the teaching and research of each university thanks to an affiliation. Through this, both partners have access to each other's scientific systems in the event of a hard Brexit. "The University of Bremen feels that it has an obligation to support the idea of a united Europe," says President Professor Bernd Scholz-Reiter of the University of Bremen. "Seen against the background of Brexit, growing isolation and nationalism in Europe, our ties with British universities are particularly important." The cooperation with Cardiff University is therefore of special significance. "Europe is an idea which is worth fighting for," continued the president.
"The University of Bremen feels that it has an obligation to support the idea of a united Europe."
President Professor Bernd Scholz-Reiter
Vice-Chancellor Professor Colin Riordan of Cardiff University added, "With this alliance we are responding to the complex demands of Brexit by strengthening our relations with one of our long-standing European partners and ensuring that employees as well as students of both univer­sities continue to have access to many interesting educational and research opportunities."
YERUN partners of the University of Bremen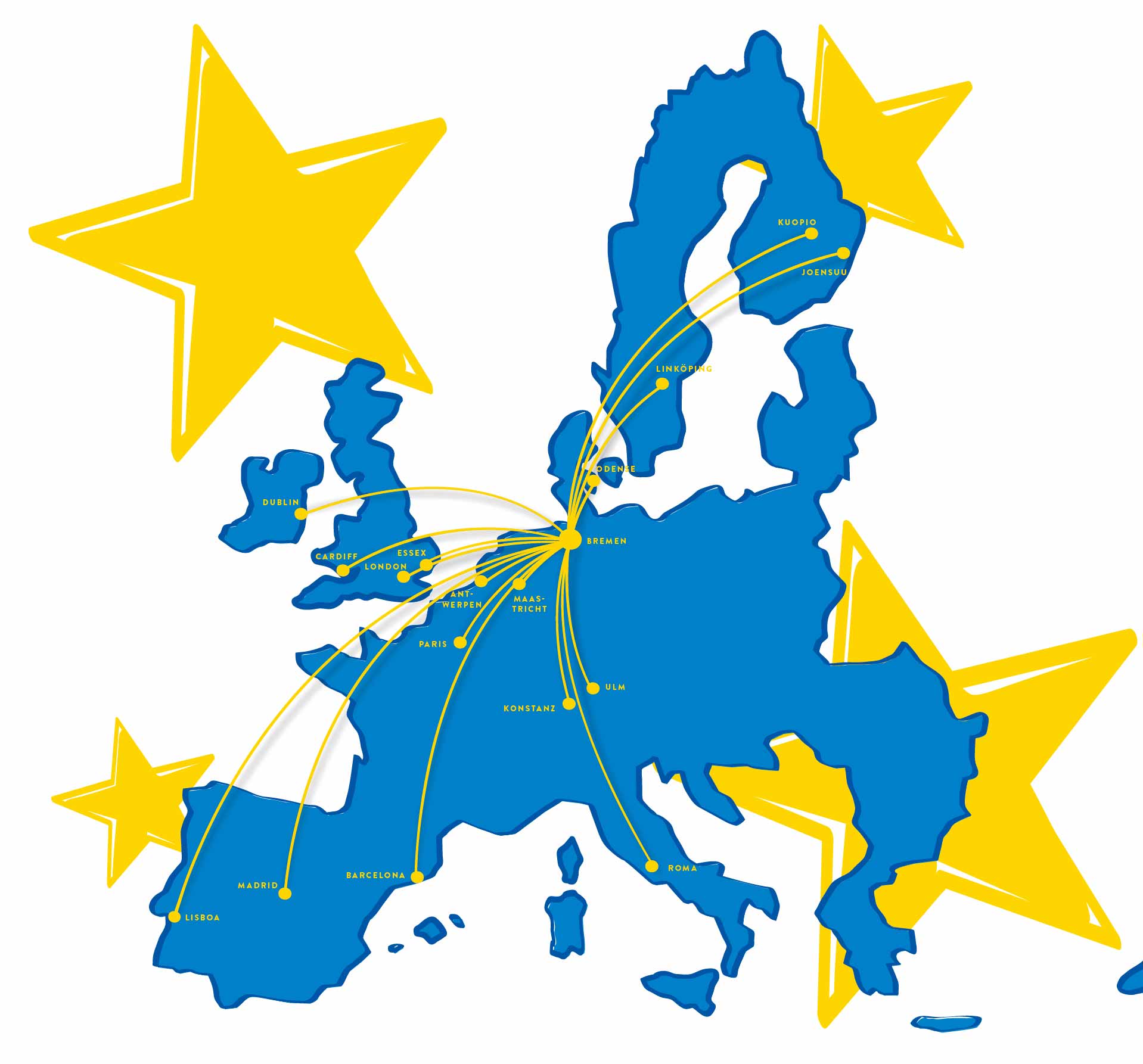 ---
Academic Freedom in Hungary Under Threat
"I have the impression that the tough Brexit negotiations are scaring off other governments which are critical of the EU, of flirting with the idea of leaving or even discussing such an option in politics," says Professor Shalini Randeria. The internationally recognized social anthropologist, ethno­logist and sociologist currently holds a visiting professorship as part of the "U Bremen Excellence Chairs."
The president of the Institute for Human Sciences in Vienna and professor at the Graduate Institute for Inter­national and Development Studies in Geneva has been following the latest political developments in Europe with concern – particularly in the EU member state Hungary. Here the right-wing government has not only largely assumed control of the media and justice but academic freedom is also no longer guaranteed. This can be seen in the situation of the Central European University (CEU) in Budapest as well as at the Hungarian Academy of Sciences, says Shalini Randeria. In recent years the government has put the internationally renowned private university under such pressure that it is currently unclear whether it might even have to give up its location in Budapest. At the time of the editorial deadline for this issue, nothing had been decided. However, what is certain is that at least part of the university will have to move to Vienna. "The CEU is one of the world's best places for master's and doctoral students in humanities and social sciences and the university's cosmopolitan spirit makes it a thorn in the side of the nationalist Orbán government," says the academic. Shalini Randeria is closely associated with the CEU. In 2000 the academic was the founding director of the Institute for Social Anthropology and Sociology here and she is, meanwhile, also a member of the board of trustees of the private university.
---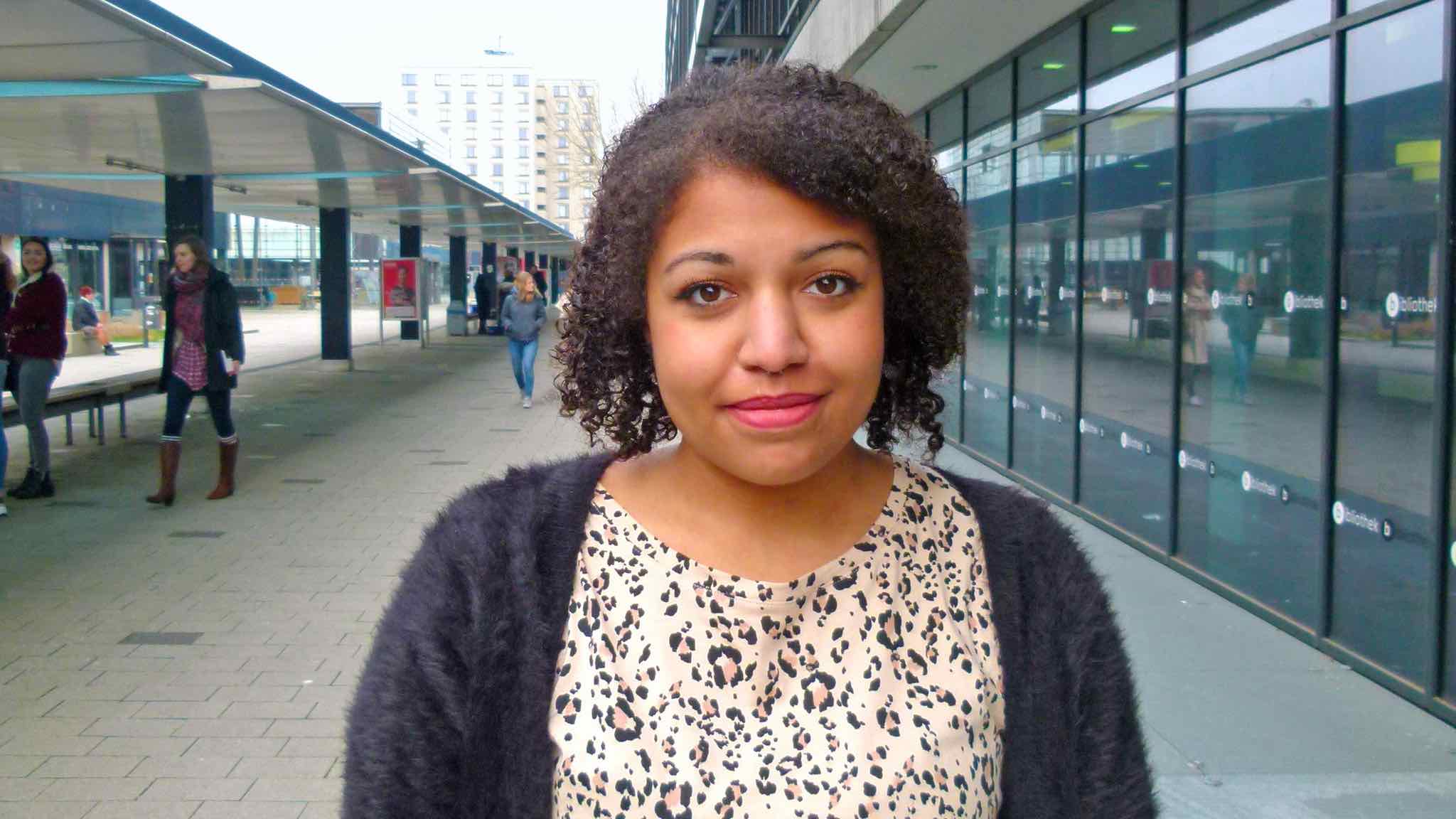 What Europe means to me:
Something that is in need of renovation. Actually, in my eyes Europe represents countries that grouped together some time ago in order to reduce border controls, exchange information, and take responsibility for each other. However, recently Europe has rather represented the opposite of this. Borders are being reinforced. One example is the development of the refugee issue. I don't necessarily consider myself to be a European. I don't generally feel connected to the concept of a nation. I would rather describe myself as a European than a German, simply because I live in Europe and profit from it. Nonetheless, I would not label myself as a European.
Maimuna Sallah, Studentin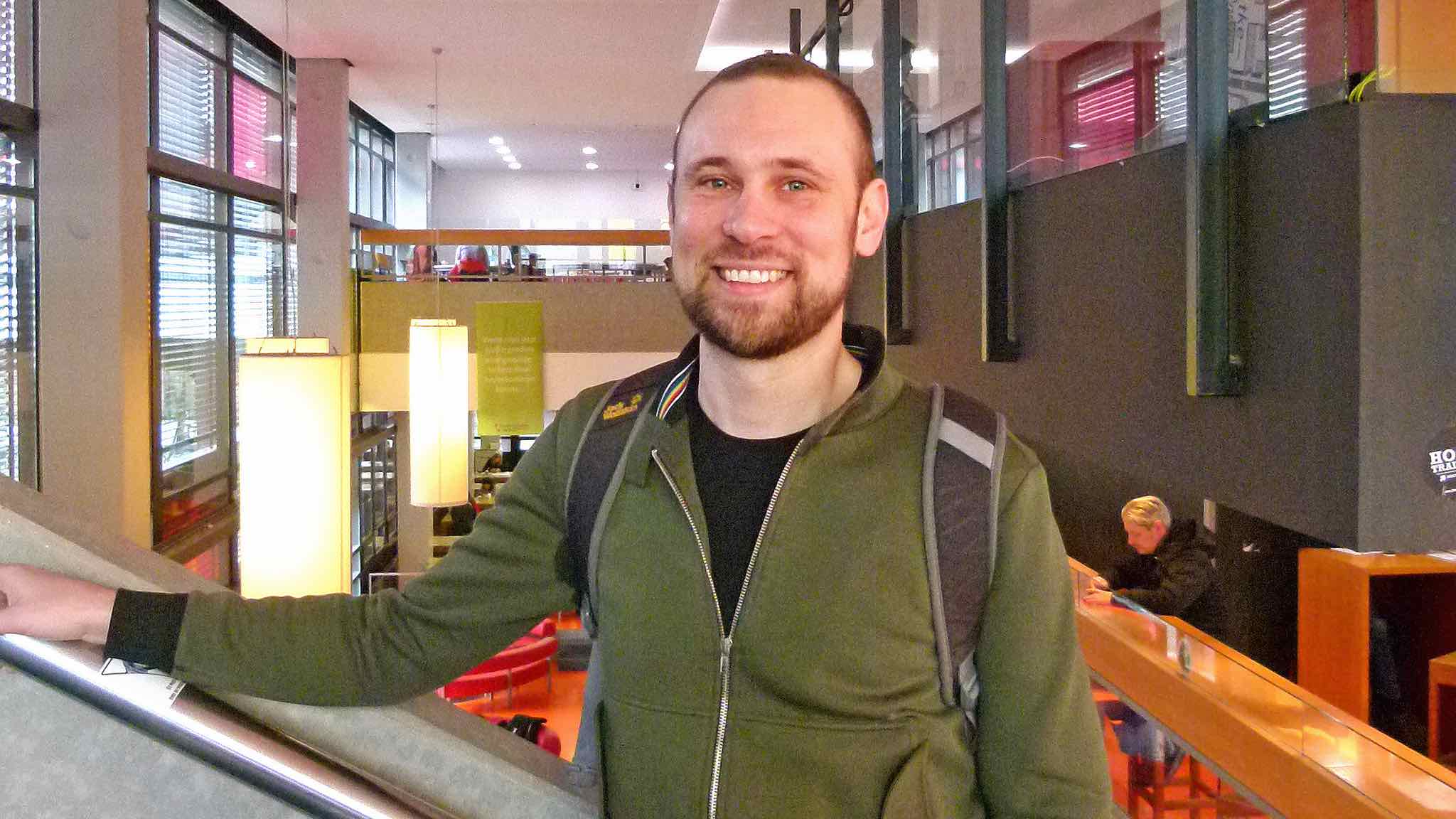 What Europe means to me:
Freedom, internationality, friendship and future. I consider myself to be a native of Bremen, a German, and a European. Naturally, we also have to ensure that no one is left behind. We are at the university and come from a sector of society that gets to enjoy education and is consciously aware of that. Other people are not in this privileged situation. Taking these people seriously and showing them the positive aspects of Europe is an important task. In particular, we have taken this responsibility on in the educational sector.
Max Schlenker, Wissenschaftler
---
Not an Exception
"Hereby the CEU is not an exception," emphasizes Shalini Randeria. The autonomy of all universities in the country is being systematically undermined. With the goal of increasing the influence of the government, investments in the Hungarian educational sector have continuously decreased since 2006 – also with the intention of employing party-related "chancellors" to manage the finances at the universities. The government has systematically and stealthily implemented a process to undermine academic freedom. "The EU should have intervened here much quicker," says the academic. One can only hope that the situation for the Hungarian academic institutions will not escalate as dramatically as it did in Turkey.
Since the coup attempt there in 2016, numerous researchers had to leave the country or were imprisoned or sentenced. "They lost their jobs, their pensions and work possibilities," says Professor Michi Knecht. Together with several other professors from the University of Bremen, the ethnologist is taking part in the Philipp-Schwartz­Initiative "Scholars at Risk" of the Alexander von Humboldt Foundation. The program offers threatened academics grants and employment opportunities. Shalini Randeria says appreciatively, "The University of Bremen was one of the first universities in Germany which became involved in this. This is important commitment in defending academic freedom."
---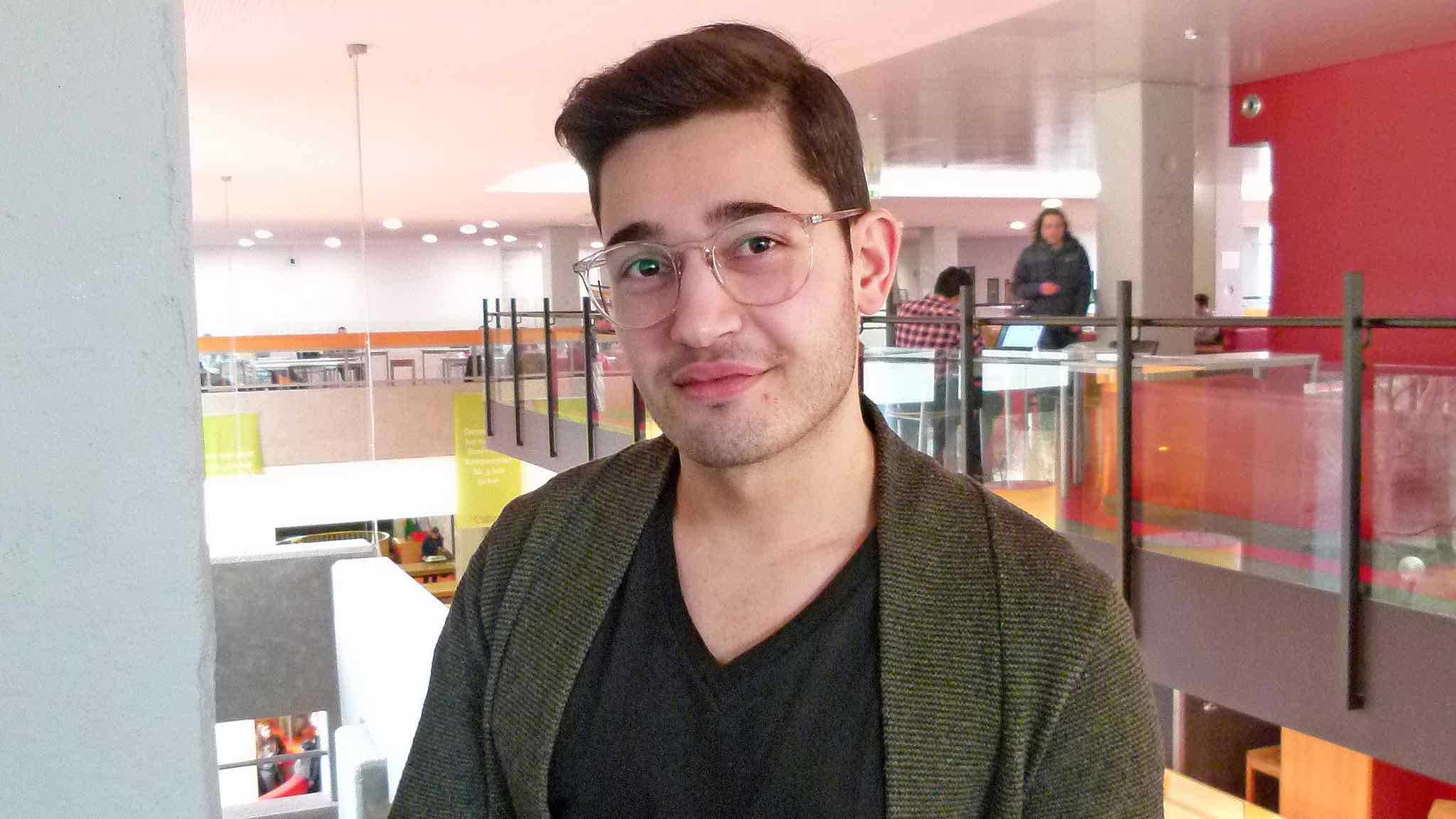 What Europe means to me:
A cultural approach: how we organize our daily lives, how we are culturally influenced. I feel very European. Although my parents have a Turkish migration background. Yet I would say that they are also very Europeanized. However, I think of several dimensions when I hear the word 'Europe': there are the historical and cultural – the common European values. Then of course I think of the EU – the countries who are part of the customs union and currency union. In addition, there is also the geographical dimension.
*Tolga Yavuz, Student**
---
EU Democracy Project
Professor Andreas Klee, Director of the Center for Labor and Political Education – zap (Zentrum für Arbeit und Politik), experienced the fragility of democratic culture in Europe in an EU project. In association with partners in Krakow (Poland), Budapest (Hungary), Seville (Spain) and Aarhus (Denmark), he and his team developed and tested various teaching formats for young people which promote democracy. The objective of this was to counteract radicalization tendencies and establish the relevance of social contexts for the respective teaching formats. Under the title, "Street Education" they organized information stands to speak to citizens on public squares. Workshops for a "democracy workshop" were also developed and training formats elaborated for "Democracy Coaches" for students training to be teachers.
"Each one of us must support the strengthening of Europe."
Professor Andreas Klee
Whilst there were intense public discussions in Bremen, the partners in Krakow and Budapest had to adapt their activities to the political circumstances in their country. "We're not allowed to talk about topics which promote democracy on public squares or areas," says Klee. Democracy was celebrated in Poland and Hungary after the end of socialism but now the countries are experiencing increasing anti-democratic attitudes. "It's alarming." In Aarhus, in Denmark, people are perhaps too confident regarding the stability of democracy as a certain skepticism towards Europe and right-wing populist tendencies are an issue here. The domestic situation can also be seen in discussions in Seville. "It has become clear how much tension there is due to the immense inequality and unemployment in Spain," says the academic. The project showed that democracy in Europe, at least in the participating countries, is no longer as matter of fact as it once was. Andreas Klee is certain, "Each one of us must support the strengthening of Europe."
"We want to promote strong 
European identities."
Vice President International and Diversity, Eva-Maria Feichtner
For a European University
What can make Europe become a stable community, once again, in the future? What can universities contribute? In his speech at the Sorbonne in autumn 2017, the French president Emmanuel Macron encouraged the formation of European network universities which are distinguished by multilingual and innovative study programs which, in turn, promote the European idea. A pilot tender of the EU aims to form 20 European network universities by 2024. The graduates of these universities will be multilingual and mobile and embody the European values. The University of Bremen has participated in this tender together with seven universities from other European countries as part of the consortium Young Universities for the Future of Europe (YUFE). "With this, we are demonstrating a strong commitment to Europe," sais President Scholz-Reiter.
The alliance of the eight universities will create one ­European University which will primarily develop new and innovative courses and programs for its students. The opportunities for academic as well as technology and administration personnel will also broaden. "Our goal is to strengthen the mutual learning from one another and the understanding of institutions, regions and cultures in Europe," says the Vice President International and Diversity Professor Eva-Maria Feichtner. "With this we are promoting strong European identities." YUFE students will be able to easily change between the sites of the participating partners, learn in more than one language and move around between various European cultures. Employees, meanwhile, of the YUFE partners will have new career paths open to them which go beyond institutional, regional and national boundaries and it will become easier to flexibly change between the participating partners whether temporarily or permanently.
---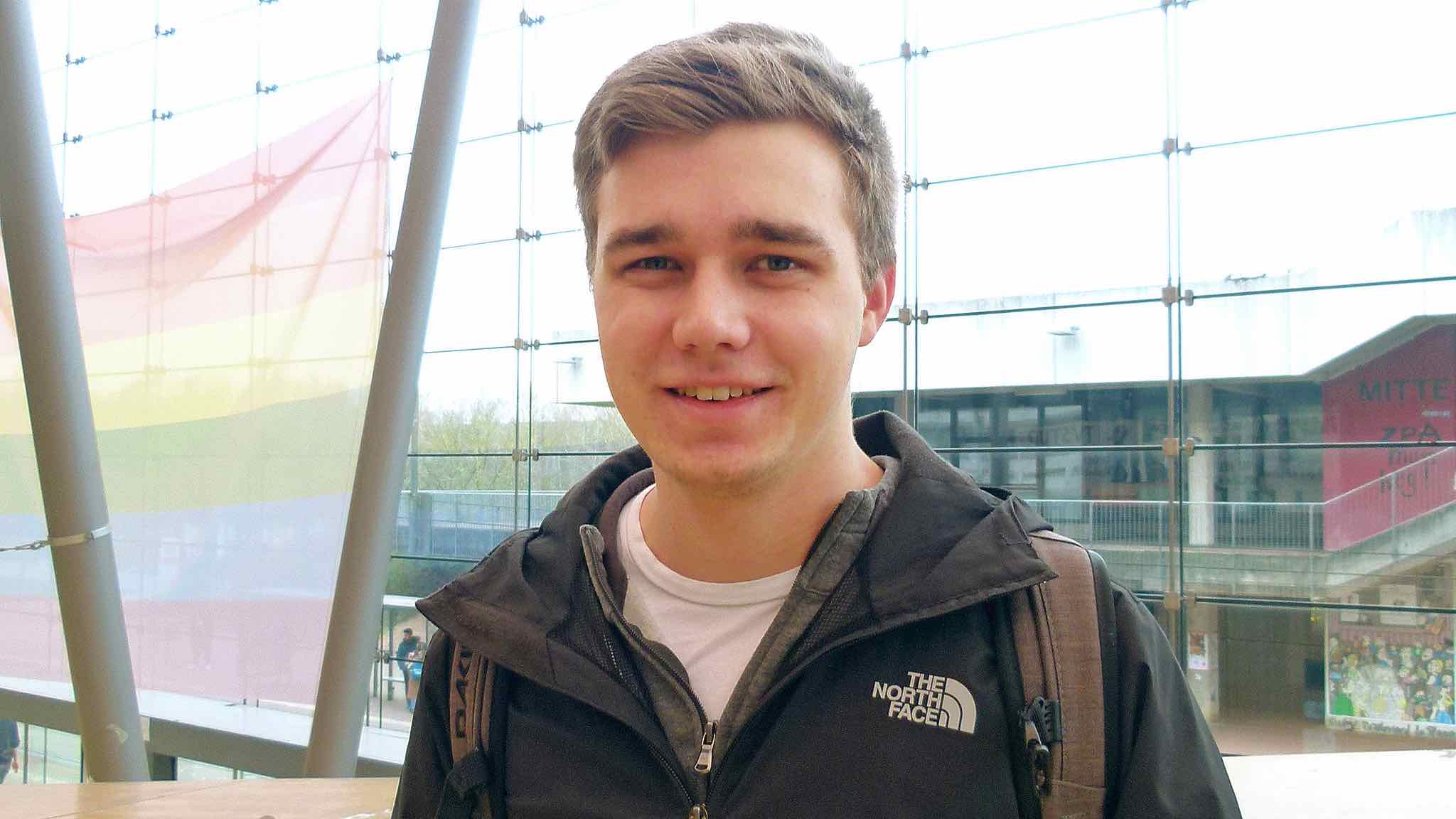 What Europe means to me:
Getting to know other people and countries better through cultural exchange and trade. I think Europe is important for that reason. I would identify myself as an advocate to continue strengthening Europe. I believe that Europe is important as a counterpart to the USA, China and other large nations, because you can advance more together than every individual country for itself.
*Timo Urban, Student**
---
The YUFE Alliance incorporates the universities of Maastricht, Antwerp, Bremen, Carlos III Madrid, Cyprus, Eastern Finland, Essex and Roma Tor Vergata. If their application is successful, the project will be implemented from September 2019. Its goals cannot be realized from one day to the next but will require a longer period of time as well as the ­support of politics and citizens. What is clear, though, is that, "Europe requires strong universities which bring life to the European idea," says the President of the University of ­Bremen.  
uni-bremen.de/kooperationen/(…)/internationale-partner/
www.yufe.eu
unihb.eu/heyuv20t