Creating Cultural Experiences of the Future with AI
The university start-up Fabular is bringing museums and cultural institutes into the digital age.
Groundbreaking innovation thanks to artificial intelligence – only the economy, industry, or medicine profit from it? Wrong. Machine learning also offers new paths for knowledge transfer in culture. The start-up Fabular, which was established at the University of Bremen, shows how it can be done: It is bringing museums and cultural institutes into the digital age.
Going to museums or art exhibitions to amble down the halls, look at exhibits or pieces of art, and study the explanation texts. This is something that less and less people are doing. "Many cultural institutes are fighting against a decreasing number of visitors," says Dr. Ing. Leonardo de Araújo. The Fabular start-up member knows that especially younger generations find it hard to engage in traditional art, nature, and cultural heritage exhibitions: "They want to interact and not just be part of the audience."
Discovering Treasure – with AI
At the same time, the cultural institutes are sitting on undiscovered treasure. They cannot exhibit everything from their archives, where countless objects are stored. "Many of these collections have been digitally recorded. However, the cultural institutes generally have no practical solutions for how to utilize the "inner value" of the hidden treasures," according to Araújo.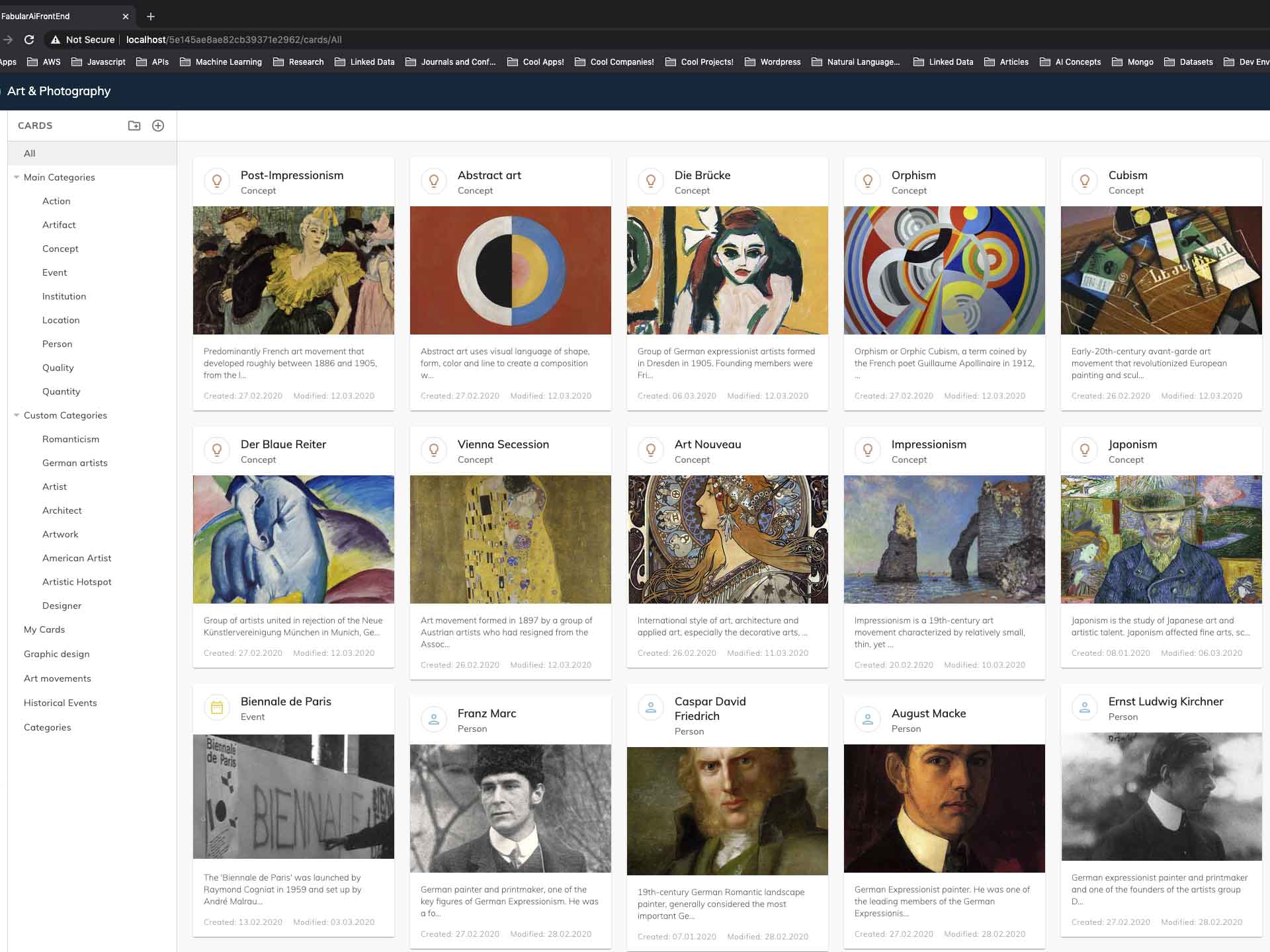 There is, however, a solution available for this problem – namely multifunctional software from Fabular. The software helps to organize and analyze digitalized artefacts, cultural heritage goods, and works of art. New information and structures are discovered by doing this and content-based connections, interesting stories, and interpretations are found. "This can then be used to create an exciting "edutainment" experience for visitors via innovative museum and cultural-pedagogic apps," says Nina Hentschel. Together with Araújo and Hanna Blonska, she is part of the Fabular team. "Our software combines the most modern natural language processing algorithms with the content of knowledge databases. The software allows curators and researchers from cultural institutes to gain significant insights into their digital collections and make interesting discoveries."
The Core Element: Software from a PhD Dissertation
The core element of Fabular is the ArtfactsCloud software platform, which stems from the doctoral dissertation that Leonardo de Araújo completed at the university`s Center for Computing Technologies (TZI) in the fall of 2018. In said dissertation, he investigated which effect increasing digitalization and the connected data volume has on new types of interpretation of cultural heritage and also the increasing need for software solutions in the cultural sector.
As early as during his theoretical investigation, Leonardo de Araújo tested the ArtfactsCloud intensely, by which he was then able to prove its functionality. After an analysis of 3,500 index cards from the Berlin chapter of the German Reich Association of Jews and more than 8,000 personal details from the archive of Stolpersteine e.V., Araújo and Nina Hentschel built a chatbot. This made it possible for the users to walk in the footsteps of Jewish children in Berlin in the 1940s. "You can listen to their stories and get to know them by means of multimedia," says Hanna Blonksa, who also belongs to the Fabular team.
Fabular`s current pilot project focusses on the data integration and analysis of the digital collection of the State Museum in Hanover. "Our software is analyzing 12,000 datasets from four departments and recognizes content-based connections between objects and artists. The links identified by our software should help the museum curators to record and research interdisciplinary interfaces and points of contact in an easier manner," according to Blonksa. Additionally, the digital collection from the State Museum in Hanover was enriched with Wikidata. In this way, the quantity of information – especially with regard to the categorization of objects, object forms, eras, and styles – as well as the number of possible information connection points were increased. Hanna Blonksa: "The creation of interesting stories for special exhibitions and multimedia guides is made far simpler in this way."
Support from LEMEX
Fabular, which is supported by an EXIST entrepreneurial scholarship, is currently in its developing stage, in which the business idea is being stabilized. This support will run until April 2020, then the company will be standing on its own two feet. Fabular is currently supervised by the LEMEX Chair in Small Business & Entrepreneurship at the University of Bremen, which is led by Professor Jörg Freiling.
More:
Website Fabular (in German)