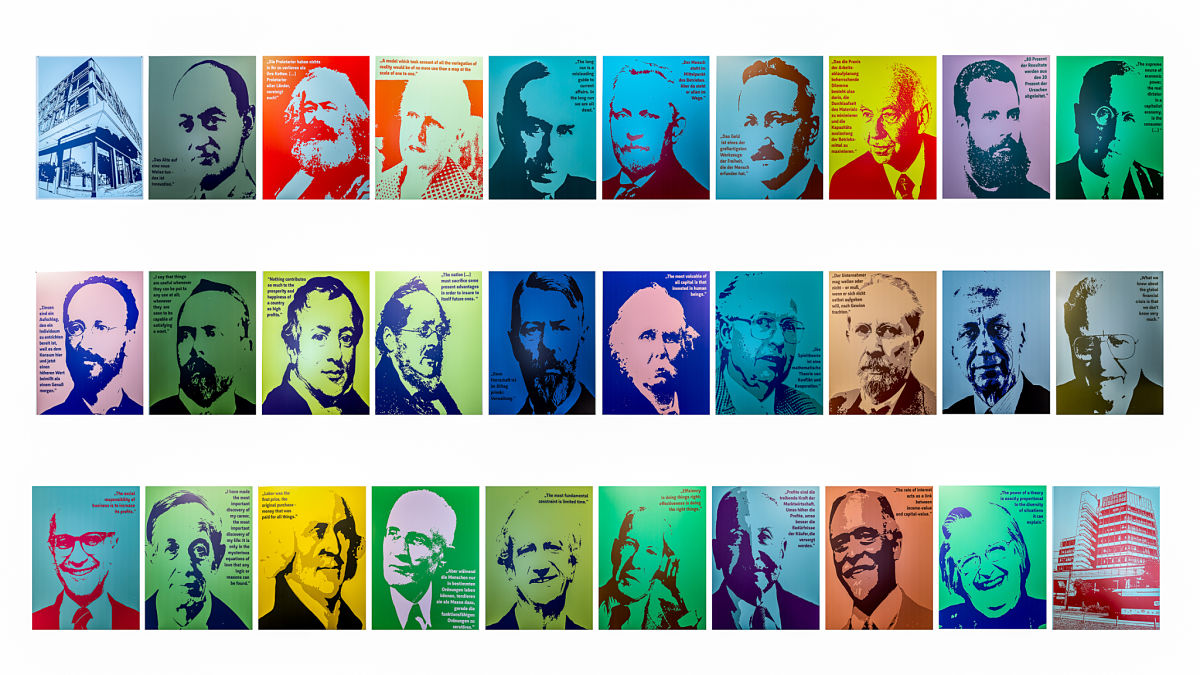 Haus an der Allee Now Has a Gallery of Great Minds
28 Chosen Economists are Decorating the Hallways of the WiWi1 Building
Those who visit the Faculty of Economics in the WiWi1 Building – the "Haus an der Allee" or House on the Avenue in English – will find bright and colorful posters on the first floor. The greats in this field are spreading good vibes with their artfully created portraits. A wonderful and aesthetically pleasing idea. And it is educational at the same time.
Carolina Guarnizo Caro, a student at the Bremen University of the Arts, who has now graduated, was in charge of design. Stylized portraits in pink, green, blue, yellow, and purple are real eye-catchers. A working group created especially for this purpose initially decided who is worthy of decorating the hallways to offices and seminar rooms. There is a rousing quote alongside each portrait. Dean Professor Jochen Zimmermann immediately leads us to Eugen Schmalenbach, the German face of dynamic balance-sheet theory, who lived from 1873 to 1955 and taught during his life. "Humans are the main focus of a company. But they are in everyone's way there." That's a realization, smirks Zimmermann.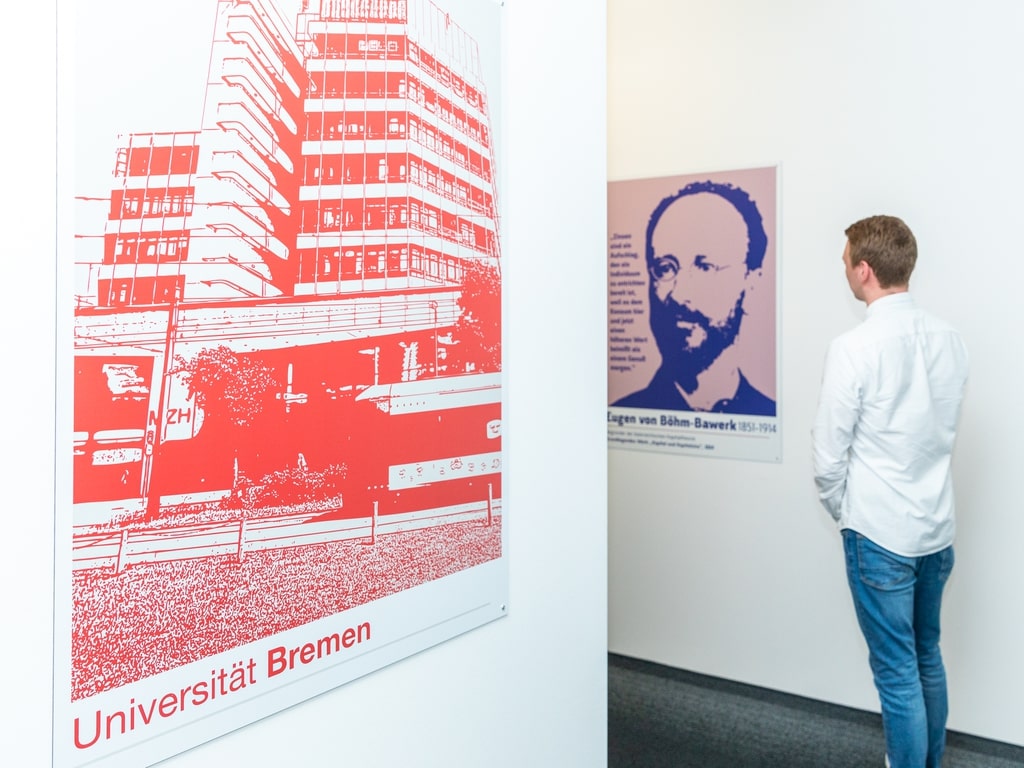 "Offering a Wide Spectrum"
There are a total of 30 exquisite posters on aluminum: 28 economists, two of which are women, and two motifs that stand for the faculty and the university. "The working group paid attention to offering an extremely wide spectrum," says Zimmermann. "Statisticians, business economists, micro economists, macro economists, and social theorists." Naturally, Karl Marx is also included with his famous slogan: "Workingmen of all countries, unite!" The sociologist and economist Max Weber hangs next to him with the statement: "Because ruling in day-to-day life is primarily: Administration." Those who pass can now ponder for a while.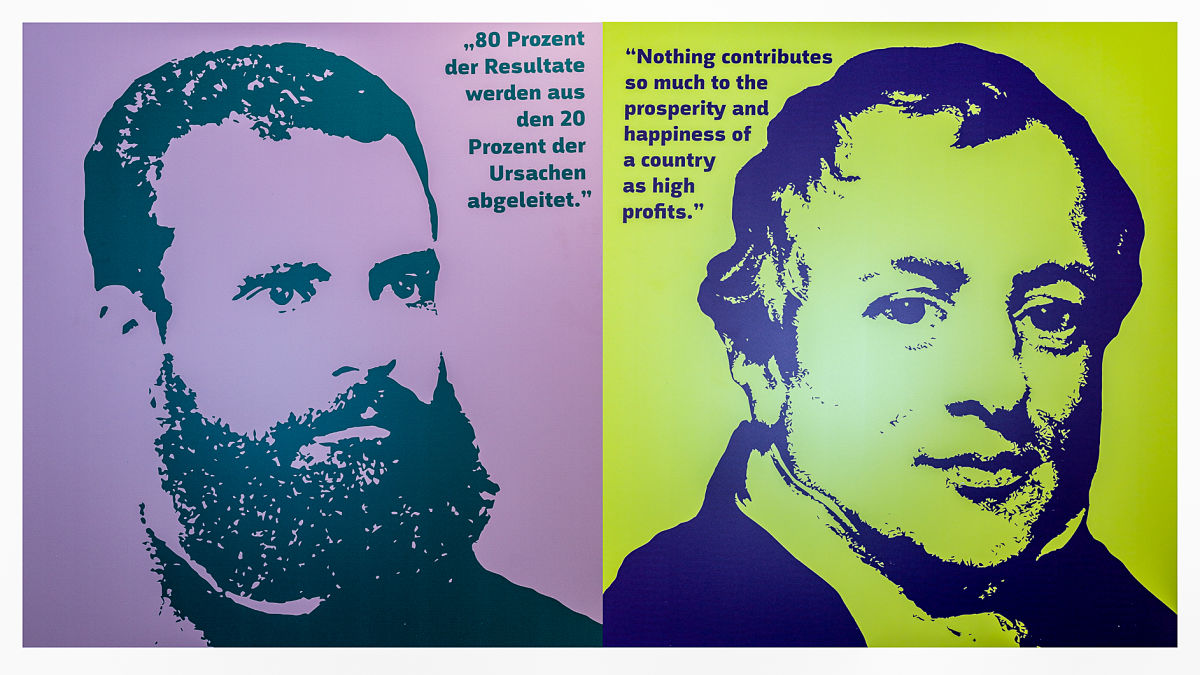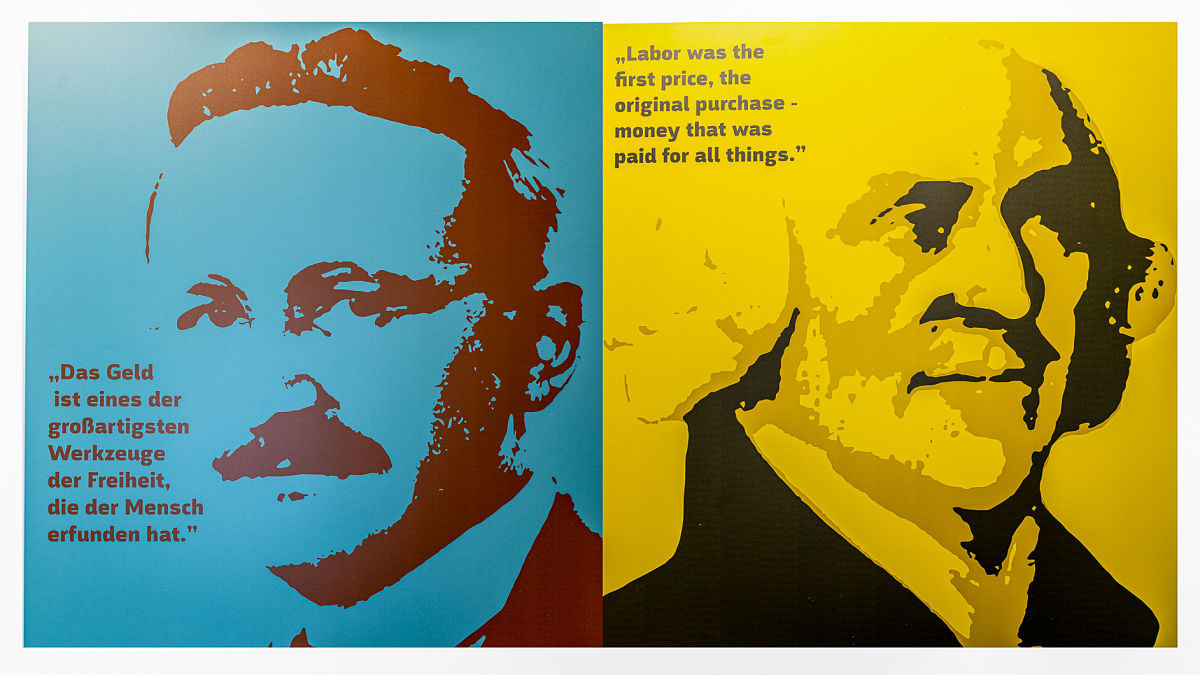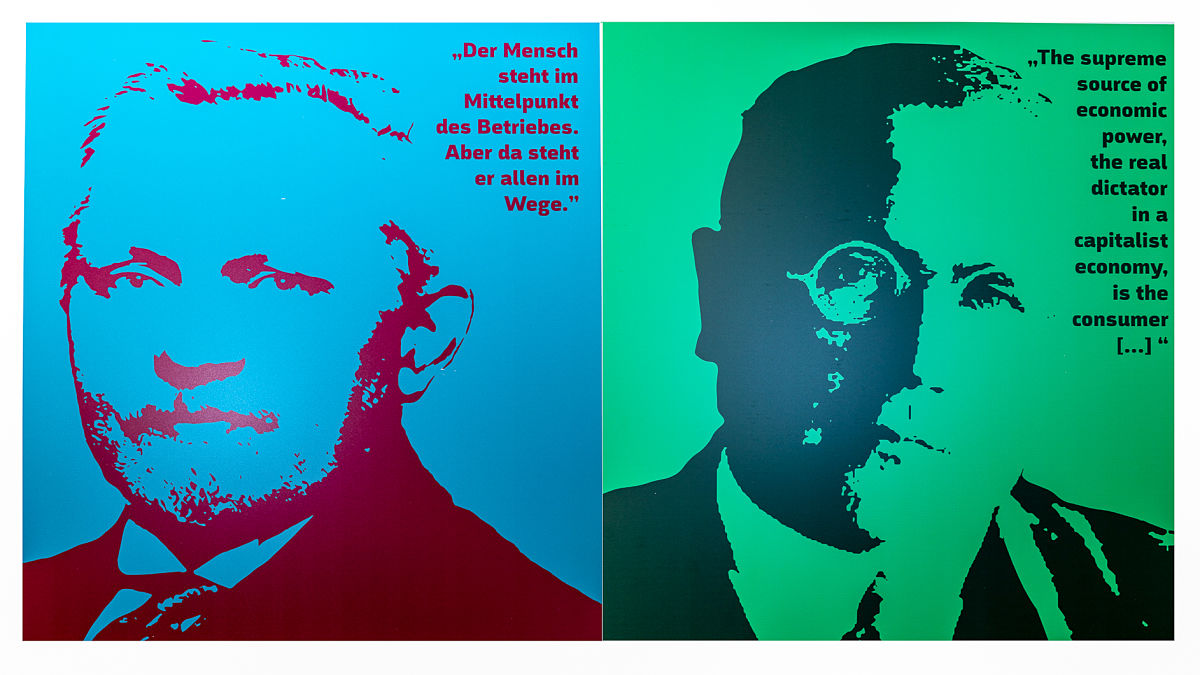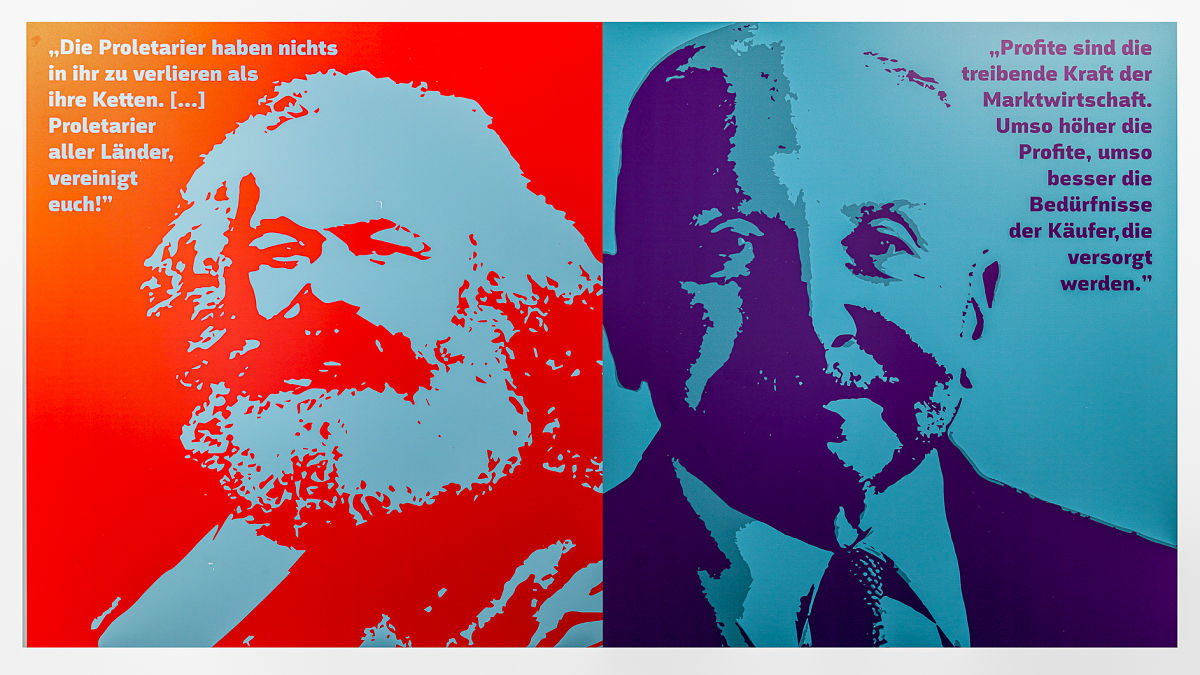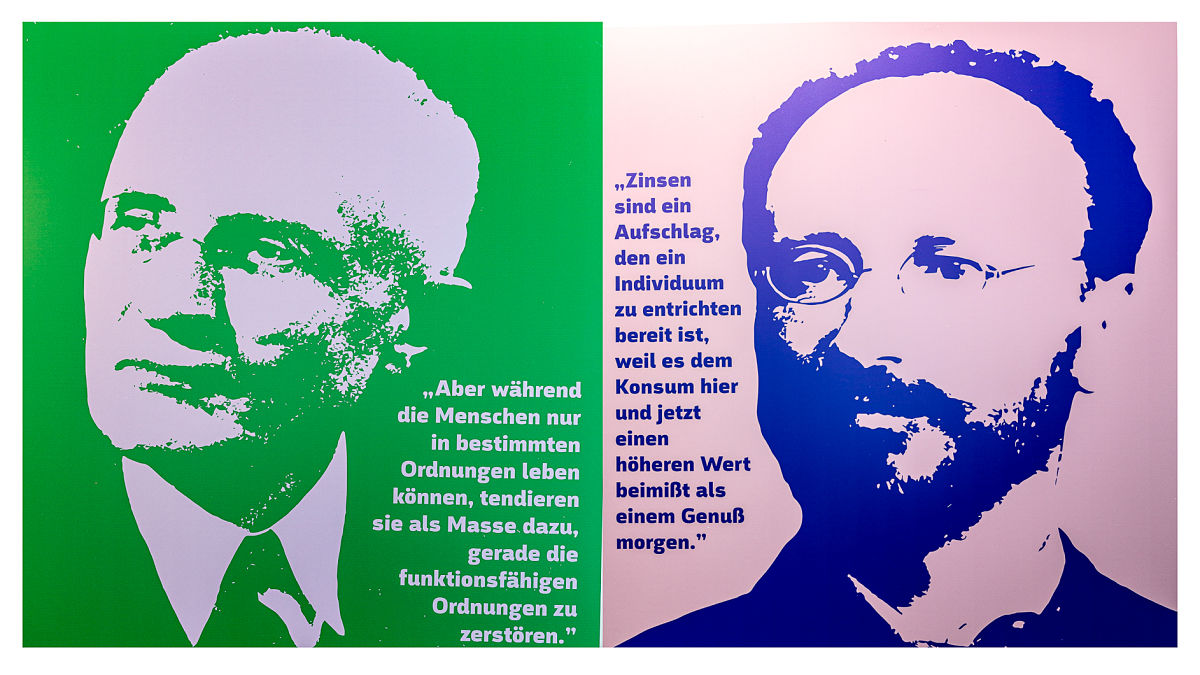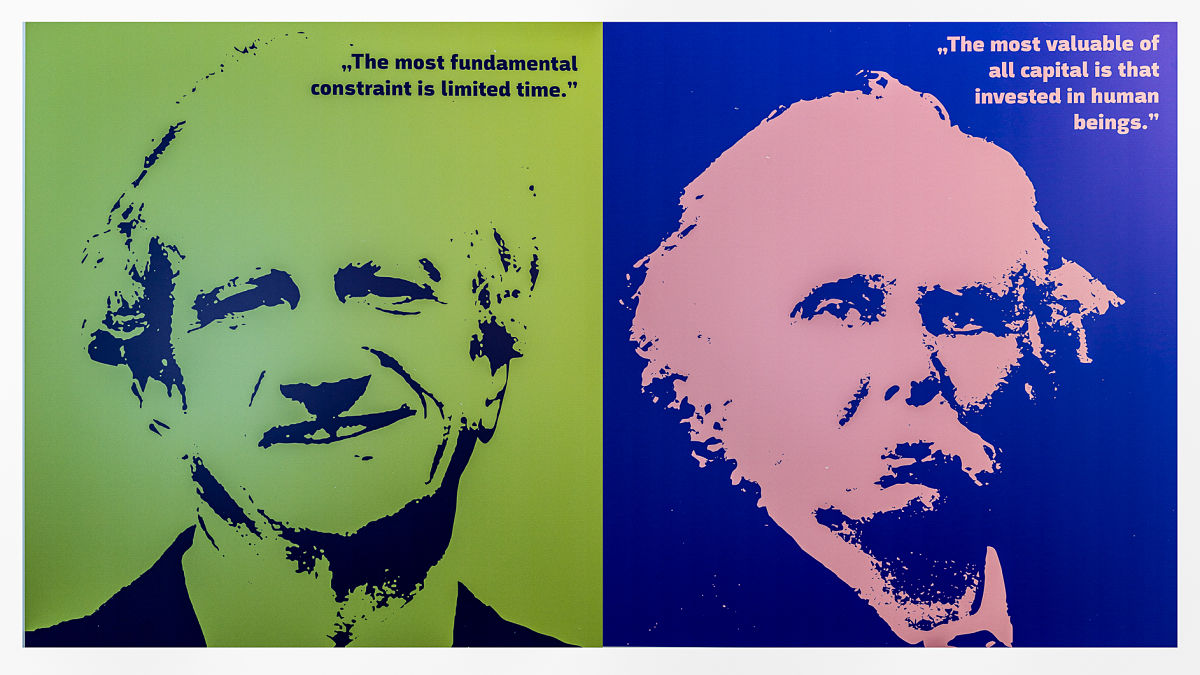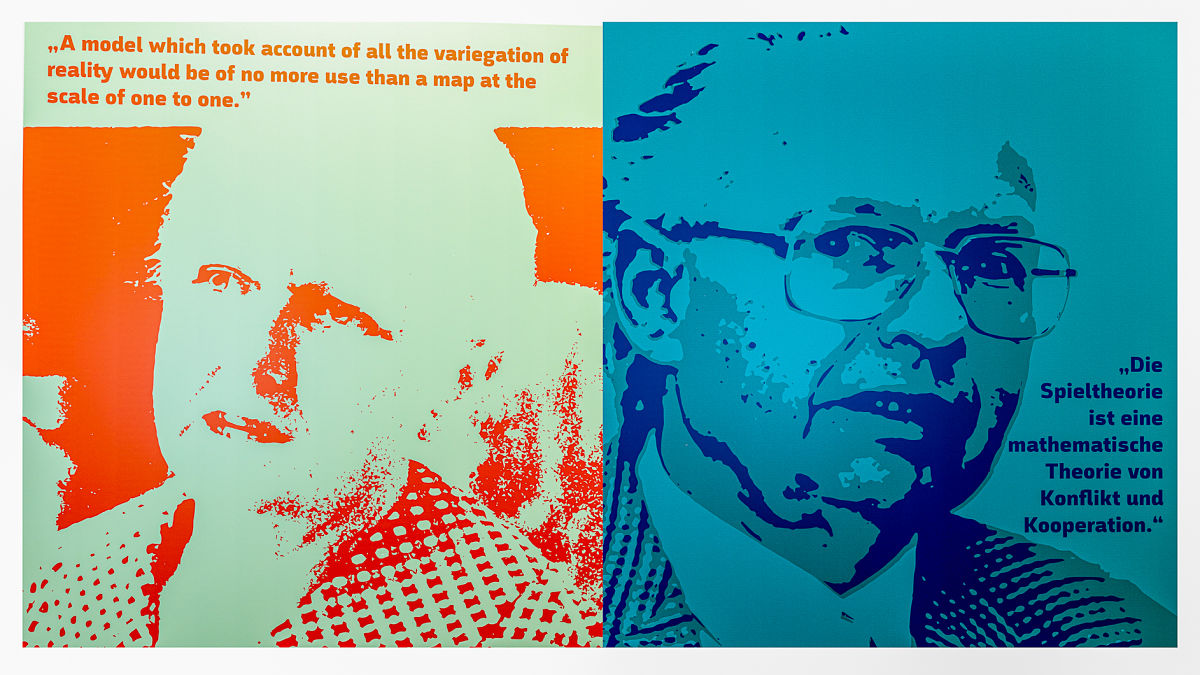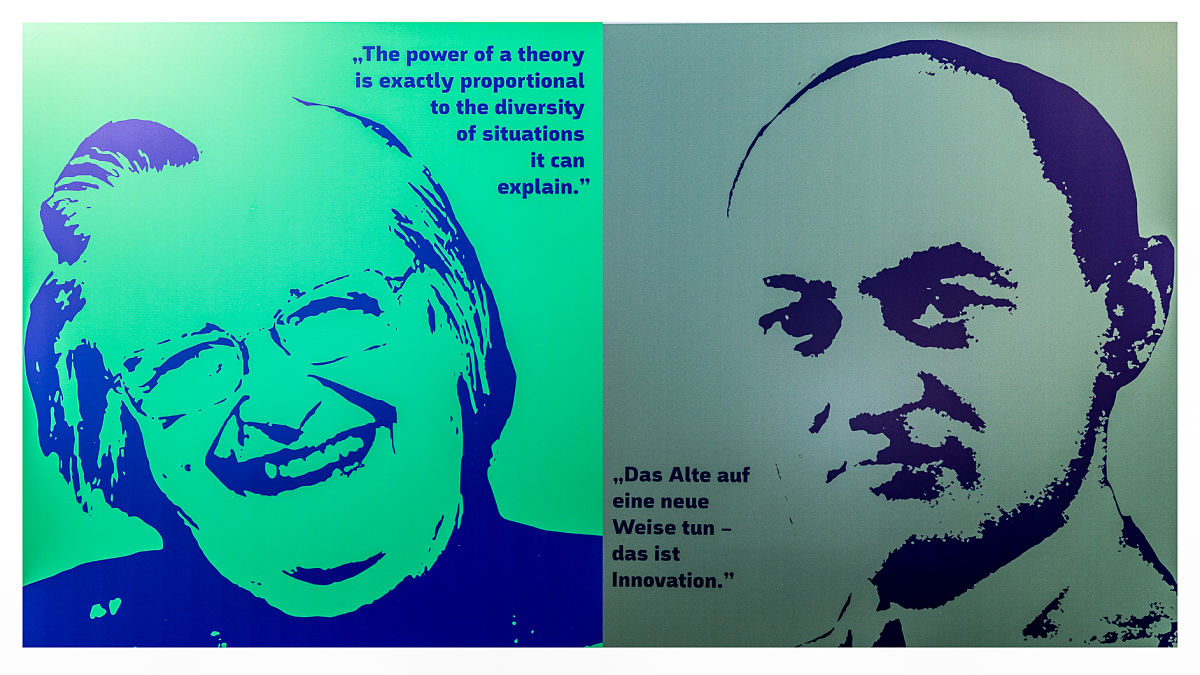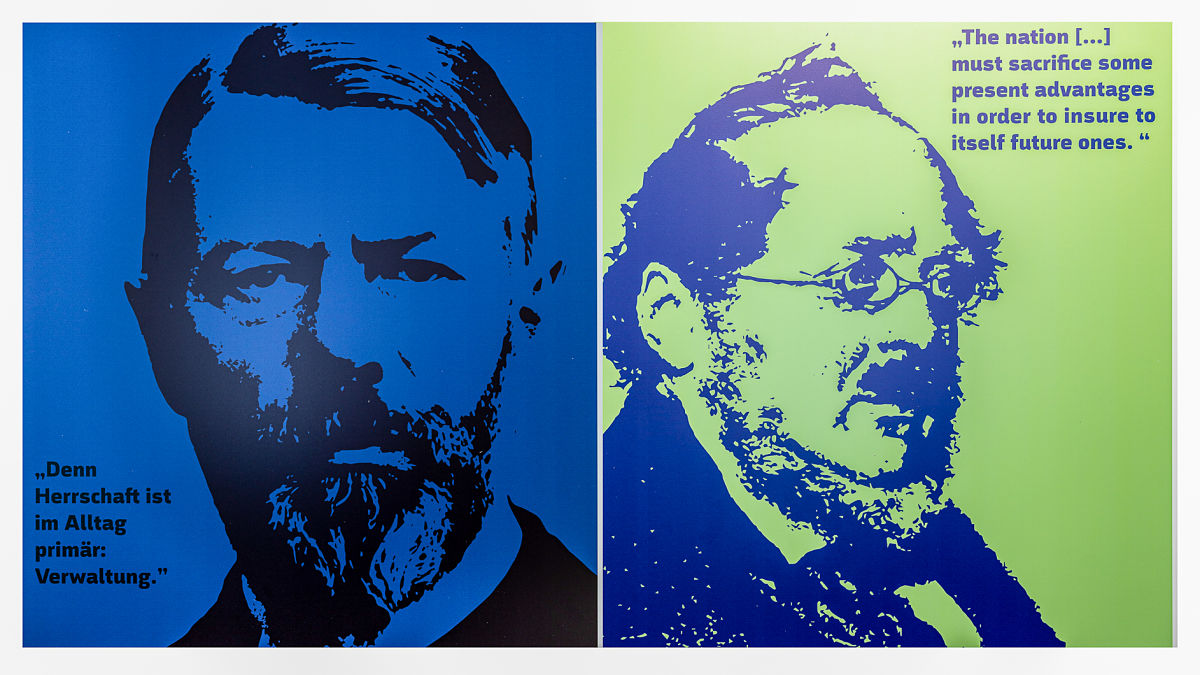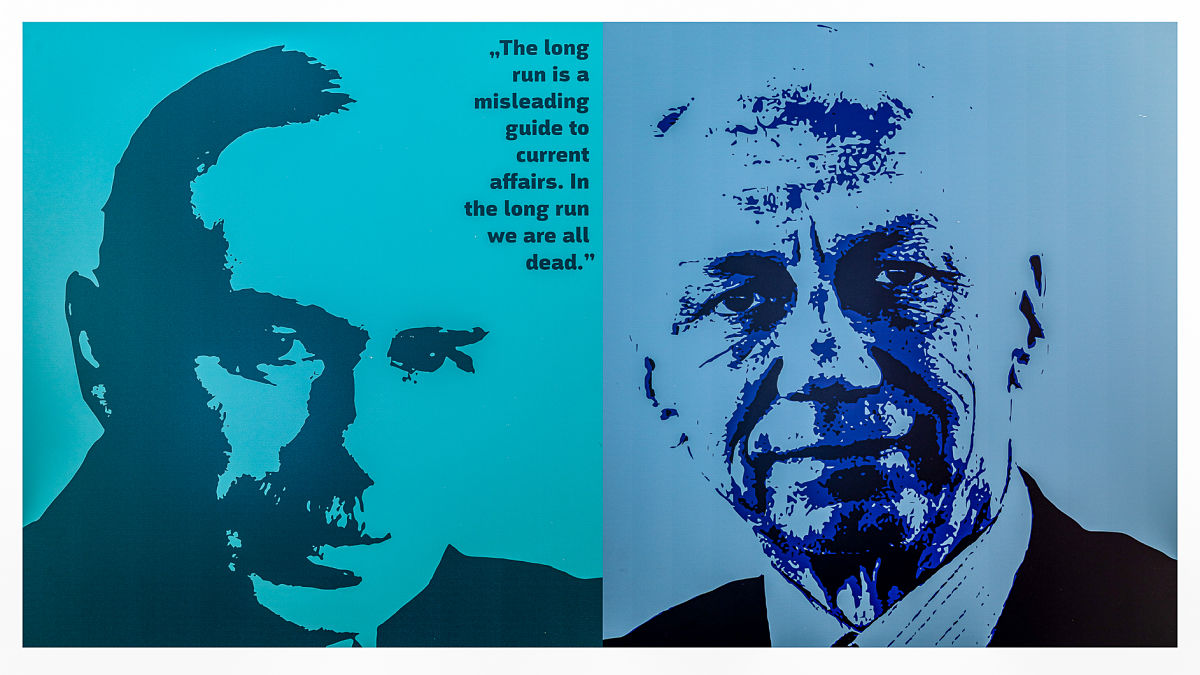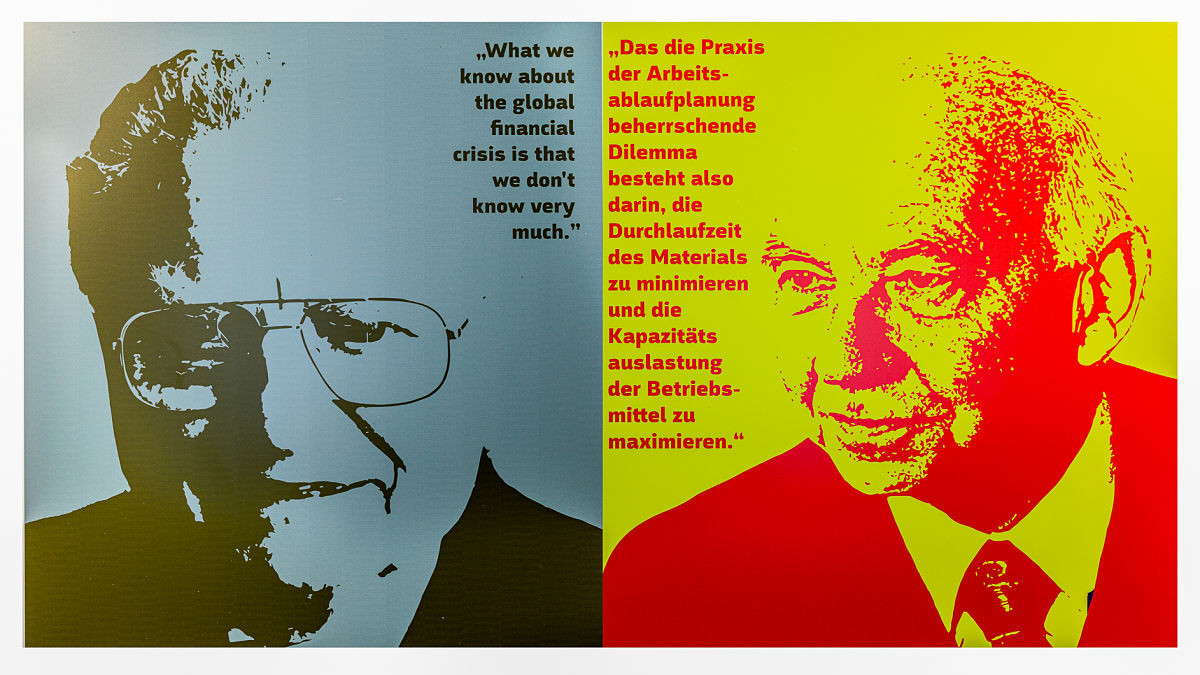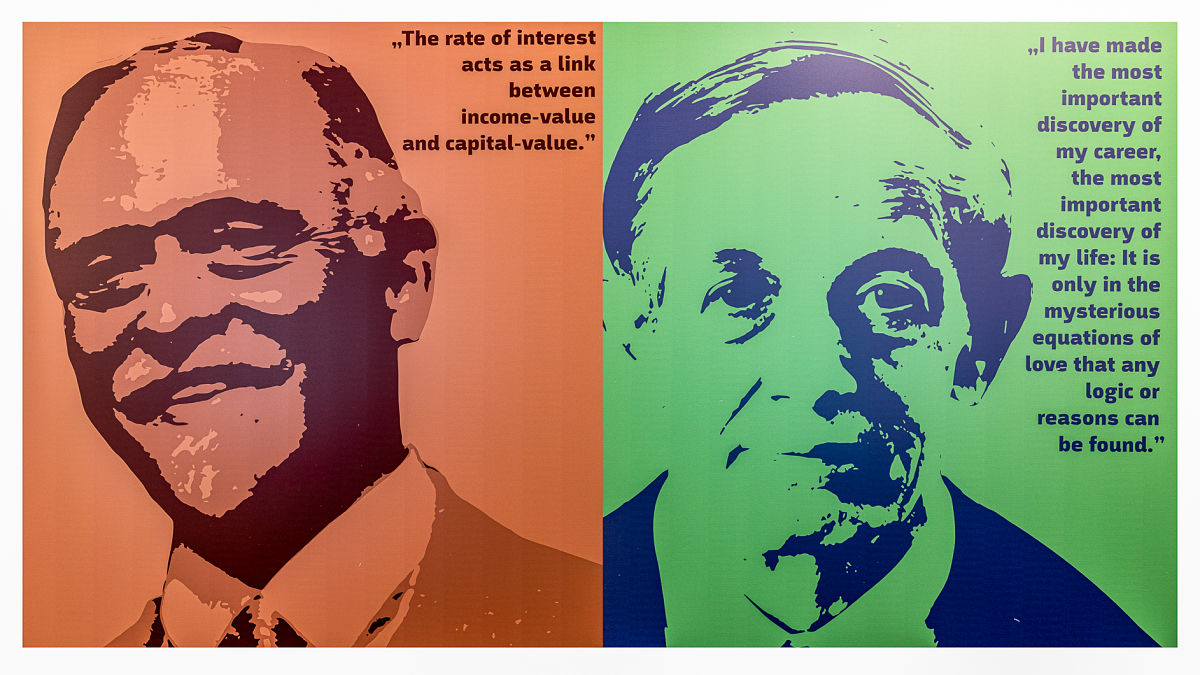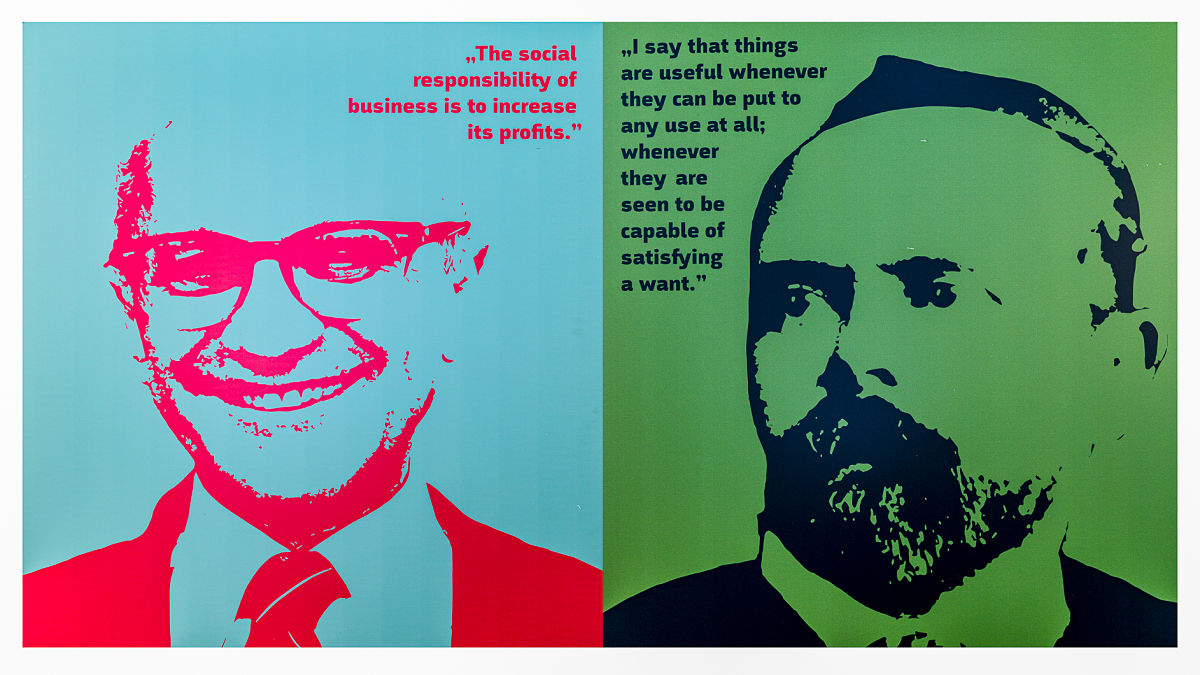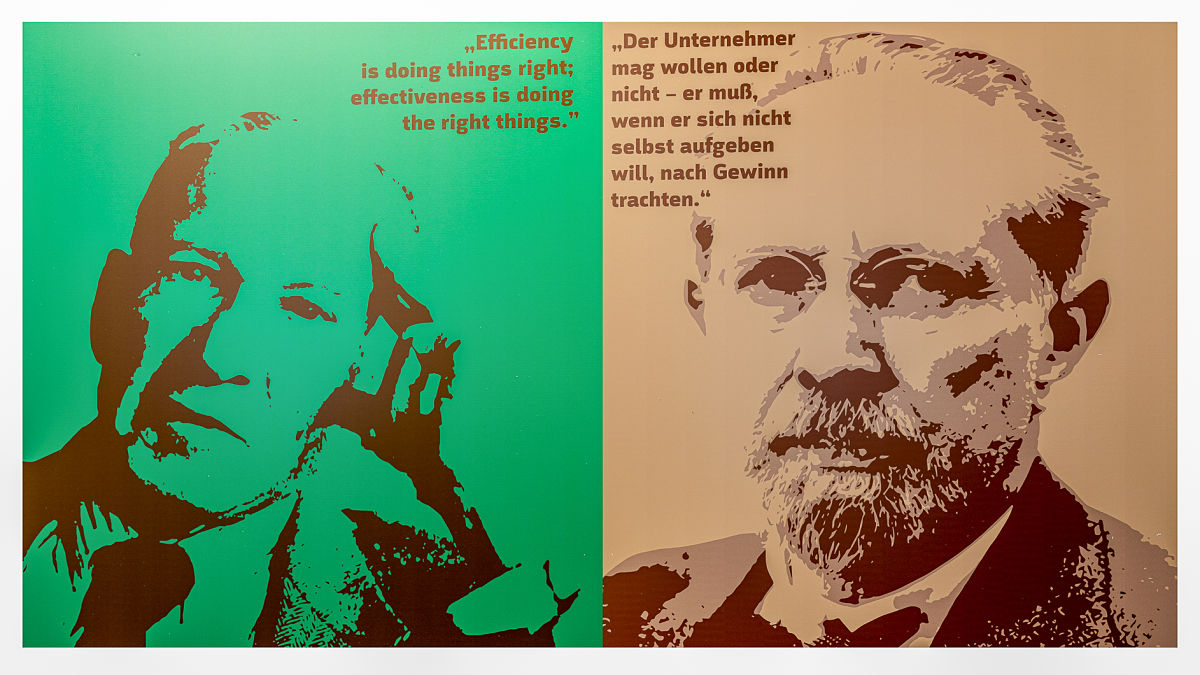 Reducing Statements to Their Key Message
Martin Missong, professor of applied statistics, points out the British economist Joan Robinson (1903 to 1983) – one of the two women in the gallery of great minds. "She critically pushed the modelling of economic connections forward," he praises. The most important thing: She understood how to reduce statements to their key message and implement that in research and teaching at Cambridge.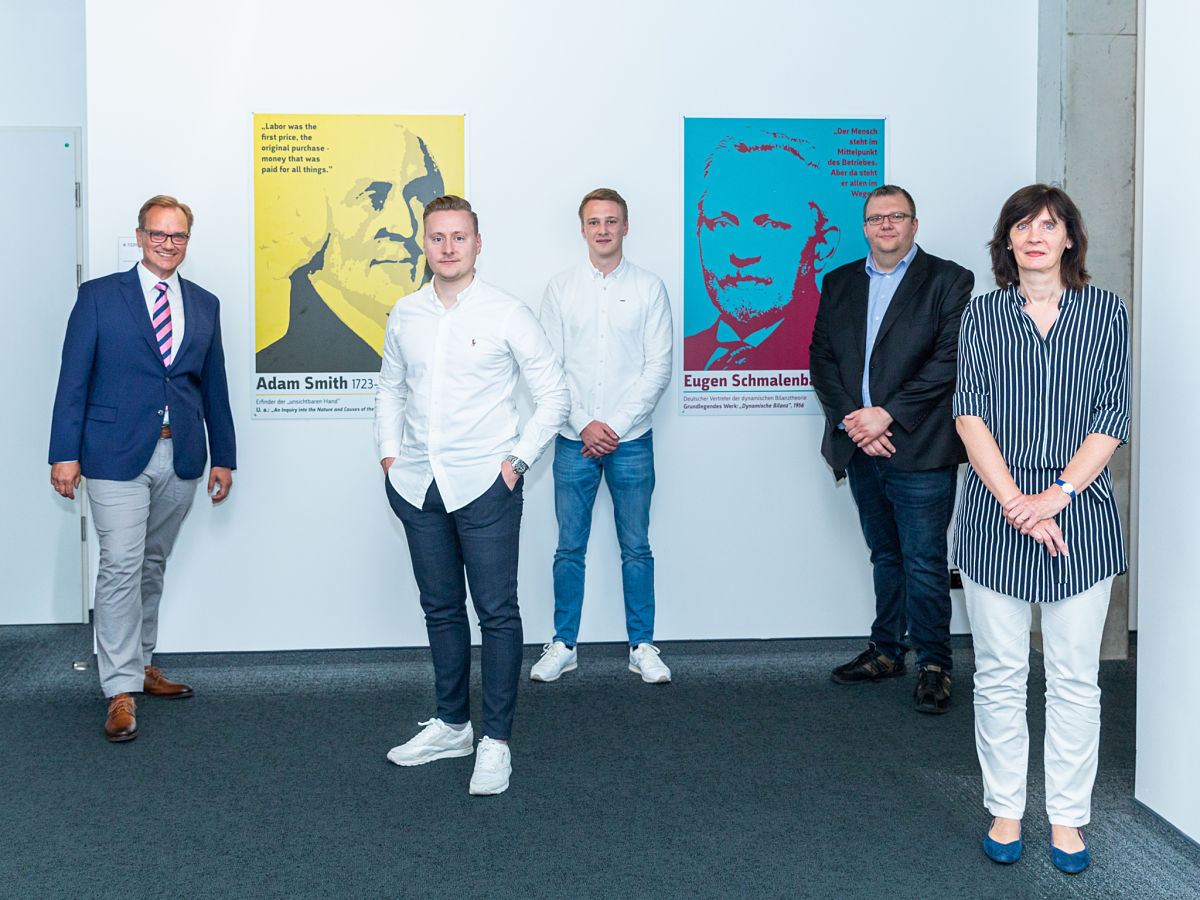 Economist of the Month in Planning
The working group that had the idea for the wonderful project greatly praises staff member Brigitte Mucek, who played a decisive role in pushing the technical implementation forward. The educational and worth-while gallery is to inspire visitors, teaching staff, and students – basically as they walk past. "If one has internalized the economic ideas collected here, one can influence the rest of the human race," jokes Dean Zimmermann. Martin Knipp, a scientific assistant within the faculty, reports that the Instagram team is working on each presenting one economist of the month.