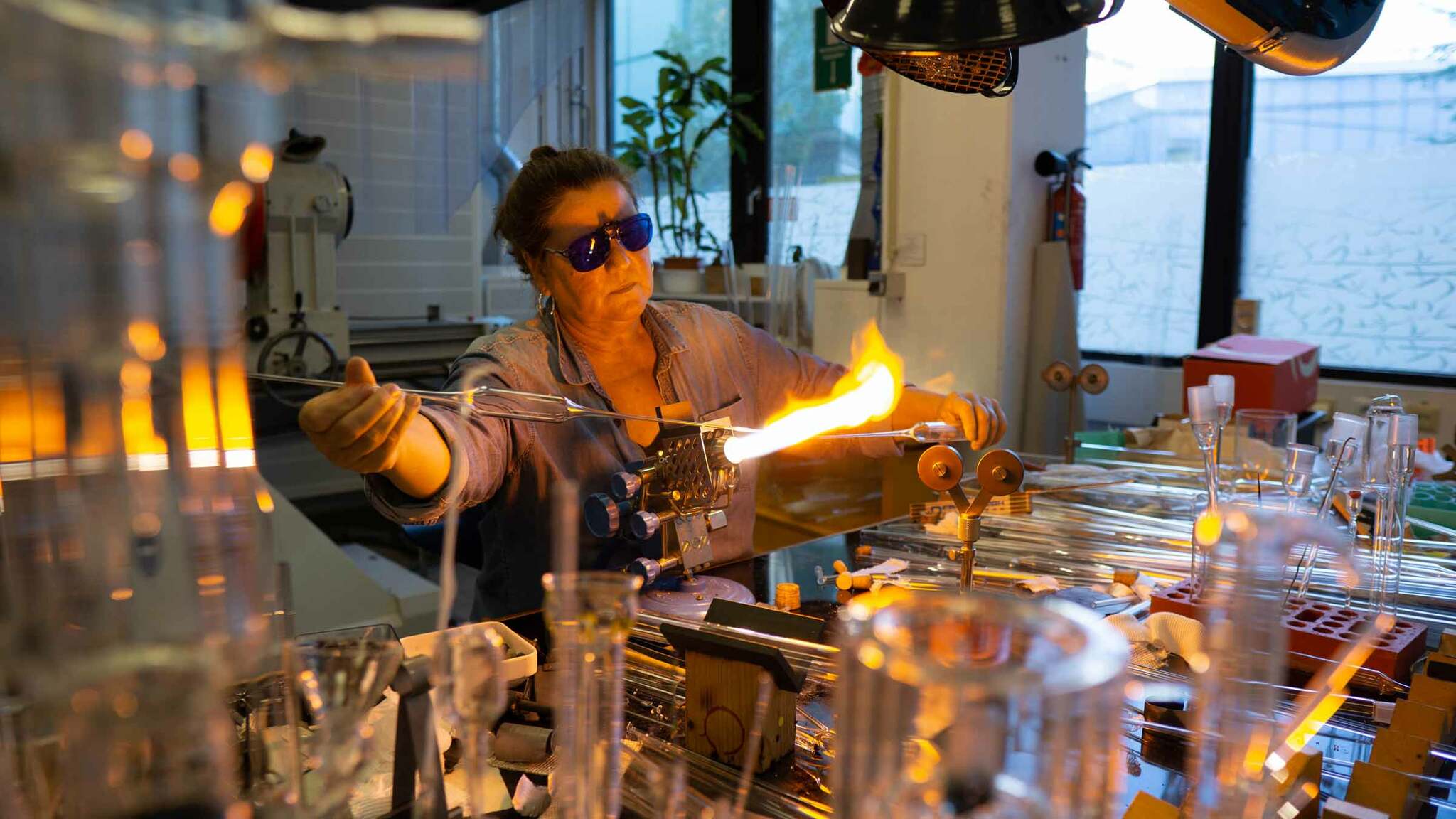 Have You Heard of... The Technical Glass Workshop?
There is a great deal to be discovered on campus but what is the story behind it all? up2date. has collected the answers for all of you curious readers. Welcome to a slightly different tour of the campus!
Roswitha Krebs-Goldbecker is the ruler over the world of glass at the University of Bremen. Her working materials are extremely fragile and dozens of glass tubes and rods of all lengths and sizes can be found on her workbench. Hidden away on the ground floor of NW2 Building, the master scientific glassblower creates special products for laboratory and experiment set-ups. Her clients are scientists who teach and carry out research within the Faculty of Biology / Chemistry and Faculty of Production Engineering, for example.
"One needs to understand the material glass in order to judge which shapes are possible and how they could work," states Krebs-Goldbecker. She heats glass rods or tubes over torch flames that reach temperatures of up to 2,000 degrees Celsius. In many small steps and by means of constant turning, blowing, spinning, and melting, she creates simple and complex pieces of glass equipment: from small spatulas to complicated apparatus systems. Much like in any craft, the following applies here: You have to break eggs to make an omelet. In this case, it is glass that sometimes breaks. "Especially the creations that are only a few centimeters in size can be extremely complicated and time-intensive," explains the craftswoman.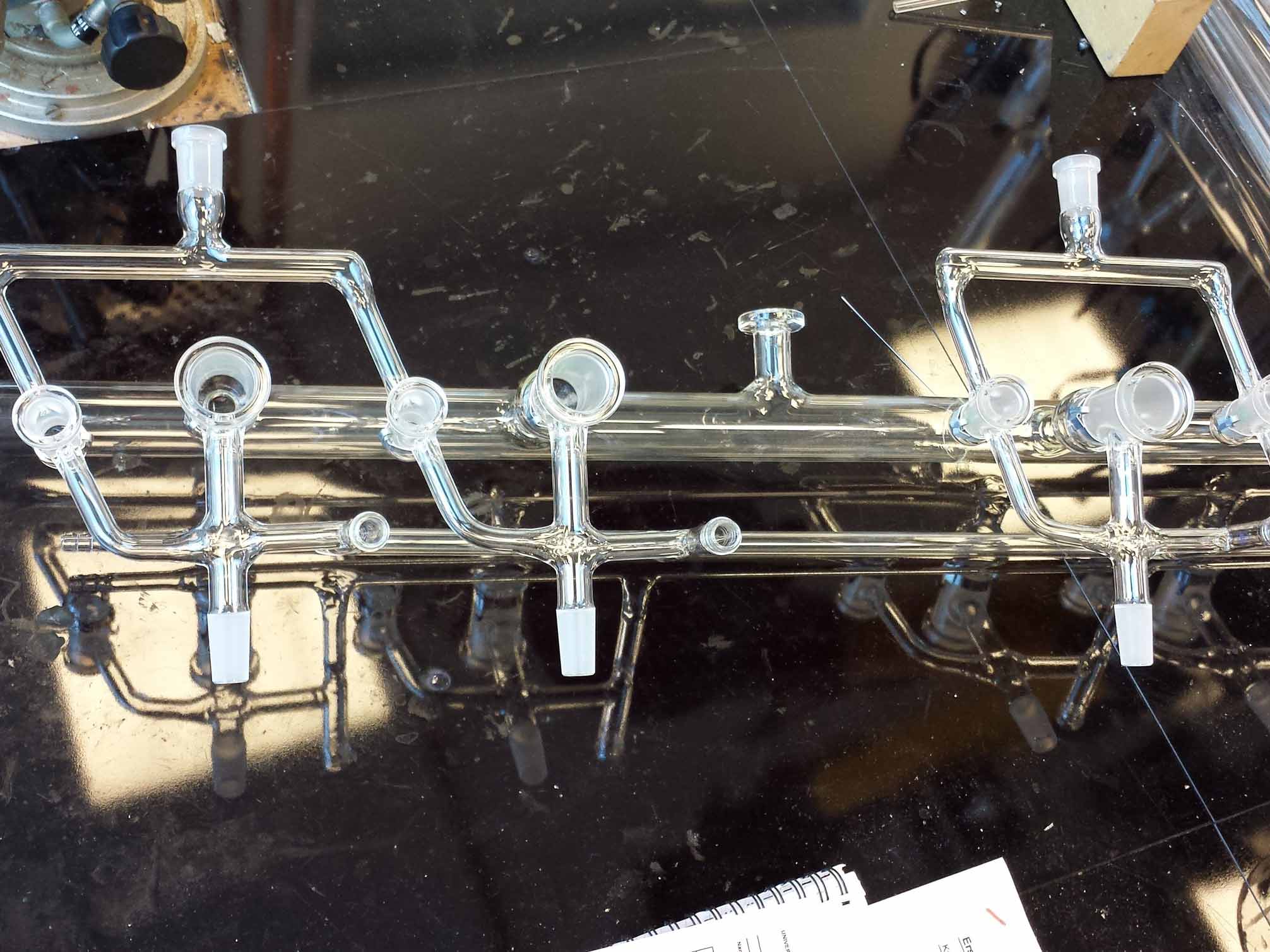 From Craftsmanship Back to the Uni
After her vocational training as a scientific glassblower at Ruhr University in Bochum and three years in the trade, Krebs-Goldbecker came to Uni Bremen in 1990. She remains the only person of this trade in the whole of Bremen today. She produces custom-made products for special experiments. The scientists discuss their ideas directly with her and Krebs-Goldbecker assesses said ideas, develops solutions, and then creates her unique pieces. For this purpose, she uses glass tubes made of Duran laboratory glass with a diameter of three to 150 millimeters. She also uses quartz glass, which has a high thermal durability, for special creations. Each piece that Roswitha Krebs-Goldbecker produces is one-of-a-kind.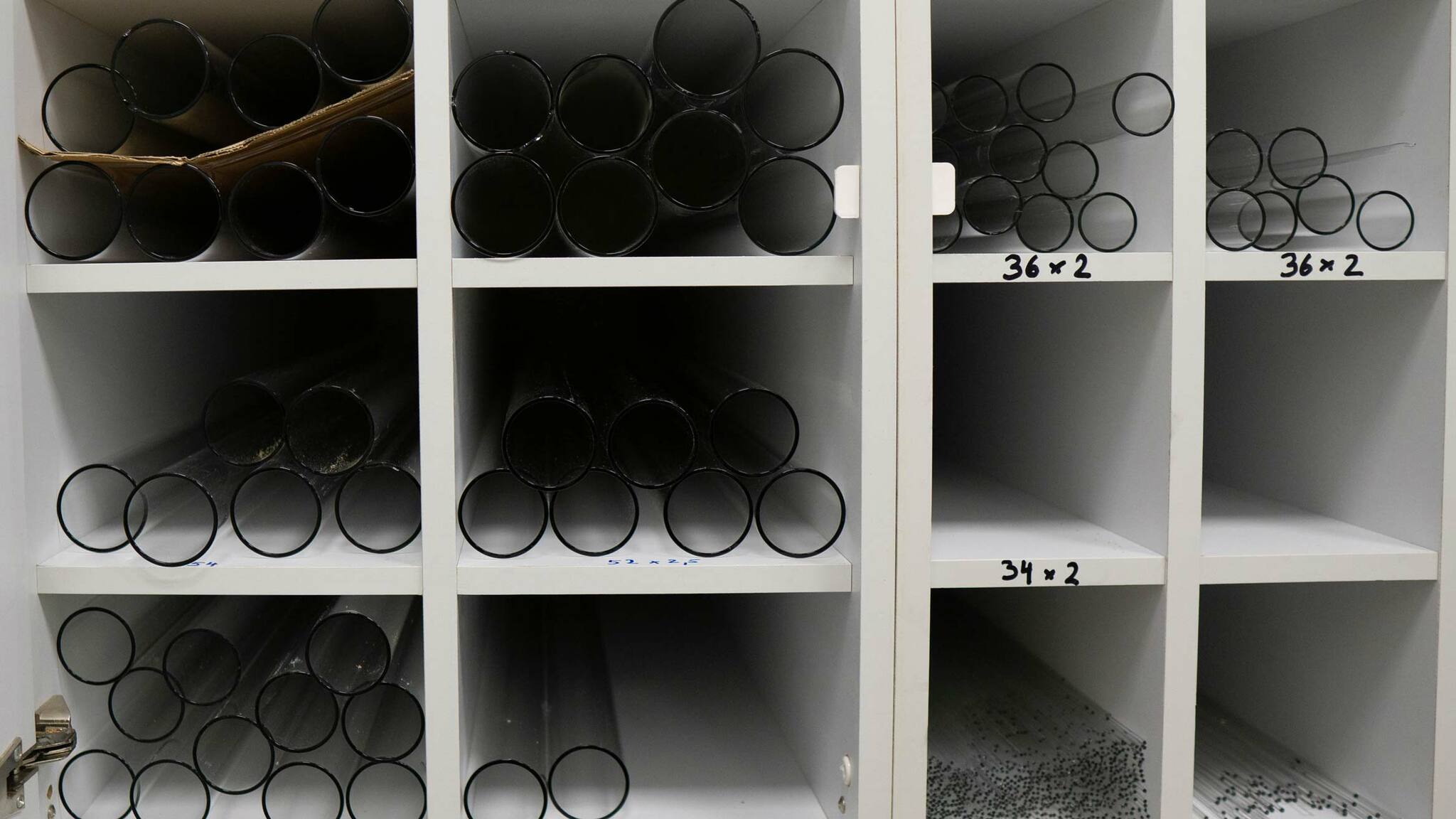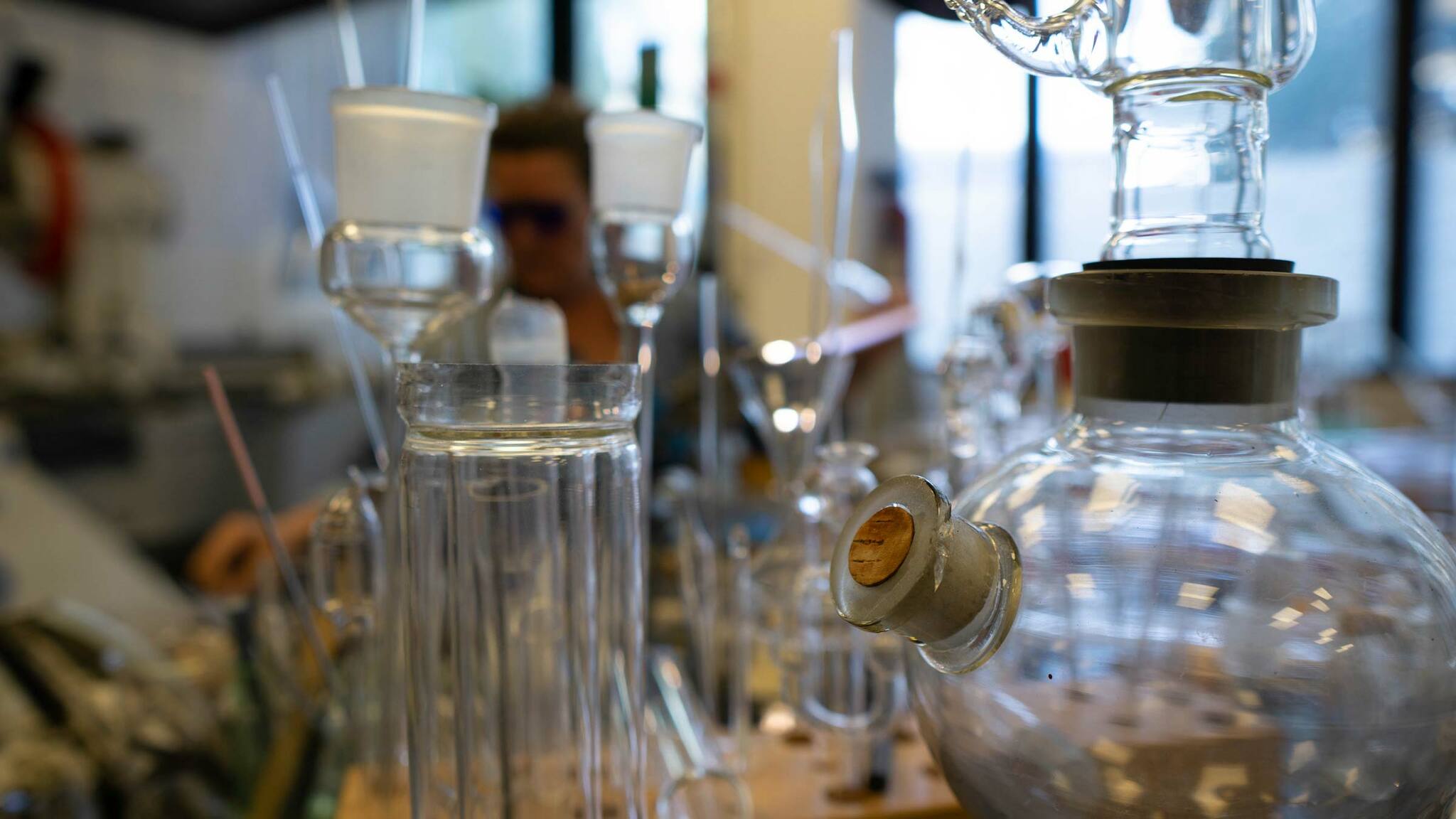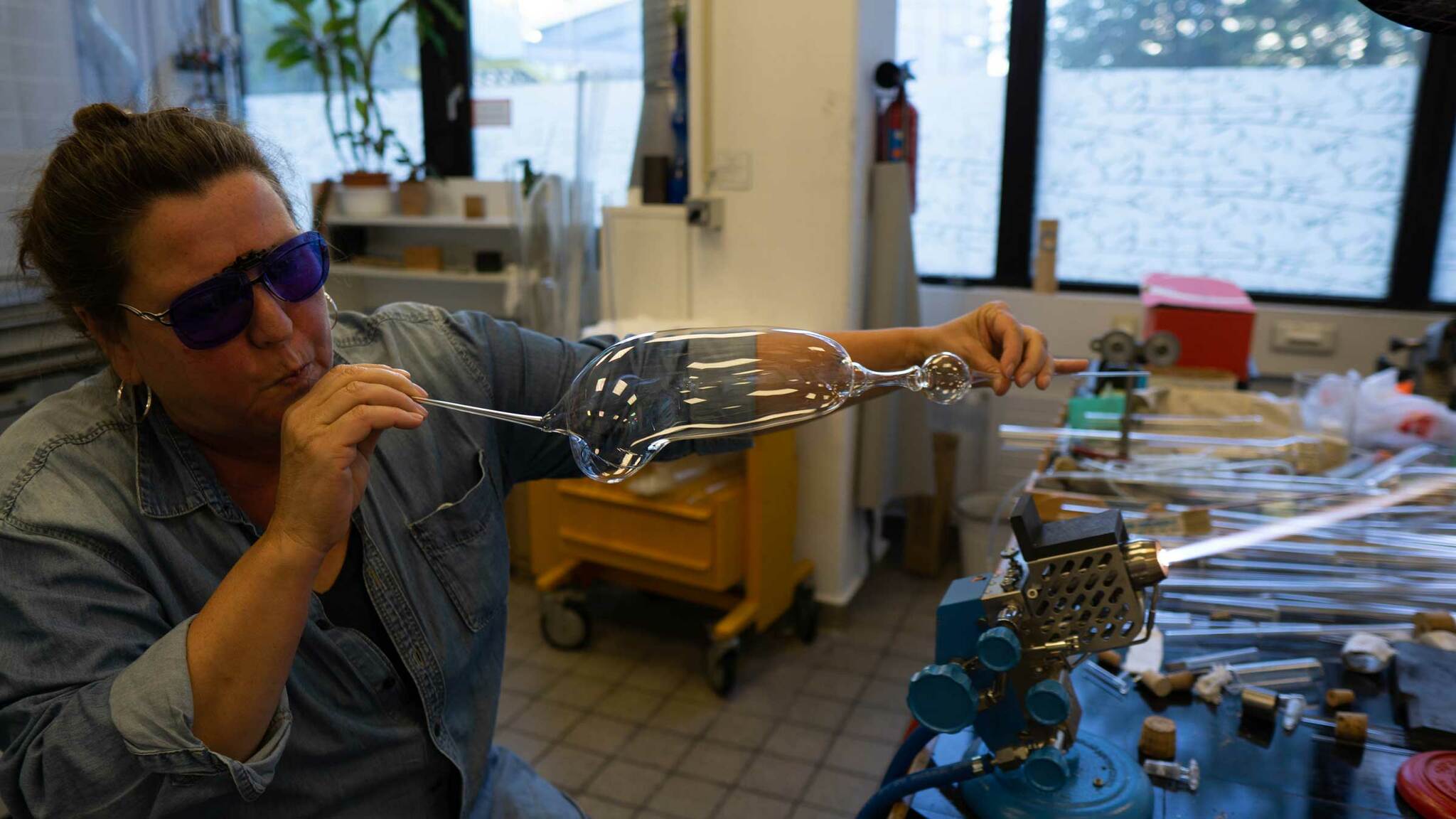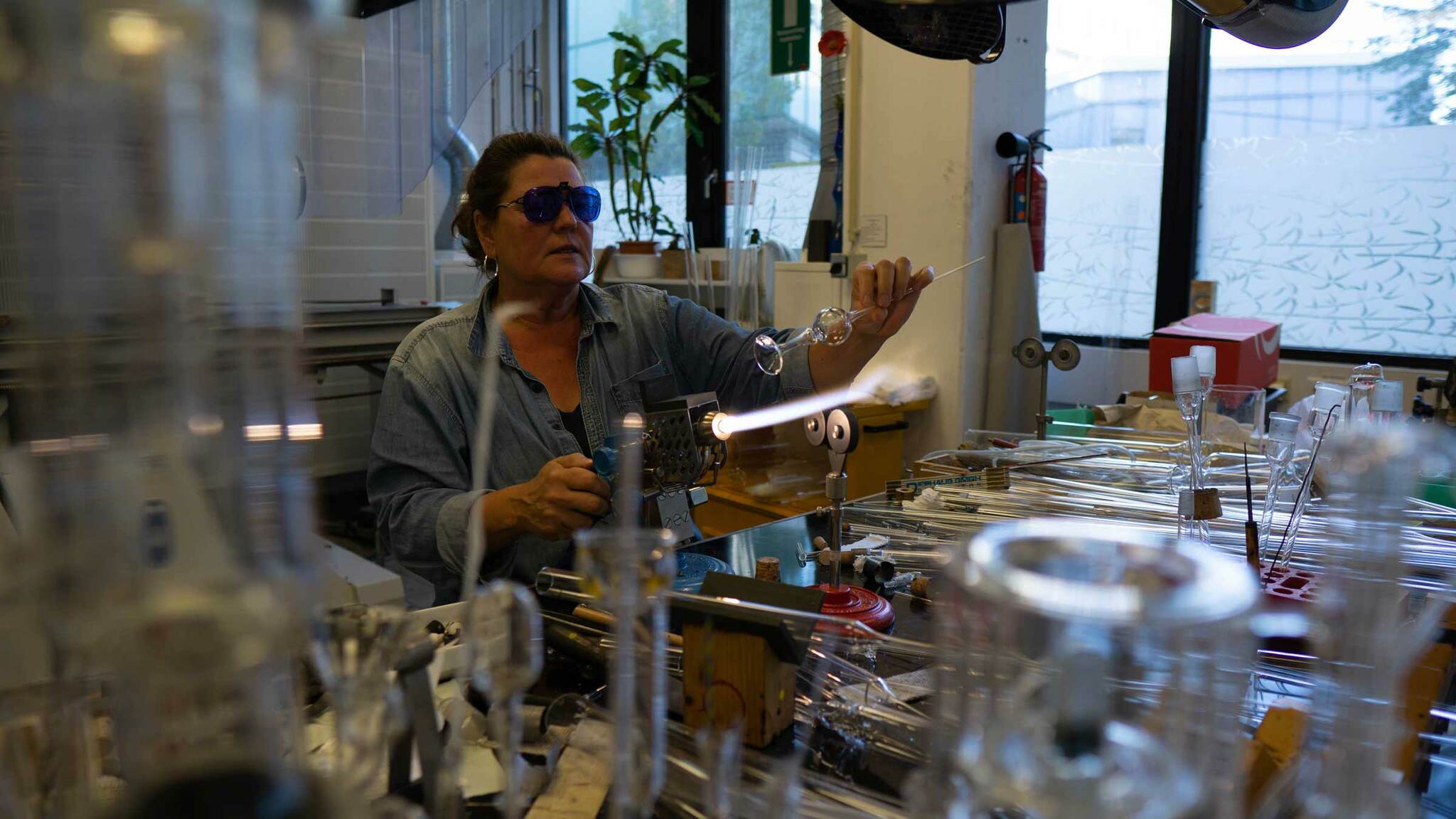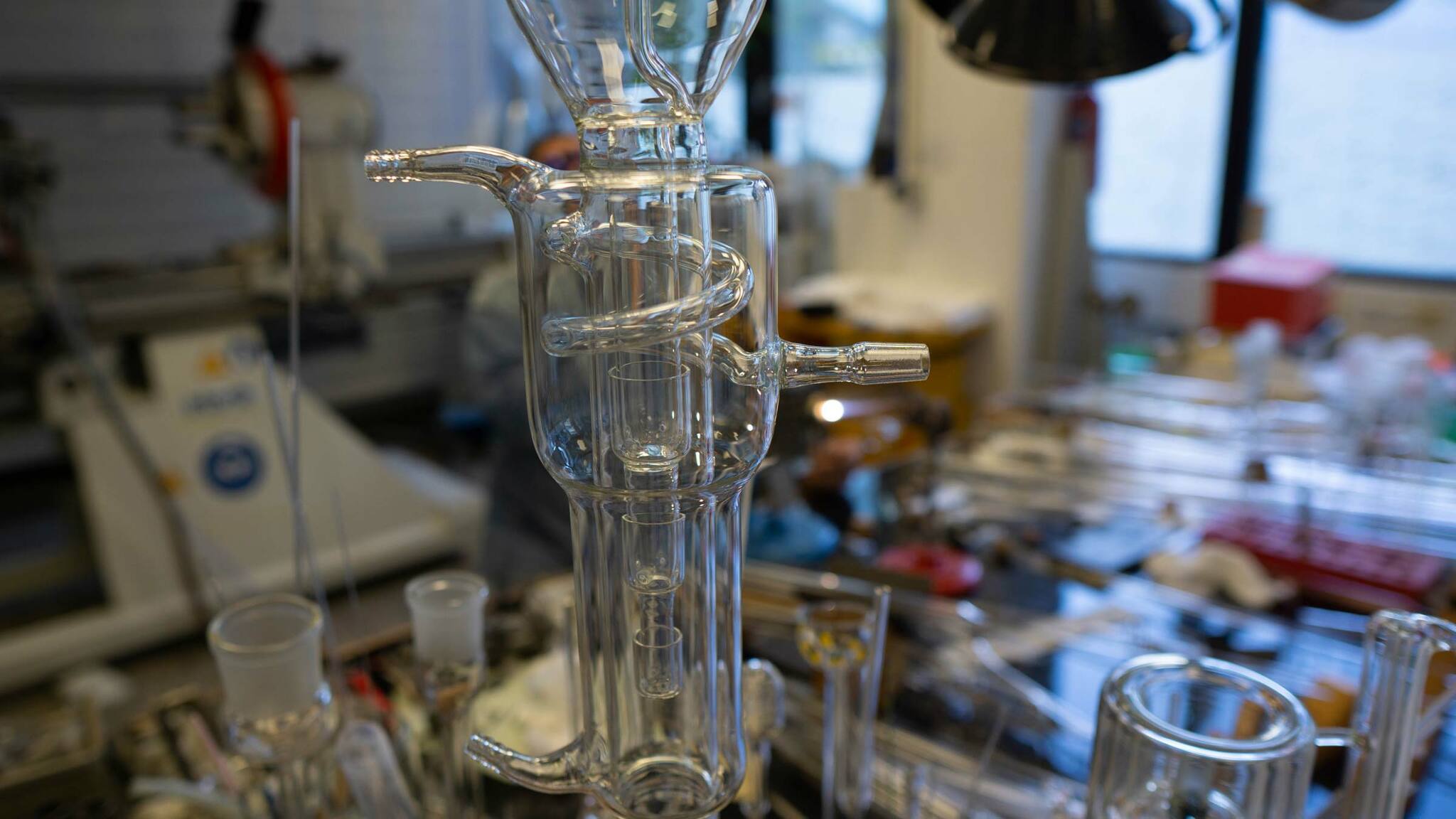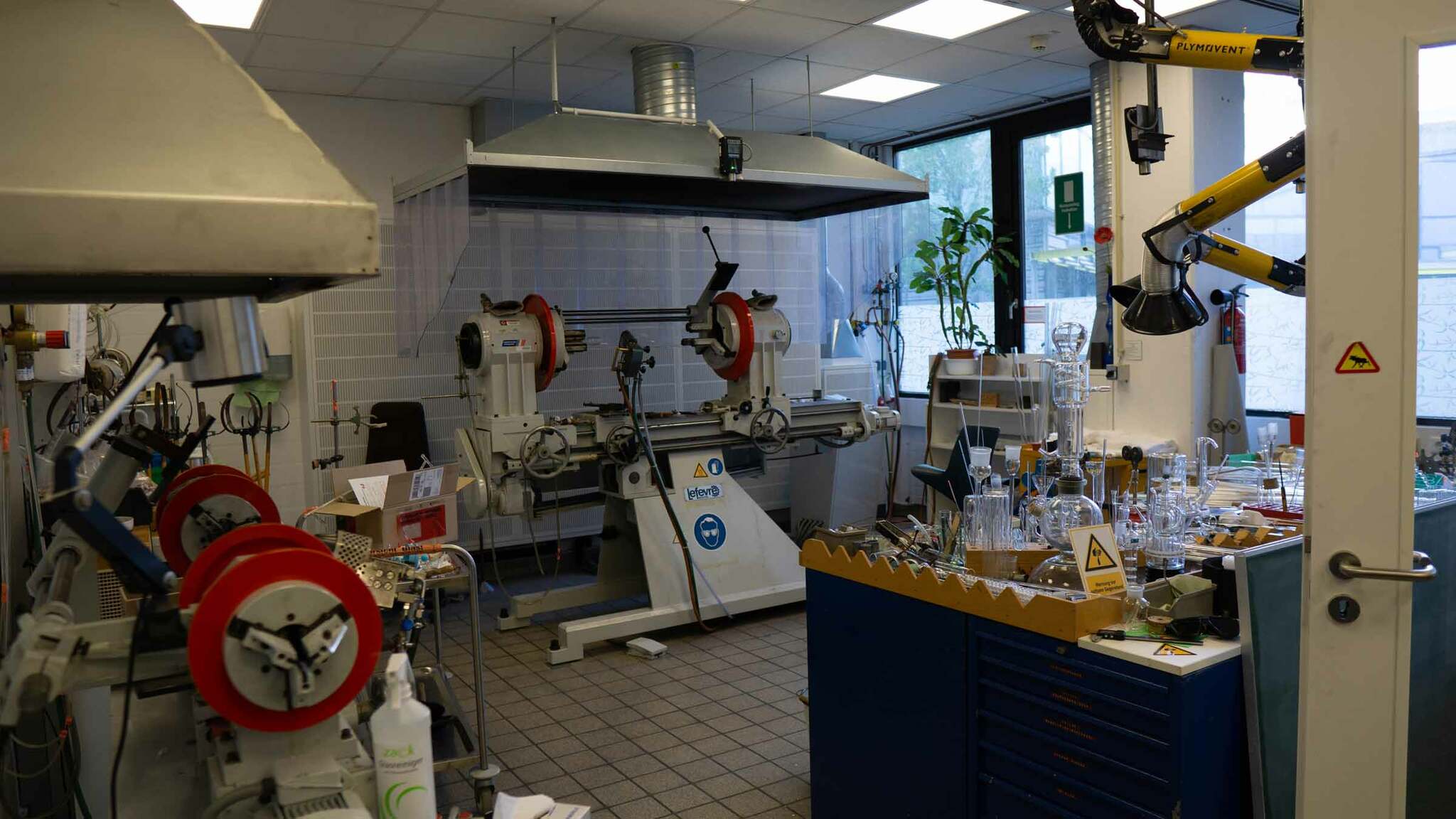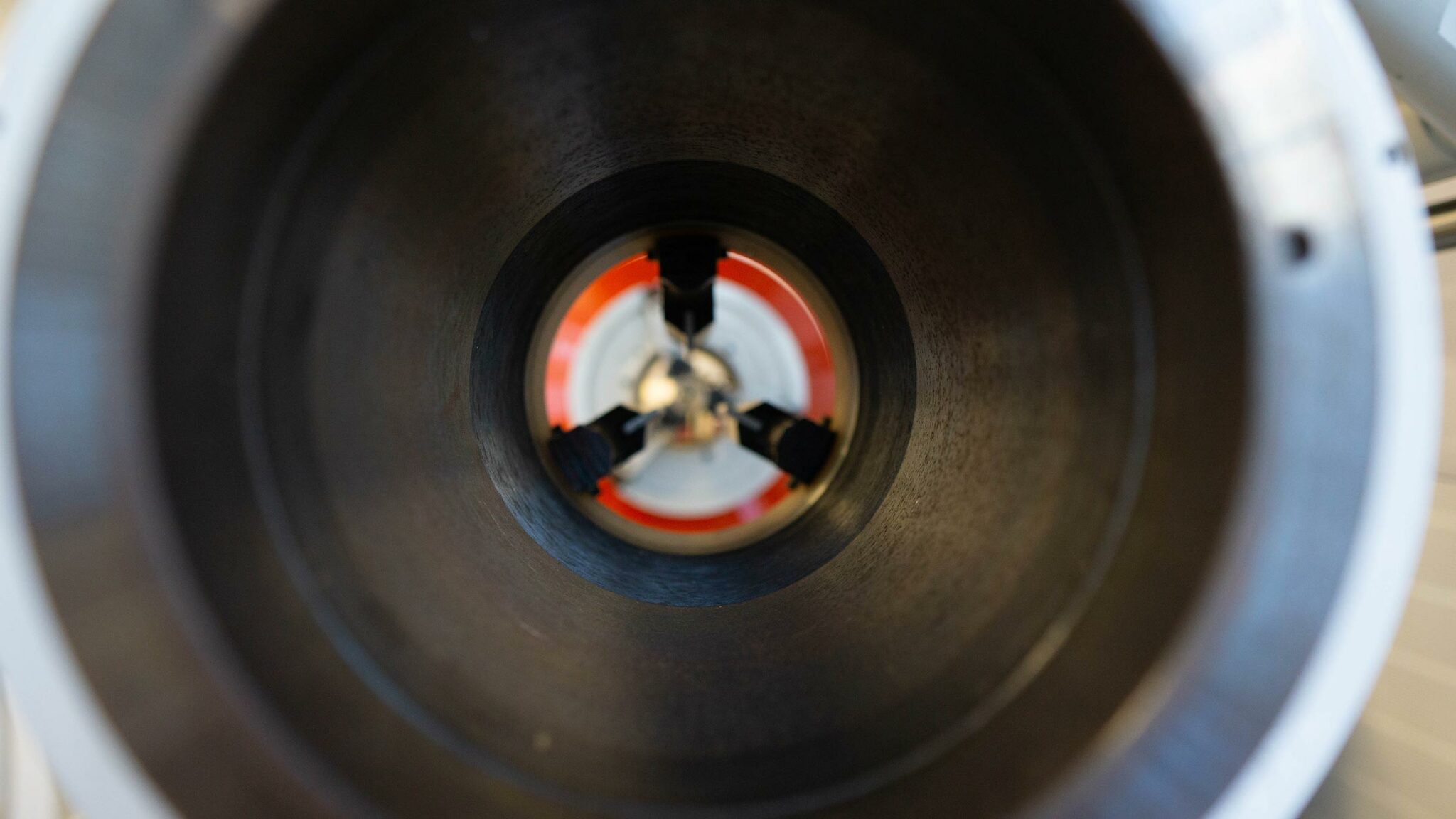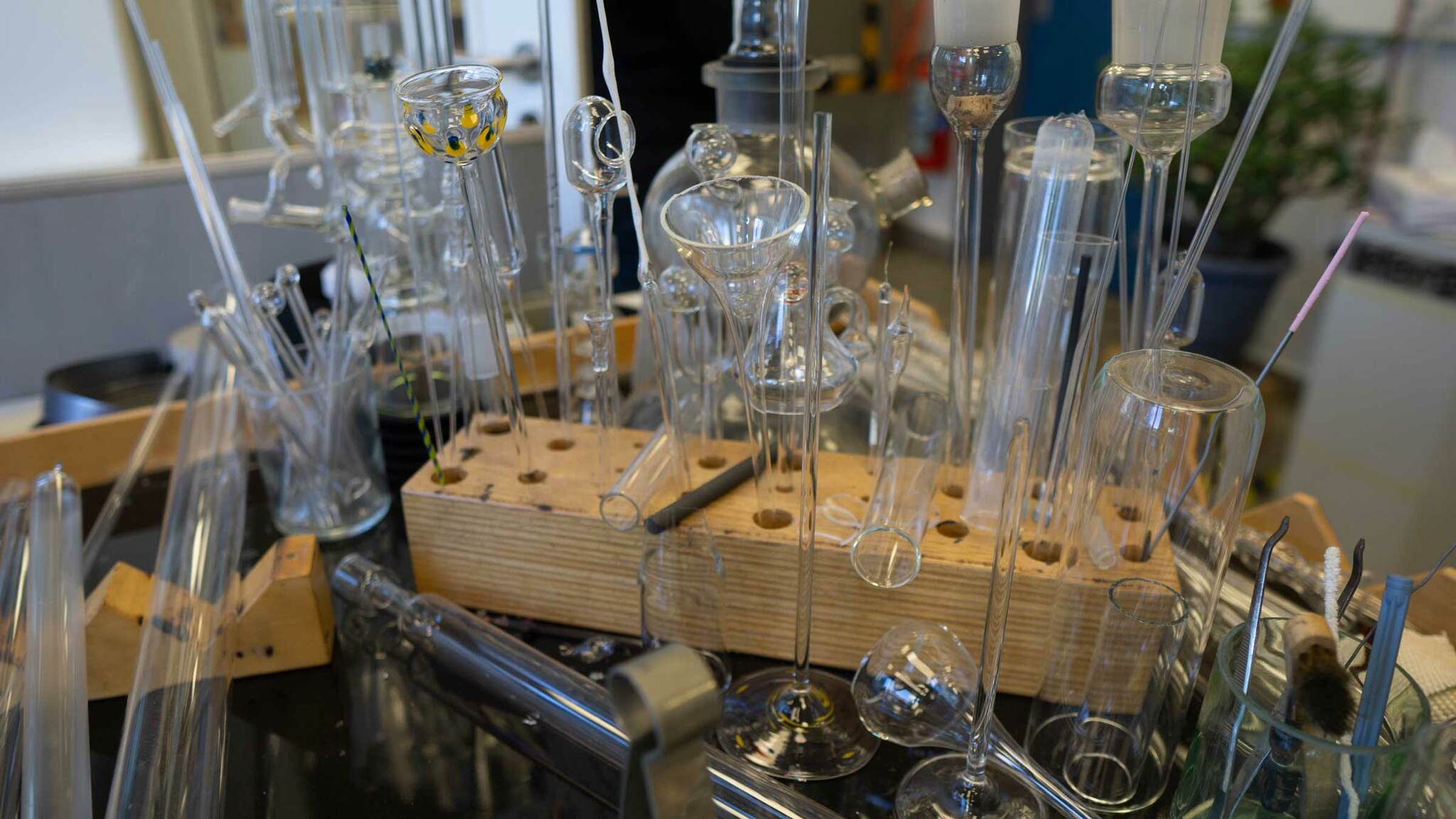 Warning! Danger of Explosion!
Another one of Krebs-Goldbecker's fields of work is the repairing of lab equipment. Her expertise is especially in high demand when it comes to existing special creations. The scientific glassblower is able to reconstruct individual parts and pieces and fit them. The requirement for this is that the broken parts are completely clean and fat-free. Why? Because of the danger of explosion. "When filled glass ampules are to be melted, my first question is: flammable, toxic, explosive? After all, during the process, the remains within come into contact with a flame that is 1,500 to 2,000 degrees Celsius. That can cause quite a lot to happen!" After she has molded the glass into the right shape, the container or apparatus that she has created needs to go into the oven at 560 degrees Celsius for a while. "Tension is created within the glass during processing. The time in the oven, which is called annealing, alleviates the tension in the glass and allows it to remain stable if the temperature changes," explains Krebs-Goldbecker.
Curious?
You can find more information on the website of the Technical Glass Workshop (in German).