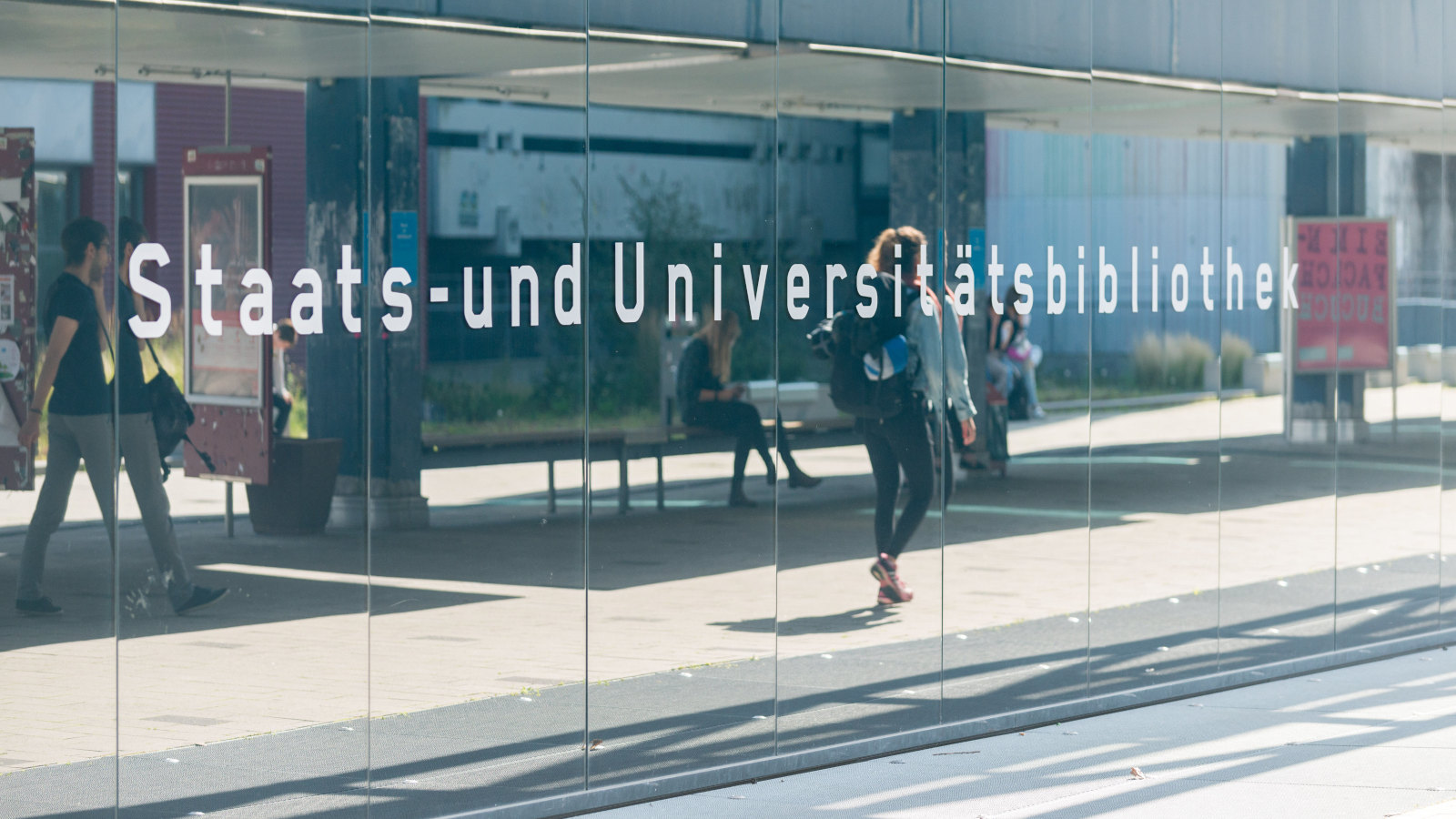 How Can You Be More Sustainable on Campus?
We show you easy ways to reduce your own carbon footprint on campus.
Disposable coffee cups, numerous paper copies, a crowded parking lot: Many people at a single one location cause much waste and emit CO2. But fortunately, there are also numerous ways you can save resources at the University of Bremen.
Much can be achieved on a campus with around 20,000 students and 3,500 employees. After all, this number of people corresponds to a good four percent of Bremen's total population. Do you want to live (more) sustainably yourself? Below are some tips on how to be more sustainable on campus – with little effort.
Deposit-Refund Systems Instead of Waste
Do you prefer to eat outdoors rather than in the Mensa cafeteria? No problem. The cafeterias and food services on campus offer different deposit-refund systems. The Mensa cafeteria and the GW2 cafeteria, both run by the Bremen Student Services Organisation, use reusable round, black containers as well as "Weck" jars. When you return them, you can either have your money refunded straight away or receive a token for next time. At Café Central, the GW2 cafeteria, the coffee bar, and the GW2 bakery store, you can have either your coffee or tea in a porcelain cup, bring your own reusable cup, or buy one there. You can read more about the sustainability concept on the website of the Student Services Organisation (currently in German only).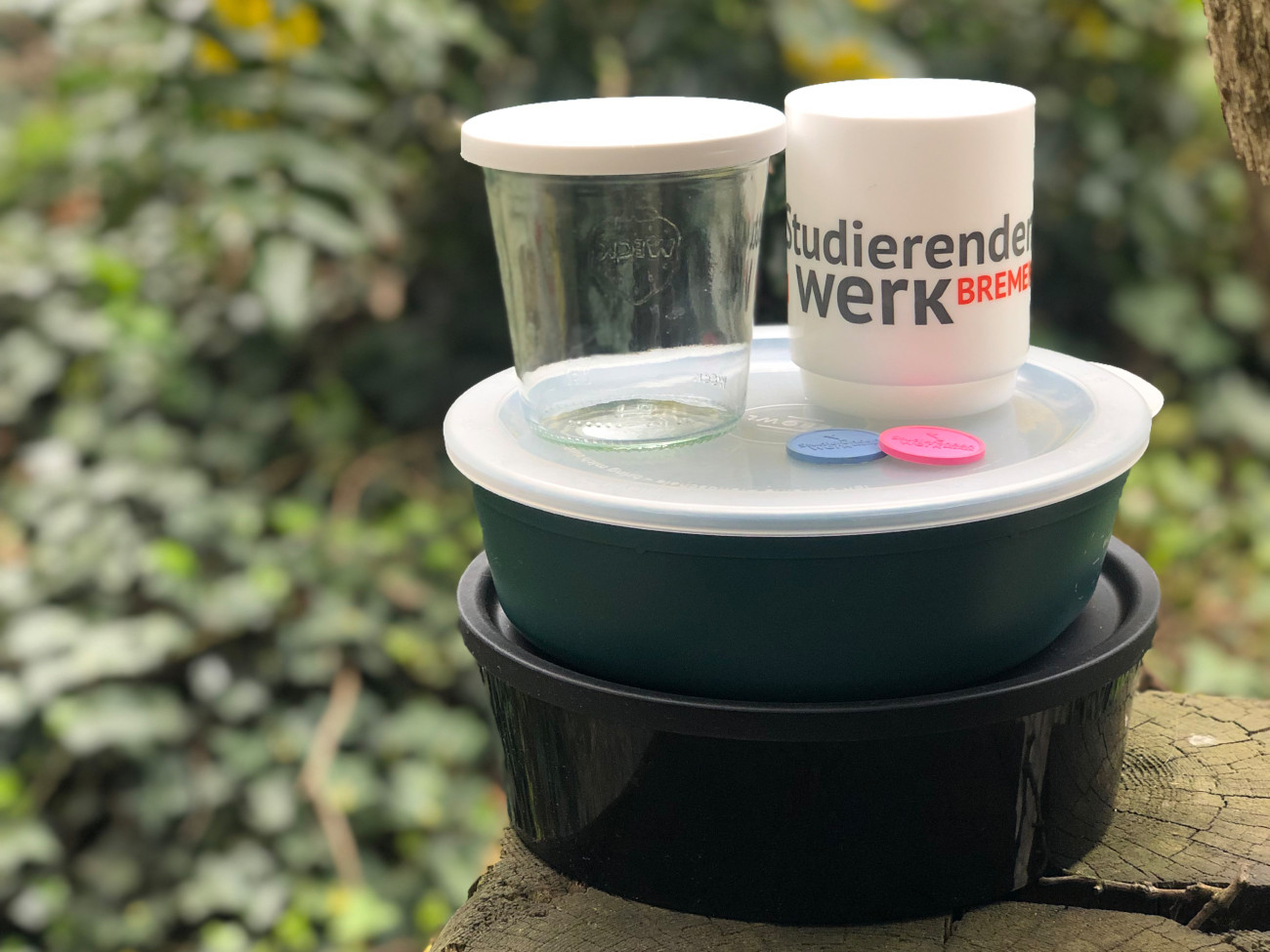 There is also a deposit-refund system at Café Unique, located in the SFG building. The bistro also offers containers from Rebowl along with non-branded boxes for five euros to take away your food in without the need for disposable dishes.
Eat Vegan
According to a 2019 study by University of Oxford ecologist Joseph Poore, published in the Spiegel journal, Germans produce approximately eleven tons of greenhouse gases per year. A vegan diet reduces this amount by about two tons per year. Fortunately, there are plenty of vegetarian and vegan options at the various cafeterias, bistros, and bars on campus. Food habits and preferences are constantly evolving. "The cafeterias of the Bremen Student Services Organisation align their offerings closely to the demand of students. The large number of positive feedback and encouragement we have received in recent years confirm that we are on the right track," says Maurice Mäschig, spokesperson for the Bremen Student Services Organisation. You can find an overview of the dining options on the university website.
Incidentally, you can do a carbon quick check with online calculators such as that of the German Federal Environment Agency and compare it with the German average.
Cycle or Take Public Transport to University
One way to get to university is, of course, by public transport using your semester ticket. In addition to taking the bus or train – depending on where you live – cycling is also a good way. After a stressful day of seminars or a long day at the office, a leisurely ride along the Bürgerpark clears your mind and keeps you fit. Near the SFG building, you will also find the self-help workshop for cyclists of the AStA Students' Union. There, you can learn how to fix a punctured tire. A great bonus: Because you only have to pay for the materials and repair the bike yourself, it is cheaper than going to a bike repair shop.
Reduce Paper Waste
Last semester, the State and University Library (SuUB) introduced new document scanners. In addition to three overhead scanners, located in the central library and the Juridicum, there are also ScanTents. These allow you to scan single or multiple pages to your own phone or a USB stick. This will save you a lot of paper waste and you won't have to carry as much paper around campus. Learn more about it on the SuUB website.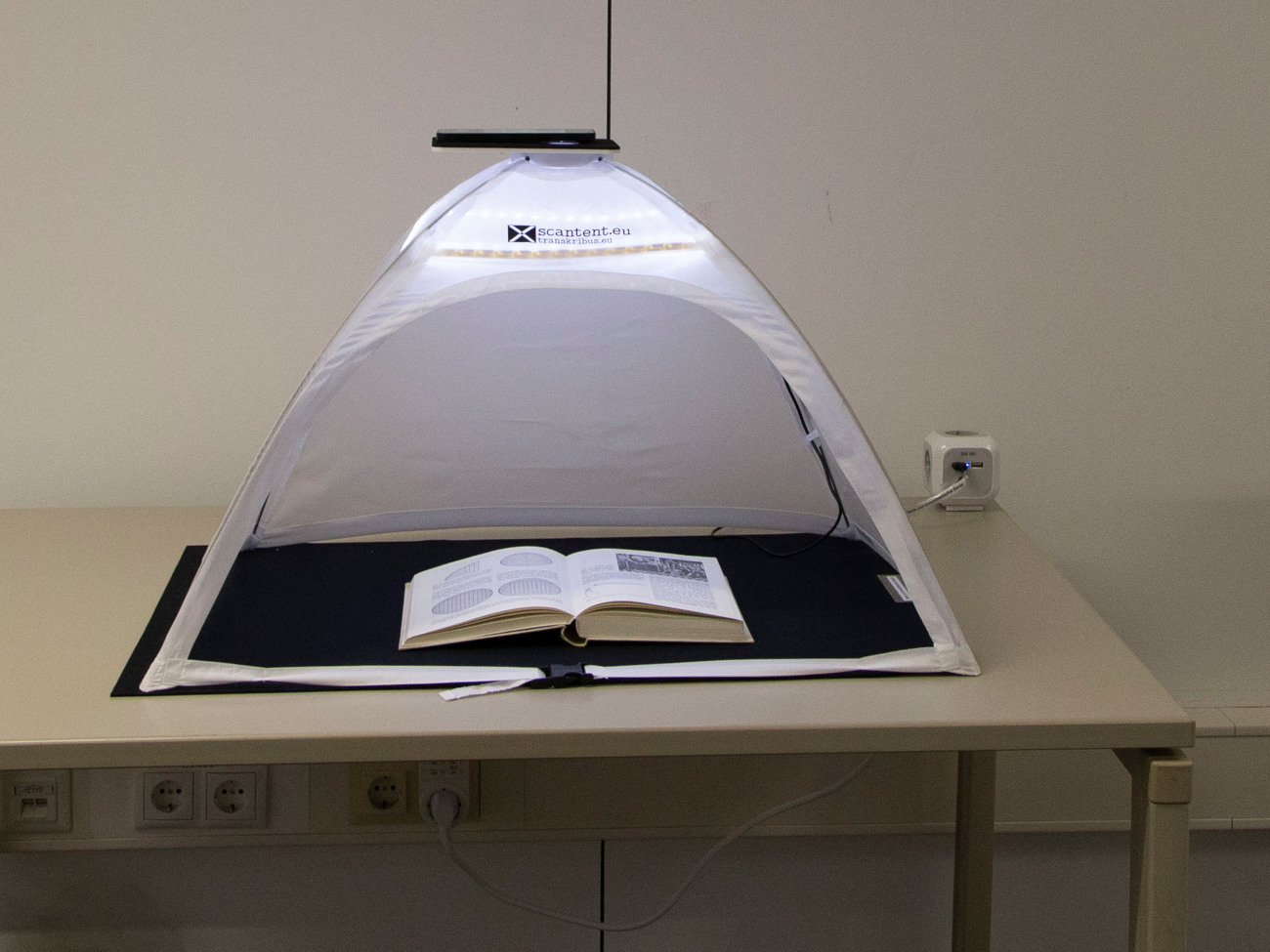 AStA Clothing Swap
Secondhand clothing is the most sustainable way to dress. Instead of supporting fast fashion labels, which constantly produce new garments – often of inferior quality and under poor working and environmental conditions – there are many alternatives, so called slow fashion. In addition to eco-labels that produce fair-trade and environmentally friendly clothes, second-hand purchases are resource saving and cost-effective. You can pay even less: The AStA Students' Union hosts a clothing swap party twice a semester. You can bring clothes that are still in good condition but no longer fit and give them away for free. In return, you can browse through items that others have brought along and perhaps find a new favorite item – free of charge and environmentally friendly. The clothing swap party is also a place to linger. Over cake and drinks for a donation, you can chat with others in a relaxed atmosphere. The next clothing swap party is scheduled for July. As soon as the next date has been set, you will be informed by e-mail and on the AStA Students' Union website.
The "Green Office"
Since October 2022, there has been a sustainability office at the University of Bremen. The Green Office was established at the initiative of student members on the university's Commission for Sustainability, Climate Justice, and Climate Neutrality. It is a pilot process within the framework of the sustainability strategy and has initially been filled with two student assistant positions. The Green Office supports all university members in their sustainability endeavors. For example, students can collaborate on existing projects or initiate a project of their own. Under certain circumstances, credit points can also be awarded for this engagement. More information and contact details are available on the university website.
What other ideas do you have to make your everyday university life sustainable? Post a message to us on our Instagram channel @uni_bremen!
Theme of the Month: Sustainability
Since its foundation in 1971, the University of Bremen has been committed to social responsibility. Climate protection and sustainability are fundamental principles guiding the university: in research, teaching, and operations. For this reason, up2date., the University of Bremen online magazine, will focus on the topic of sustainability in May. The theme of the month explores current projects, issues, and challenges.