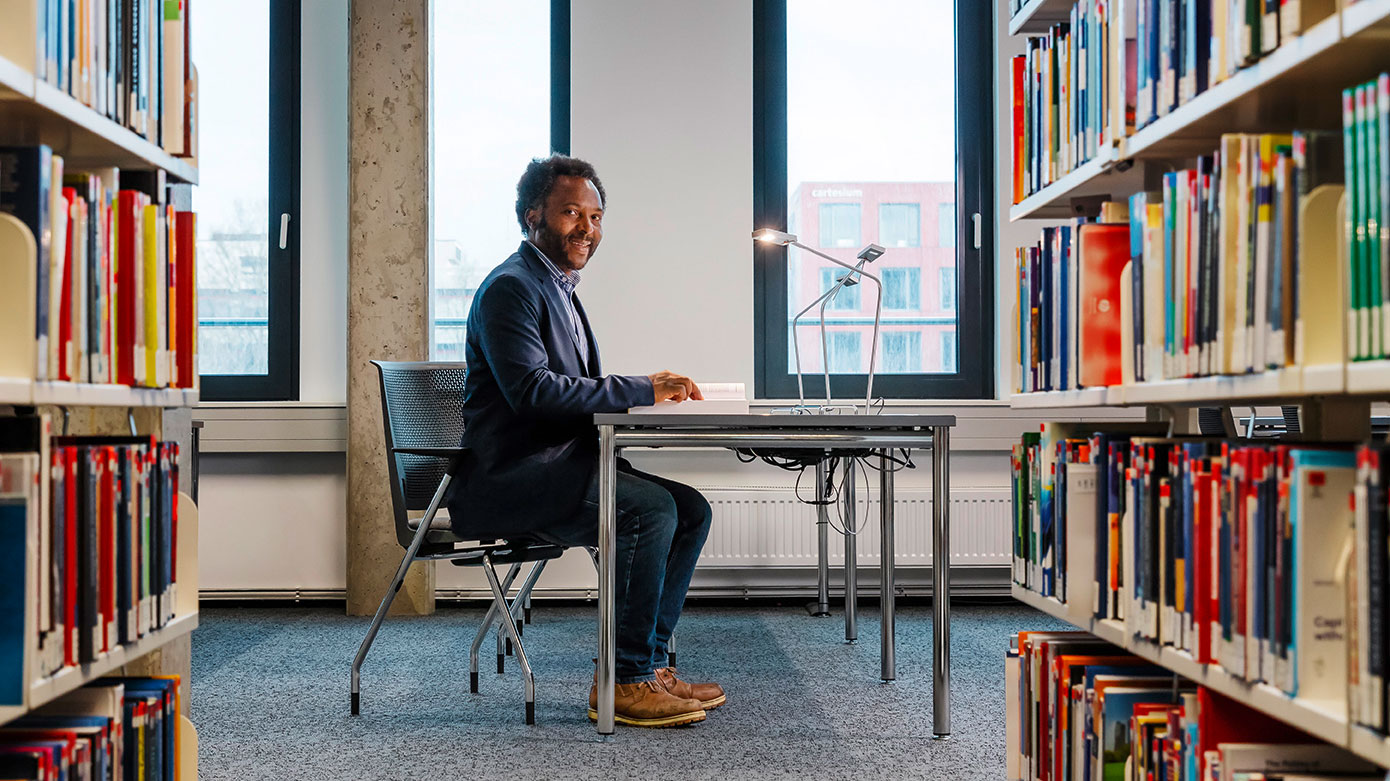 And then? I wanted to improve society a little
Your degree is over, bring on your first job – or not? In the new Yearbook of the University of Bremen, graduates tell us about their lives after graduation.
From 1999 to 2005, Morin Kamga Fobissie studied economics at the University of Bremen. Together with his flat mate, Stephan Frost, he founded the Utamtsi coffee company, which stands for direct and fair trading and economic, social, and ecological sustainability, in 2005. What was once a flat share idea, is now a successful company of an exemplary nature: Utamtsi advocates the targeted inclusion of women and people with handicaps and supports numerous other projects.
Mr. Kamga Fobissie, why did you decide to study in Bremen?
That is a long story. I was born in the countryside of west Cameroon, went to school and studied there. At the end of my degree, I went to Douala, Cameroon's largest town. There, I applied for a scholarship in the field of business/company management, which included studying at a private university abroad. Due to the fact that I wanted to learn a third language alongside English and French, I decided on Koblenz in Germany. In October 1997, I came to Bremen for a twoyear language course, which was to prepare me for my studies in Koblenz. During this time, the term "elite" was discussed very negatively at the University of Bremen, which is more of a left-wing university. That is when I thought, if that is the case then I, as a farmer's child, fit in better here than at a private university. So I stayed in Bremen to study.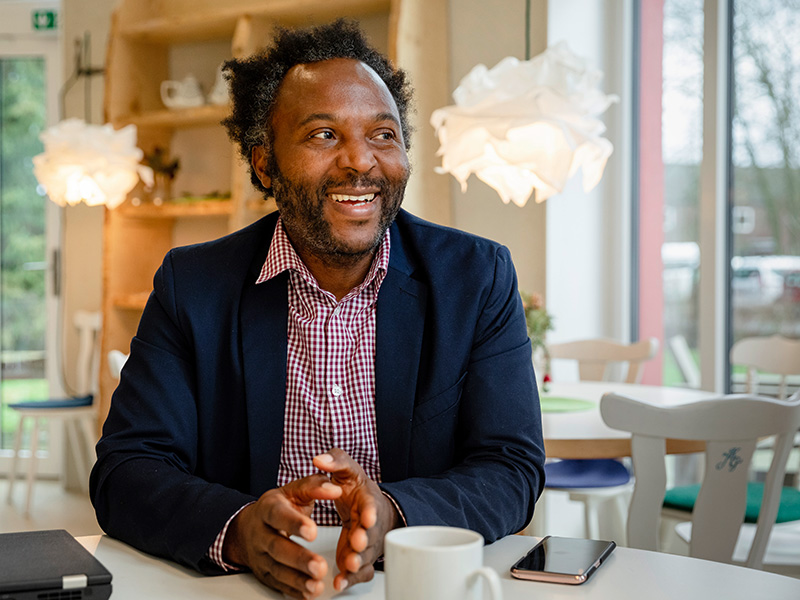 What expectations did you have at the beginning of your degree? Were they met?
I studied so that I could understand the economic problems in my home country Cameroon and so that I could even maybe improve the situation there. Cameroonian farmer's children, as I was, have very little opportunities for education. Equal opportunities and social mobility are not available there. That is why I thought: How can it be that people work hard from early in the morning until late at night and still stay poor? How can I make it possible that they can live off their work? What market solutions are there? My degree immensely helped in allowing me to place my thoughts in a theoretical concept and to think about solution models. I had the chance to get to know the professors who came from the left-wing movement: Heide Gerstenberger, Adelheid Biesecker, Jörg Huffschmid, and Rudolf Hickel. I could talk about the problems intensively with them – even outside of lectures. That was a great privilege.
What was the time during your degree like? Is there something particular that has stayed in your memory?
As early as during my language course, I came into contact with the university and the students thanks to the Protestant Academic Foundation (Evangelisches Studienwerk). I was very dedicated to making sure that foreign students could also work during the semester. That was a joint project with the AStA student union back then. I really enjoyed the opportunity to participate and also the involvement of students in decisionmaking processes in the Academic Senate.
"People could not believe it and had the bank check the money to see if it was real."
How did the idea to found Utamtsi arise?
I lived in a very lively, international flat share. As I was drinking coffee with my flat mate, Stephan Frost, we asked the question of what actually happens along the value chain of coffee, which is being sold here for 10 German Mark per pound and is providing the coffee farmer's in Cameroon with 30 pence per kilogram. In 2003, during our studies, we travelled to Cameroon together to find out about the economic path of coffee from the plantation to Bremen. We discovered that there are twelve intermediaries alone before roasting – and they all need to earn money from it. When we were back in Bremen, we decided that we wanted to improve the situation. I worked at the steel works in Gröpelingen, Stephan worked at Lemförde Metall. We were able to start in September 2005. When we established Utamtsi, we founded a coffee company that is based on fair and sustainable conditions. We travelled back to Cameroon and purchased the first coffee two months later. We bought it for 1.32 euros per kilo so that production costs were definitely covered.
How did people react?
People could not believe it and had the bank check the money to see if it was real. We definitely brought movement into the market. The farmer's knew that they could now sell their coffee for far more money than they had previously and no longer wanted to sell to the intermediaries. They had already split their territories a long time ago but all of sudden there were prices that were unimaginable to them. One of the intermediaries found us and wanted that we retreat from the market. We obviously refused. We were also threatened but luckily it was never seriously dangerous.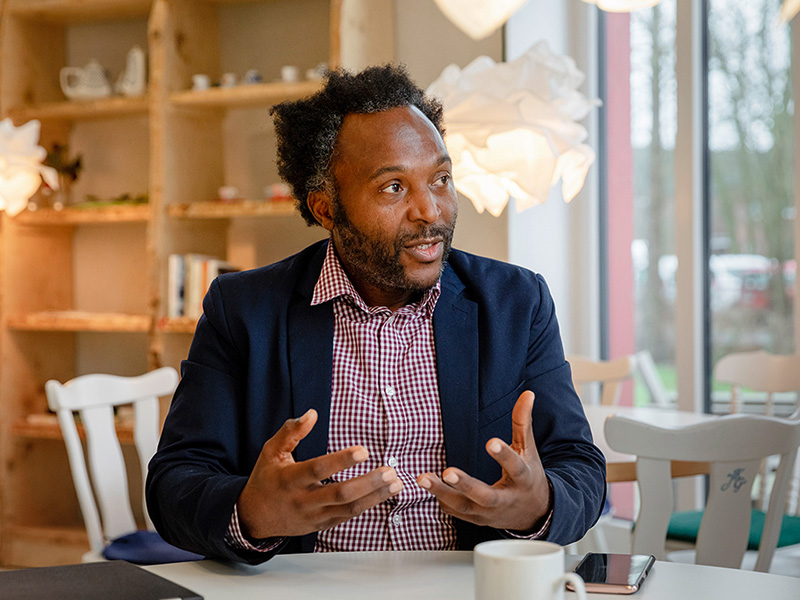 In 2005, local coffee roasters were not as common as they are today. What was it like establishing such a start-up?
There was a great deal to do. My business partner, Stephan Frost, completed an entrepreneurial seminar at the University of Bremen as he did not really have a business foundation as a religious studies scholar. I already had a permission to reside but no permanent r esidence permit. However, I required the latter to become managing director. With the help of the Chambers of Commerce, who supported our business idea, I quickly received the residence status that I needed for the work permit. I remember a notary who repeatedly questioned the sense of our idea, despite that not being his job at all. That's when the work really began. We went to nearly every single small festival in the region and all cafés and pubs in Bremen. Sometimes we were successful. Sometimes less so. We also repeatedly sent test packages to the Student Services Organization in Bremen – we never received a reply. One day, the Student Services Organization contacted us in order to test our coffee. It became clear that one of our customers had taken Utamtsi coffee to a coffee exhibition for a blind tasting without our knowledge. This is how the Student Services Organization became aware of us and we sealed the deal. However, we had to continue to work two jobs for quite a while until we were able to actually afford being self-employed. It was a long time until we were able to live off the business.
What advice would you give to other people who have an idea in their head but are not brave enough to apply it?
My advice to everyone who wants to be selfemployed: believe in it. Everything once started out as a dream. You have to believe in it and work on it. Perseverance is the most important thing. It is also just as important that you tell people of your idea. At some point you will talk to a person who will be pivotal for the project. That is why you should take everyone you meet seriously and tell them of your idea: What you have planned, why it is good, why you are promoting it.
You now sell 40,000 tons of coffee each year. What do you wish for in terms of the future of Utamtsi?
Utamtsi pursues the idea of sustainability: How can we fulfil our needs without impairing the needs of the future generation? We must guarantee that by means of our consumer and production behavior. I want us to remain loyal to this principle.
Morin Kamga Fobissie graduated in 2005 with a diploma qualification in Economics from the University of Bremen.
Interested?
The complete yearbook with all eight graduate stories including further information about the people, profiles, and illustrations is available as a downloadable PDF on the website of the University of Bremen