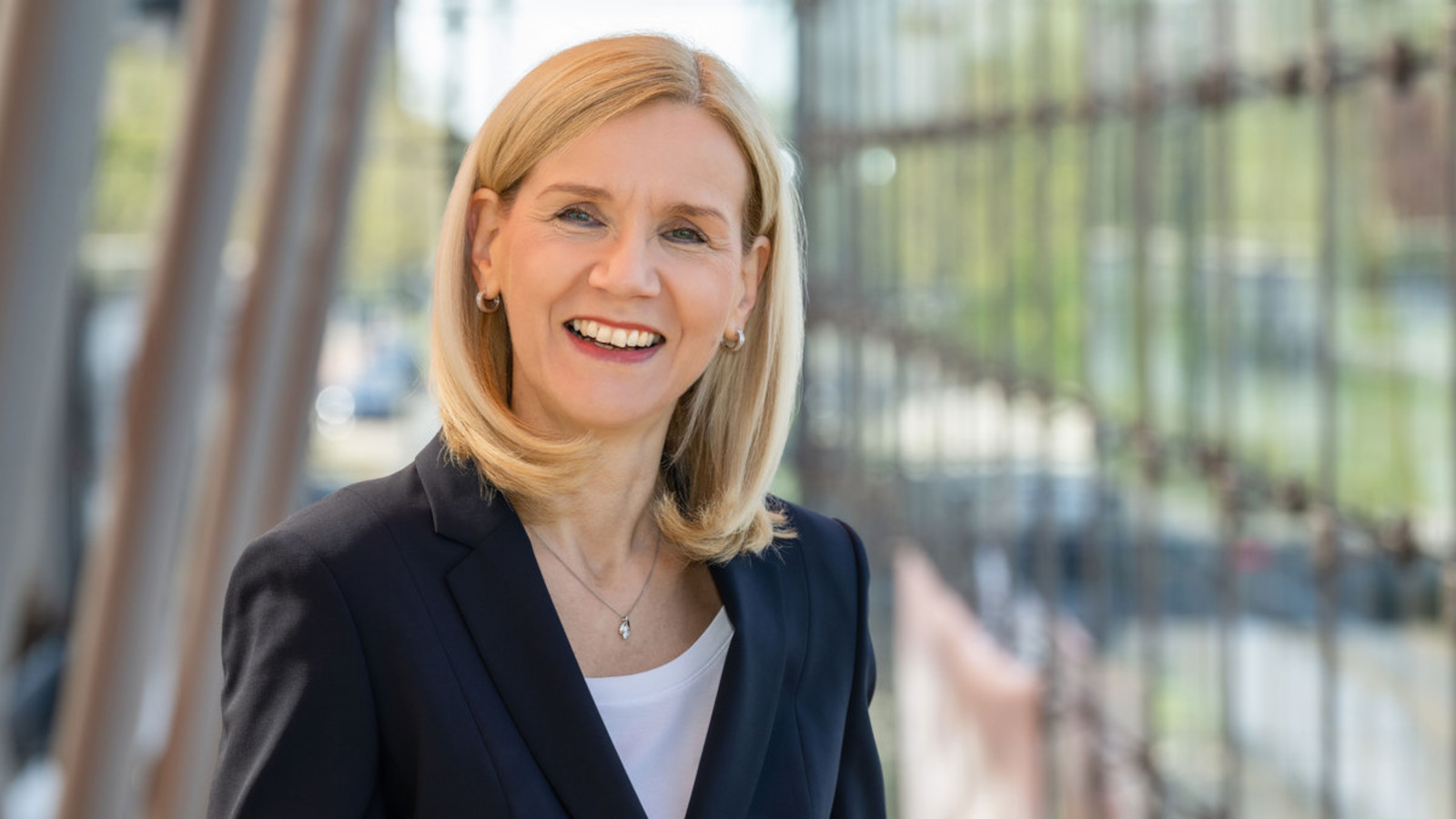 "I Will Be President with Enthusiasm and Conviction"
Professor Jutta Günther assumed office at the University of Bremen on September 1, 2022.
Coming from a working-class background, Professor Günther entered the world of academia after returning to education later in life. In 2014, she was appointed professor of economics at the University of Bremen. The 55-year-old has been President since September 1, 2022. In today's interview, she talks about what she finds particularly valuable about her new position, what universities mean to her, and reveals whether she has a favorite place on campus.
Professor Günther, you have been working at the University of Bremen for over eight years now. What does this place mean to you?
My professorial appointment to the University of Bremen in 2014 was my first appointment. Bremen made me a professor, and that connects me to the university in a special way. I hadn't planned on following the conventional pathway of a professor. At first, I didn't want to pursue a secluded academic career in an "ivory tower." And the University of Bremen certainly cannot be called as such. I was able to develop creatively as an academic with my team and contribute to teaching. The University of Bremen is making a difference. We are a medium-sized university and forward-looking. Recently, the Academic Senate made a very clear commitment to the goals of sustainability, climate justice, and climate neutrality. I was impressed by that. I will be President of this university with enthusiasm and conviction.
"We can only succeed together, and it's not just about large-scale research projects – all status groups and initiatives contribute."
Climate research represents a strength of the University of Bremen. Issues surrounding the climate and sustainability play a prominent role on campus and in teaching. You want to drive these topics forward as President. What are the next most important steps for you and the University Executive Board as a whole?
We are in the process of refining the university's mission statement. The focus is on the people working at the university. Sustainability, climate justice, and climate neutrality – abbreviated as NKK in German – will shape the new mission statement. At the same time, the Commission for NKK is developing a sustainability strategy. As the new President, I want to strengthen NKK in partnership with the state's higher education institutions (HEIs). During my time as Vice President, we applied to the Federal Ministry of Education and Research for the Bremen Goes Sustainable (BreGoS) sustainability project. We want to start making HEIs sustainable on our own doorstep. This encompasses biodiversity, energy efficiency, waste prevention, and much more. The HEIs and their partner institutions work closely together – there has never been such a close relationship. But BreGoS is just one example of many projects that we are pushing ahead with. It's clear that we can only succeed together, and it's not just about large-scale research projects – all status groups and initiatives contribute.
You became an academic after returning to education via a "second-chance" education pathway. What did you do beforehand and what motivated you to go into academia?
As a student at school, I was interested in chemistry and physics. I didn't want to be a farmer like my parents and grandparents, nor was I supposed to go to university. That's why I wanted to at least work in a pharmacy. The training there was initially commercial in nature, then I became a pharmaceutical technical assistant. Afterwards, I went on to work in the research laboratory at Freie Universität Berlin and in international development cooperation. But I always wanted to study, which is why I returned to education. In the meantime, I was interested in social and economic topics, as well as business administration. At beginning of the 1990s, I was naturally interested in the transformation that eastern Germany and Europe were undergoing – a momentous event that spawned an infinite number of research opportunities. I definitely wanted to know more and contribute to improving our understanding of what was happening. That's how I became an academic. One thing moved onto the next, but there were also stumbling blocks along the way. Though these setbacks were frustrating, I never gave up.
"Universities are the number-one address for knowledge."
Your résumé is proof of your remarkable success as an economist. As President, you will now focus on different tasks. Why did you choose this path?
Because I am fascinated not only by strategically developing my own field of work, but also by taking on the responsibility for an entire university. Universities are the number-one address for knowledge. This is where we question assumed matters of course, strive for the truth, encourage students to think critically, solve technical problems, and address social challenges. A university where all this happens in academic freedom is a great achievement of the society that sustains it. It is a privilege to be at the head of such an institution, which has given me precisely this academic freedom.
"If we want to have more women in top positions, we also need social change."
Women are still underrepresented in academia. The University of Bremen does a lot to promote equality and women's advancement. At 30 percent, the proportion of women professors is currently higher than the national average in Germany of 27 percent. You yourself were appointed through the Women Professors Programme. In your opinion, what are the key points for encouraging more women to enter academia – and stay there?
We have achieved a great deal in the advancement of women. Among other aspects, it is now an integral part of the criteria of all major research funding institutions. Studies show that mixed-gender teams are more creative and productive, so we need to question why we haven't achieved more. The Women Professors Programme through which I was appointed to Bremen is right and proper. But the real aim of no longer needing to have such programs appears to be a mammoth task. I think the key point here is basic social understanding. Most care tasks continue to be performed by women. When we discuss the divisibility of top positions, do we first think of two men? Probably not. I would like to say this without judgement, and I don't want to talk anyone into how they understand their role. But if we want to have more women in top positions, we need more than just funding guidelines – we also need social change.
For several years now, the University of Bremen has offered new career paths in academia. Junior researchers can apply for a position as lecturer or researcher during their early postdoctoral phase – a new category alongside the professorship. What is the status quo and what is the priority for you in the University Executive Board?
These newly created positions show that the University of Bremen is taking courageous steps on a national level. We have been gaining experience of these positions in the so-called central academic structure for the past two years. The researchers and lecturers work independently in research and teaching, and there is a prospect of permanent employment. Supporting and training young academics is also very important to the new University Executive Board. The Vice President comes from the central academic structure, which is also a "Made in Bremen" novelty.
Finally, a personal question: do you have a favorite place here on campus?
I do like the footpath and the small bridge at the Kuhgraben, just behind the Max Planck Institute on campus. In 2014, I lived in one of the guest apartments in the Max Planck Institute during my first few weeks in Bremen. It's a nice place. I also love the Central Campus Building's Glass Hall and the boulevard. When you spend time there, you're surrounded by University of Bremen life.