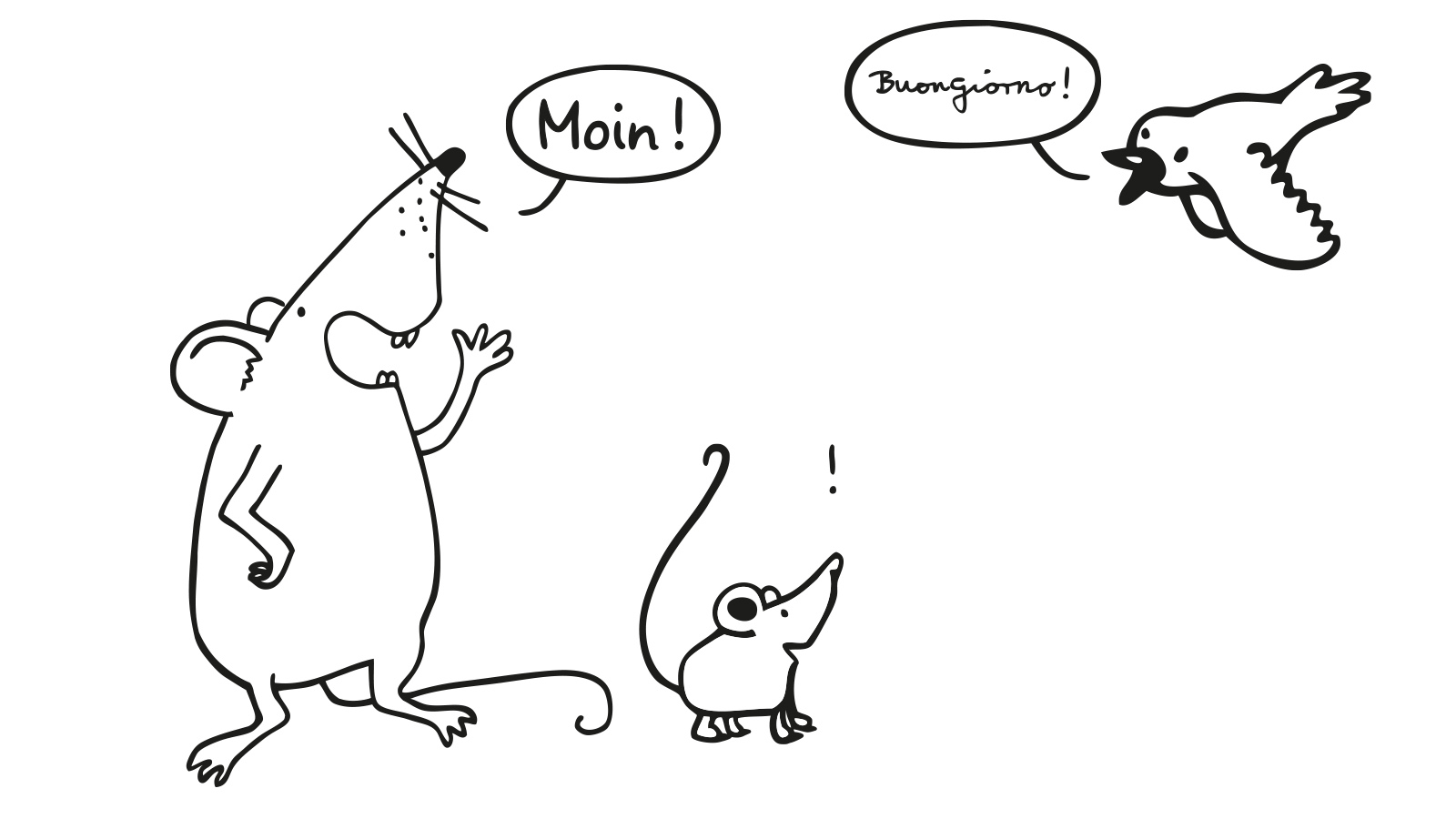 Italian for Opera Singers, Georgian for Economists
Nothing is impossible: The Languages Centre has been helping people at the universities in the state of Bremen to learn languages for the last 25 years
Learning languages: Arduous and difficult or interesting and easy? Rather alone, in a course, with a tandem partner, or in a relaxed group? With a book or with a computer? Regardless of how you do it – learning a language is one of life's big challenges. Especially in the academic sector. Nowadays, you can hardly be successful in your studies or scientific career without knowledge of an additional language. The Languages Centre for the Universities in the Land of Bremen – or SZHB – has been helping for 25 years.
A quarter of a century of successful work. Thousands of students, scientists, and staff members have been taught new languages or have deepened their available knowledge. That is something to be proud of. The question of whether the future of the language centre does, in fact, not look so rosy seems to be strange. However, the question is valid when taking into consideration how Google Translator and the DeepL program are continually becoming better in translating languages and how computer technologies and artificial intelligence are enabling greater advancements. The head of the Languages Centre in Bremen, Professor Claudia Harsch, only smirks when she hears the question. "Translate Goethe or Shakespeare with those programs. They will only produce gibberish!" One point to Claudia Harsch. She does not require a great deal of time to convince people that language beyond route directions or instruction manuals is still a very complex matter. And that it is better to learn one or two languages as best as possible. "Languages connect people and open doors. The nuances, meanings, subtleties, ambiguities, and many more factors that make languages what they are, can only be correctly applied and interpreted by humans." Gestures, facial expressions, and charm are also part of it. So learn languages! "You cannot avoid it if you mean business," knows Claudia Harsch, "and we can help."
Nothing Is Impossible
In accordance with its slightly wordy official title, the Languages Centre for the Universities in the Land of Bremen has developed into a type of "Jack of all trades" in terms of language learning in the 25 years since its establishment. Under the motto "nothing is impossible", the centre supports language learning in a diverse number of ways. "We have consistently expanded our services for the support of multilingualism and are up to date with the newest developments on how languages can be learnt better and more efficiently," says the centre's head. Whether it be language courses, autonomous or guided learning, in the Independent Language Learning Centre or at home – the SZHB will find the right solution. "We place a strong focus on individual consultations," says Harsch. "A learning consultation with trained tutors is the best start to finding out where you stand and which way is the most expedient for you."
Currently, 21 languages spreadover ten varying levels need to be organized in a coherent manner.
The centre currently offers 21 languages. The classics such as English, French, Spanish, Italian, Turkish, Russian, and Polish are in high demand. Chinese and Arabic are also no longer rare languages. Korean, Japanese, Finnish, or Georgian are not so common. Who learns Georgian? "That was a request from the field of economics, as they entered into a cooperation with a Georgian university. So we created a Georgian course for the people interested in it."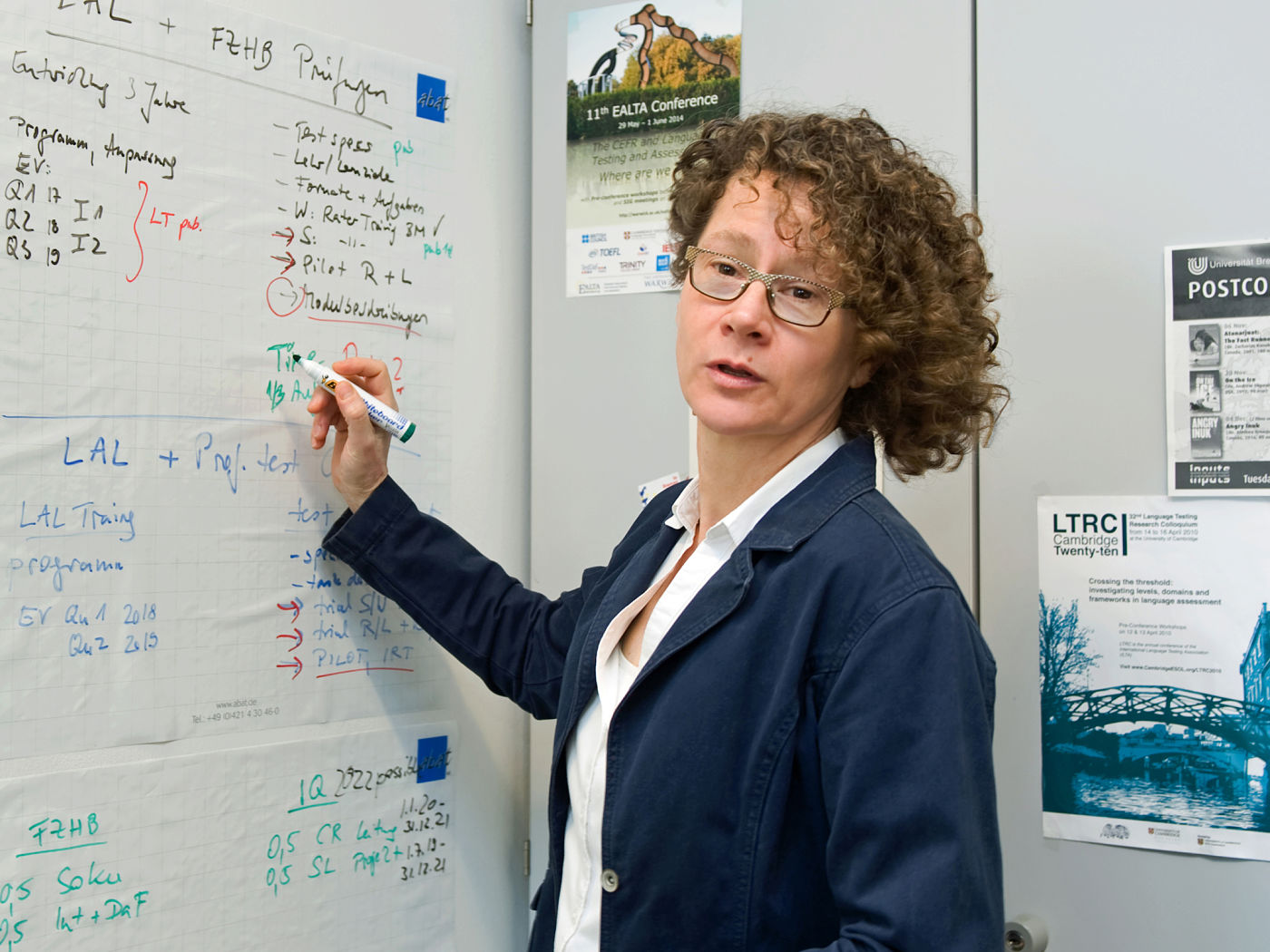 A Great Deal on Offer and Like-Minded People
The language centre is open to everyone. The main target group is, of course, made up of teaching staff, students, and staff members at all universities in Bremen State. Learning a language for curricular courses or if the university deems it necessary for business purposes is free of charge. Those who want to learn a language based on private interest must pay. They will, however, have access to many services and meet many like-minded people with whom they can learn together – for example at relaxed meetings, such as the language café. The language café takes place in different languages nearly every day at the SZHB.
The title of the course English for Cruise Ship Management in Bremerhaven also immediately gives away what it is about."
In comparison to other similar institutes in other states, a great deal makes the SZHB stand out. For example, the centre is spread across four locations: Languages are not only learnt at the University of Bremen but also at the universities of applied sciences in Bremen and Bremerhaven and the University of the Arts Bremen. It is not rare that the courses are aligned with the degree courses: "One of our most unusual courses is Italian for Opera Singers at the University of the Arts Bremen," says the director. "The title of the course English for Cruise Ship Management in Bremerhaven also immediately gives away what it is about." What is also special is the very close cooperation to the local cultural institutes, which was there right from the beginning. "Bremen, as a city state, obviously played a role in that." The consequence: The cooperations with the Institut Français, Instituto Cervantes, Goethe-Institut, and since 2014, Konfuzius-Institut are very strong.
Promotion of Native Languages
A further special characteristic of the SZHB is the promotion of multilingualism beyond the "classic languages – in accordance with the university's language policy, which has exactly this aim," explains Claudia Harsch. This means that there are special offers for native languages with an academic focus. The SZHB director gives the following example: "If someone speaks Turkish in their day-to-day life and then studies law here, it does not mean that they have mastered Turkish legal vocabulary. We are happy to help in such cases." Being able to speak and write such vocabulary later in life, for example during Turkish court proceedings or when in contact with official authorities, is one of the educational goals of the university and the SZHB. One needs a good team to be able to organize all of that. Claudia Harsch has just that and she praises it: "The Languages Centre is extremely multifaceted and diverse. We not only have multifarious demands, languages, and nationalities – we also need to organize the teaching of all languages – currently 21 – in a coherent manner." What we offer is aligned with the Common European Framework of Reference for language (CEFR), which describes levels of language skills according to increasing levels. The SZHB masters this task with 32 permanent employees, more than 60 teaching staff, and over 70 student assistants.
Involved in Research
A further special feature of the centre is the involvement in science. As a professor, Claudia Harsch carries out research with her "Language Assessment at Bremen" (L@B) working group within the Faculty of Linguistics and Literary Studies. The research is in the field of language teaching and learning with a focus on language testing and assessment. As an example, one of the many L@B projects tackles the language-based integration of international students with refugee backgrounds in the higher education sector.
Further information
The head of the Languages Centre in Bremen, Professor Claudia Harsch, gave us a peek at the past and a big look into the future of the SZHB in this interview.