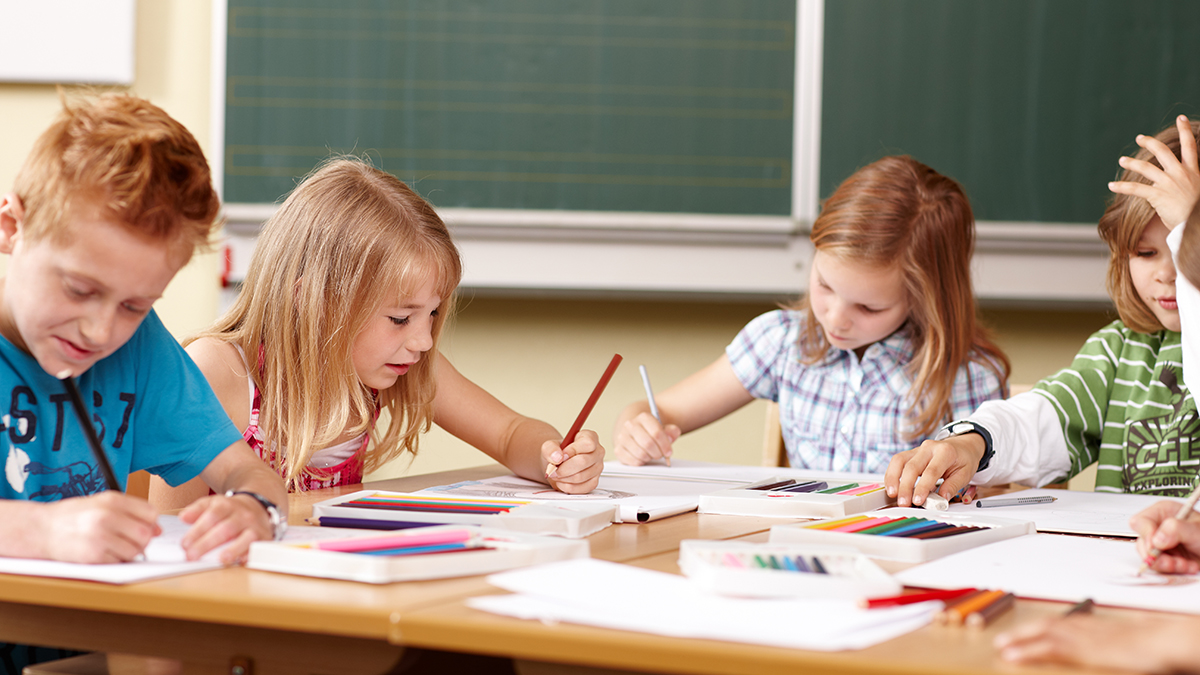 More Equal Opportunities in Education
How does the PRIMUS school system work?
What happens when you combine primary and secondary schools? This new school form – called PRIMUS – has been the subject of testing in North-Rhein Westphalia since 2013.The University of Bremen and University of Münster are accompanying this school study with an eponymous research project. Sven Pauling, who was, until recently, a scientific assistant in the field of school theory and empirical school research at the University of Bremen, tells us of the findings from five years of research.
Mr. Pauling, what exactly is a PRIMUS school?
The PRIMUS schooling approach began in the 2013/14 school year in five schools in North-Rhein Westphalia. The acronym "PRIMUS" references the core aspect of the research: The combining of primary and secondary classes. By doing this we are able to investigate a new school form where transferring from the fourth into the fifth grade does not require a change in schools. This has the side effect that all school qualification levels up to the senior zears can be offered in structurally weak, rural areas with decreasing numbers of pupils.
The Ministry of Schools and Education in North-Rhein Westphalia has outlined five cornerstones for the creation of the system:
1. Combined long-term school grades 1-10
The PRIMUS schools waive the awarding of marks up to and including the 8th grade. They should follow concepts of individualized, inclusive teaching. Teaching staff at PRIMUS schools should also teach in several grades. The mixture of different grades should ensure a soft transfer into the secondary phase after the fourth grade.
2. Learning groups with pupils from all grades
PRIMUS schools break down class structures from the first to 10th grades. This is to encourage an individualized learning culture and changes in social ranking of learning groups.
3. Inclusion
All schools are concepted as being inclusive schools. This means that all pupils can be taught together.
4. Multiprofessional teams
Thus, all teacher levels work at PRIMUS schools together with educators and social education workers in multi-professional teams.
5. Alternative performance evaluation
All PRIMUS schools must utilize an alternative form of performance evaluation.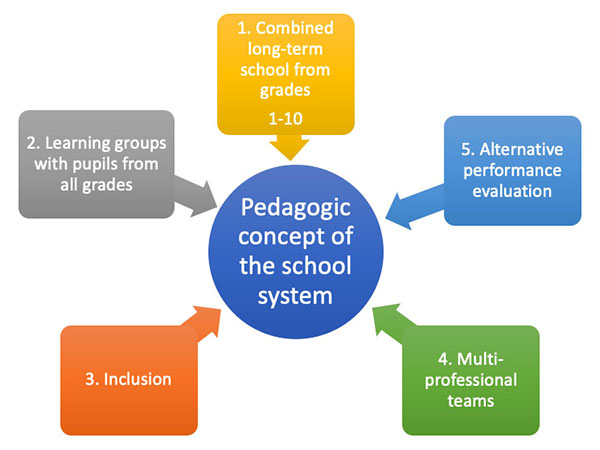 Why do we need this school form?
Those involved in the educational dialogue have hardly agreed to such a level as they have with regard to these findings: When compared internationally, the early selection after the fourth grade, or some cases the sixth grade, leads to a high selectivity in the educational sector in Germany and increases the connection between family-based background and success in education.
Children who are selected to enter into a school form at an early age – for example the German "Hauptschule" school system, which blocks their path to further educational opportunities such as secondary school-based university entry qualifications – are hardly unable to advance in society. The PRIMUS school system offer more opportunities: The pupils remain at the same school after the fourth or sixth grade and can observe and contribute to controlling in which field their performance is developed and which school qualification they wish to aim for by the end of the tenth grade. This is made possible by individualized learning forms and consultations with teaching staff, which enable pupils to autonomously decide in which time frame and on which level they wish to work on their learning materials.
At the same time, PRIMUS school are exemplary in the field of inclusion. Thanks to individualized learning paths and encouragement talks offered to each pupil, those who have special education needs become apparent. The potentially stigmatizing status of a special needs pupil thus loses its exclusivity in the classroom and becomes more normal.
Which experiences have been made with the PRIMUS schools?
Our interviews with pupils show that they become aware of their options in the secondary phase 1 – so after primary school – at the latest. They develop awareness for the fact that their own learning influences their life opportunities at a later point in time. At the same time, we observed in the accompanying research project that the PRIMUS schools have not only established themselves as particularly high-performing, inclusive schools in their communities, but also that the first school leavers completed their qualifications more successfully than they expected. To date, far more children have attained a higher educational qualification than was predicted during the transfer from the fourth to the fifth grade.
This is of course also down to the dedicated work of the teaching staff who are facing great challenges, even if they do strongly identify with their schools. They must change their own professional understanding to fit with multi-professional team work and the accompanied learning model so that they in a position to react to the new learning format and to develop it.
Online Presentation on PRIMUS Schools on October 16
On Friday, October 16, 2020 the Heidelberg University of Education will open the Annelie Wellensiek Center for Inclusive Education ("Annelie-Wellensiek-Zentrum für Inklusive Bildung") (AW-ZIB). People who are deemed cognitively impaired and have previously attained a three-year, full-time qualification to be education specialists will be employed by the AW-ZIB. This will be an insurable, permanent employment, which is unique in the education sector in Germany.
At the opening, Sven Pauling will hold a presentation on the further development of inclusive professionalism at PRIMUS schools.
Participation in the opening and the subsequent specialist meeting on inclusion is digital and open to all of those interested. The registration deadline is October 14, 2020. Further information is available on the Heidelberg University of Education website.
About Sven Pauling
Sven Pauling carried out research on PRIMUS schools for five years at the University of Bremen and is writing his doctoral dissertation on professionalization and school development by teachers in the PRIMUS school study.