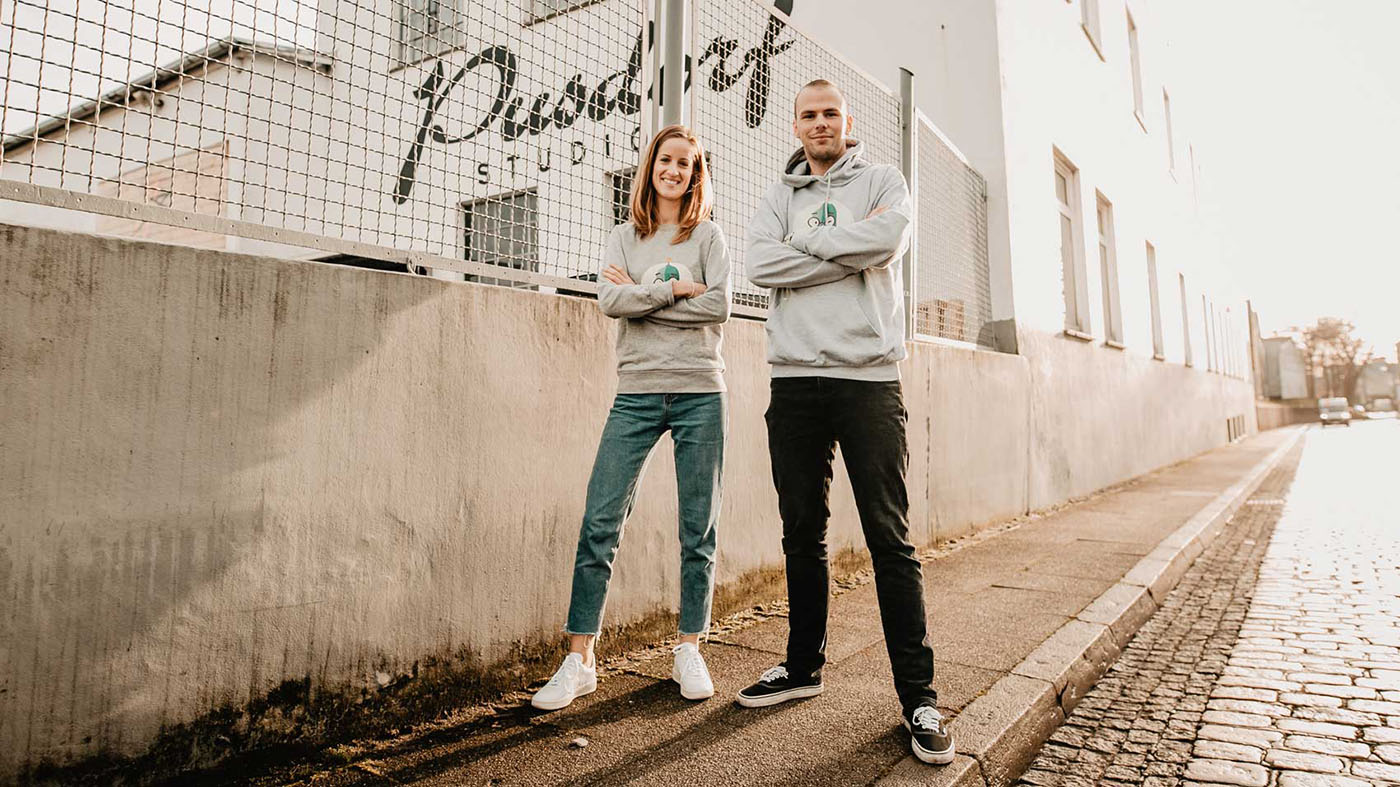 More Sustainability and Climate Protection Thanks to "KlimaKarl"
Riding to university on your bike, reusable coffee cups, second-hand clothes: All of these things contribute to a sustainable lifestyle. To make sure that such a lifestyle is better integrated into the day-to-day, the "KlimaKarl" app provides help.
Would more people choose the vegan menu in the Mensa cafeteria or ride their bike to work if they could collect climate points that reward them for sustainable behavior? Yes, says Kirsten Hillebrand and Hendrik Hinrichs. The PhD student in the field of financial technologies (FinTech) and the former University of Bremen staff member have created the KlimaKarl app. In the app, the chatbot Karl gives you tips and points for environmentally friendly and sustainable acts. The app is connected to a competition, in which the participants within a company go against each other in teams. In the fall after the pilot phase has ended, the competition app is to be launched for university students and staff as part of the university's energy saving campaign.
Saving CO2 and Collecting Points
"Every sustainable and environmentally conscious act has a certain number of points. They are based on the actual CO2 avoidance - this means 10 g equals 1 point. For example, avoiding animal-based foods during lunch equates to 80 points that are added to that team's score," explains Hendrik Hinrichs. In the app, the participants can compare how their team is doing in relation to others. Background information on why a certain act is climate-friendly is also directly available. "The sustainability competition is designed for companies who wish to motivate their staff to act in a more environmentally conscious manner," tells us Kirsten Hillebrand.
Karl, a green figure with horn-rimmed glasses, leads the participants through the competition via a chat function. Instead of pointing his finger and complaining if you use your car instead of bike, he tries to motivate users to act in a sustainable way and offers suggestions. Both of the creators had the idea of using a chatbot that provides information for a more sustainable lifestyle during their master's degree when they worked on artificial intelligence. The idea became more specific whilst working at Uni Bremen.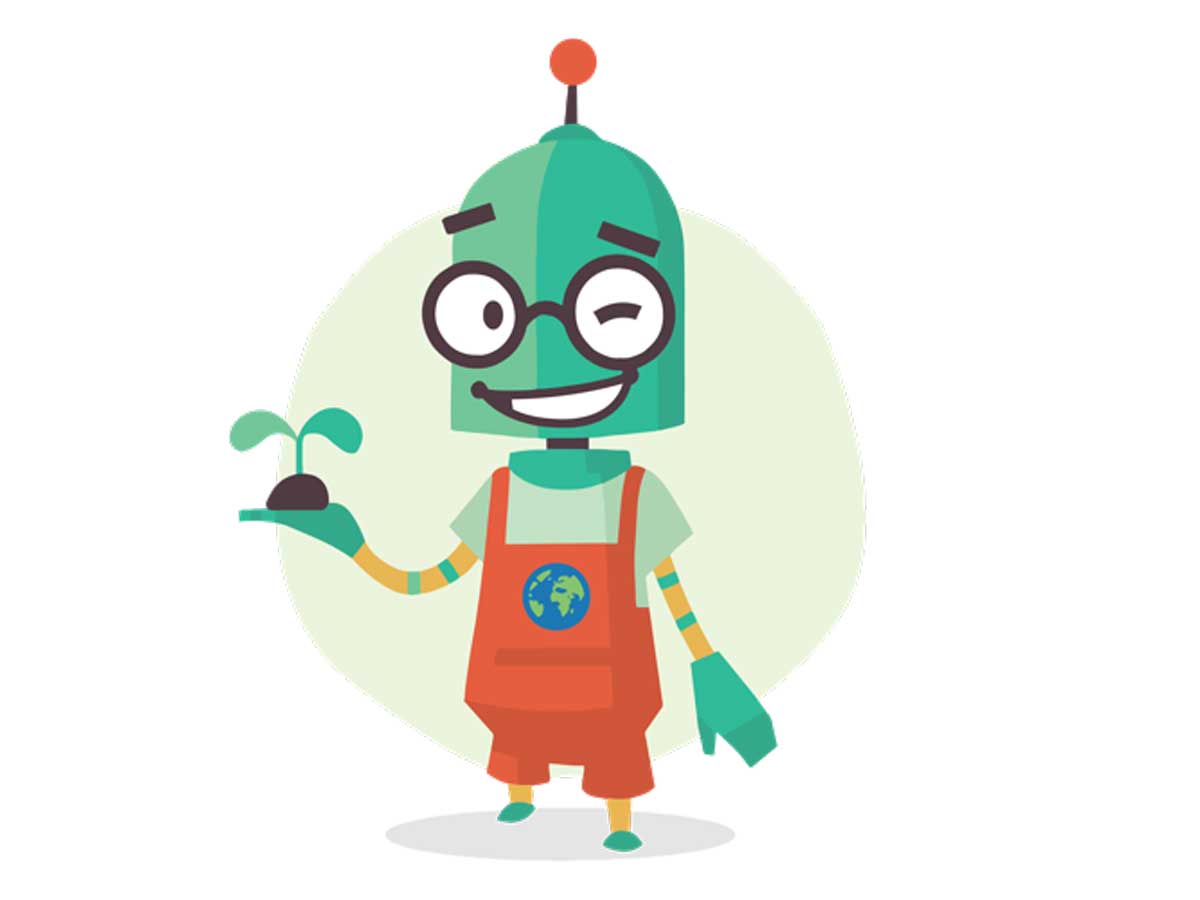 User-Oriented and Sustainable
Kirsten Hillebrand and Hendrik Hinrichs started with a rough version of the app that was then further developed based on the feedback from a total of 13 companies and start-ups. "We were able to design the app in a very user-oriented manner by doing this," states Kirsten Hillebrand. Especially the competition aspect was well received. "However, the singular aspect of interaction with Karl is not enough, they wanted more and more regular contact," tells us Hendrik Hinrichs. Thus, various extras, such as the "knowledge cards," which provide pieces of background knowledge, and so-called "green donations," which is where a donation is made to a sustainable charity when a certain point score is reached, were added. "These extras and other can be changed depending on the company," explains Kirsten Hillebrand.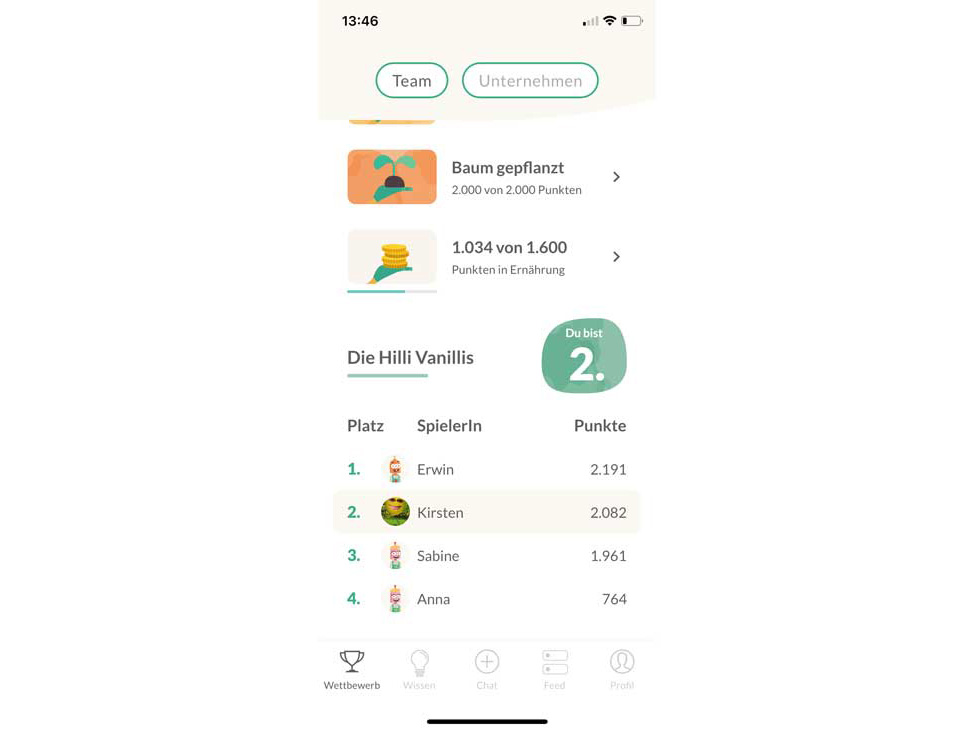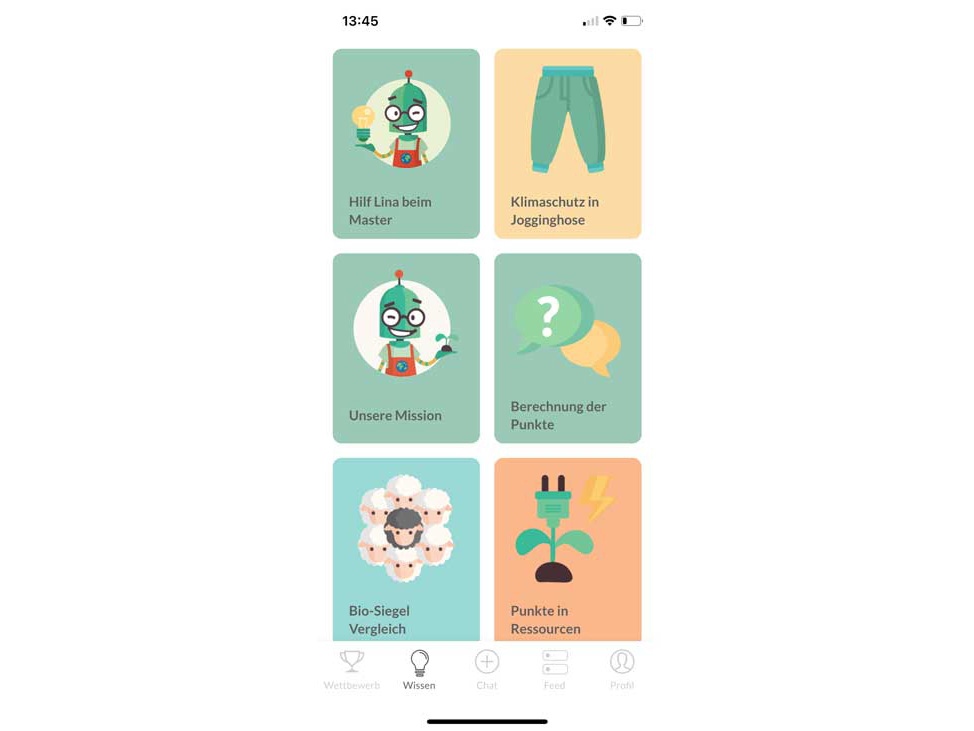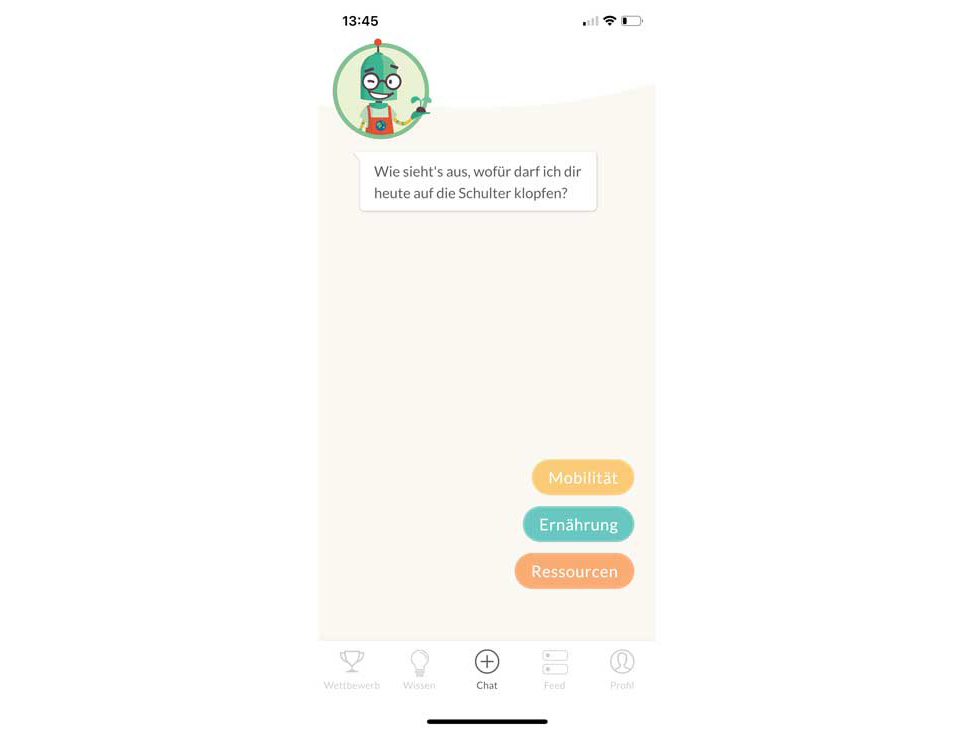 Another piece of positive feedback from the pilot phase: Chatbot Karl strengthens community feeling, states the doctoral student: "Participants told us about team events where they cooked sustainably together that will continue after the end of the competition - that's exactly the purpose of it all."
It is not only the participating companies that see potential in KlimaKarl. The idea was partially funded by an EXIST Business Start-Up Grant from the Federal Ministry for Economic Affairs and Energy and has been honored by Stifterverband für die Deutsche Wissenschaft and Amazon.
At the Uni from November Onwards
The pilot phase has now ended and the first customers have been found, including the University of Bremen. As part of the Environmental Management's energy saving campaign, it is planned that the green figure with the horn-rimmed glasses accompany the uni staff and students through the competition in November. The aim of the campaign is giving staff and students tips on how they can save electricity and energy in office and laboratory spaces but also on how they can live a more climate-friendly life. Karl supports them by providing tips in the chat. The details of how exactly the competition for students and staff will work and which extra functions the app will have are currently being clarified.
Further Information
You can find out more about KlimaKarl at www.klimakarl.de.