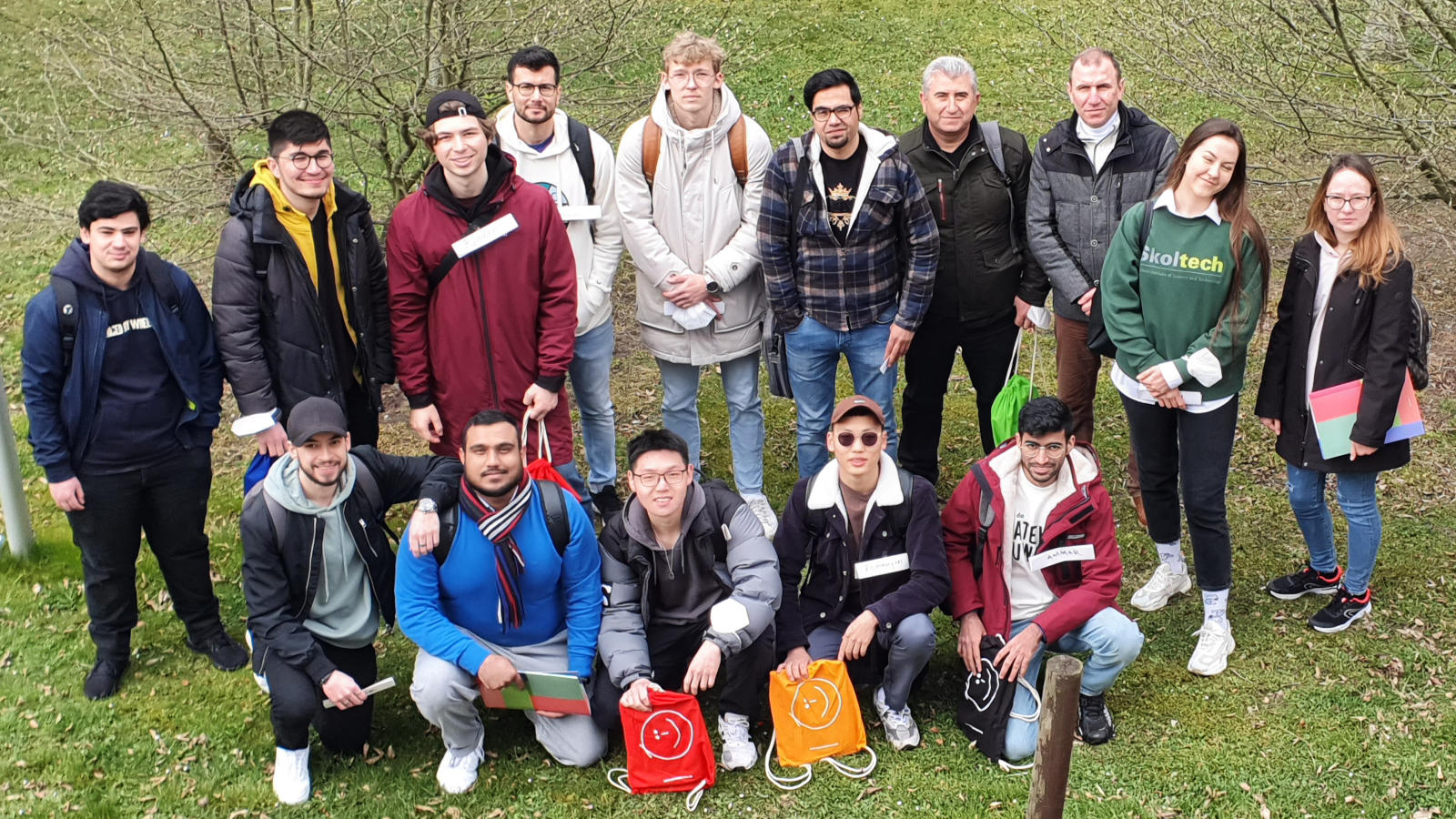 New Perspectives for International Students in Bremen
How the pilot project "IN Touch," which was unique in Europe at the time, became the HERE AHEAD Academy in Bremen.
The Academy for Higher Education Access Development – HERE AHEAD prepares prospective international students with and without a refugee background for studies in Bremen. For people from crisis areas, it is an important source of hope for the future. The groundwork for today's program was carried out by employees of the University of Bremen with the pilot project "IN Touch" for refugees.
"People who have fled need not only shelter and food, but also recognition and spiritual nourishment." This was said in 2015 by the then vice president for international affairs, Professor Yasemin Karakaşoğlu of the University of Bremen, when thousands of refugees from Syria arrived in Bremen. The willingness to help among students and university staff was immense. Tents were set up for refugees on campus next to the NW1 Building. Among many activities at the University of Bremen, the International Office offered the pilot project "IN Touch" for refugees - the Bremen City University of Applied Sciences quickly followed suit. It attracted attention throughout Europe. After all, it was the first program of its kind across the country at the time.
"The University of Bremen made educational history with this project." Jens Kemper, University of Bremen
Jens Kemper remembers the early days well. At the time, the International Office (IO) employee was one of the initiators of the "IN Touch" pilot project. "The original idea came from two transitional housing managers. In December 2013, they asked the University Executive Board whether the university could offer something for highly qualified refugees," says Jens Kemper. After all, they had been sitting in homes for many months and sometimes years and had no access to appropriate facilities that made sense for them. "It became clear to us: we have to do something - and we have to do it now." And so Jens Kemper and his team developed the "IN Touch" offer with the then head of the International Office, Dr. Annette Lang, and the University Executive Board. In the summer semester of 2014, the first 20 or so refugees were able to participate in academic life at the University of Bremen and use the campus and its infrastructure.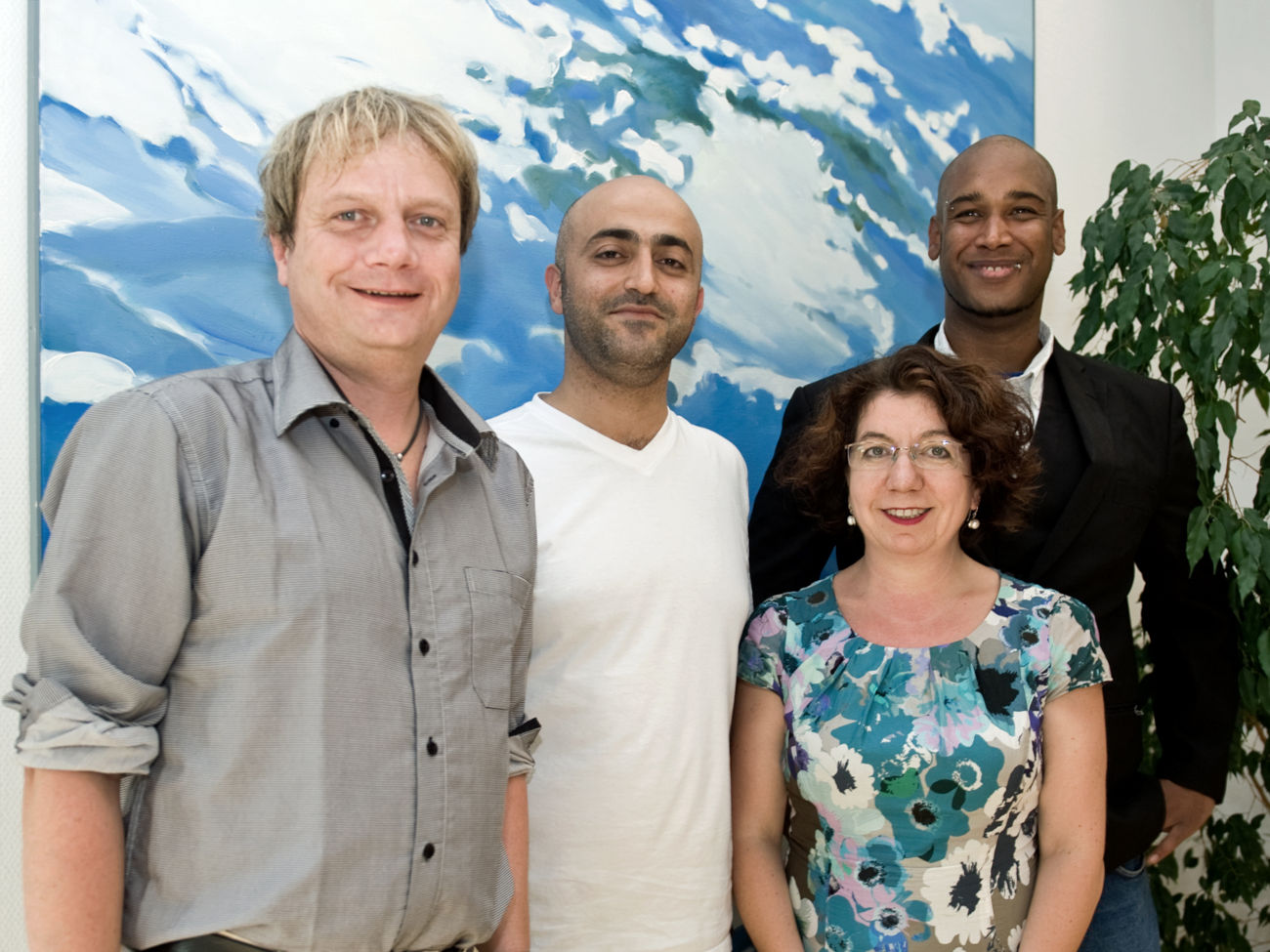 It Soon Became Clear That the Program Needed To Be Broadened
Word of the program spread and demand rose. Moreover, the flight movement from Syria increased from 2015 and prospective students needed perspectives for continuing their studies. "The hallways in the International Office were full of people," Jens Kemper recalls. It soon became clear that the program needed to be broadened. Therefore, he and the "IN Touch" team contacted the then Senator for Science, Professor Eva Quante-Brandt, as well as the other state universities in Bremen. The idea for a joint "university access office" was born. Jens Kemper and Andrea Thode from Bremen City University of Applied Sciences moved into the first premises at the House of Science in May 2016. "In the beginning, it was called the HERE Office," he remembers. For him, it's clear: "The University of Bremen made educational history with this project."
HERE AHEAD Today on the University Campus
Several years have passed since then, and the HERE Office for refugees in the city center has become the Academy for Higher Education Access Development – HERE AHEAD for international student applicants. It can be found in spacious rooms located at Hochschulring 40 next to the TAB Building on the university campus. On behalf of the state universities and the Senator for Science in Bremen, the five employees have been offering structured preparatory studies for international prospective students with and without a refugee background since 2016. This includes German language training up to the study requirement of C1 (CEFR), an interdisciplinary study qualification, and a coordinated curriculum lasting several months for subject-specific study preparation for Bremen's degree programs.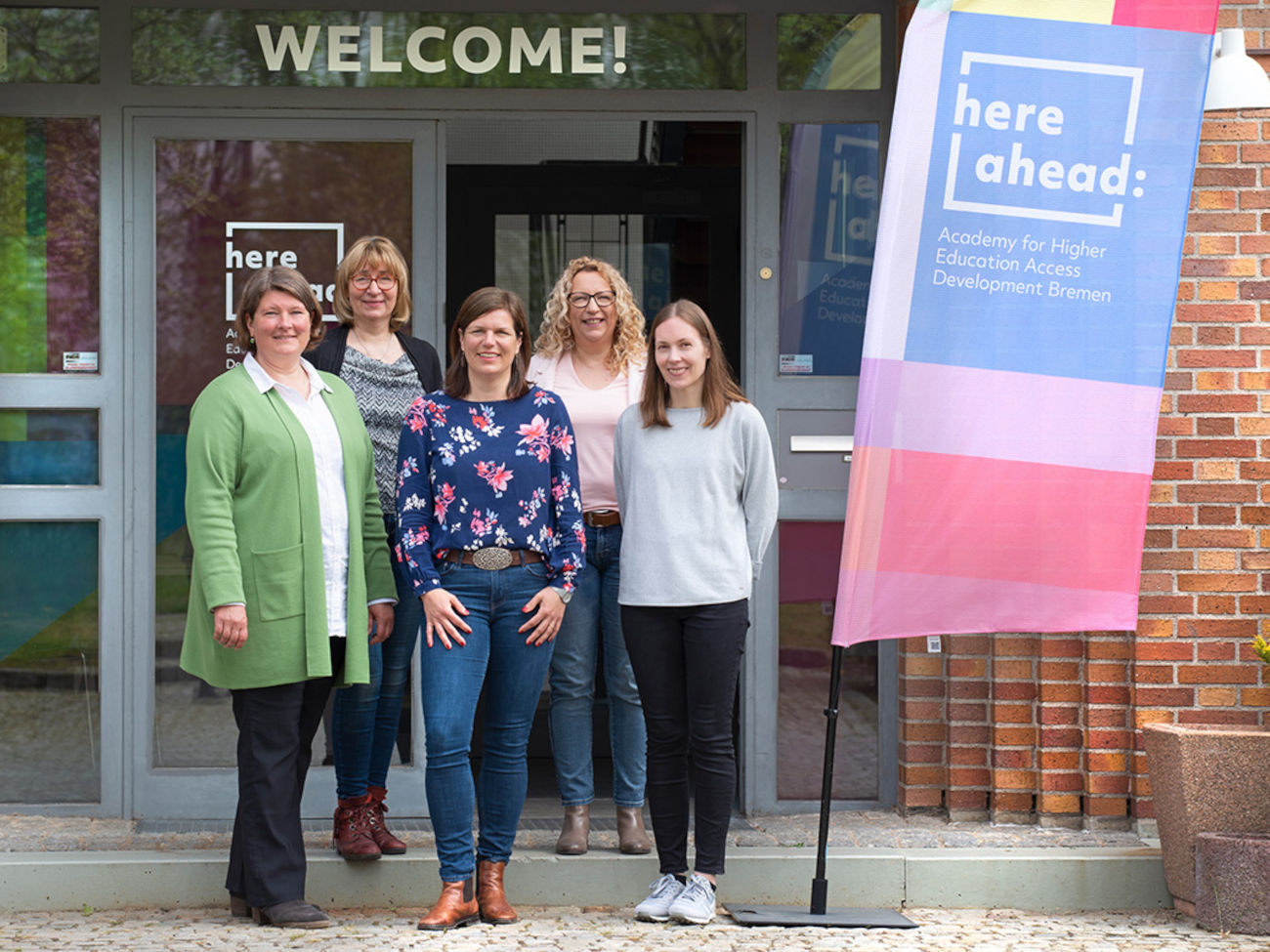 More Than 500 Have Already Passed Through the Programs
"Around 50 participants are currently in our programs preparing for studies in Bremen," says Managing Director Dr. Christina von Behr. More than 500 have already finished the programs. In most cases, it takes them one to one-and-a-half years. "It depends on the German language skills they bring with them," the managing director explains. Participants come from countries such as Iraq, Iran, Pakistan, Afghanistan, Syria, Turkey, as well as China, Vietnam, India, Morocco, and countries in Latin America. "During the peak period in 2018, we had over 200 participants in the programs," the director reports. "At that time, many refugees also came from Turkey." Often, they were teachers who were no longer allowed to practice their profession in their home country. In the courses, the internationals with refugee experiences and the international prospective students learn together. "This joint learning is a great benefit for all sides," says Christina von Behr. "The young international high school graduates come with clear goals. This also helps the refugee prospective students, who are forced to rediscover their path. In this context, the refugees often already bring more study and life experiences with them and can help the young school graduates with their subject orientation. What both groups have in common is that they have to find their way in a foreign country.
Scholarships for At-Risk Students from Afghanistan
During the crisis in Belarus, many people from the country also applied for scholarships in order to find new study perspectives for themselves. However, since they had no official status as refugees, residency and funding were often difficult. This is due to the fact that entry from non-EU countries is only possible for them if they can prove their financial security with proof of financing. With its two existing preparatory programs – ":here studies" for refugees and ":prime" for international students without a refugee background – the academy can respond quickly and straightforwardly to all needs, so that suitable solutions can usually be found for those interested in studying. That includes people from Belarus who have been persecuted.
The same applies to people from Afghanistan, who are also unable to come to Germany as refugees. With the support of the Director of Finance and Administration of the University of Bremen, Frauke Meyer, the academy has now announced the "Omid Farda" scholarship (Persian: hope for tomorrow) for 10 students from Afghanistan. It is different for Ukrainian citizens: They officially have refugee status and can thus participate in :here studies sponsored by the DAAD without any problems.
"This crisis shows once again how important our work is." Dr. Christina von Behr, Managing Director HERE AHEAD
For Christina von Behr and her team, these differences are often not easy for their daily work. "In our courses, everyone sits together: prospective international students who have consciously chosen Bremen and an academic career in Germany, people with refugee status, as well as those who have had to flee their country without obtaining this status." That circumstance, namely the double standards in politics, is sometimes difficult to explain. Overall, however, there is great solidarity and togetherness among the preparatory students in the courses, she adds.
Managing Director Calls for the Project to Be Made Permanent
The HERE AHEAD Academy has been receiving inquiries from Ukraine for weeks – sporadic at first, but steadily increasing. The inquiries have come from Ukrainian citizens as well as from international students from Ukraine. "This crisis shows once again how important our work is," says Christina von Behr. She is very grateful that politicians and all universities are cooperating very productively within the program and that the project is receiving financial support from the Senator for Science, Dr. Claudia Schilling, and the DAAD. However, it still remains limited in time – currently until 2026.
"We will always have refugee movements, as well as international interest in studying in Germany," von Behr states. Accordingly, it is important to establish the academy as a permanent university access project for internationals in Bremen. Moreover, the academy is the only institution that provides young prospective international students with indirect access to universities in the state of Bremen. "For decades, Bremen lost these students to the higher education institutions in Hamburg and Lower Saxony. Now, the academy is creating new prospects for committed young people who are urgently needed in Germany and Bremen," says Christina von Behr.
More information
More information can be found on the website and on Instagram at @hereahead.