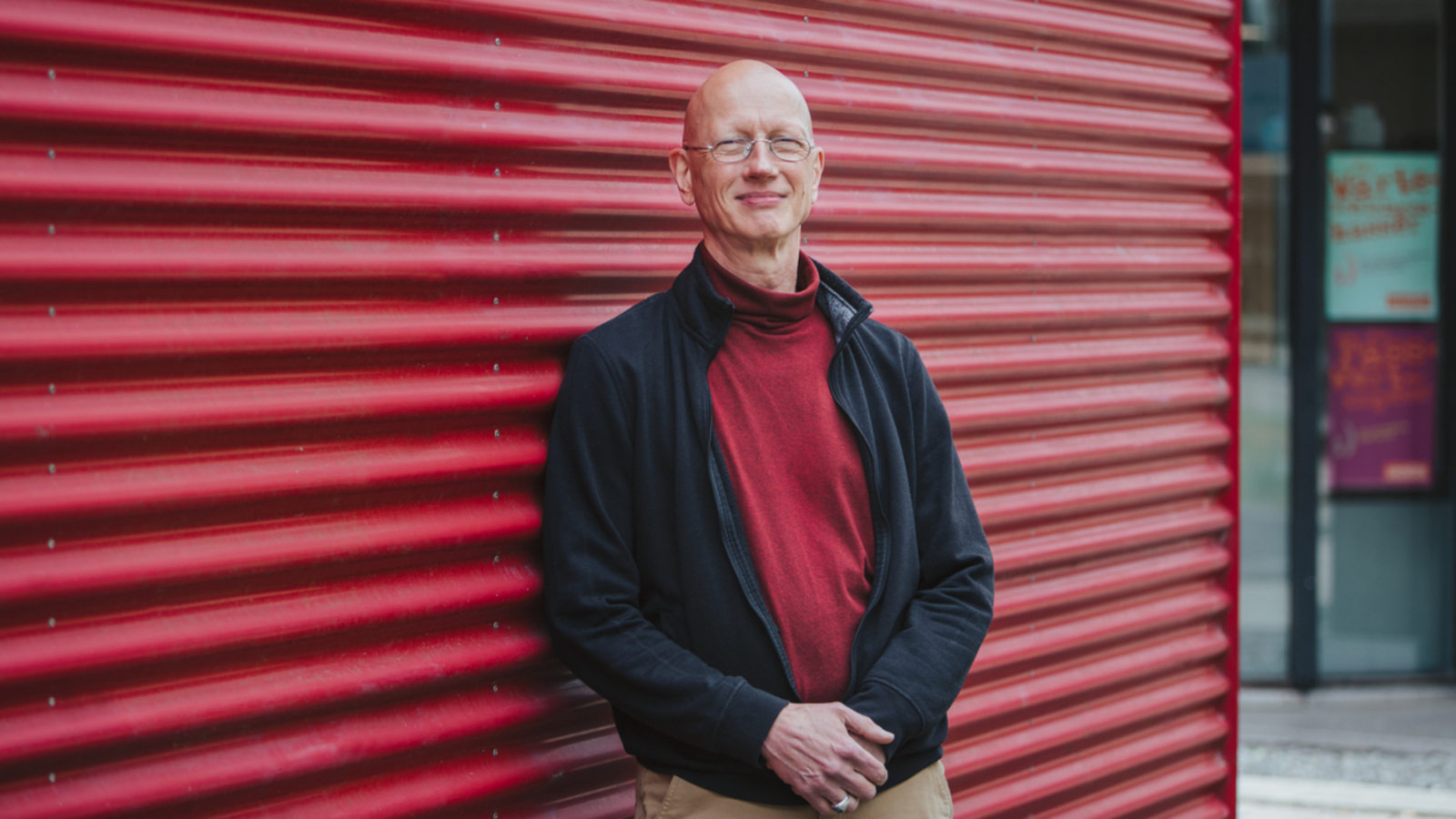 "Rent a Teacherman Is an Important Part of Diversity Pedagogy"
More male teachers in elementary schools: How Dr. Christoph Fantini started the project thanks to a key experience.
There could hardly be a finer tribute on the occasion of its tenth anniversary: "rent a teacherman" has been awarded the Bremen Diversity Prize "Der Bunte Schlüssel – Vielfalt gestalten!" (The Colorful Key – Shaping Diversity!). The project by Dr. Christoph Fantini (University of Bremen) and the Senator for Children and Education assigns student teachers to elementary schools where there are no or only a few male teachers. What is the purpose of this project and how did it come about? An interview with the project manager.
Mr. Fantini, how did the "rent a teacherman" project come about?
Christoph Fantini: There was a very interesting key scene. I was sitting in a seminar in which a working group was exploring the topic of sex education in elementary schools. A student was talking about his six-week orientation internship that he had done at an elementary school in Lower Saxony. There was not a single male teacher there. After three weeks, the principal asked him to join the school's sex education project. They had set up a question box as part of the project. The children were allowed to anonymously post their questions regarding what they would like to know about sexuality. The principal was so perceptive that she had noticed that it would be good if a man could answer certain questions. The student then took over. He was already a bit older, had finished an apprenticeship previously, had gone on to study, and made a good impression. After it had gone well in the first 4th grade class, he went into all 4th grade classes. He told us about this experience in our seminar. I was totally enthusiastic about this idea. Also about the fact that the principal had the feeling that she could use the circumstance that there was a male teacher or an intern.
What happened next?
After that, I walked from the seminar room in SFG Building to my office in GW2 on the university campus. On the way, I came up with "rent a teacherman," so to speak. I thought: It can't be true that in the many elementary schools without male teachers, there are possibly around fifty or a hundred boys in every fourth grade class who remain alone with their questions, or are only told some nonsense through the media. I deal with many students and thought to myself: Why don't I talk to them and see if they can imagine joining these schools? At the same time, I approached the principals of these schools – via the authorities – to see if they could imagine employing such temporary staff. And finally, I asked the senator at the time what the situation was with regard to funding.
Were you successful and was the project able to start?
Only hesitantly at first. Above all, recruiting students didn't take off straight away. But I then had two or three. I think eight female principals came to the first principals' conference. Some of them were still tentative about it, too. Others were immediately enthusiastic. But one principal said, "I don't know if I need your men, Mr. Fantini. If you had seen our last student teacher, you would know why we haven't had a male staff member for several years." That made me think, "Wow, that's a bold statement."
"I never expected the project to take off like it did."
Ten years have now passed. What is the situation today?
In purely numerical terms, it's interesting to note that at the start of the project, there were 19 elementary schools in Bremen without a single male teacher – out of just over 70. Today, there are only nine out of just under 80 elementary schools. So a lot has happened. I would never have expected it to have such an impact. The number of "teachermen" has also increased over the years. A total of 20 are currently working throughout Bremen. They are prepared and supported in their work by educational science classes at the University of Bremen, and from the coming school year onwards, they will also receive professional supervision.
Is there any accompanying research on the project?
Of course. We often have student theses that I supervise. They are mainly, but not only, by project staff. And we have our own studies that are published in professional journals and educational anthologies. It has become apparent that our optimal field access through specific project work in the local schools forms a basis for qualitative, gender-related research that is otherwise hardly possible to produce in a comparable depth. That is why some of the results provide completely new insights for the further development of gender-sensitive pedagogy, which have not yet appeared in the relevant discourse.
Why is the project so successful?
One of the important aspects is that the school principals who employed "teachermen" have, so to speak, held on to them. There are several former "teachermen" who are now working in the same schools as permanent teachers after their traineeship. Additionally, there has been an awareness that has developed among the principals that it is an important part of diversity pedagogy.
What do you mean by that exactly?
Caring about what pool of educators you offer. Not just looking at whether a female applicant has an exam grade of 1.3 and the male applicant has a 2. It is also important to look at how the school management can bring diversity into its staff. I think there's been a shift in awareness there, and that's very valuable.
"We would need at least 25 percent new hires at the elementary level."
What's next – are there any new prospects?
Yes, several. In the fall of 2021, the Department of Education approached us about broadening to include high schools, in other words, expanding. I immediately agreed. Now there are already "rent a teacherman" employees in six Bremen high schools. One hope would be that we could move away from this project character and make it more permanent. Another wish would be to take a more holistic look at the whole thing. "rent a teacherman" still has a bit of a firefighting character. Imagine a school where something should happen, where there is not a single male teacher. We send someone there and that changes that for the moment. But basically, the only way to change this issue is if there are more young men who want to study elementary school teaching or teaching at all. This is slowly picking up a bit at the elementary school level. At the beginning of the project, men made up about 17 percent of the new elementary school teacher trainees in Bremen. After that, there were a few years where it was well over 20 percent. It always fluctuates a bit. You never know exactly what the effects are, but overall there is a slight increase. However, it's not really enough. We would need at least 25 percent new recruits in the elementary school sector, who would then later work in the schools.
Further Information
A video about the project was made on the occasion of the award ceremony. You can watch it here: www.bildung.bremen.de
Read the press release about the award ceremony
Visit the "rent a teacherman" website: www.maenner-in-die-grundschule.de