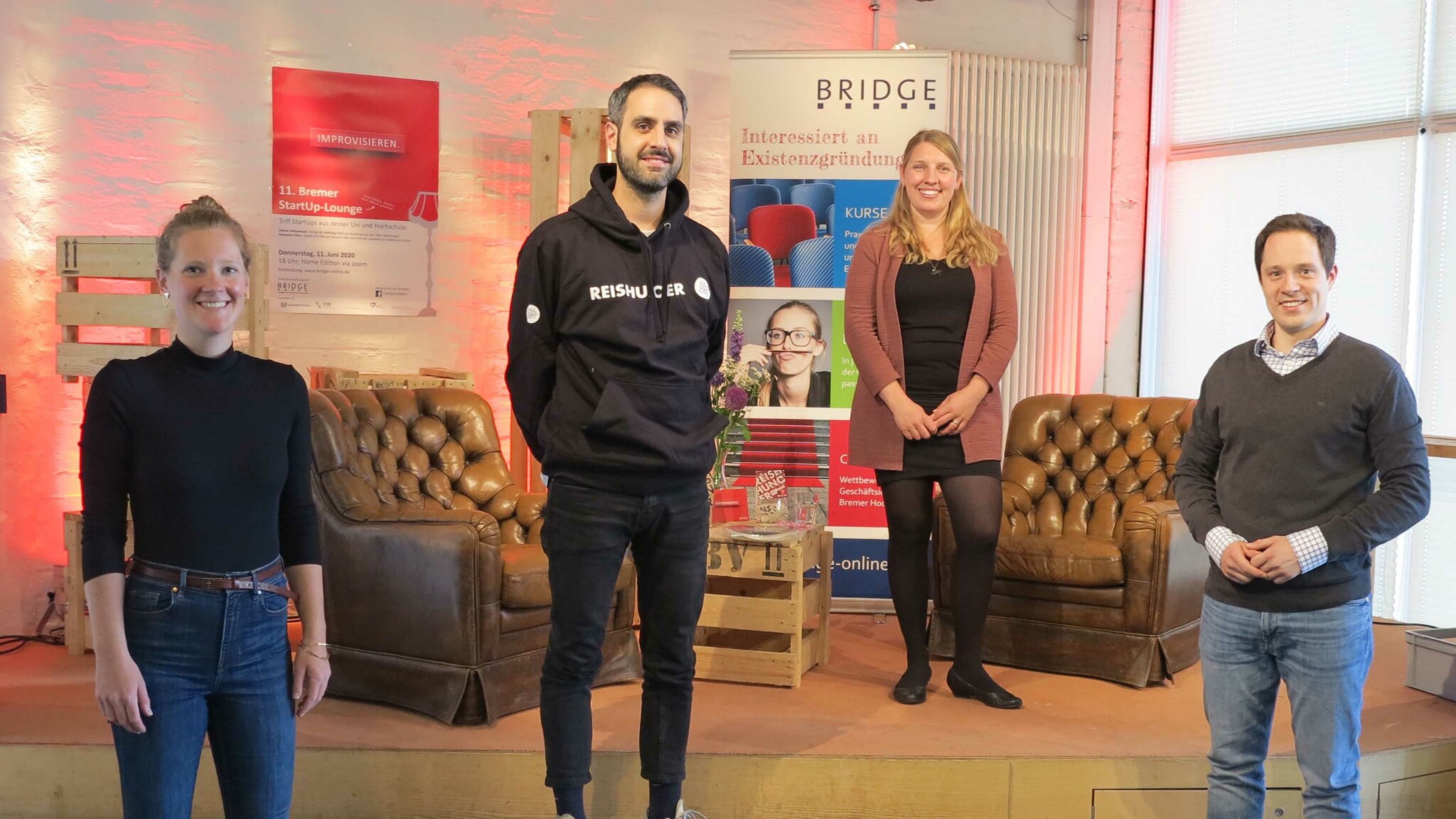 Start-Up Support also Works Online
Setting up a startup from university? No problem at all if you get good advice. UniTransfer and BRIDGE have adapted their formats to be "pandemic-proof" – successfully
People talk about "foot voting" when many or few people come to an event. In times of corona, it is rather "mouse-click voting" that expresses how popular an offer is. For this reason, the Transfer Office of the University of Bremen – UniTransfer and the associated university initiative BRIDGE have a reason to be proud: The rapid conversion to online startup consulting has worked out excellently.
"We had 140 participants at our StartUp Lounge alone, which was held online for the second time on November 12," says organizer Meike Goos happily. "At the first online lounge in June, there were only 50 participants." The fact that this time there were almost three times as many might be a little due to the time of year – but certainly also due to the fact that digital formats have grown more popular. "And perhaps word has got around that our start-up support can be taken up online. In addition, we cooperate closely with the other Bremen universities in the BRIDGE network, which means we enjoy high visibility and attract many participants."
The university initiative BRIDGE, the network in which UniTransfer is active, is the central point of contact in Bremen on the subject of business startups from universities. The BRIDGE university initiative is a cooperation of the University of Bremen, the University of Applied Sciences Bremen, the University of Applied Sciences Bremerhaven, Jacobs University, and the Bremer Aufbau-Bank GmbH. "The goal of BRIDGE is to foster the start-up culture at all participating universities and to promote promising ideas with start-up potential at an early stage," explains Dr. Martin Heinlein, head of UniTransfer.
"In fact, we had more attendance than previously in face-to-face sessions."
Digital transition already in spring
The BRIDGE team was quick to change many of their offers to digital ones in spring. One of them is the StartUp Workout: this series takes place twice a year and consists of seven different theme nights. "Here, students, academic staff, and alumni exchange ideas on their start-up ideas and develop them into a business model," explains Meike Goos. Sales, marketing, networking, business plans – these are the topics the workshop is about. In spring and fall, the theme nights took place as online events. "And that with an excellent public reception. In fact, we had more attendance than previously in face-to-face sessions," the start-up consultant and her colleagues are pleased. True to the credo "together we are stronger," the participants learn many new things and support each other.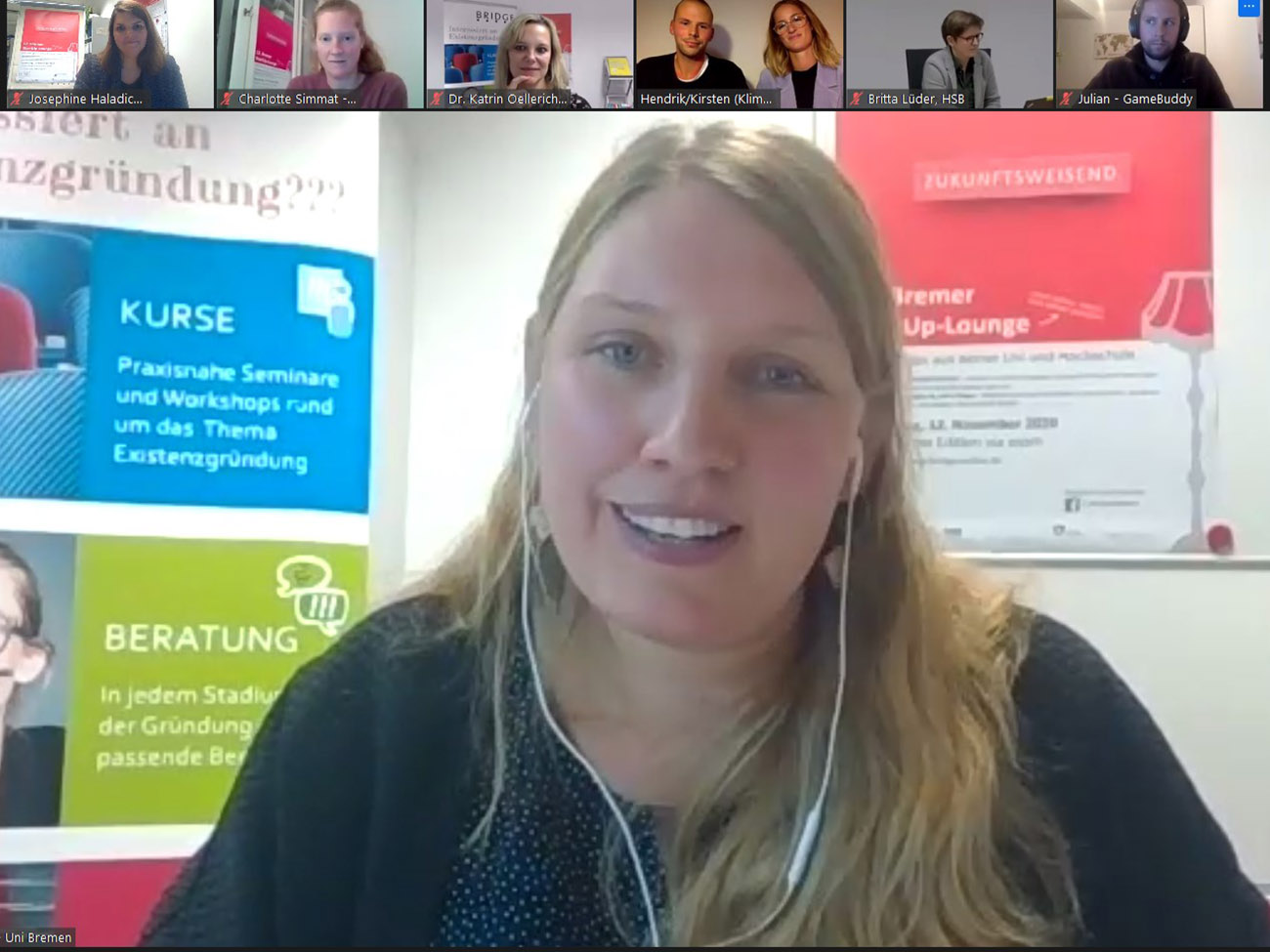 Wide range of offers
The BRIDGE event calendar was full due to great demand: There were start-up workouts, "Dr. Selbstständig" (Dr. Self-Employed) and "Erfolg mit Nachhaltigkeit – Frauen gründen ökologisch" (Succeed with Sustainability – Women Start Up Ecofriendly), and English language events on the LeanStartUp method. Different formats were used to address different target groups. The highlight is always – whether in analogue or digital form – the Startup Lounge. This is where young startups from universities the Bremen State introduce themselves and share their founding history.
"This event always has a motto. And since we had to improvise ourselves with the first online event last summer, the theme was 'Improvising'," says Goos. Reishunger, a university startup that has since become quite successful and well-known in Bremen, presented itself there, as did triLitec, a company that uses sensors for agricultural machines to ensure that game or foreign objects are detected in good time during harvesting and do not get caught in the blades. In 2019, the young company won the first prize in the BRIDGE CAMPUSiDEEN competition.
Startups with a business start-up grant
The focus of the successful fall edition of the StartUp Lounge was on the chatbot KlimaKarl from Kirsten Hillebrand (University of Bremen) and Hendrik Hinrichs as well as GameBuddy GmbH, which was founded by three graduates of the University of Applied Sciences Bremen. Both of the startups are supported with an EXIST business start-up grant by the Federal Ministry for Economic Affairs and Energy. The motto of this lounge: "Trendsetting". The trendsetting ideas behind the startups: "KlimaKarl is a dialogue system that can be used to playfully get entire teams to reduce CO2 emissions. GameBuddy organizes interactive esports events, where the spectators can actively influence what happens," explains Martin Heinlein.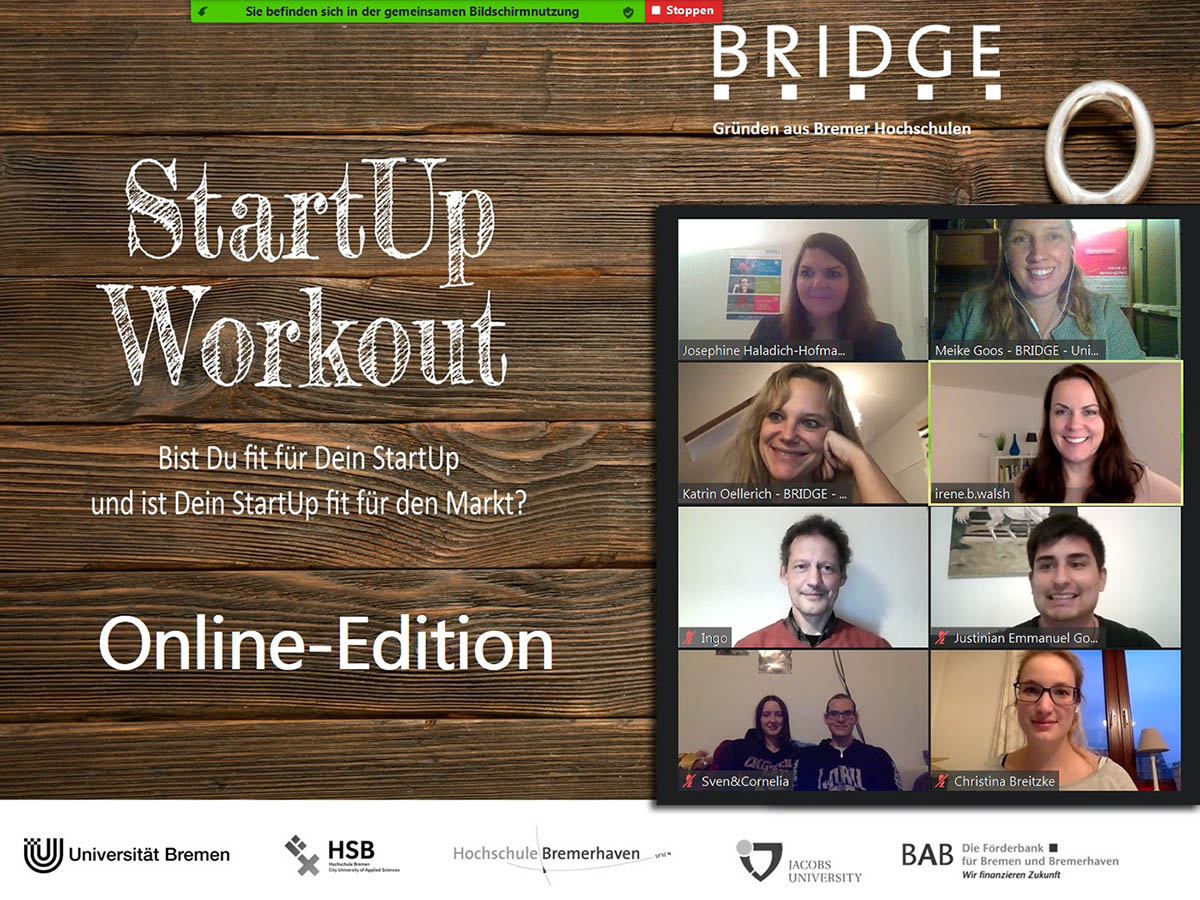 And that is exactly what this is all about: Ideas, ideas, ideas – and turning them into a business model that pays off. Many other formats from UniTransfer and BRIDGE are currently being successfully presented in a digital format. For example, the "Young Entrepreneurs in Science" series sponsored by the German Federal Ministry of Education and Research (BMBF) offers online seminars free of charge for doctoral and postdoctoral students to sensitize this target group in particular to the topic of startups. "Here, too, the demand is currently very high," says Meike Goos.
The comprehensive, well laid out offer for entrepreneurs by UniTransfer and BRIDGE can be found online:
The BRIDGE network's website (in German only)