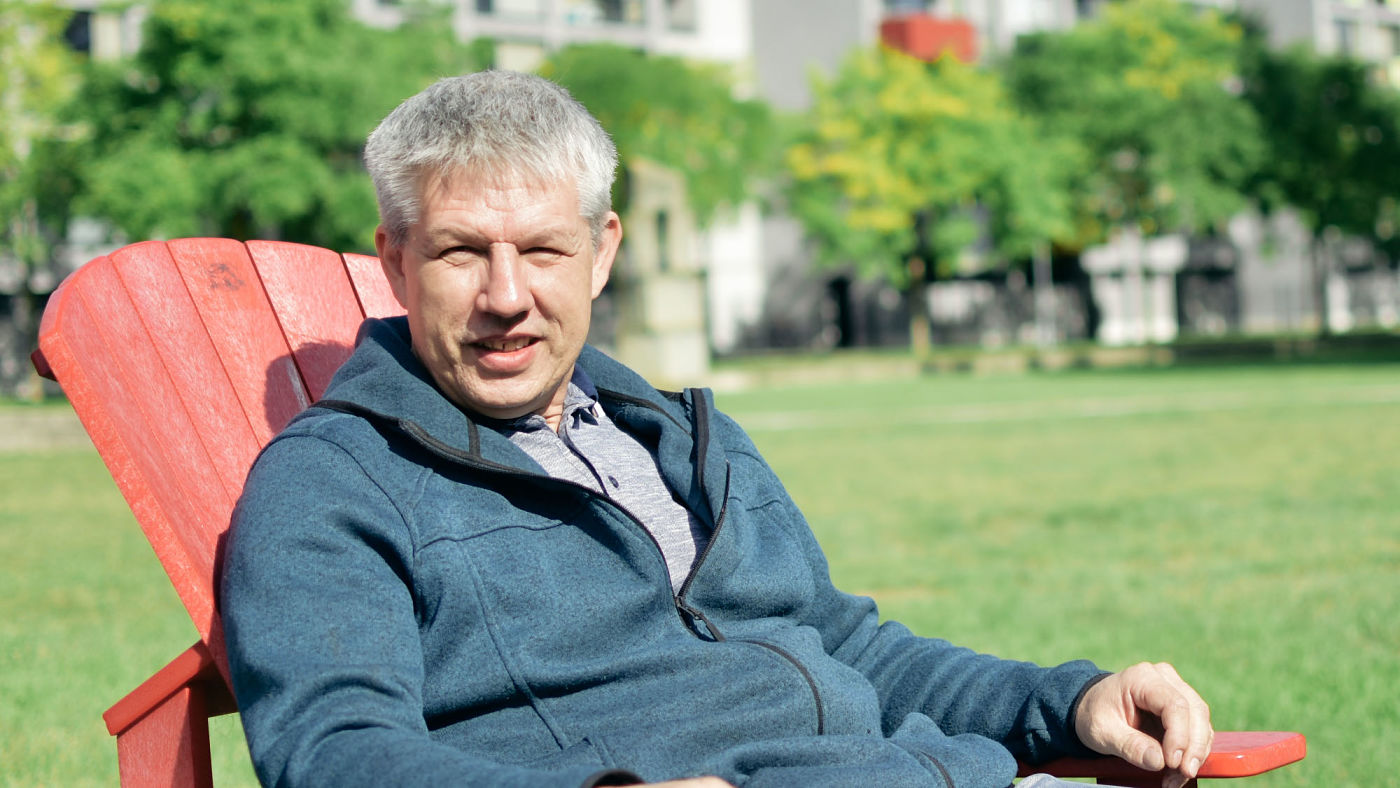 The Apprenticeship Head
When Torsten Radeke from the Faculty of Mathematics / Computer Science talks about his apprentices, he has a lot of success stories to tell.
The man with the mischievous grin is liked. Together with his eight-person team, he shows up to four young people per year how to be an IT specialist.
"I hope that the apprentices find their spot in life and are happy," he states. And he means that specifically: "That they earn good money." One of his favorite pupils now works for a big company in Frankfurt. The running gag between both of them is: "You'll probably visit me in a helicopter soon." The 53-year-old has an excellent network at the university that spans the whole campus. After all, IT is needed nearly everywhere. And he knows just what to do.
"Initially Create a Structure"
23 years ago, Torsten Radeke came to the University of Bremen from Berlin. He was an engineer, studied electrical engineering and technical computer science in Emden, gained his first experiences with working in Berlin, and was ready to get stuck in. That was needed. "We had to initially create a structure," he remembers when looking back at the beginning when he was an administrator for 40 people at the time. "Each of them had their own computer in a corner." It is easy to imagine the challenges.
From an Intern to a Programmer
According to Radeke, the first intern arrived 19 years ago: Patrick Mania. He tells us of his career like a proud father. We'll keep it short: A nice guy with a secondary school certificate, who enjoyed playing with computers, turns into an IT specialist with a master's degree, who studied at a record pace. Today, he works in the collaborative research center EASE (Everyday Activity Science and Engineering) and programs robots to cook.
Linking Apprenticeships with Science
After having such a positive experience with the first intern, Torsten Radeke acquired his license to be a vocational training instructor. In collaboration with the "Aus- und Fortbildungszentrum Bremen" - Bremen's further training center – he has been teaching IT specialists with his team since then. "We needed the technicians," he says. There was definitely some personal interest involved. Over time, new formats developed. Each Friday, everyone gets together, and an apprentice holds a presentation on a complex aspect of the subject. "We are preparing them for the exams," he says. "They need to hold presentations and be able to speak freely." Apparently, this is "the best place" to link apprenticeships with science. That is why he also puts his apprentices into contact with scientific working groups. For example, in the field of technical mathematics where the autonomously driving car is being developed. He hopes that they become "problem solvers."
Taking on University Drop-Outs
He generally believes that young people who complete an apprenticeship and then study are at an advantage. "They've got good chances with the human resources bosses," he knows. They have worked in teams, know how to deal with people, approach tasks, and then implement said aspects. "Applicants who are only familiar with a university from the inside are often missing these things." Another important part of his job is taking on university drop-outs and winning them over for an apprenticeship as a stepping stone for their further career and he has got his own methods for this with circular emails to all students.
Unable to Plough in a Straight Line
Torsten Radeke is entirely unpretentious during the subsequent photo shoot. "Where I'm from, what haircut you have and what you're wearing are not important, but rather how many hectares and which machines you have," he says and smiles. He lives in Emtinghausen, which is south of Achim and north of Hoya: A small farm, fields of "elite wheat". The best self-cultivated flour, a milling and sieving facility, and his wife Jutta, who is a baker. She makes bread in a wood oven, drives to fairs, and conjures up delicious pizzas and tarte flambee.
Torsten Radeke likes to talk about his Unimog 406 with a double cabin ("very rare, becoming more valuable all the while") and about his combine harvester with an impressive cutting width of six meters. Both of his sons were already sat on the tractor by the age of six. And now his IT know-how is helping him with the challenges faced by farmers. "I was never able to really plough in a straight line," he explains. But that is a virtue on the fields. "I developed a parallel driving system with high-precision RTK for the tractor and fitted it." To be honest, we're not sure what that is but we know that he is now ploughing in straight lines.
Are you interested in an apprenticeship to become an IT specialist?
During a tour of the apprenticeship area for IT, our apprentices will show you what exciting projects are waiting for you during your vocational training at the University of Bremen.
Register and find out more at the tour:
September 24, 2020, at 3 p.m., registration deadline: September 22, 2020.
Please send registrations to the e-mail address it-info@fb3.uni-bremen.de. More Informations about the tour
General information on apprenticeships at the University of Bremen
Apprenticeships in the Faculty of Computer Science / Mathematics