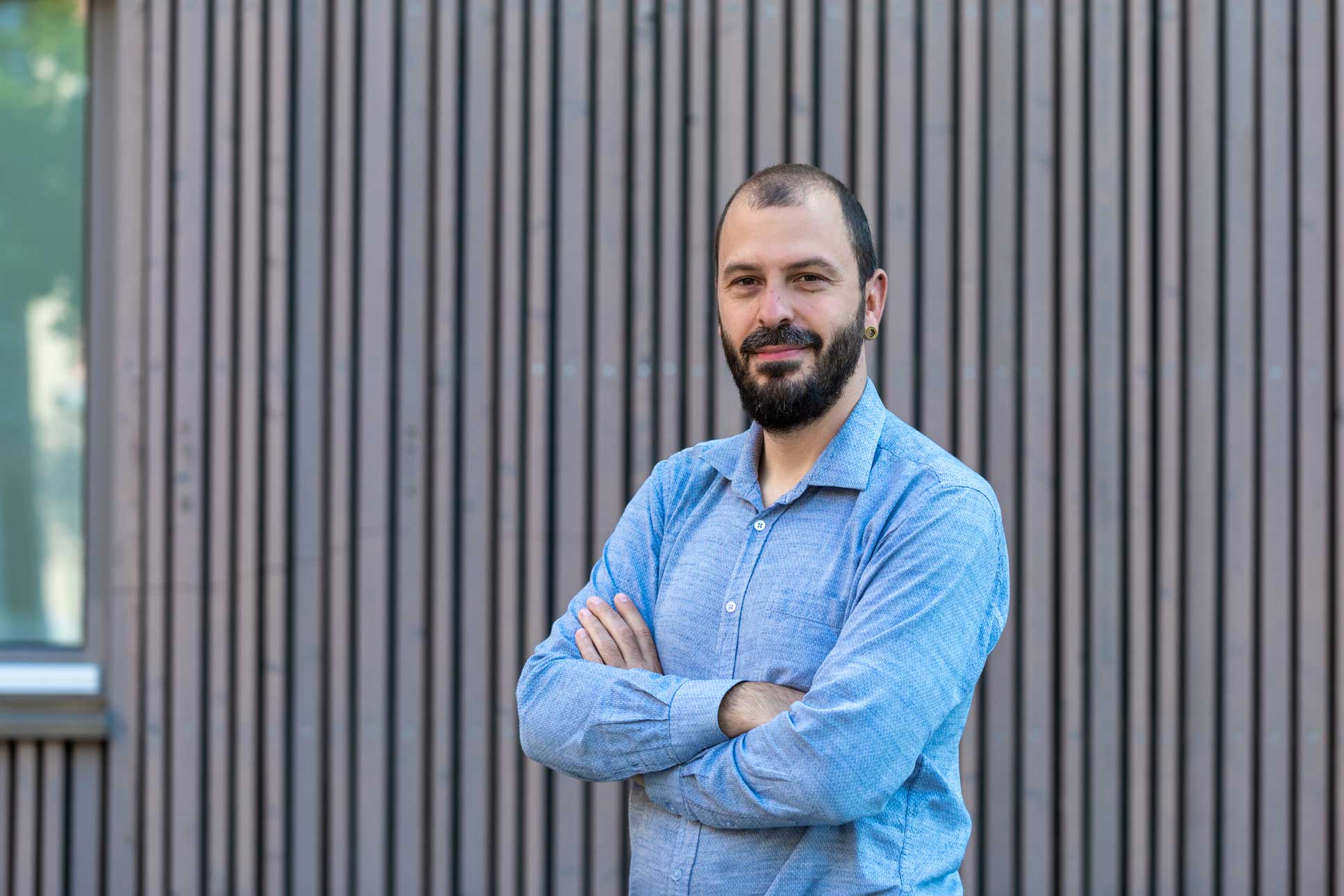 The Observer
Matej Meža is not only a photographer but also advises international prospective students
He is the "the eyes" of the university: The photographer Matej Meža captures the buildings on campus but also the people who work there. That is not, however, the only field of work for the Slovenian native. He also provides international prospective students with advice on how to find an apprenticeship or job here. That is what he does at the Academy for Higher Education Access Development - HERE AHEAD, which is a cooperation between all public universities in Bremen State.
"The early-morning or evening sun creates an especially beautiful light for photos," enthuses Matej Meža, who always carries his camera with him - even when he is not working. The 38-year-old is a photographer through and through. Initially, his passion was only a hobby. Now, it is his job. Matej Meža has been working as a freelance photographer for the University of Bremen for around three years. He captures both the university buildings and the people who work there. His photos make people shine and his images manage to get just close enough to the subjects. It is an art - of that there is no doubt.
His Demand: Appreciation of All People
He is interested in the people that he photographs. That is something that those who talk to him quickly realize. It is this open manner that is passed on to his "subjects." "I try to connect with the person standing in front of me. It is also about judging someone's personality and giving that person what they need in that moment to feel relaxed. Showing appreciation to people is important to me."
Matej Meža makes detailed observations in order to capture personalities in photos. It is often the small things that make the image special. Traditional PR photos are also a part of his daily life of course. The laying of a foundation stone or handing over of a cheque, for example. But even here he tries to find the most original photo details. Definitely no repeats of what we've all seen a thousand times. "With my photos I contribute to shaping the public image of the university," he explains. "I like that." And what exactly is the image that he is trying to communicate? He only has to think for a short time: "For me, the University of Bremen is a place where diversity and different world perspectives are not seen as obstructions but rather as assets."
That fits well with his current project called "#IchBinUniBremen," which he is realizing to mark the University of Bremen 50th birthday: The photographer is presenting 50 people in portraits. "They shape the university. Even if they are not center stage and often work in the background, they are truly the heart of the University of Bremen!" His portraits not only portray students and professors, but also administration staff, alumni, and staff who contribute daily to the university's success with their work. The project is a matter close to Meža's heart.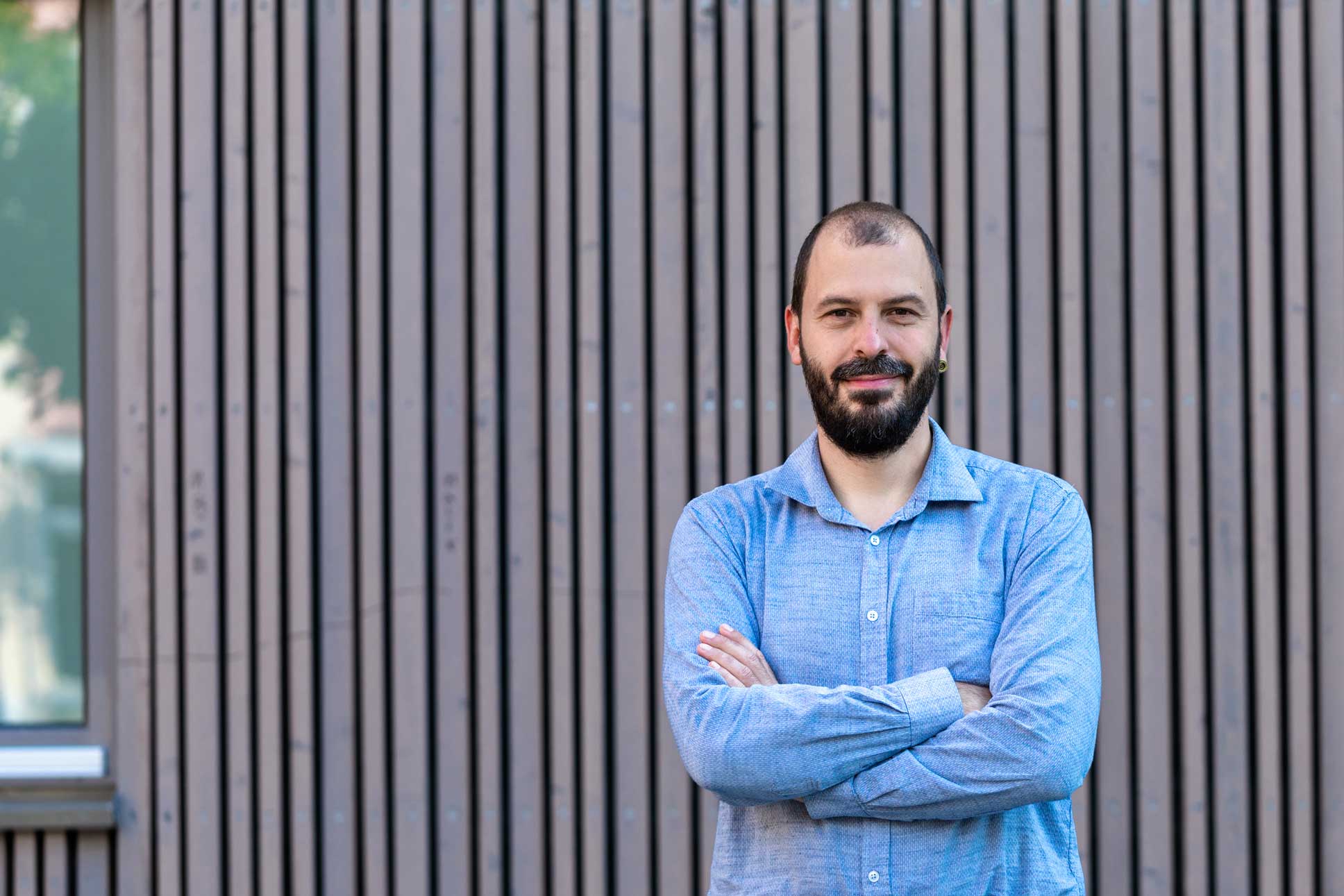 Helping International Students in Finding a Job
The core of Matej Meža's work is formed by interacting with people. The photographer is quick to start conversations with others. "That's probably my Mediterranean temperament," he says and laughs. When the German Studies student cam to Bremen from Slovenia as an ERASMUS student in 2009, he had to get used to the North German mentality. He has done that successfully in terms of the people. He has, however, never been able to get used to the weather in the North-West.
He remained in Germany as a student, wrote his final thesis in Bremen, and began to work at the University of Bremen's International Office. "As I myself have an international background, I know what students from other countries need. I am able to give them tips on what they should pay attention to when looking for a job." He supported students transitioning into internships or jobs for a total of ten years and is still in touch with several of his former "customers." Those connections have turned into friendships. "I am someone who allows personal aspects in my work. People then notice that I am putting in effort for them. I get a great deal back."
Since the beginning of this year, he has been advising international prospective students with or without a refugee background on how to enter the job market at the Academy for Higher Education Access Development - HERE AHEAD. He helps them to get an internship or pre-study internship. It is also useful for this task that he is well connected and communicative. He would like to further expand his network with Bremen cooperation partners and institutions.
Hobbies: Gardening and DIY
Matej Meža loves nature and gardening to relax. "I have a lemon tree, a rhododendron, and even a small oak on my balcony," he tells us proudly. "I am also growing tomatoes, strawberries, and beans." The balcony is his city oasis.
His other hobby is also down-to-earth: He likes everything to do with DIY. "I love the logical aspect and thinking technically. I'm able to really relax whilst doing DIY. My friends know that if they have something that needs to be repaired that they can always ring me." He is, however, also asked frequently if he could take a photo. That is something that Matej Meža just cannot refuse. After all, photography is more than just a job for him. And he's always got his camera with him.
Further Information:
www.uni-bremen.de/50-jahre/programm/projekte/ichbinunibremen