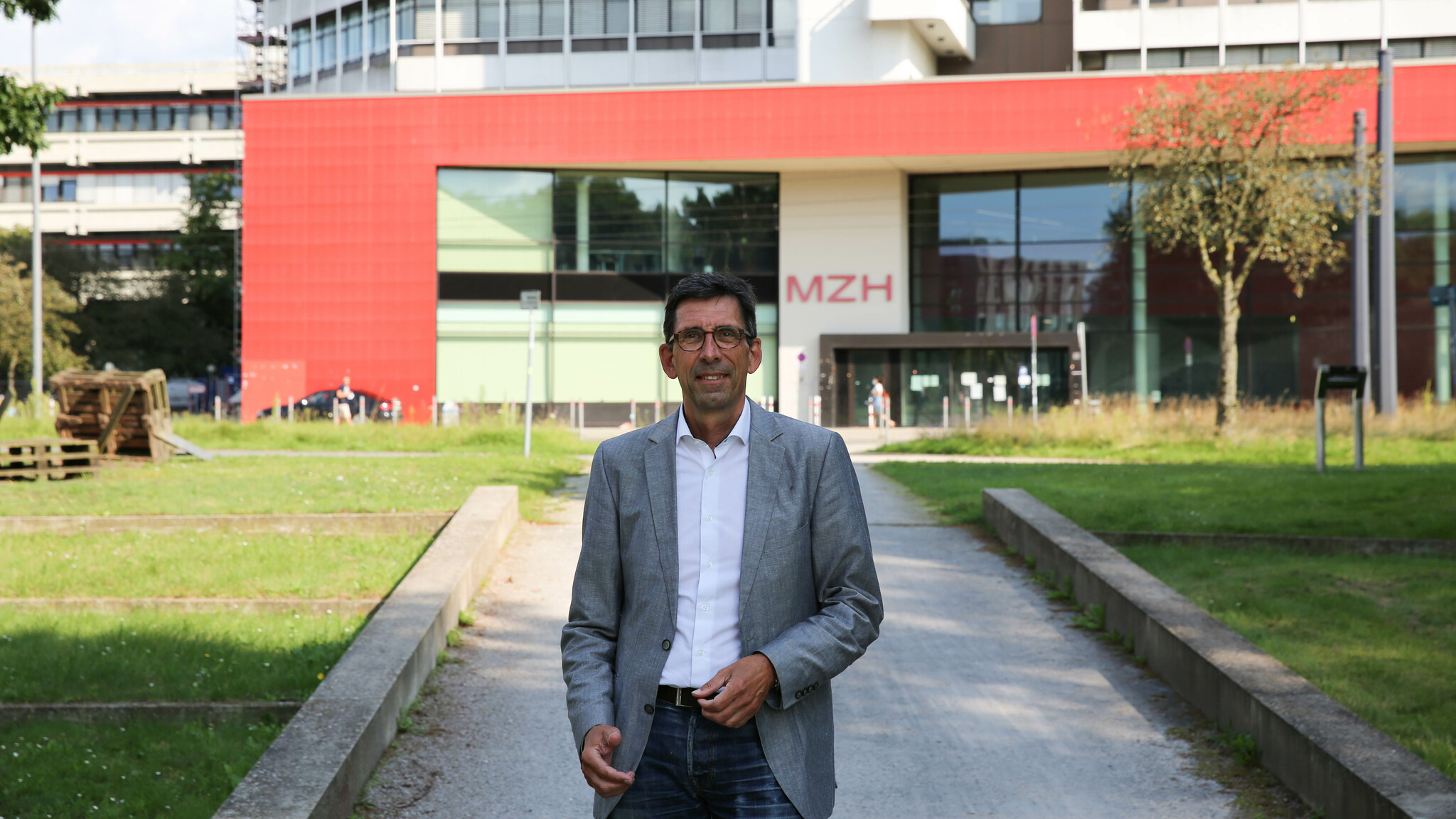 The University of Bremen Is Organizing In-Person Classes in the Winter Semester
What exactly is planned? Thomas Hoffmeister, Vice President Academic, reveals all in this interview.
Many students and teaching staff have a great desire to return to campus. To finally sit together in a lecture hall, to revise together instead of alone in front of the computer at home. The University of Bremen is currently planning on a face-to-face semester. Thomas Hoffmeister, Vice President Academic, has a clear opinion on the matter: "Come to the University of Bremen. We're offering the opportunity to study in the best way - together on campus!"
Mr. Hoffmeister, how is the University of Bremen preparing for the winter semester?
In a very technical way at the moment. We want to ensure safety at the university. The current state regulations specify the 3G rule on campus. This means that only vaccinated, recovered, and tested persons may enter the university buildings. We're working on electronic solutions that will most probably mean that you can simply walk past a panel and your digital certificate will be registered. In this way, we can ensure that people can enter the buildings rapidly. The other aspect is tracking, which we want to do using the "Gast Bremen" app. All teaching rooms will have a QR code with which the students can log in and log out.
Why is it important that students can meet in person?
A large portion of studying is made up of social aspects. You get to know other people, speak to them, revise together - it enables you to judge yourself far better: What new things have I found out? How much have I learnt?
"There's far more to a degree than just learning"
And learning together is just far more fun. Relationships that sometimes last a lifetime are made. There's far more to a degree than just learning - it's about experiencing things and reflecting on them together. I can only say: Come to the University of Bremen - we're here in person!
It was hardly possible to experience things together in the past months…
Yes. That was unfortunately the case. Thanks to our monitoring, we found out that students' performance was decreasing with each further online semester. As well as this, only studying in front of a monitor led to several students developing psychological problems and loneliness. We therefore needed to weigh things up: Loneliness and worse grades or a risk of infection on campus. The University Executive Board, the Deans, and Academic Deans decided on face-to-face classes.
"The best protection is being fully vaccinated"
I can understand the worries that have been communicated to us. Yes, there is still a small risk. However, the measures such as the 3G rule and obligatory wearing of a mask in lecture halls help us to minimize said risk. The best protection is being fully vaccinated and that is why I ask all students and staff to get their vaccinations. We need this type of supportive behavior here on campus in order to make a face-to-face semester with all its advantages possible.
Are there other infection protection measures in place alongside the 3G rule?
Yes, we consciously put more measures in place. It is, after all, possible that someone might bring an infection onto campus despite the 3G rule. In order for us to be able to determine that as early as possible, we will also be starting an additional monitoring project. We will look for volunteers among the students who will then test themselves regularly using a very simple-to-use spit test. These samples will be analyzed using PCR technology within a day and this will probably take place in our own laboratories. In this way, we will quickly be able to see if there is an infection in each group and then react rapidly before it spreads on campus.
Will it be a solely face-to-face semester or will there also be hybrid formats?
It depends on what you understand "hybrid" to mean. If you assume that it means that work is done with an in-person and an online group at the same time, then there will only be very few classes in this format. Some of them will be in the international degree courses, as there are students there who can simply not come to Germany. There will most probably be more blended learning solutions, for example by means of lectures being recorded and being made available to watch a home later.
"New digital solutions are being continually developed"
And there will, of course, be inverted classroom formats where the lectures will be available in the form of videos with an additional plenary event in person. We have become very familiar with many digital formats during the corona semesters and some of them will continue to be used. Moreover, new digital solutions are being continually developed.
Is there a plan B if we come to have stricter contact restrictions in the fall again?
Yes, of course. As a university, we are not autonomous in our decision-making, which is why we always have to be aware that there could be new measures dictated by the government or state. If this is the case, we might have to fall back on an online semester. We've gained a lot of experience in this field by now - also in how one can shape the transformation sensibly. A face-to-face semester is harder for all those involved but it is such a valuable aspect that students can meet and students and teaching staff can come together that we are happy to do everything in our power.
More
Current information on life, studies and work at the University of Bremen during the corona pandemic: Information on the Corona Pandemic - University of Bremen