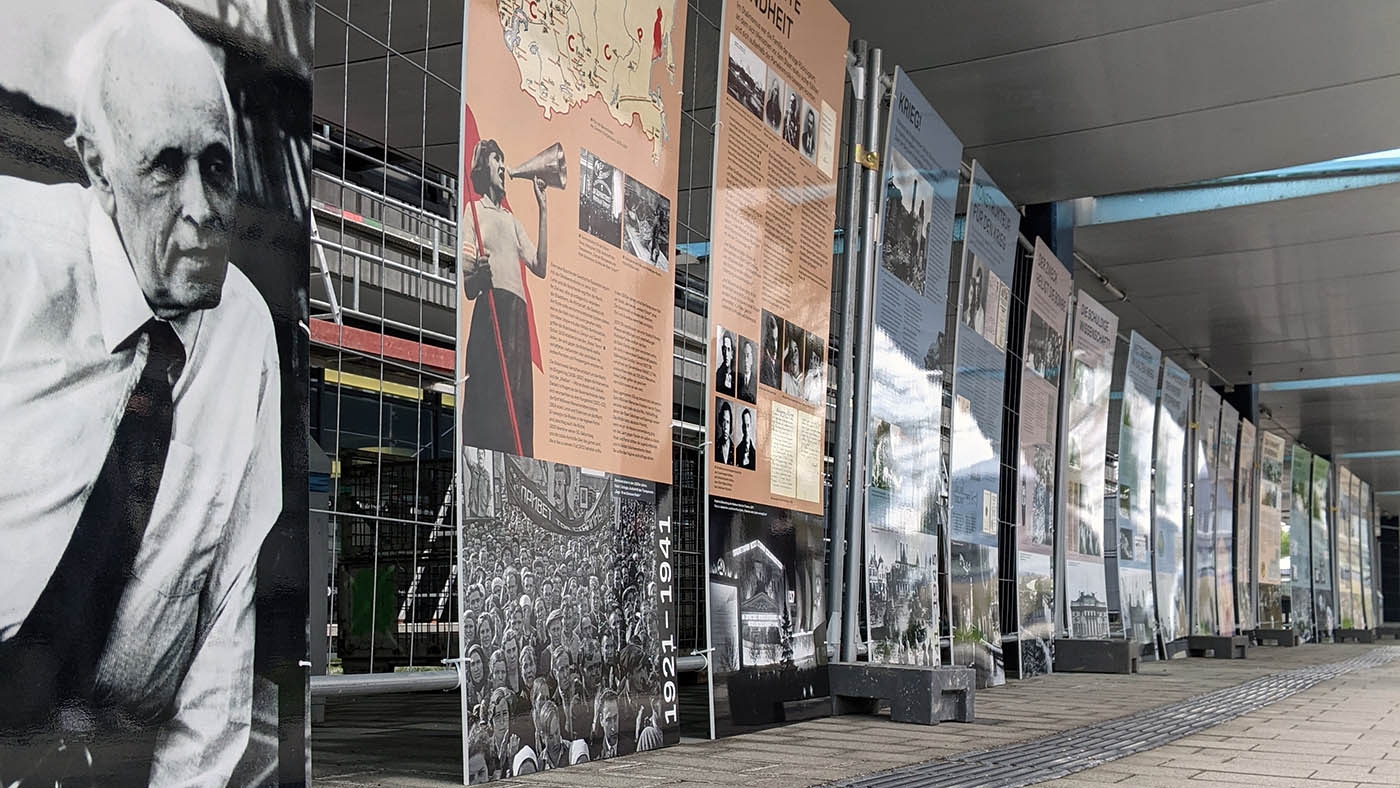 A Physicist Between War and Peace
To mark Andrei Sakharov's 100th birthday, the university is holding an exhibition on the Boulevard.
"Peace, progress, human rights – these three themes are closely interconnected," stated Andrei Sakharov during his Nobel Prize speech in 1975. In the 50s, he was in fact the person who significantly contributed to creating the Soviet Union's first hydrogen bomb. How he became a recipient of the Nobel Peace Prize in spite of this can be seen at the exhibition on campus.
"Andrei Sakharov: Bomb-Builder to Civil Rights Campaigner" is the title of the exhibition that can currently be seen on the university Boulevard in front of the State and University Library. The construction fences, to which the information pillars are secured, give the exhibition a sense of brutality, which could not be more fitting: In 1953, Andrei Sakharov played a significant role in the development and testing of the Soviet Union's first hydrogen bomb. But then came the transformation: In his position as a successful physicist with access to foreign literature as well as state and party leaders, he was able to critically reflect on behavior - and not only his own. He demanded the same of top politicians and argued with the party and state leader Nikita Khrushchev for this. What followed was decade-long activism for the politically persecuted and for freedom of thought, which in turn led to harassment and smear campaigns. Finally, the physicist was banished into exile in 1980. It was only in 1986 that Gorbachev released him. Shortly before his passing in 1989, he was able to present his political ideas to the All-Union Congress of People's Deputies as a delegate.
In the winter semester, Professor Susanne Schattenberg from the History Department at the University of Bremen and her students prepared the exhibition from the Sakharov Center for a German audience. The moving life of Andrei Sakharov will continue to be told on the 21 information pillars until July 16, 2021. The exhibition on the university Boulevard can be accessed at all times under adherence to the hygiene regulations.
Two of the students, Lilja Girgensohn and Raffael Joos, offer insights into the exhibition:
The exhibition is being opened in Moscow, Prague, and Vilnius at the same time and it is intended to show it at the European Parliament. Bremen's version will also travel to Berlin and Cologne. The exhibition is supported by the Karin and Uwe Hollweg Foundation.