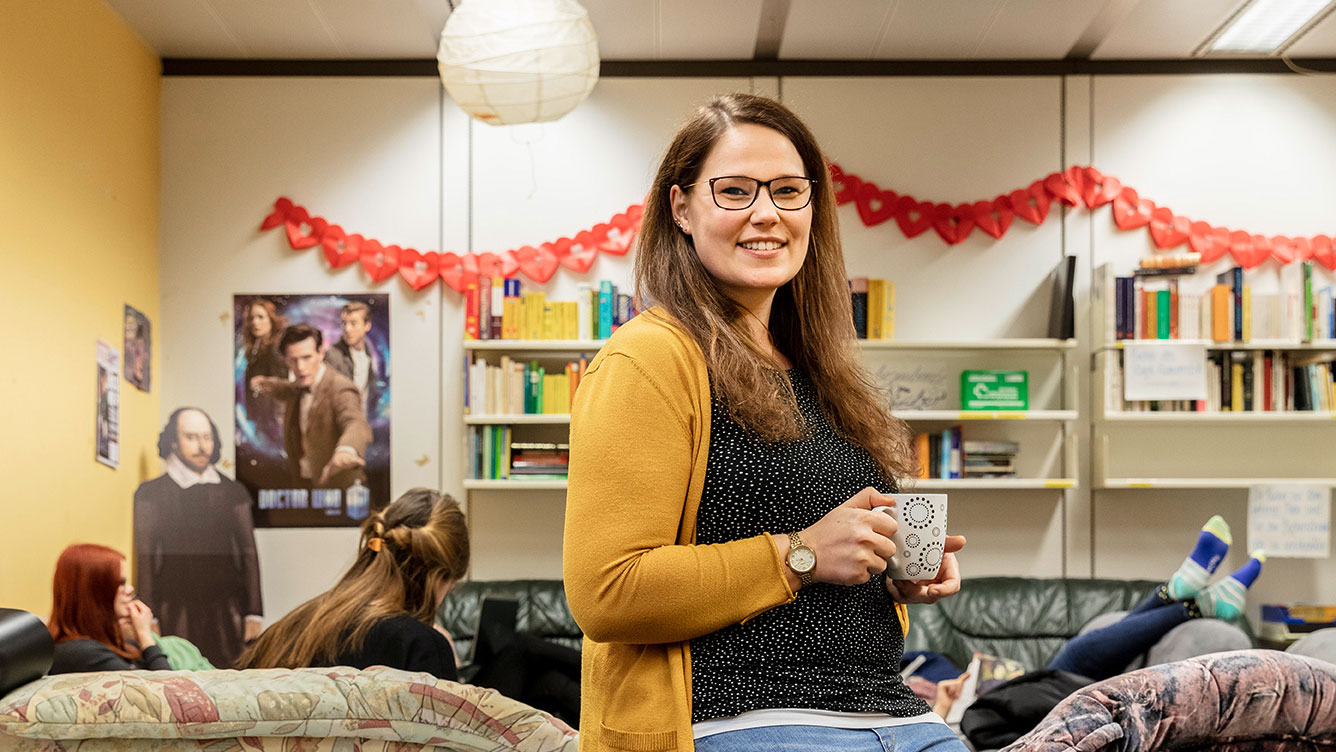 And then? I saw the chances and took them
Your degree is over, bring on your first job – or not? In the new Yearbook of the University of Bremen, graduates tell us about their lives after graduation.
After her apprenticeship to be a speech therapist, Inka Lux completed a humanities degree at the University of Bremen. She now works in the field of Recruiting and Employer Branding at the international coffee and tea company Jacobs Douwe Egberts.
Ms. Lux, why did you begin a degree after your apprenticeship?
Studying was an option for me whilst I was completing my high school qualifications. However, I come from a non-academic family and this made a degree less tangible for me. I decided to do an apprenticeship in speech therapy, which was the right decision at the time. I needed a great deal of time back then to figure out other options for myself and to then find the self confidence for said options. Despite the fact that I found the apprenticeship to be extremely interesting, I was at the start of my 20s and just could not imagine working in this field forever. That is why I decided to start a degree.
Why did you choose the University of Bremen?
Due to the circumstance that I had moved from the Harz region to Aachen for my apprenticeship, I wanted to go back closer to my hometown of Osterode am Harz for my studies. It also played a role that I had a very specific idea of what subject combination I wanted to study – and Bremen did not charge study fees. That was obviously one of the deciding factors when I was accepted into different universities. I wanted to continue to finance my own life – especially after having completed the apprenticeship.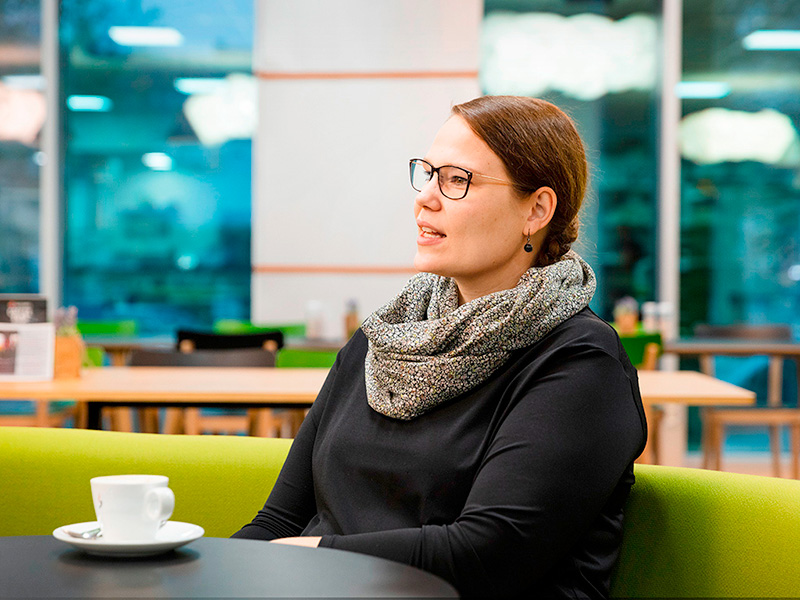 What subjects did you study and how did your degree progress?
At first, I studied for a bachelor's degree in English and sport with a teaching orientation. In the frame of the degree, I spent a year abroad in Oxford. During said year, I decided that I did not want to complete my bachelor's degree with a teaching orientation. My interests simply lay with subjectspecific topics and not with teaching. After I had completed my bachelor's degree, I studied for as mas- ter's degree in transcultural studies within the Faculty of Cultural Studies. I knowingly gave myself more time for this because I started thinking about alternative career possibilities at a very late point due to my change in orientation. I needed the time to find a direction and a new path that would suit me.
Are there places and people at the Univer- sity of Bremen that have stayed in your memory the most?
I worked within different committees, also in the degree course representative council (StugA), during my studies. I spent a lot of time in the Stugeneck, which is a small room in GW2 from where the representative councils of Faculty 10 operate. It was a place where you could sit together, talk, and pass the time between lectures. I also had intense contact with the faculty teaching staff due to my activeness. This close contact helped me to choose a stay abroad on the one hand and to make the decision to stop the teaching ori- entation of my degree on the other hand. The latter decision was extremely difficult for me back then and I probably would not have been able to make the decision without addi- tional support. I always had the feeling that the teaching staff and lecturers encouraged me. That is something that has stayed in my mind as being especially positive.
"You cannot do anything with it. You can do everything with it!"
Looking back, were there moments during your degree that you view as precursors for your career?
I believe that my career path so far has been paved by many coincidences. At the beginning of my transcultural studies degree, my friends and family constantly asked me what I could do with my degree later in life. My answer was always: "You cannot do anything with it. You can do everything with it!" You just have to be aware of what you want to do and then concentrate on that. Thanks to the self-organization required by the degree, I developed a type of mindset that is still useful today. It is often about recognizing chances and taking them. It was down to this open-mindedness that I entered into a job, which is not typically cultural science oriented.
Did you gain practical experience during your degree?
Yes, during my master's degree. It was not actually intended that internships or practical semesters be absolved during studies. That is why I had to make time for it. For example, I decided that I would take part in the mentoring program for culture and humanities students offered by the Career Center. As part of that, I carried out a cultural science field study within the space travel division of Airbus in order to gain first insights into a commercial enterprise. This experience opened the door for me to carry out a six-month internship with BASF in Ludwigshafen. There, they had a position for intercultural training within the human resources department. These practical experiences were crucial for my career.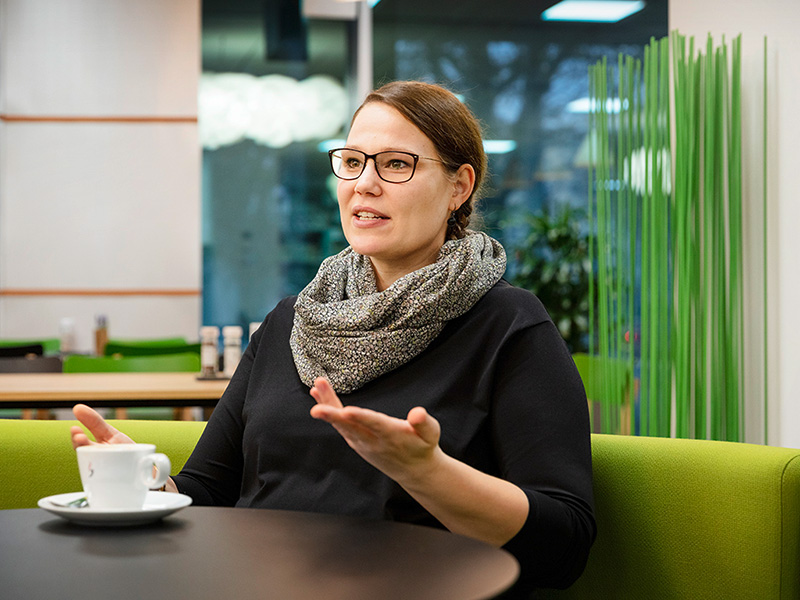 What is your job like today?
I currently work in the recruiting and employer branding field within the human resources department at Jacobs Douwe Egberts. Within employer marketing, I deal with how we present ourselves as an employer and how we can appeal to potential applicants. In recruiting, I am responsible for finding potential candidates for open roles and interviewing them. I also advise and accompany each department during the appointment process. I started out within a less specialized role in the human resources department. That was ideal for the beginning. It enabled me to position myself broadly and subsequently have more career options.
What advice would you give to current stu- dents based on your personal experience and from a professional point of view?
The most important thing is to take time to find your direction. Studying nowadays is organized and timed in a stricter manner. There is a danger as a student of losing yourself too much in this maelstrom without having taken a moment to check and ask "is this really the right thing for me?" Of course, one must be brave to make decisions. Even in my position today, I would always say that the regular degree duration is not important at all. Those who use their time during their degree sensibly for other things and new experiences will always have it easier on the job market.
Inka Lux completed her Master's degree in Transcultural Studies at the University of Bremen in 2012. Prior to that she studied in the Bachelor's programme English-Speaking Cultures until 2009 with a stay abroad at the University of Oxford. Before she began her studies, she completed her training as a speech therapist in 2006.
Interested?
The complete yearbook with all eight graduate stories including further information about the people, profiles, and illustrations is available as a downloadable PDF on the website of the University of Bremen