Back Then: Building Blocks for the University
There were support campaigns long before the opening
"65,000 building blocks for the university already sold," was the headline of the Weser-Kurier newspaper on October 16, 1964. The reason for this story was the so-called "building block postcard campaign" that had been launched 10 months earlier by the Association of the Friends of the University of Bremen.
By selling symbolic "building blocks" – in the form of postcards – the association wanted to promote the future university. At the beginning of 1964, the "unifreunde" therefore had 30,000 "building blocks" produced, with another 50,000 being added later. The motto of the campaign was "Bremen then and now." Three different double postcards were printed, each with a historical and a contemporary image, as well as a foreword by the mayor at the time, Wilhelm Kaisen.
In February 1964, the advertising campaign began with the sale of the postcards at bookstores and banks. Additionally, with the help of the teachers' associations, public fundraising began by distributing the "building block postcards" to Bremen schools. At a price of 50 pence each, buyers were able to express their support for the "university idea."
Just one month after sales began, the first concerns arose regarding the financial outcome of the campaign. Thus, the president of the association, Georg Schünemann, wrote to the treasurer, Heinrich Landwehr: "I only hope we will come out of this without a loss, at least for our treasury."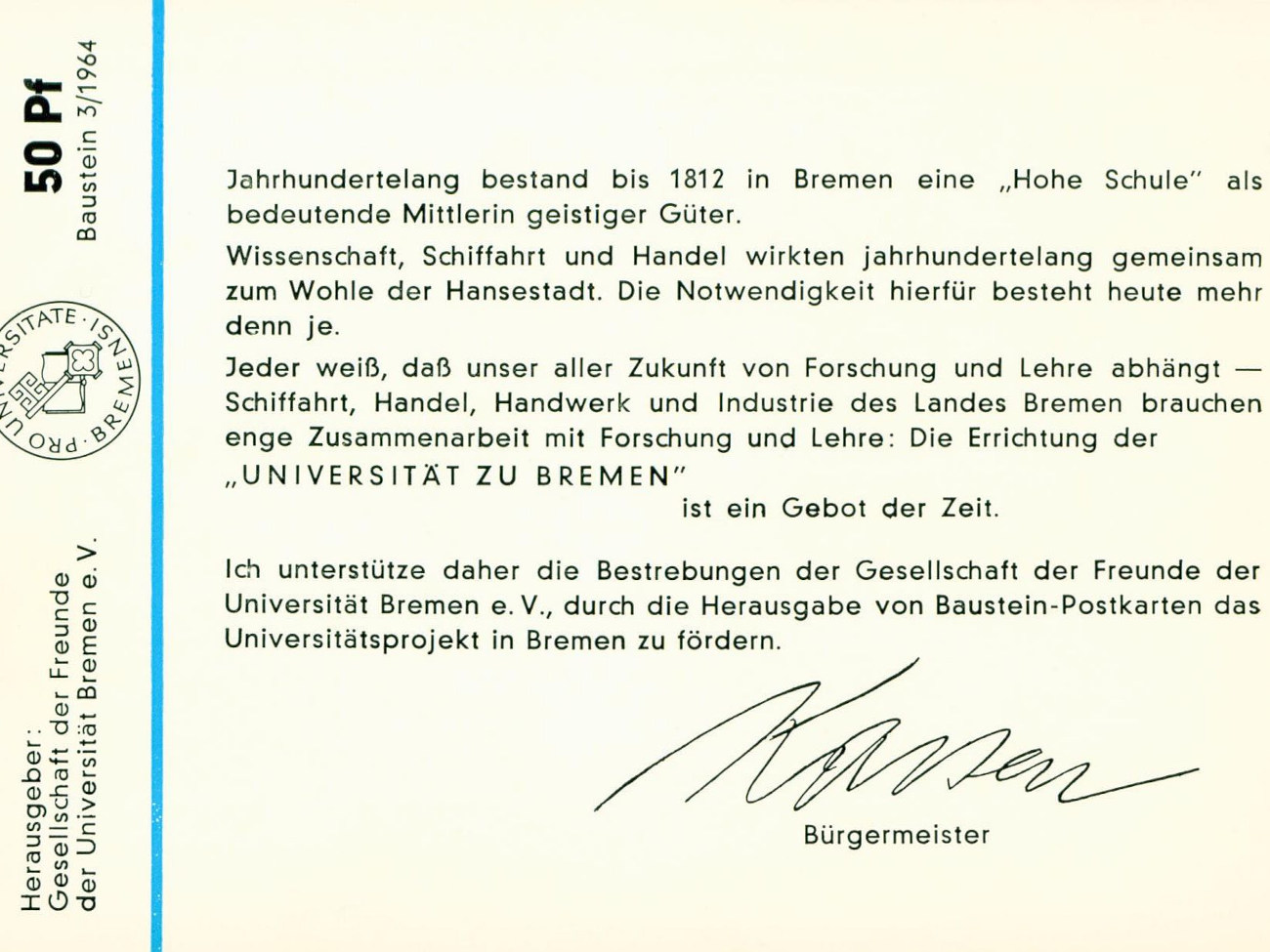 In fact, over-the-counter sales in the banks did not achieve the hoped-for results, so that the financial institutions purchased the remaining postcards themselves at the request of the association's president. Then, however, sales quickly picked up. The schools recorded their first successful sales, and the German Consulate General in New York also agreed to purchase "building blocks" and distribute them in the USA. A New York-based member of the association also requested postcards in July to distribute to Bremen natives living abroad.
In order to save on shipping costs and to increase the advertising effect, he suggested that the "university bricks" be flown in via the Werder Bremen soccer club, which was scheduled to be in New York at the end of the month for the finals of the International Soccer League. Whether the "bricks" actually reached the United States in this way is not made clear in the files. There is no doubt, however, that the association recorded strong sales of the "university bricks" over the next few months. The campaign generated net proceeds of around 18,000 Deutsche Marks.
The proceeds were used to purchase literature for the university's future Pedagogical Institute. Until its opening, the association made these works available to the Pedagogical Academy. Even today, some of the books in the State and University Library still bear a reminder in the cover that they were donated by the "unifreunde."