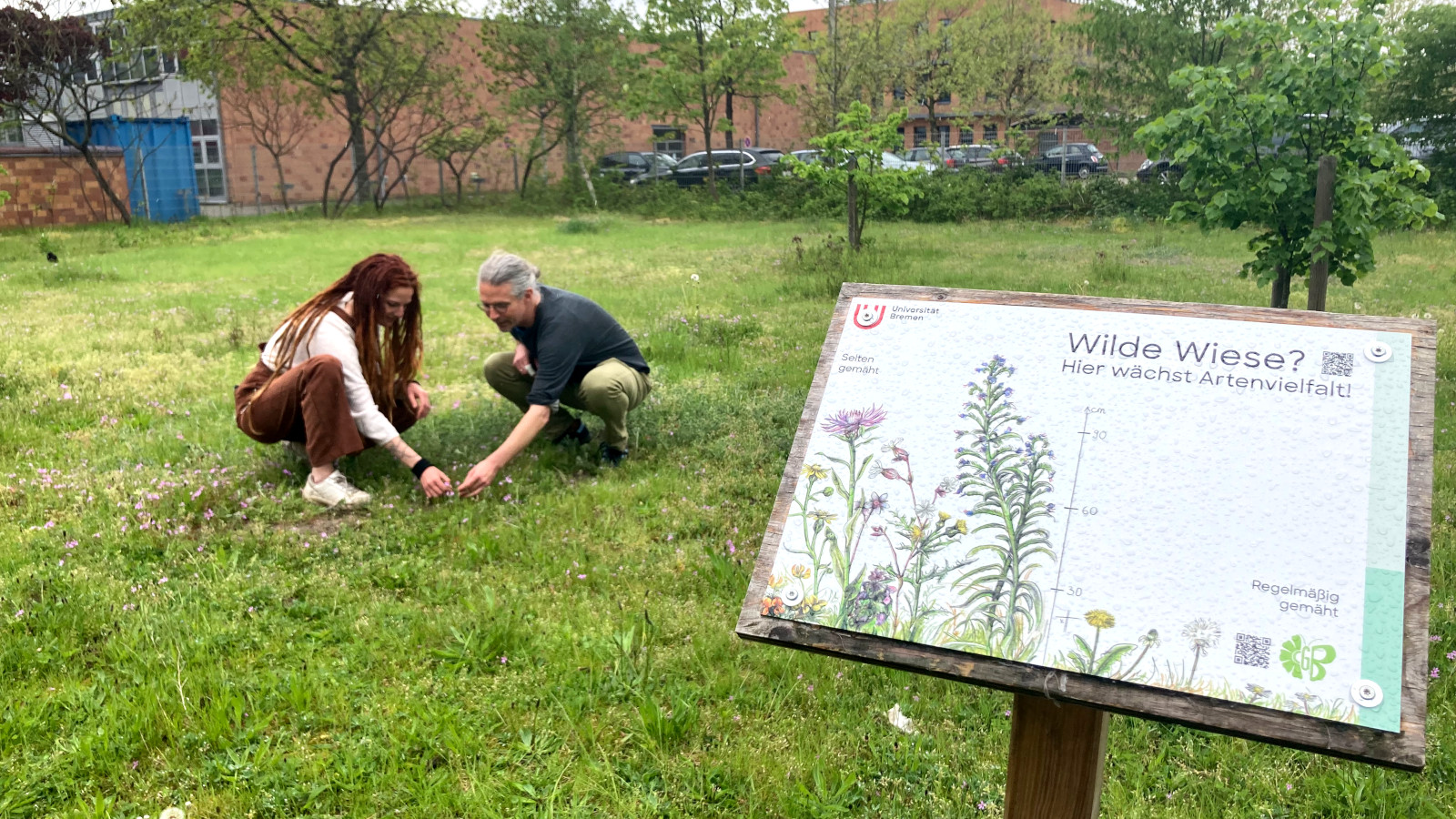 BreGoS Reallabore: The Campus as a Research Object for Sustainability
Real labs ("Reallabore") are the University of Bremen's contribution to the joint project BreGoS - Bremen goes Sustainable.
What is a real lab? What is done there and who can get involved and how? up2date. interviewed Prof. Dr. Marko Rohlfs and ecology student Lorena Kalvelage, who explain the concept using examples from the Campus goes Biodiverse real laboratory.
In the joint project BreGoS – Bremen goes Sustainable – which is funded by the Ministry of Education and Research (BMBF), all four universities in Bremen are joining forces to develop, measurably implement, and institutionalize contributions in the research areas of biodiversity, climate protection, mobility, and resource conservation on their campuses. The contributions of the individual universities can serve as model projects for sustainability measures at other universities. At the University of Bremen, there are two so-called "real labs" ("Reallabore") as part of BreGoS, the real lab "Campus Energy Lab" and the real lab "Campus goes Biodiverse".
Mr. Rohlfs, as BreGoS coordinator, can you explain what exactly a real lab is?
Marko Rohlfs: Perhaps it is easier to understand real labs if you look at the exact opposite, i.e. non-real labs. In them, research topics would be abstract and model-like and would have no concrete relation to any social problem. In the Campus goes Biodiverse real lab, the social reference would be the topic of species loss, i.e. the man-made biodiversity crisis. We are not interested in saying that this is the way it is from the research point of view and that society has to deal with it, but rather in actually interacting with stakeholders from society and entering into dialog on the topic. In addition to this, the real labs support a whole-institution approach within the university, in which the various status groups on campus can contribute their different expertise and perspectives and thus drive the project forward. Another important aspect of real labs is research-based learning and that the work in the project and the findings from it are explicitly used in teaching.
What exactly is being done in the Campus goes Biodiverse real laboratory and which parties are involved?
Marko Rohlfs: We develop ideas on how to support biodiversity on campus and plan how we can actually implement this. It is not only research institutions are involved, but also the administration and all institutions that are somehow relevant to the topic. In the Campus goes Biodiverse real laboratory, for example, we are working specifically with contact persons from building management, with whom we discuss what can be done on which green spaces on the university campus. And then, of course, there are the people who manage the green spaces. At the university, this is bras e.V., the gardeners and their supervisors, with whom we meet outside and explain where there should be no more mowing carried out now, but only once again in September. The reduced mowing is a first, very simple measure that we have initiated in order to support the diversity of species on the university campus. This measure is also one that is very visible and to which people respond very positively.
Lorena Kalvelage: However, it's not all positive. We once heard: "Why aren't they mowing here anymore, it doesn't look nice." That's why we also put up signs indicating our project and explaining why there are now some "weeds" there.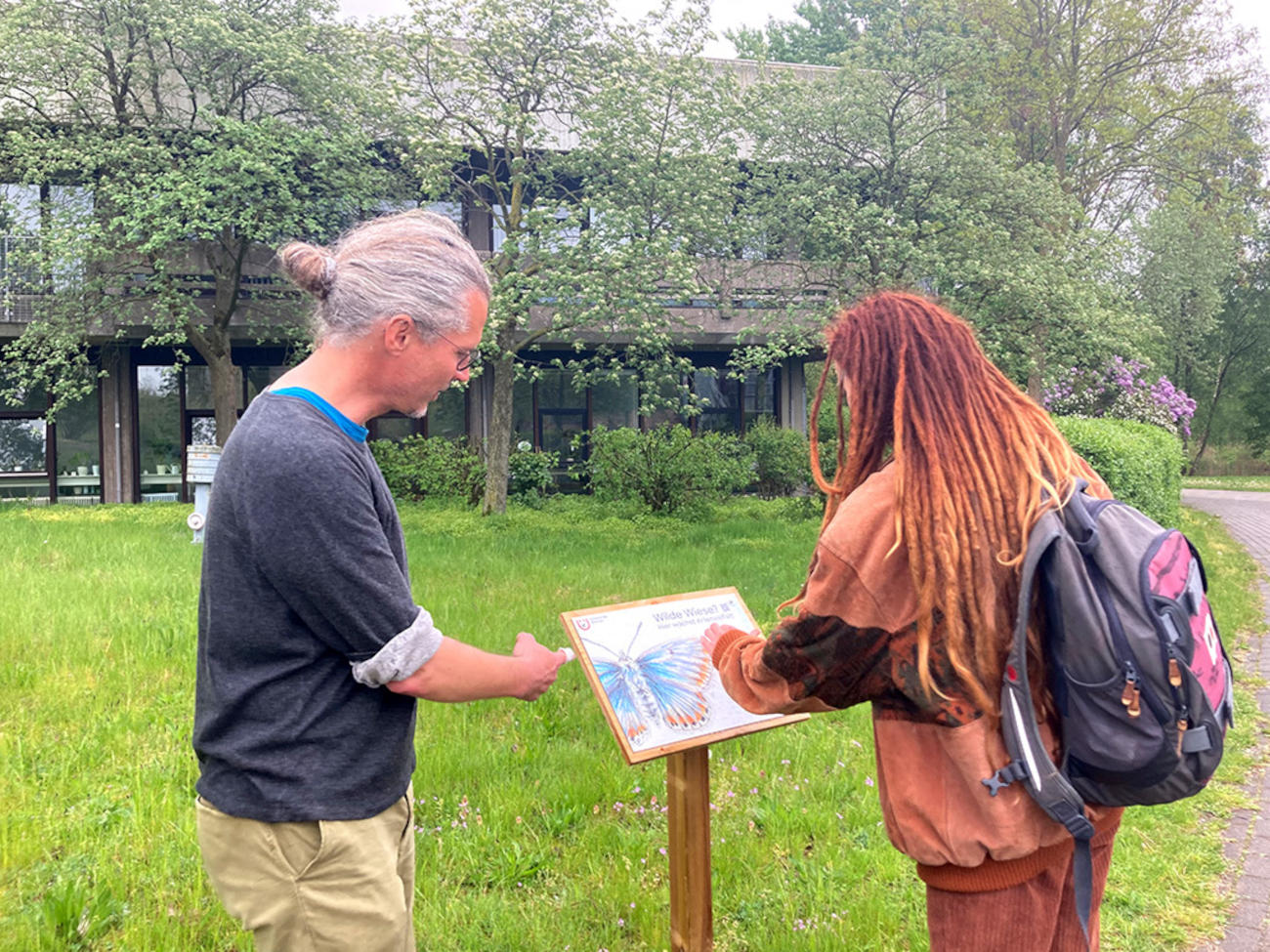 How do you gain your insights in the Campus goes Biodiverse real laboratory?
Marko Rohlfs: We gain much of our knowledge through bachelor's and master's theses, which investigate whether our measures have been as effective as we expected, as well as through student projects in the new "Biodiversity and Society" module in the field of General Studies. The local context of our findings is especially important for Bremen citizens and authorities. It has a very different effect when we say, we did this here in Bremen and this is the impact on your land than if we had done this somewhere else in Northern Germany. This is what makes real laboratory research so important, that you are in the same location as decision makers and stakeholders.
Ms. Kalvelage, you are a student and are actively involved in the Campus goes Biodiverse real laboratory. How did you get involved?
Lorena Kalvelage: I have been pursuing a master's degree in Ecology since the winter semester 2020/21. As part of my degree, I took a course in vegetation ecology that included experiments on green spaces. We happened to be sitting in one of the green spaces on campus after class when the Campus goes Biodiverse group met there. Then they asked us, if we did not want to stay on and listen to them and I have rather been stuck ever since. It has since become, I must say, somewhat of my pet project.
What project are you currently working on?
Lorena Kalvelage: I am currently working off campus at a project with the Umweltbetrieb Bremen (Bremen Parks and Recreation) on the "Haus des Reichs" building in the city center. They have a rooftop terrace and a courtyard that they want to upgrade in terms of biodiversity. The courtyard is a bit tricky as there is little sun there, but the roof terrace is a very interesting location. There were even grasshoppers spotted there last year, which is not something you'd expect on a four-story building. I got together with a group of students and took soil samples, did all kinds of analysis to see which plants had the potential to establish there and which of them could be beneficial to insects. We want to fulfill the wish of the property management that the flora around the "Haus des Reichs" building will flourish in terms of biodiversity.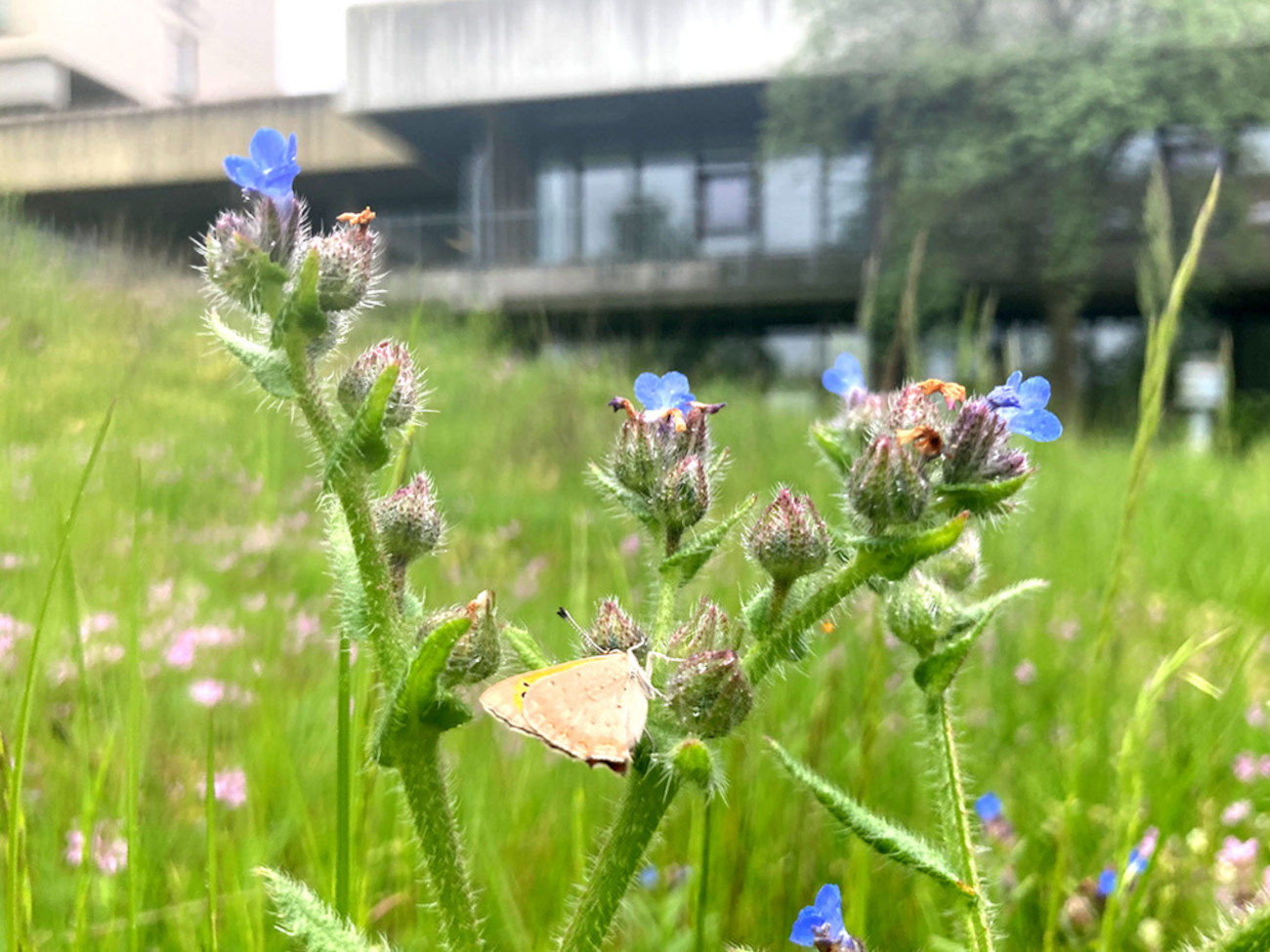 If people are interested in participating in the Campus goes Biodiverse real laboratory, how can they get involved?
Lorena Kalvelage: Oh, in a lot of ways. I can't think of a single topic where we would say: "This is not for us." For example, in one of our projects a computer scientist is involved. He knows little about biodiversity but is very interested in the subject. He is now involved in a podcast because he knows the equipment well and was able to organize it. This is one way to make a difference and to support us, and perhaps learn for yourself what biodiversity is all about. Our doors are open to everyone. If you want to get in touch, you can do so via one of two ways. You can come to an organizational meeting of the Campus goes Biodiverse group and listen to what is being talked about. Or, if you are a student, you are also welcome to register for our General Studies module.
Marko Rohlfs: Exactly. The "Biodiversity and Society" module in General Studies has been running since the winter semester 2022/23 and students can earn a total of twelve credit points (CP). You can start at a basic level, get involved more deeply in the projects over time, and implement your own ideas. The idea here is that the module can be taken in the course of one's degree, thus, providing students with opportunities for ongoing development.
Lorena Kalvelage: However, we would like to encourage anyone who is interested in this topic to just walk around the campus with open eyes and take a closer look. With the help of the app iNaturalist, you can identify plants and animals on campus and work with the community to document biodiversity in the app. In this way, you can also make an important contribution to our project.
More Information:
BreGoS: BreGoS - University of Bremen (uni-bremen.de) (in German only)
Real labs: Real-Labore - University of Bremen (uni-bremen.de) (in German only)
Website Campus Goes Biodiverse - Biodiversity Project at the University of Bremen
Theme of the Month: Sustainability
Since its foundation in 1971, the University of Bremen has been committed to social responsibility. Climate protection and sustainability are fundamental principles guiding the university: in research, teaching, and operations. For this reason, up2date., the University of Bremen online magazine, will focus on the topic of sustainability in May. The theme of the month explores current projects, issues, and challenges.