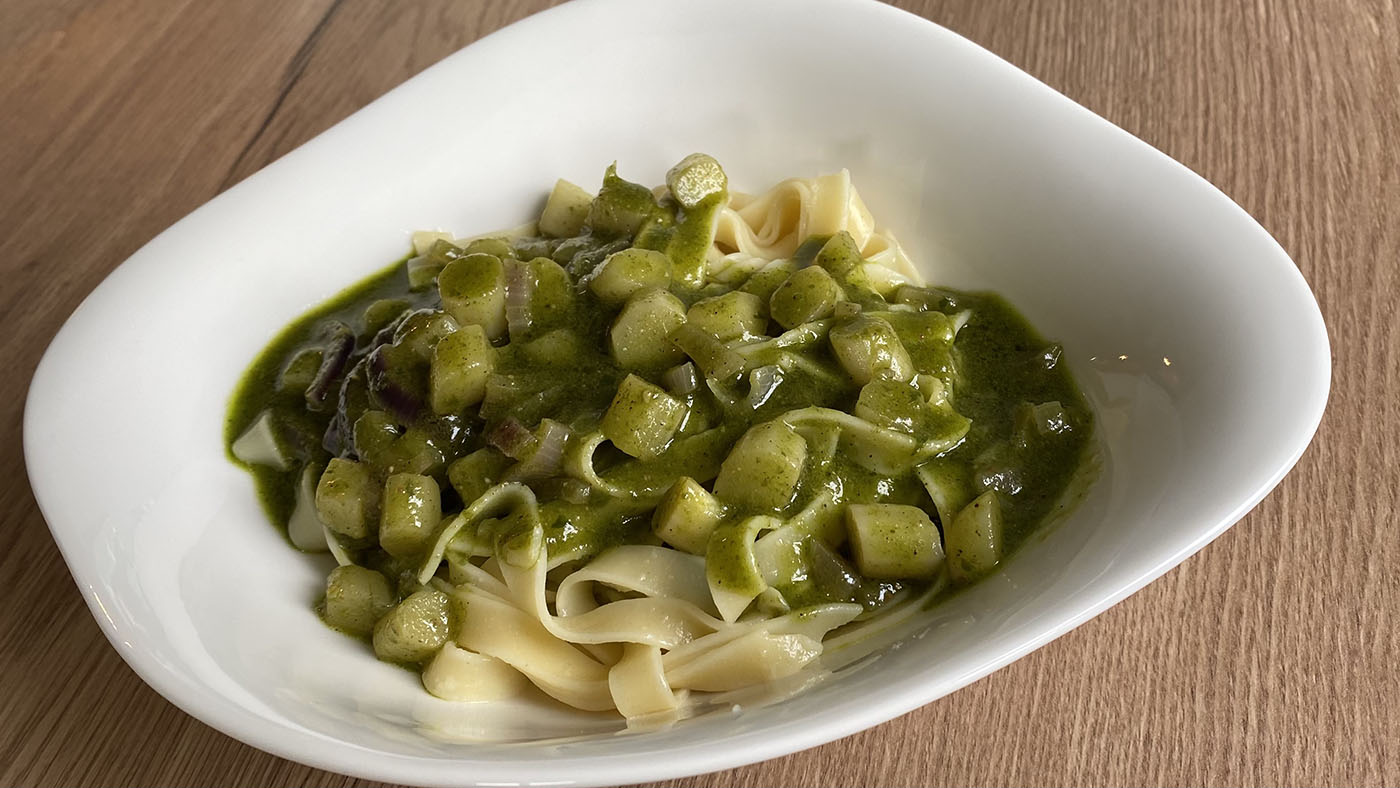 Mensa at Home: Try this Recipe
Part 5: From Bremen Student Services Organisation's recipe books straight into your kitchen at home: Let's cook delicious Mensa cafeteria meals!
We're right in the middle of asparagus season and if you fancy something a little different to asparagus with hollandaise sauce, then this will be just the right meal for you: Tagliatelle with asparagus and wild garlic sauce.
The recipe for tagliatelle with asparagus and wild garlic sauce:
Ingredients for four portions:
500 g white asparagus

400 g tagliatelle

2 tbsp. vegetable oil

150 ml plant-based cream

120 ml vegetable stock

1 red onion

Wild garlic pesto

Salt

Pepper

Ground nutmeg

Lemon juice
For the wild garlic pesto:
100 g wild garlic

20 g pine nuts

2 tbsp. salt

100 ml olive oil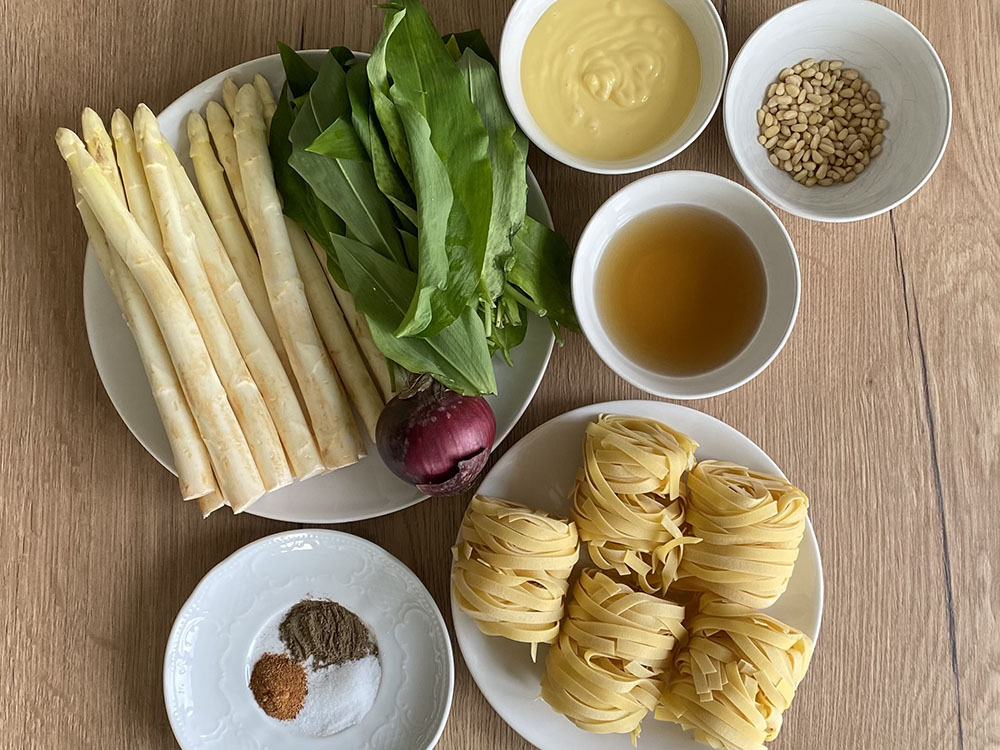 And this is how it's done:
To start, you need to prepare the wild garlic pesto. Wash the wild garlic, leave it to dry in a sieve or spin dry it. Once dry, cut the wild garlic into strips. Lightly brown the pine nuts in a dry pan. Allow them to cool off and subsequently mix them in a blender with the sliced wild garlic, salt, and olive oil. You can also use a food processor to chop and mix the pesto.
The ingredients are combined step-by-step.
After you've prepared the wild garlic pesto, prepare the water for the pasta. For this, put a generous amount of water into a pan, add salt, and bring to a boil. Then cook the pasta until al dente, according to the package instructions.
The asparagus and wild garlic sauce: Whilst the pasta is cooking, you can prepare the sauce. Wash and peel the asparagus and cut off the ends and the tips. Diagonally chop the asparagus stems into one-centimeter pieces.
Tip: To save a little time, you can buy pre-peeled asparagus.
Chop the onion into small pieces and fry lightly with the asparagus in an oiled pan. Add the stock and plant-based cream and put the lid on the pan. Now allow everything to cook for seven minutes so that the asparagus still has a bite to it. Add the wild garlic pesto. Finally, add salt, pepper, ground nutmeg, and lemon juice to taste. Drain the pasta and serve. Voilà! There's your finished tagliatelle with asparagus and wild garlic sauce!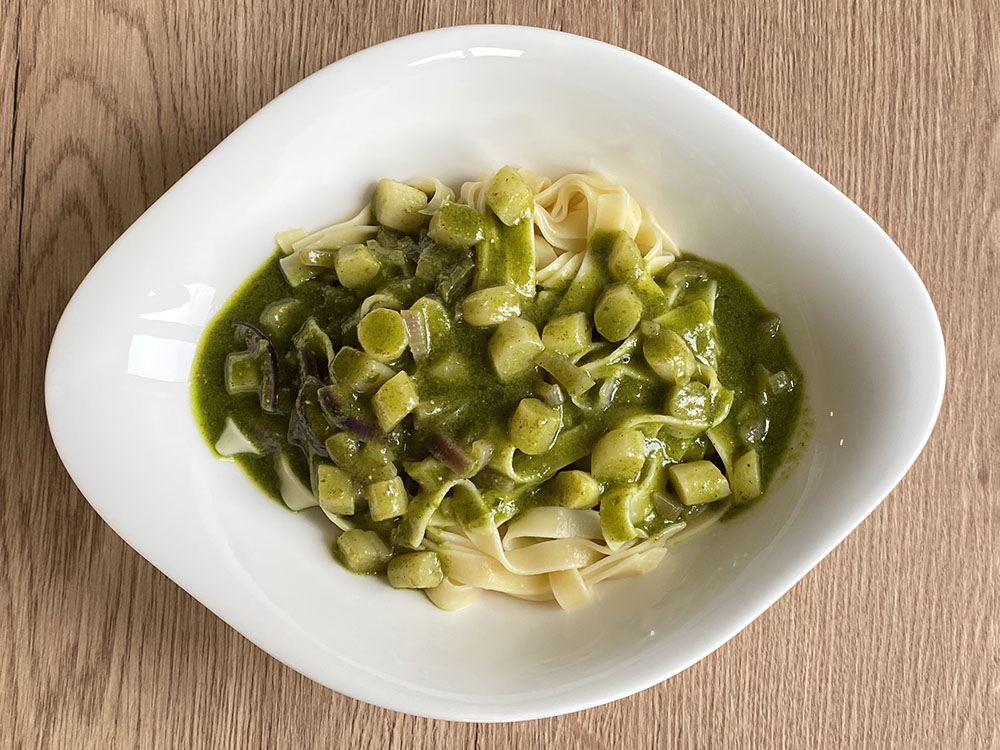 Bon Appetit!