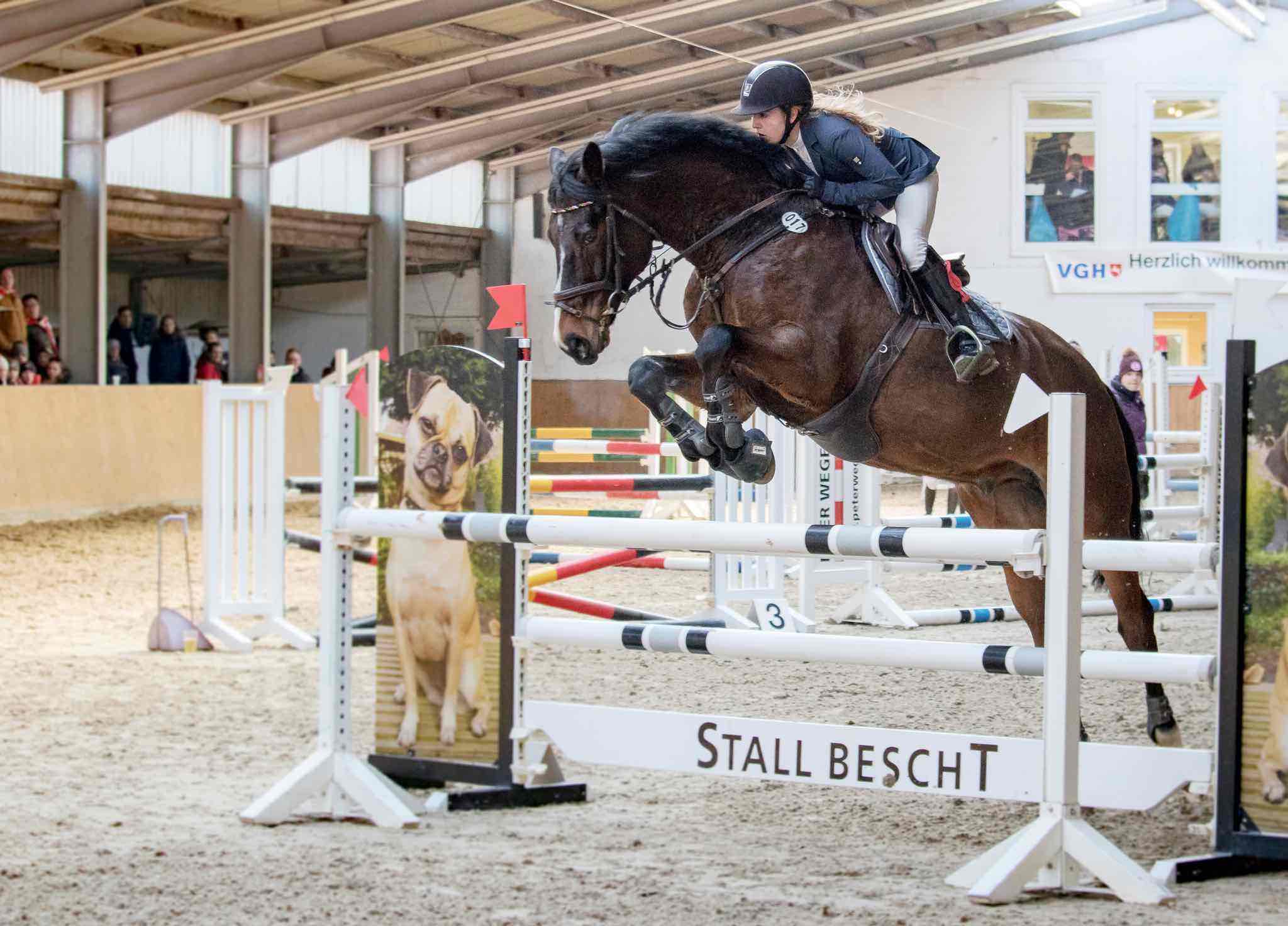 Ponies and Parties
Enjoying fun and athleticism at the same time: The Student Equestrian Group Bremen combines community, tournaments, and fun
The greeting on Instagram says it all: "#ohhhhbremen! Do you like ponies and parties? Then come on by – we're excited to meet you!" The Student Equestrian Group Bremen returned, after a long break, in 2016. . It is open to anyone who studies in the Hanseatic City of Bremen and also feels comfortable on horseback. The latter aspect however, isn't completely true: the horses may be the connecting element, and the focus is on student competitions – yet fellow students who have nothing to do with equestrian sports, but just like spending time with a fun group of people are also welcome in the circle of the Student Equestrian Group.
This is because the Student Equestrian Group Bremen, the core of which consists of University students, goes out together a lot – mostly in the colder season when both the exam season and the regular competition season are over and the riding has moved indoors. The cornerstone of German student equestrianism, which represents more than 50 riding groups from university towns and cities, is the "Concours Hippique Universitaire", which is French for "student equestrian tournaments". Lea Remke – the current team leader of the Student Equestrian Group – and fellow riders Nadja Neubauer and Lotte Schröder, do not know exactly where this term comes from. "It doesn't matter though, because we just use the abbreviation CHU!" There are a good dozen of these tournaments across Germany within a season, and you need an invitation to participate. The group from Bremen is invited frequently: "We have travelled all the way to Dresden."
Does that mean transporting the horses through the republic every weekend between September and May? "Not at all!" the three riders explain. "That is a special characteristic of student equestrianism: At the tournaments you ride on new horses that are provided on location by the organizers." On the one hand, this makes planning and execution of an event of this kind a real challenge, because the participants also need to have accommodation, which includes a diverse, entertaining, colorful, and fun program. On the other hand, however, this means that the guest teams can dedicate themselves fully to the event, which includes chatting, laughing, parties and riding.
Fun As as Important as the Sport Itself
One thing quickly becomes clear about the team from Bremen: fun, diverse activities and enjoyment are just as important as the sport itself. The Student Equestrian Group was established in December 2016. "Since then, we have met almost every Wednesday at a regulars' table at different bars or restaurants in Bremen's city center," Nadja Neubauer says. Of course, they don't just talk about riding but about all the important things in life, including academics. "Interestingly, a lot of us study law, but that is just a coincidence," Lotte Schröder explains. Shortly after the Bremen group was founded, it participated in a CHU in Hanover in the spring of 2017 – and the winning team was: the Student Equestrian Group Bremen. "We weren't familiar with the system at all yet we still won. We were quite bewildered," Lotte Schröder remembers.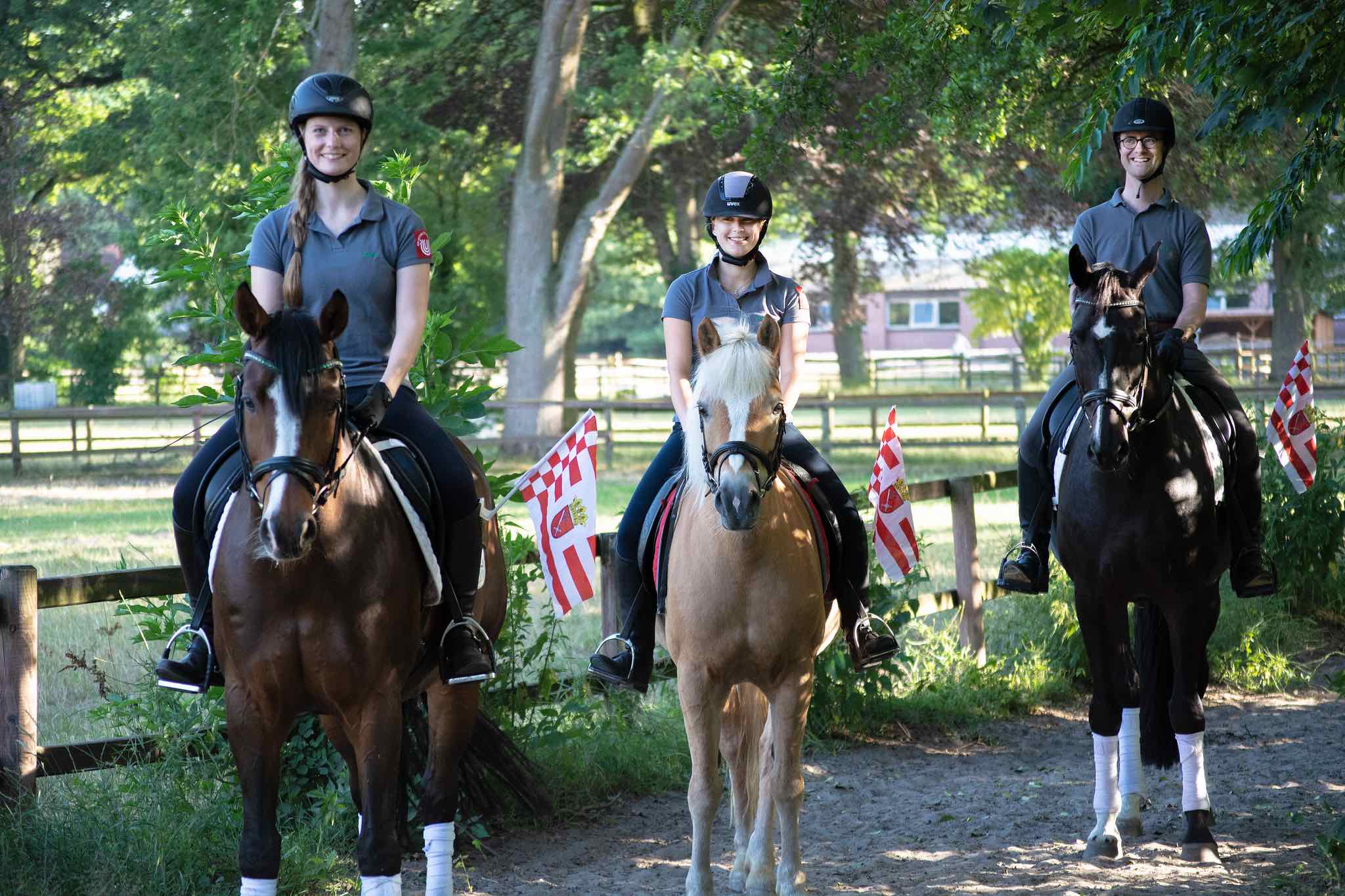 "Wir sind offen für alle. Einfach mal vorbeikommen und mitreißen lassen!"
Lea Remke, Obfrau der Studentenreitgruppe Bremen
Active Participants Need a Riding Badge
The system sounds difficult for amateurs, but for insiders it is clear as day. The most important requirement: all student riders must at least have a Class IV riding badge – proof that you can ride reasonably well. "After all, we are dealing with very sensitive and expensive animals that don't belong to us but to other people," according to Lea Remke. She is a professional rider who trains horses at a farm in Sottrum, however her priority is currently her university degree. Usually, twelve teams from different university cities are invited to a student riding tournament. Each team consists of three riders – the rest of the crew are the important visiting fans, who support and cheer their team on. There are two days of riding, featuring dressage as well as jumping competitions in the categories A (Beginner), L (Easy), and M (Moderate). The best competitors qualify for the next round through a knock out system. "The special challenge for the active participants is that within the CHU competition system, you have to adapt to a different horse within just a few minutes, because they are switched in every round," Nadja Neubauer explains.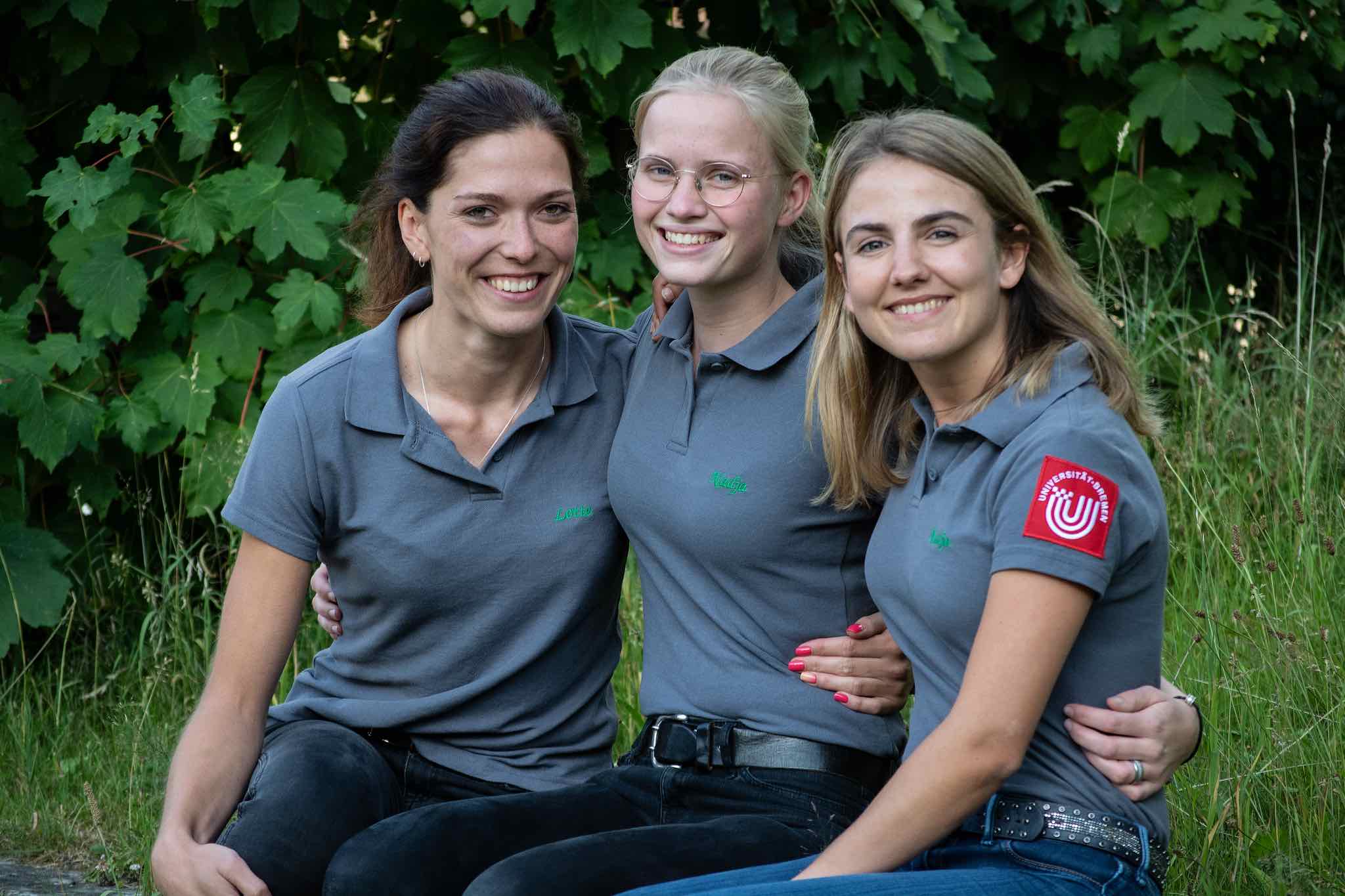 "Working on our own CHU brought our group even closer together."
Nadja Neubauer from the Student Equestrian Group Bremen
After the victory in Hanover, the Bremen team participated in a whole series of CHUs and quickly got to know the riders from the other cities – as well as their similarities in academics, sports and partying. "We definitely do a lot of the latter!" Lotte Schröder points out. In this scene, organizing a tournament yourself is just as important as participating in the tournament, and in addition to the sport itself, the aspect of 'fun and enjoyment' has the same priority. The Bremen group hosted a CHU for the first time at the State Riding School in Hoya, just outside the hanseatic city of Bremen in March 2018,. In January 2019, a competition was organized on the grounds of the Hubertus Equestrian Club in Bremen-Oberneuland.
Airbed Camp for the Visiting Fans
"It is done with a lot of effort and attention to detail. Working on our own CHU brought our group even closer together and keeps us busy for several weeks," says Lotte Schröder. "We have to find a riding facility, borrow horses from kind owners, find and set up a gym hall to sleep in, organize meals, provide honorary prizes, and of course, we have to organize an exciting party for Friday and Saturday night." After the groups arrive, the student riders set up a big airbed camp, then the games, dancing, chatting and fun begins. "The mood is always terrific, even amongst those that have to actively ride the next day – they generally stay sober, since they will be riding later on," team leader Lea Remke explains. The organization of a CHU quickly brings 60 to 70 people together, that's how many people come together now in Bremen, including all supporters. As a student equestrian tournament also costs money, finding sponsors is an important aspect as well. The University of Bremen also contributed and ensured, among other things, that the Bremen group compete in the tournaments in uniforms and with a big banner.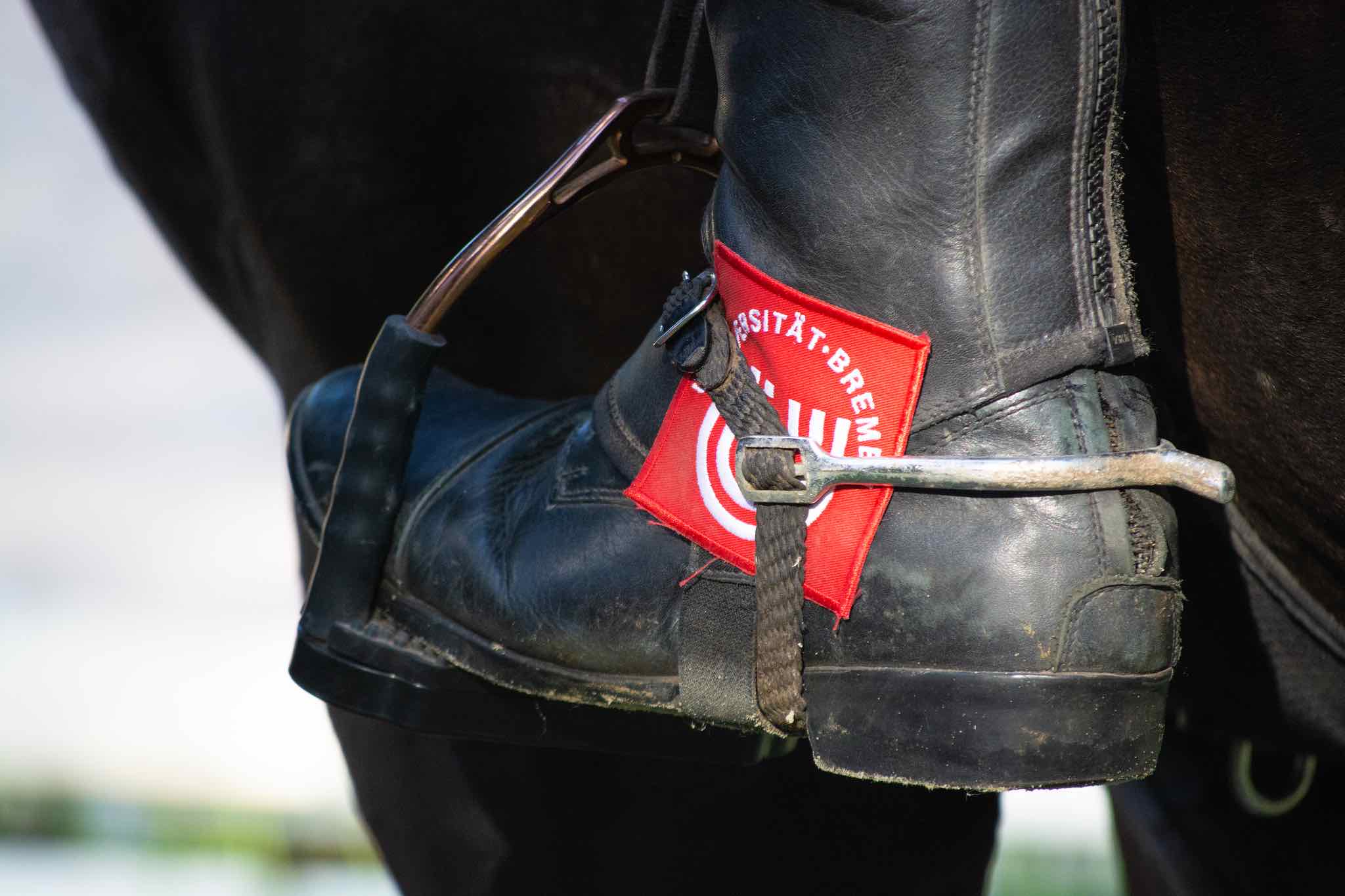 Established in the "Top 6"
Although the focus is on fun and camaraderie, good sport is also provided. Many riders from student equestrianism still also ride their own horses at their home clubs and some of them ride at club tournaments in level S (difficult) competitions. The Bremen Student Equestrian Group has quickly established itself in the "Top 6" among over 50 groups. And of course, there is also the German University Championship in horse riding, where focus on performance is even greater. To get into the finals – which take place in Vechta mid December 2019 – the Bremen riders must qualify at a special tournament.
The group rides impressive horses with corresponding dimensions – ponies are rarely seen. "It sounded cooler though for an Instagram greeting," Lea Remke laughs. "And we are really open to everyone. We even have a handball player who has never sat on a horse. He thought our group was so much fun that he is often part of the team as a visiting fan. So, simply come to the regulars' table and join in!"
www.facebook.com/studentenreitgruppebremen/
www.instagram.com/studentenreiter.bremen