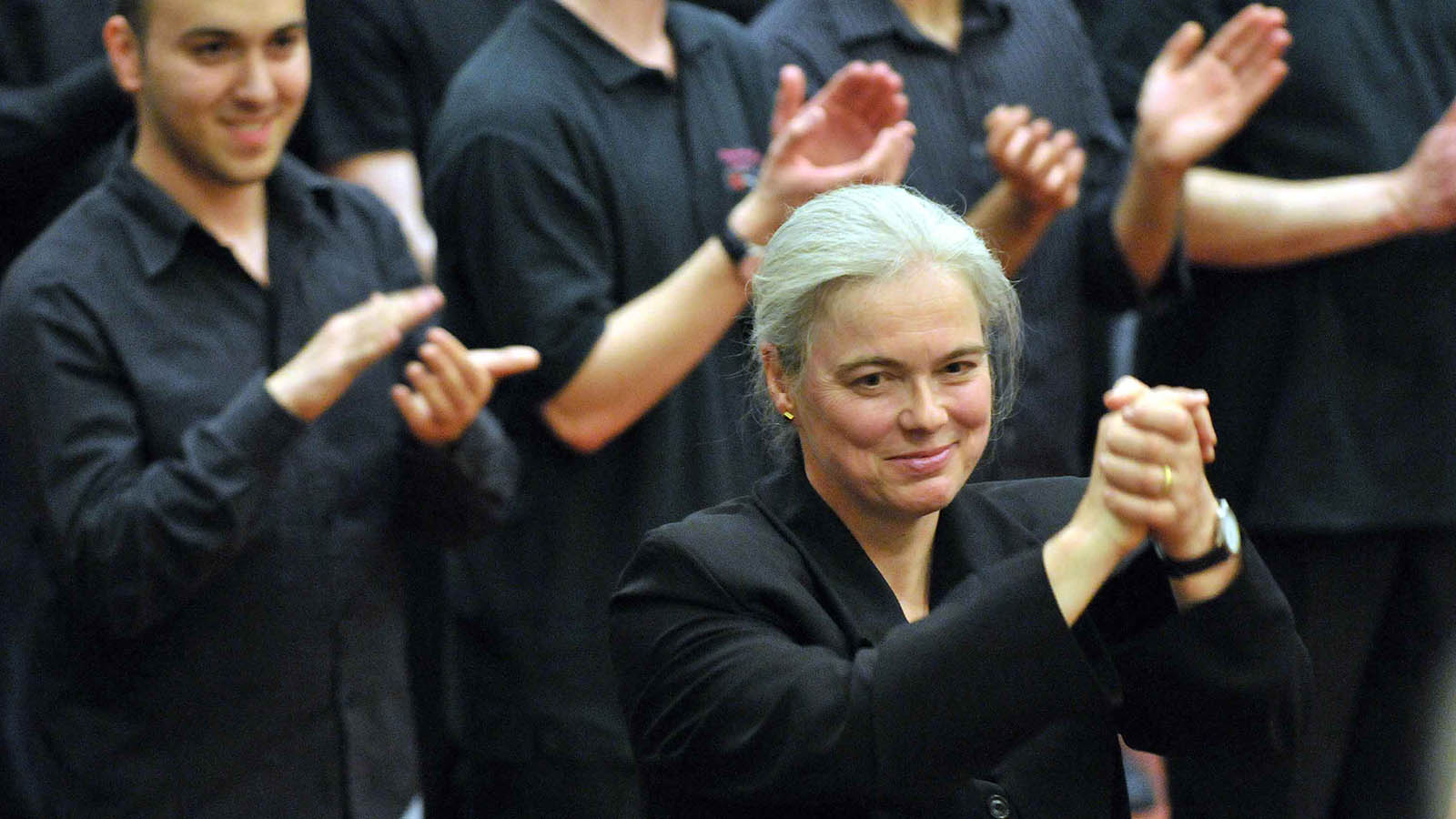 Susanne Gläß Ends Her Musical Career
The university music director is retiring after 24 years of musical success
It is hard to believe: When the university music director, Dr. Susanne Gläß, is asked what she wants to do in retirement, she answers entirely relaxed and says: "Nothing at first."
The retirement of the multitalented organizer, who set up large musical events in the name of the university, starts on November 1. A move from the fizzling joy in making music and the intense creative contact with 170 instrumentalists and singers into a quiet house? It is hard to believe her. The last production, advertised in her email signature, was Bolero by Maurice Ravel. Thanks to corona, a digital production. But not at all distanced digitally. Rather the exact opposite. In a quick succession of shots, one can see what the players behind the flutes, clarinets, bassoons, oboes, saxophones, trombones, trumpets, and violins do at the university in terms of research and studying. It is fitting for the crescendo of the 169 rhythmical bars of the drums. It is a delight.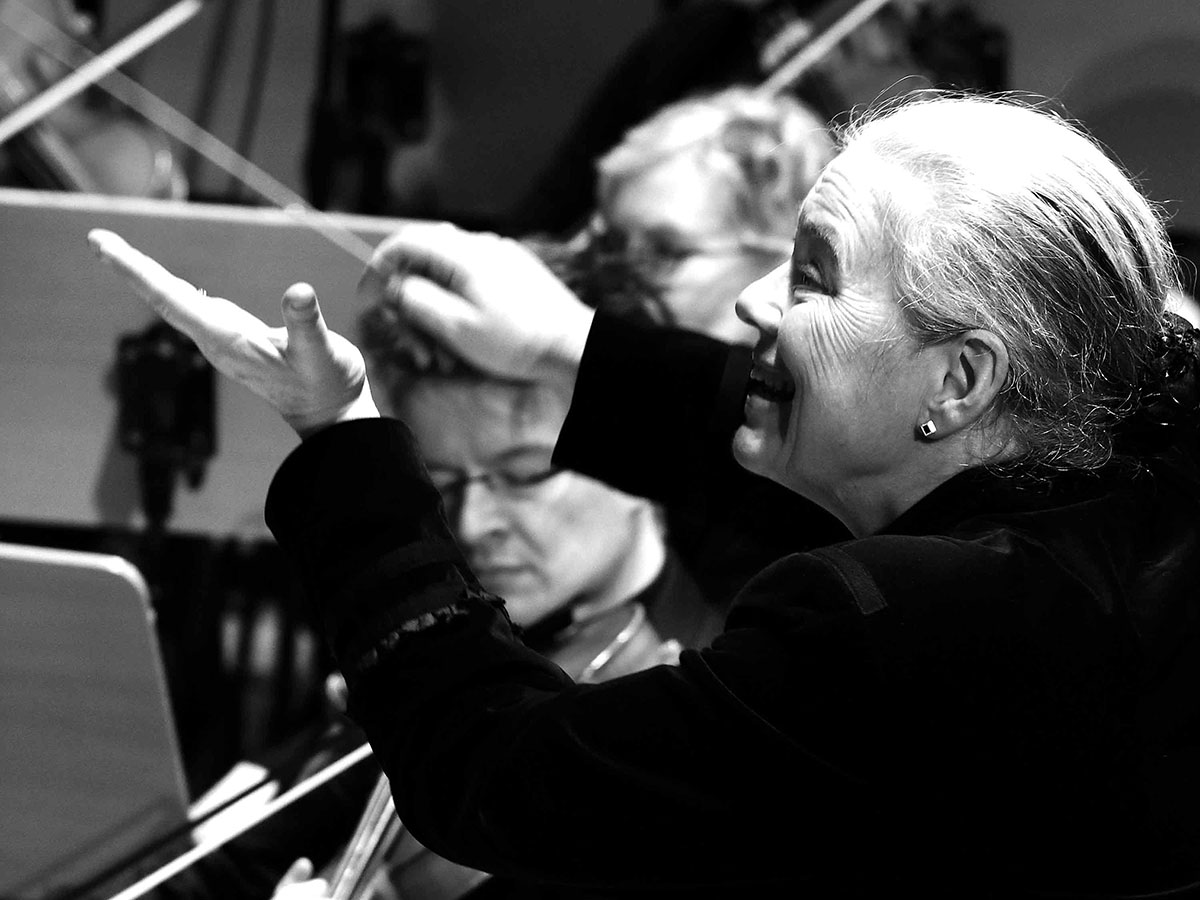 Musical Events
Susanne Gläß created the storyboard for the video and can be see as the conductor. In a wonderful salmon-colored blouse. We have to take a moment to appreciate the music director's outfits. Sometimes seemingly jaunty in a baseball cap, a vest, and a colorful scarf, and then suddenly she lifts the baton and is adorned in black velvet. She has been leaving her mark on music at the university since 1996, so for 24 years now. Big events were the result. The graduate musician founded a choir in 2003 for her production of Carmina Burana. The interest was immense. "150 people took part and the number of members settled comfortably at 85 after the project," remembers the 63-year-old. The orchestra is of a similar size. "Each year, I sounded out what we needed," she states in reference to the living organism. "Sometimes it was two oboes, and in this semester, we are lacking double basses."
"Many Friendly People"
What gave her strength in this fully packed career – which not seldomly included 50-hour weeks? "Those who make music are surrounded by many friendly people," she says. Discipline and team spirit are the defining characteristics of the amateur ensemble, which meets week for week for rehearsals in the acoustically balanced GW1 Building. "An immense feeling of commitment," is what she merits the participants with. They are students, alumni, as well as staff from the university. Music for all was their motto. Yet, the work of the university music director was not only swinging her baton. "I had to book concert halls, acquire sheet music, correctly invoice the right account, carry out all public relations work, learn 170 names by heart, stay in touch, and find topics that suit the university," is what she lists to provide a small insight into the multitasking aspect of her job.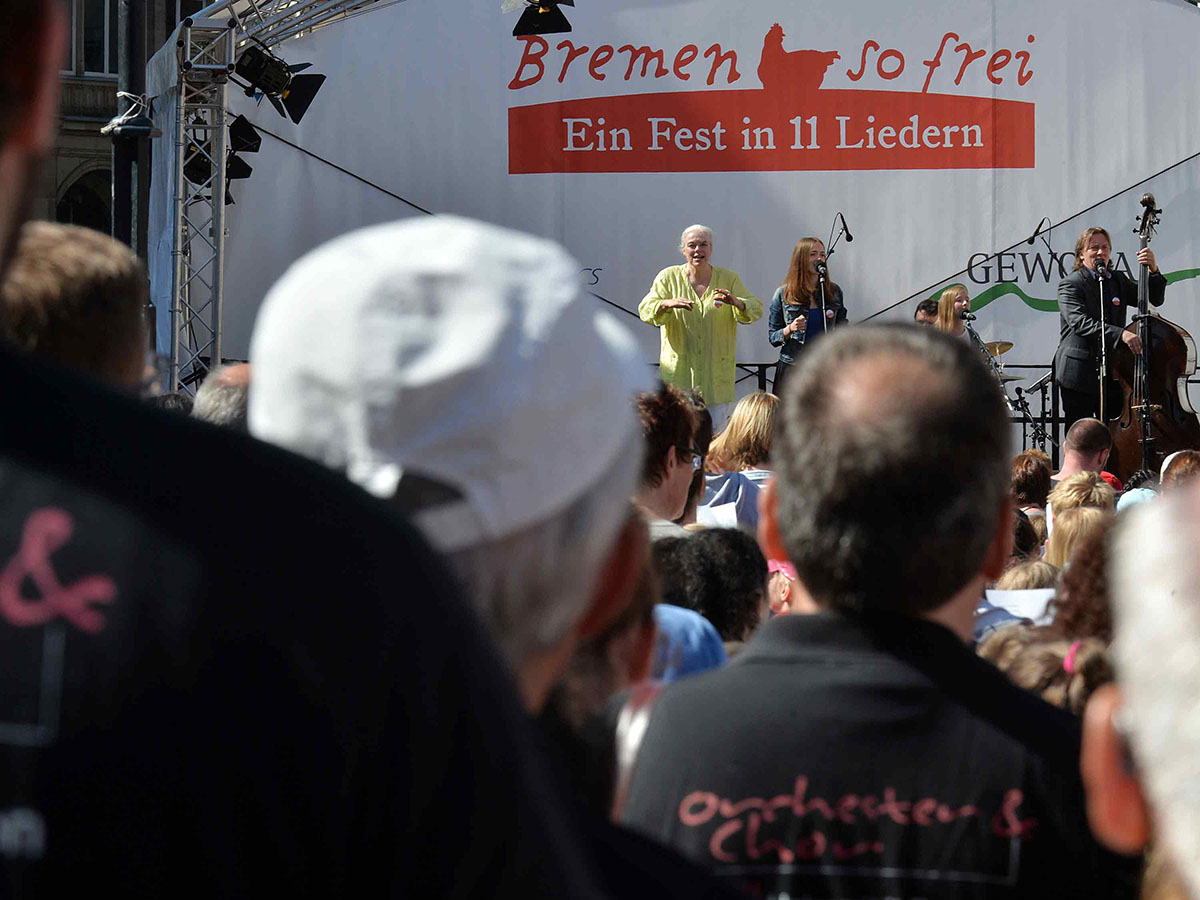 Reaching Out to the City Community
What Dr. Susanne Gläß was able to do wonderfully right from the beginning was transfer. Her ensembles did not stay on campus, but rather aimed to reach out to the city community under her lead. The first project that she took on after beginning her job involved combining music by Erik Satie with moving objects from the field of art at the university. The performance took place on the Schlachthof stage, at the Kulturbahnhof Vegesack, and at Theater am Fischereihafen in Bremerhaven. Other top-class stages included Die Glocke, the cathedral, Kulturscheune Varrel (Susanne Gläß: "amazing acoustics") and the open-air stage at Haus am Walde, to name a few. And last, but not least, the market square where the "Bremen so frei" music festival took place and where 4000 people trilled challenging songs in the brilliant June sun under her direction.
From Paul McCartney to Monty Python
Susanne Gläß can look back on a long list of large, intensely rehearsed musical productions. They range from Max Bruch's Odysseus to Antonin Dvorak's From the New World, Paul McCartney's Liverpool Oratorio, and Monty Python's Life of Brian. Can one simply let go after such a success story? "I am tired," says Susanne Gläß honestly. Her severe visual impairment with a short sightedness of minus 27 diopters exhausts her more and more the older she gets. She is taking some time for herself and her wife, with whom she lives in the Viertel district. "We were the first same-sex couple in Bremen that entered into a so-called civil partnership on August 1, 2001." She plays violin, her wife piano. Dr. Susanne Gläß has achieved and experienced a great deal. Those who are interested in her career will not be able to get over her Wikipedia entry. And then, right at the end of our conversation, she says: "I am really excited to see what I will do one day." So, there we have it then.
Weitere Informationen:
Current video—Maurice Ravel: Boléro, Bremen University Orchestra