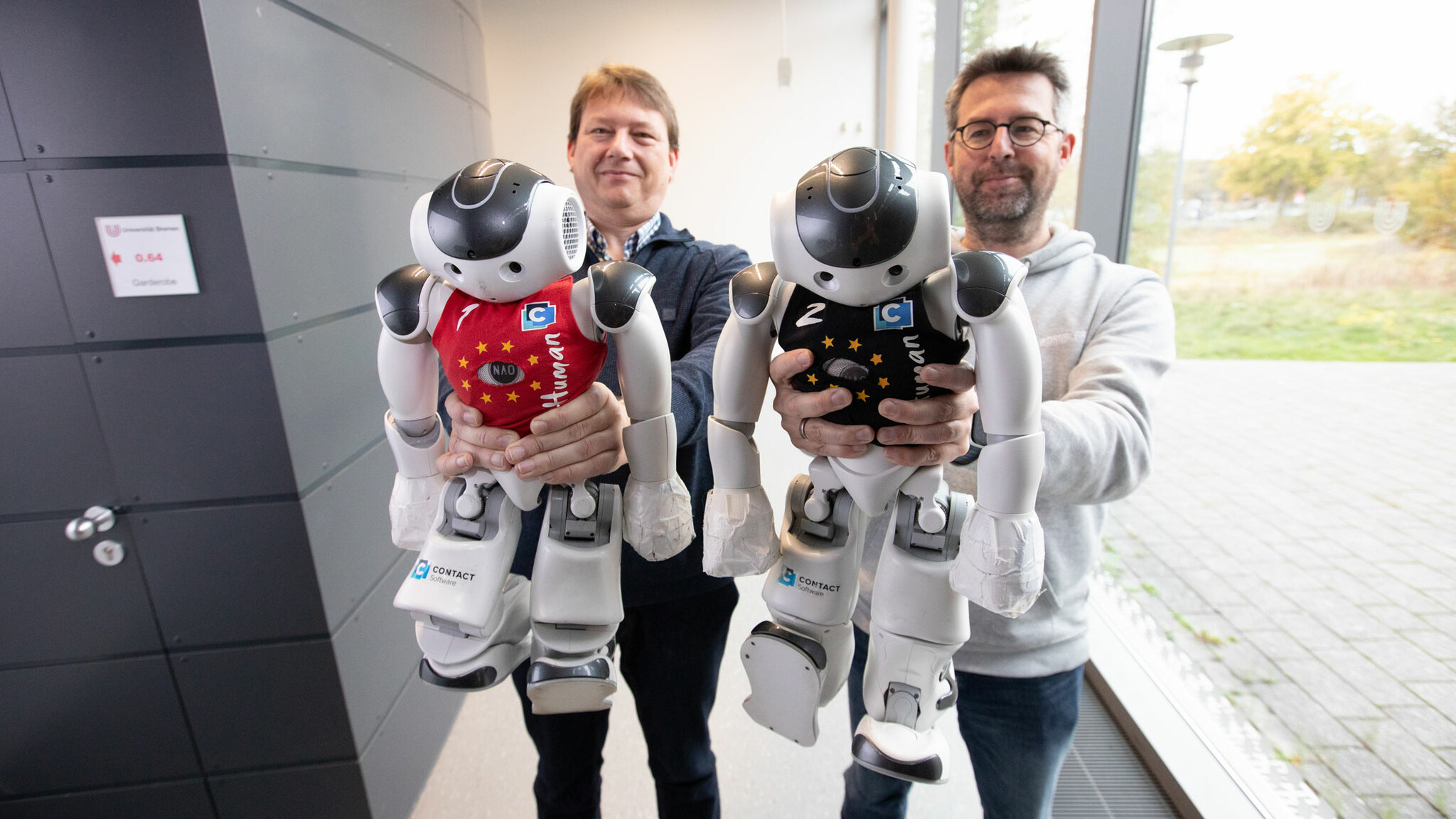 The World Cup Soccer Players
Trained by scientists and students, the robot soccer players combine innovative research with varied training.
Their superiority is impressive. With 48 to zero goals in seven games, Team B-Human defended its title as world champions at the RoboCup World Cup in Bangkok in 2022. This was its ninth victory, and joins a long list of national successes. Trained by scientists from member institutions of the U Bremen Research Alliance and students, the robot soccer players combine innovative research with varied training and a desire to compete.
Everyone knows the rules – there are two sets of goals, one ball, and the team that scores the most goals before the final whistle blows wins. But otherwise, let's be honest, robot soccer players have little in common with their human counterparts. They simply do what they are told. They always perform at the same level, which is also why they are unable to catch up if the other team gets ahead. After all, whoever is better programmed than the opponent, wins. Always. Even if it ends in a scoreless draw.
Few other universities offer anything similar
B-Human is better than the rest. There are two reasons for this: continuity in the coaching team and the appeal of research-based learning with robot soccer as a study project. For 20 years, two scientists from member institutions of the U Bremen Research Alliance have formed a formidable team of trainers: Dr. Thomas Röfer from the German Research Center for Artificial Intelligence (DFKI) and Dr. Tim Laue from the Faculty of Mathematics and Computer Science at the University of Bremen. They make no secret of the fact that the ambition to win is one of their driving forces. "This is where we have the chance to become world champions," says Laue. "It's simply much more fun when you're good."
The second factor is represented by students such as Ayleen Lührsen and Jo Lienhoop. Students taking a Bachelor's degree in Computer Science at the University of Bremen are required to work on a project that can be continued in the Master's program. B-Human is one such project that students can work on over the course several years; many also choose to write their final theses on it. Few other universities offer anything similar.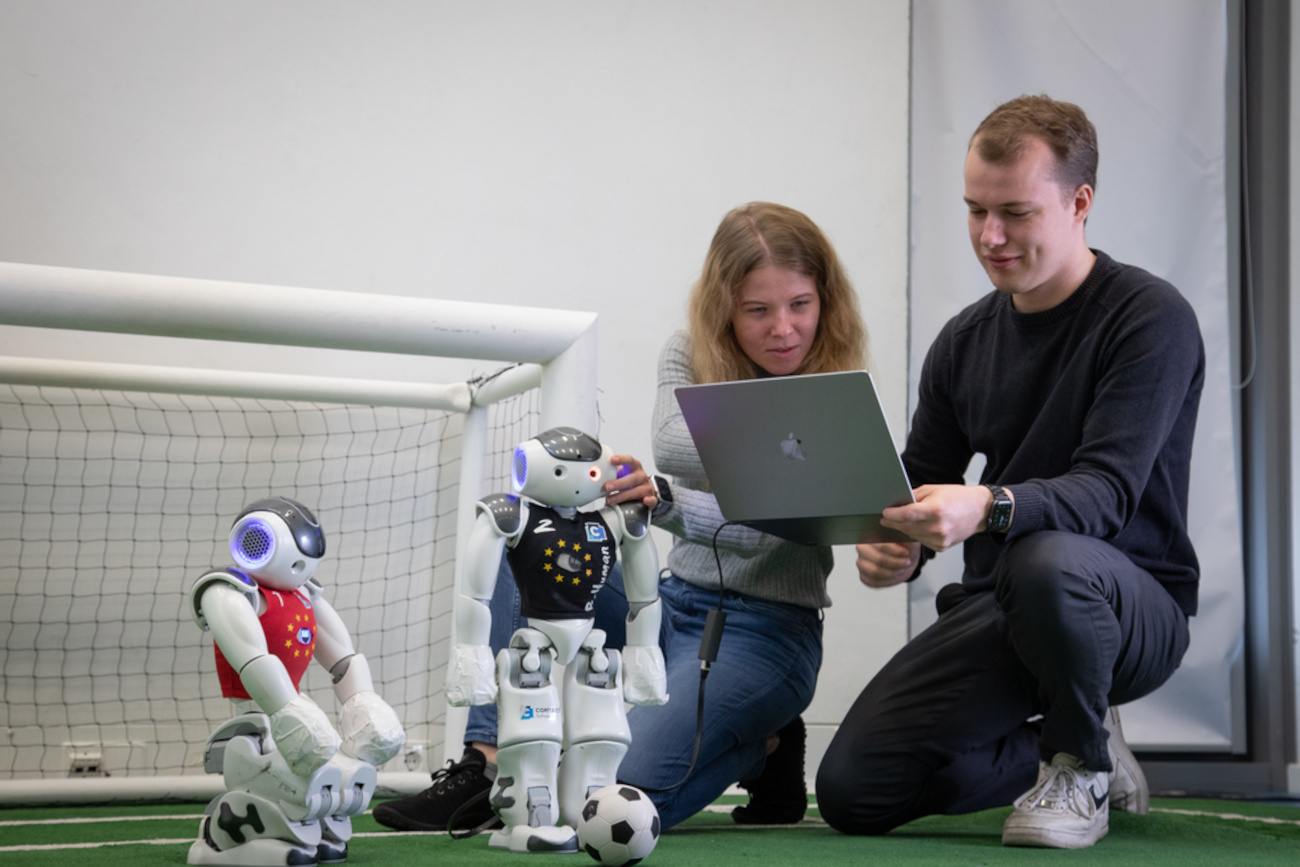 "Programming is one of those things you learn by doing," says Röfer. At B-Human, students have to find solutions to specific problems that no one has ever faced before, and they can immediately see if they work. They also deal with the latest methods of artificial intelligence, such as neural networks. And they get to travel to international competitions – six of them took part in the World Cup in Bangkok. "We think B-Human is great," says Ayleen. "The project is all about a strong team spirit, extremely diverse research areas and exciting events."
When Thomas Röfer and Tim Laue turned to soccer robotics shortly after the beginning of the millennium, the technology was still in its infancy. "Back then, the robots ran on four legs, the pitch was tiny and was surrounded by a high fence," Röfer recalls. To give the players some direction, one goal was yellow, the other blue and the ball was orange. Kicked around in a windowless environment with constant light. Today, shadows no longer matter. "Their skills have grown enormously," says Röfer. "We roll out our pitch, dial into the Wi-Fi network, and then we're off."
48:0 was the goal score of B-Human at the RoboCup 2022
Five-a-side soccer is played on a surface of 9x6 meters marked with outlines. The goal is 80 centimeters high, although the height doesn't really matter since the robots can't shoot high balls and always keep the ball flat on the pitch. The players, which are 56 centimeters tall and identical in design, have cameras integrated in their heads that capture up to 60 frames per second, along with various additional sensors. The game is currently limited to two halves of ten minutes. The distribution of positions is dynamic except for the goalkeeper – whoever has the ball is the striker. Those who don't have it position themselves as tactically as possible.
There are no yellow or red cards. Instead, the referees impose time penalties, for example, if one player knocks another over or leaves the pitch in pursuit of the ball. "This can happen if an algorithm doesn't work properly," says Laue. "But we have been the team with the fewest penalties for many years," adds Röfer.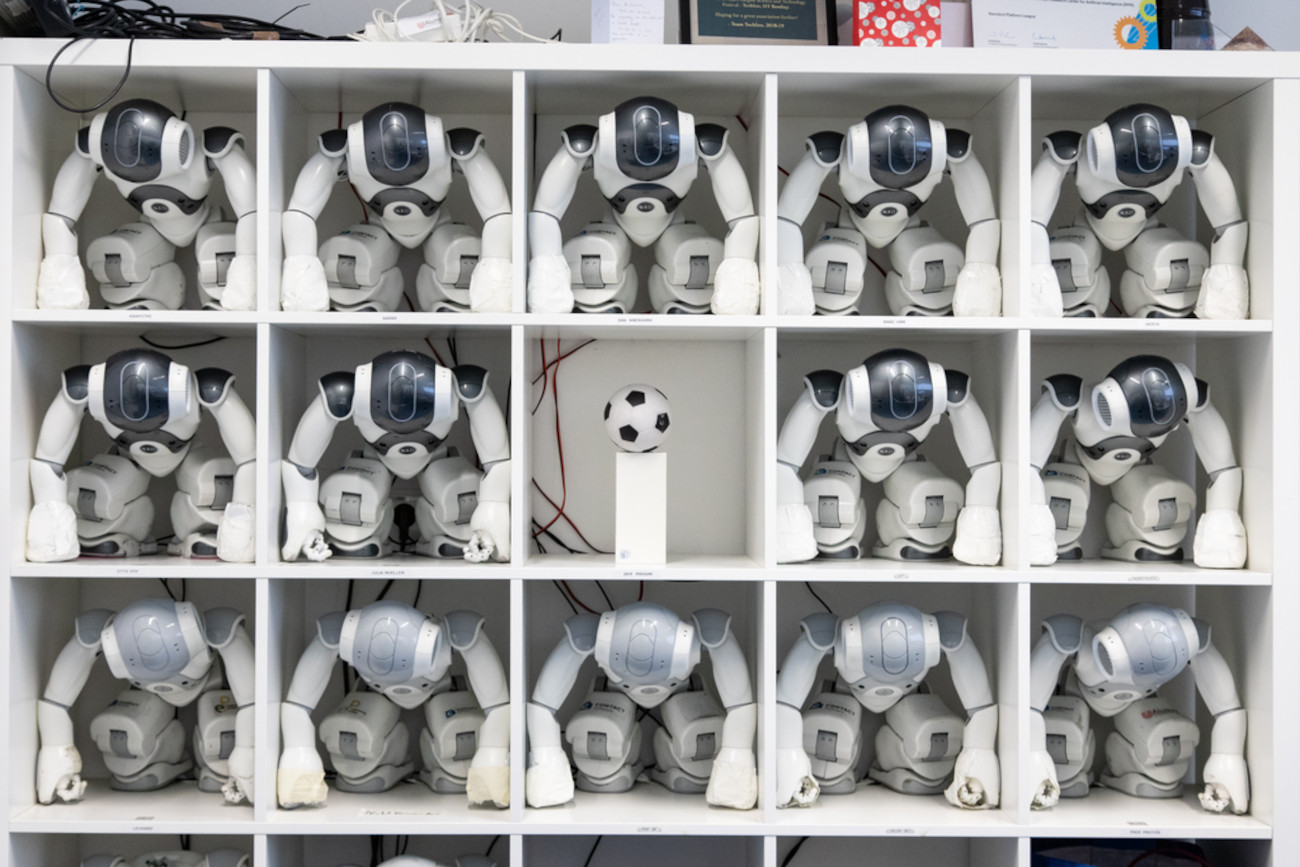 Stopping the ball, passing or shooting, recognizing fellow players and opponents, understanding the situation, making decisions in fractions of a second – everything that is easy and self-evident for humans needs to be taught to robots. "Translating these processes into algorithms and machine learning processes is both challenging and fascinating," says Laue. "There are basically two levels of control," adds Röfer. "Lower behavioral control for individual robots and higher team decision-making". The players communicate with each other, letting each other know who is where and where the ball is. Based on this information, they decide who should go to the ball. This is usually the one closest to it. One message per second – 1,200 per game – can be sent by any team in the Standard Platform League, the class in which B-Human competes. Their number is deliberately limited and Wi-Fi communication is set to decline even further: The rules stipulate that players should respond more to natural communication, like the referee's whistle already used to signal kick-off. When a goal is scored, the whistle sounds and the players know to pull back behind the center circle.
Still room for improvement in the detection of other robots
The rules of the RoboCup are becoming more and more demanding as they guide its further development; after all, humanoid robots are set to compete – and win – against human soccer players in 2050. B-Human helps other teams to develop and hone their playing skills. Every year, the team in Bremen make its software available to others to ensure that everyone starts at a similar level.
"When it comes to detecting other robots, we still have room for improvement," says Laue. The answer is to train and machine learn with lots and lots of pictures. Typical training content is made up of 140,000 images, some 20,000 of which show the object to be learned with the rest depicting other things. These image sequences are repeated until a target accuracy of well over 90% is achieved.
14 Master's students have taken part in the project.
The team meets every Friday in Project Room 015 of the Cartesium building in the Faculty of Mathematics and Computer Science at the University of Bremen. In the entrance area, trophies pay tribute to past triumphs; the room itself hosts a smaller pitch area while students tinker with their laptops. A good dozen of the robots stand on a shelf, ready to be switched on and put into action.
Scientists: a world apart from humanoid soccer
Fourteen Master's students took part in the project and they continue to be involved in the further development of the software. "They know exactly what worked and what didn't," says Röfer. The students test a lot. If something goes wrong, we talk about it afterwards to make it better in the future. Jo Lienhoop, for example, is trying to improve the interplay of robots. "I want to help players work together more and dribble less," says the student. He has already dealt with this topic in his Bachelor's thesis.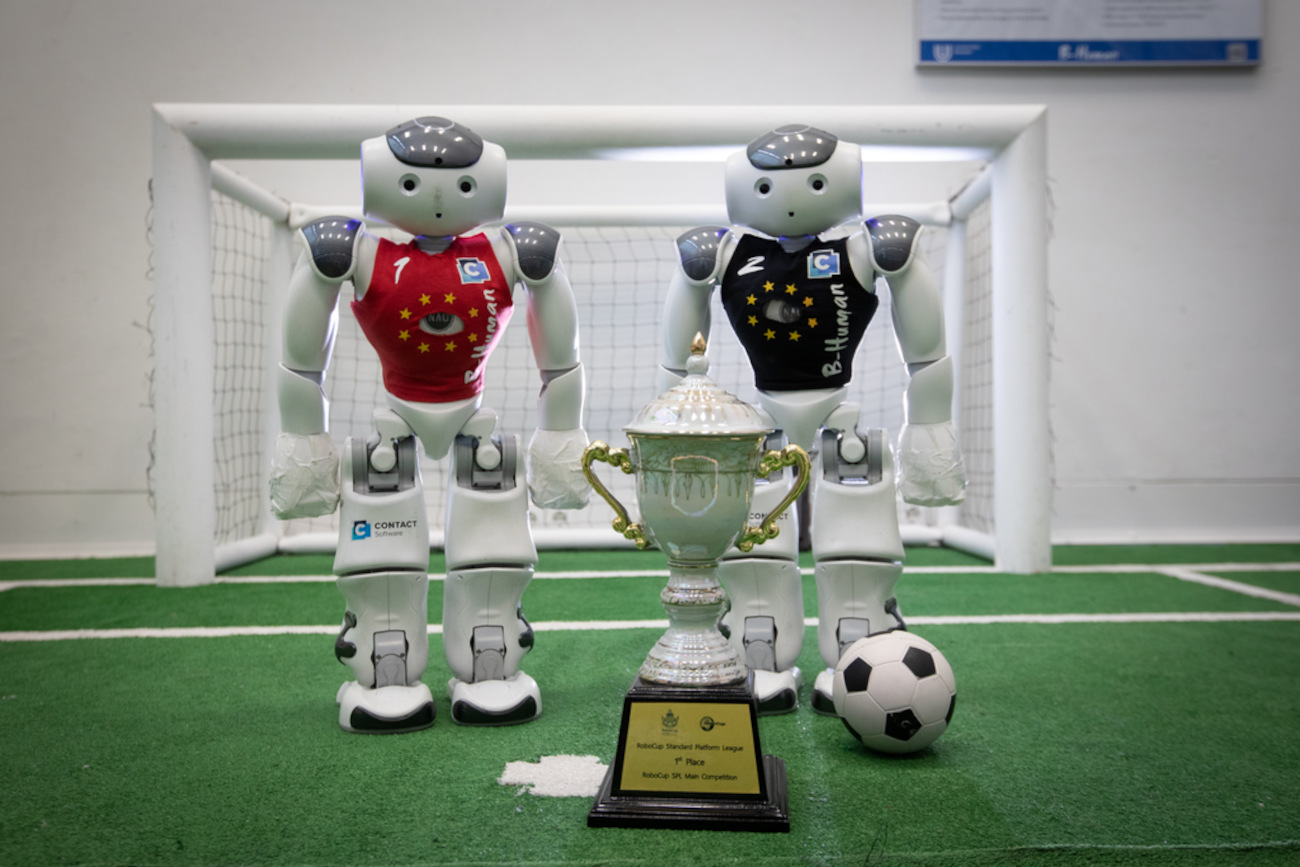 For their part, Thomas Röfer and Tim Laue have nothing to do with humanoid soccer. Röfer is simply not interested in it; Laue enjoys watching a game, but thinks he's one of the worst players on the planet. Both share their enthusiasm for robotics and computer science, and both embody the collaborative spirit within the U Bremen Research Alliance. Although Röfer is employed by the DFKI and Laue by the university, both have their offices in the same corridor and have been working together for more than two decades. "We don't differ in terms of content," explains Laue.
Humanoid soccer players say that after the tournament is before the tournament. The same goes when it comes to robot soccer. The German Open will be held in Kassel this spring, followed by the World Cup in Bordeaux in July. This favorite is, well, who do you think? Hat's right: the defending champion and nine-time world champion, B-Human.
Further information on the website of B-Huuman (in German).
Center for Robotics Research
Robots are part of our future. However, their development requires sufficient space for testing in a wide variety of environments. A research landscape for human-oriented robotics that is unique in Germany has been created in the recently opened extension of the German Research Center for Artificial Intelligence (DFKI). Covering an area of around 4.500 square meters, the spacious extension offers a unique infrastructure for researching topics of the future, such as human-machine cooperation and space and underwater robotics. The centerpiece is a 17-meter-high multifunctional hall with an artificial crater landscape. Motion tests with robotic running, flight and driving systems, such as those used in high-risk areas, medicine or space, can be carried out in modifiable experimental environments.
The article comes from Impact – the U Bremen Research Alliance scientific magazine
The U Bremen Research Alliance is a collaborative organization made up of the University of Bremen and twelve state-funded, non-university research institutes. The cooperation spans four high-profile areas and thus covers everything "from deep sea to space". Twice a year, the scientific magazine Impact provides exciting insights into the results of the collaborative research in Bremen.