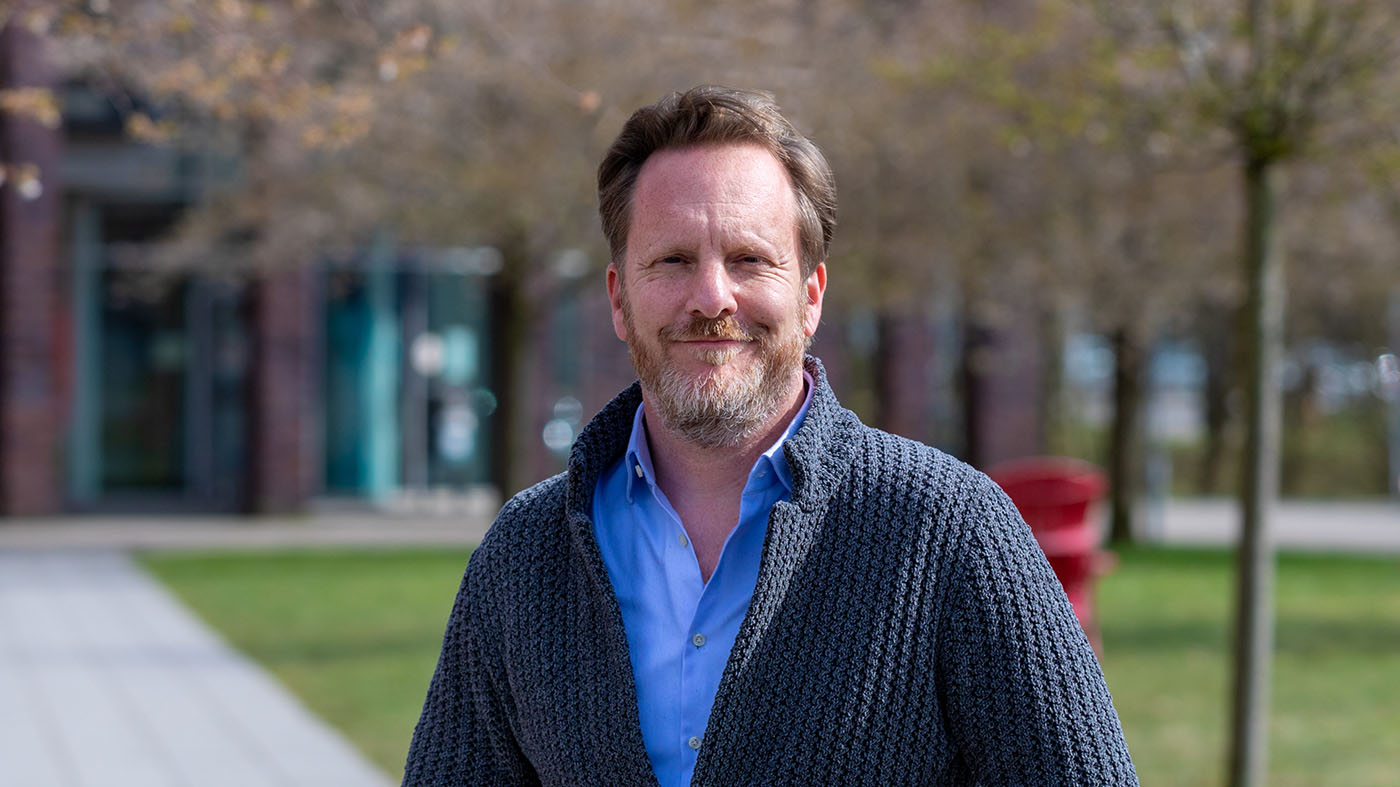 The Problem Solver
Holger Ruge is the Staff Council Chairman at the University of Bremen. We'd like to introduce him.
Holger Ruge is always on the lookout for solutions. As the chair of the University of Bremen Staff Council, that is his job. Together with the 21-person board, he deals with the needs of around 3,500 staff members. It's a full-time job. After all, a university is a big cosmos in which there are many different viewpoints, perspectives, and challenges. On top of all that, the pandemic has demanded creativity.
The Act on Fixed Term Employment in Higher Education, pay scale classification, occupational health management. These official terms are firstly quite dry and secondly, most people are unable to imagine what they may mean. However, for Holger Ruge, such key terms show how diverse and colorful the range of his daily tasks in the staff council are. "I come into contact with many interesting and complex topics that allow me to repeatedly get to know the university from new perspectives," explains the chair of the staff council. For example, Ruge takes parts in job interviews – the staff council has a consulting function in such cases. He also has regular meetings with the university's Director of Finance and Administration. "It is a tradition at the University of Bremen," states the 49-year-old, "that the university management and staff council meet regularly."
"Sometimes, We Have the Role of Agony Aunt"
Colleagues can come to him and his team for consultations. The topics include occupational safety, legal matters, pay scale classification, healthy working. "Every day, I meet many people with different issues." When will I receive a preliminary job reference? How can I reduce my working hours? Which rights and obligations do I have when working from home? Especially the latter is something that is being asked a great deal currently due to the pandemic. Ruge and his colleagues are not always able to immediately solve acute problems, but they are able to provide advice on legal circumstances – and they are ready to lend an ear. "Sometimes, we have the role of agony aunt – that's part of the job. Confidentiality is extremely important to us," he emphasizes. The staff council also accompanies university staff to conflict meetings with superiors. "We are a point of contact for everybody."
"Standing Up for Others"
Holger Ruge is attentive. Someone who listens, who wants to mediate when things aren't running smoothly. He is open and interested in the people around him. That is the reason why he is a dedicated member of the staff council. It was this dedication that arose around ten years ago. "I wanted to stand up for my colleagues and change things for them." He has been the chairperson since 2019 and was re-elected for another four years in March 2020.
Different Jobs – Different Perspectives
The Bremen native has taken a look into differing working worlds and is now able to apply this experience. He initially studied economics at the University of Bremen and worked as a scientific assistant within the faculty. His job with a PR agency then led him away from the university. "I really had a lot of fun but then I started missing the campus after a few years." That is why Ruge returned and took on a role with BRIDGE. The entrepreneurship consulting service from Bremen State universities is located at the University of Bremen. This was also a diverse role and he explains that it was characterized by the contact to people from the academic and economic sectors. Ruge definitely took one thing away from entrepreneurship consulting that benefits him today: "I met creative people there who wanted to create something new. I was always impressed by that and I try to live accordingly: Try and be a part of the solution, develop ideas – even if the starting point is not always ideal."
Podcast Instead of Staff Meetings
Staff council work also demands improvisation at the moment. During the pandemic, it is not possible for events to take place – and this includes staff meetings. But it is exactly now that the staff have numerous questions. That's why the representatives have tried out a new format: Since January, the staff council has been providing information on current topics and answering staff questions in a podcast. In the most recent episode, the University of Bremen President was invited to be a guest to talk about the discussions surrounding the new scientific budget of Bremen Senate. "If the budget stays as is planned, we will have to save even more at the University of Bremen. That is something that is relevant to all university members at the moment," states Holger Ruge. He understands the worries: What will our work be like in the future? Will positions that become open even be filled? Will fixed-term contracts be extended? The staff council will be in higher demand in the coming years than ever before – of that Holger Ruge is sure.
Not a One-Man Show but a Team
However, the following also applies to the staff council work: "It is not a one-man show. The staff council has 21 members. We receive 60 to 100 applications per week and they are decided upon together," underscores Ruge. It is therefore fantastic that different status groups and disciplines of the university are represented in the council. Everyone is familiar with one's own area and knows how important good teamwork is.
"It is in the nature of things that the university management and staff council have different opinions on many matters," says Holger Ruge. "In most cases, I try to remain solution-oriented and find a compromise that both sides can live with."
The 49-year olds finds his balance and relaxation in private. He has his family with four children, some of whom are adults, and also his friends that he likes to spend time with – "on the condition that it is possible again at some point." It may take some time but he is already looking forward to watching Werder Bremen play in the stadium with friends again.
Further Information:
www.uni-bremen.de/personalrat (in German only)