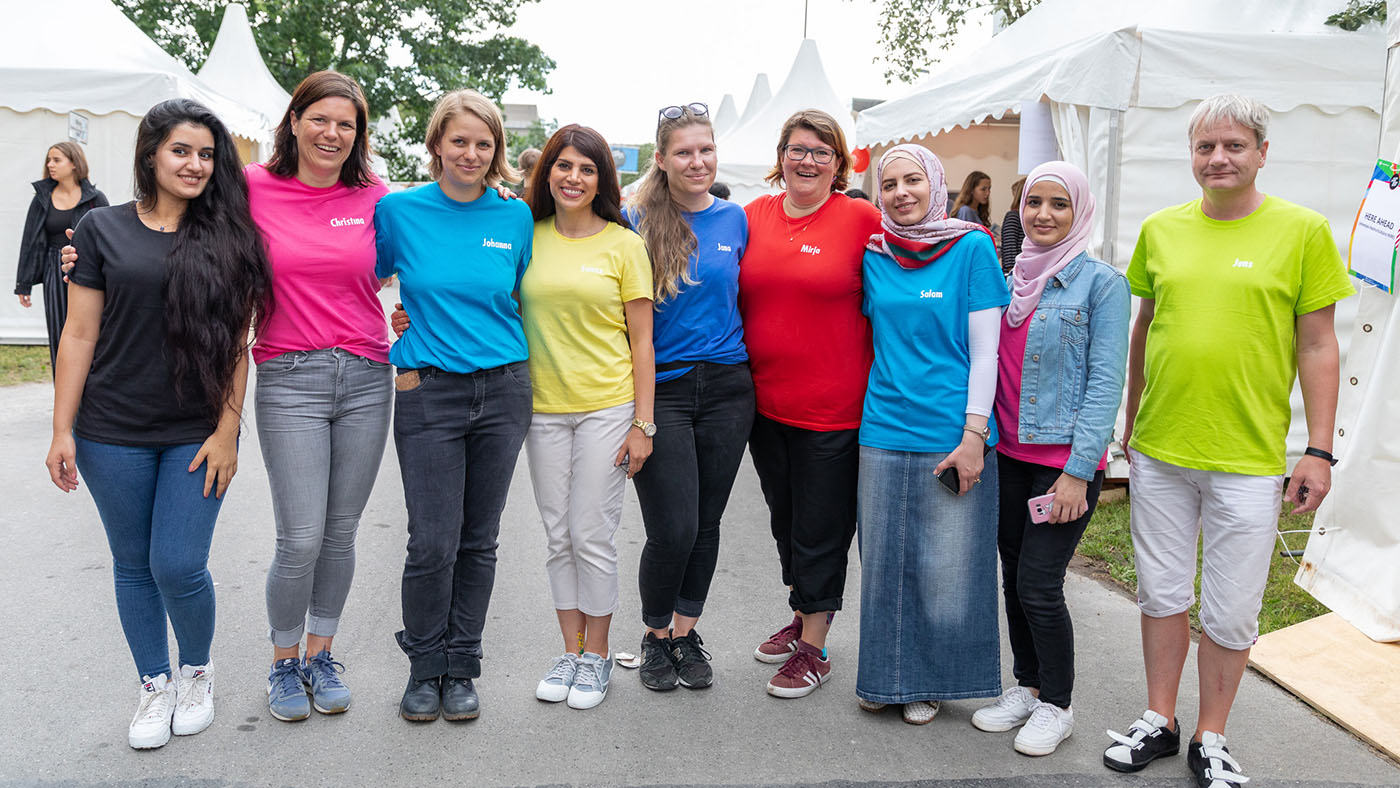 HERE AHEAD Promotes Voluntary Activities
Albatoul Alhussein and Tareq Kheir Allah from Syria tell us how international students profit from voluntary work.
You need dedication to do voluntary work. It is more than just a "good deed" for international students. The work offers them a chance to settle in the community and it is this potential that was recognized by the HERE AHEAD Academy (Academy for Higher Education Access Development). The academy prepares international students with and without migrant backgrounds for a degree in Bremen and supports people like Albatoul Alhussein and Tareq Kheir Allah.
"I really like working with the elderly," says Albatoul Alhussein. The 21-year-old computer science student is active in the Association for Outpatient Care ("Verein für Ambulante Versorgung") and teaches people of different ages how to use digital media as part of the "Young and Old" project. "It's really fun, the people learn something, and they're grateful," explains the student. But this is not enough for Albatoul. She also cares for children from precarious background as part of the AWO Childcare Service ("AWO Kinderbetreuung"). The service helps with homework and organizes activities. Additionally, the student is part of an international cooking project organized by the Inner Mission. She not only distributes recipes but takes the intercultural inhibitions of the participants away. "It's a good opportunity to talk about personal stuff in a relaxed atmosphere and to answer questions about prejudice when cooking," states Albatoul. Sometimes the young woman talks about her family life in Syria or chats about the cultural differences between her homeland and Germany.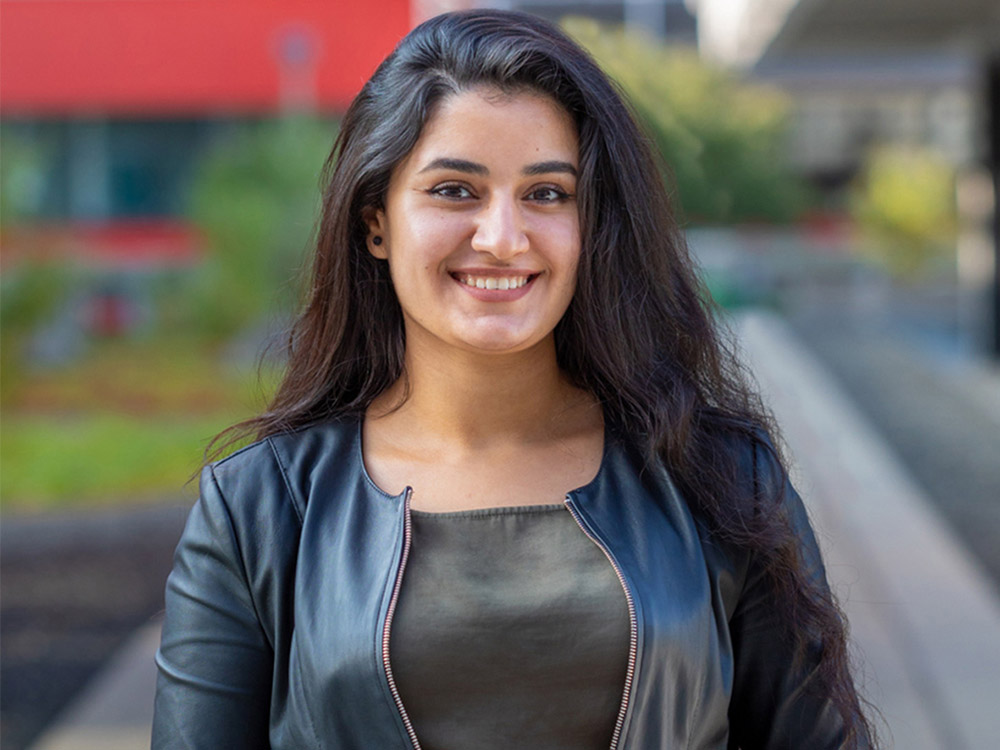 "I Want to Give Back What I Received to Society"
"People in Syria always help each other, as the state does not support the homeless, for example. That is why the people take this on themselves." Albatoul has been used to helping other people since her childhood. "With my voluntary work, I want to give back what I received to society." Albatoul comes from an affluent family. "My mother always cared for people who came to us - including those who we didn't know. They came round and my mother gave them something to eat and a little money. That was completely normal." In this regard, she is heavily influence by her mother.
"I see myself as an intercultural agent and make a great effort to explain a sympathetic coexistence so that everyone is able to develop positive understanding for others," states Albatoul. Her career perspectives after graduation are already clear: "As a future computer scientist, I want to connect the challenges of a social world with digital solutions. My voluntary work helps me in learning as much as possible."
"Something Like Love at First Sight"
Tareq Kheir Allah is a voluntary paramedic for the Red Cross. His love for voluntary work began with a coincidental chat whilst donating blood three years ago. Since then, the 32-year-old Syrian has been volunteering in Bremen and surrounding areas. His life motto is: "There is nothing better than saving the lives of others." Tareq tells us of a fire that broke out in a care home in Huchting in the summer of 2019. Whilst the building's roof was in danger of burning, his team carried around 90 people out of the building during the rescue. "It is in such moments that I am especially proud of the fact that I contributed so significantly. We're always very exhausted afterwards but also unbelievable happy to have been able to help people."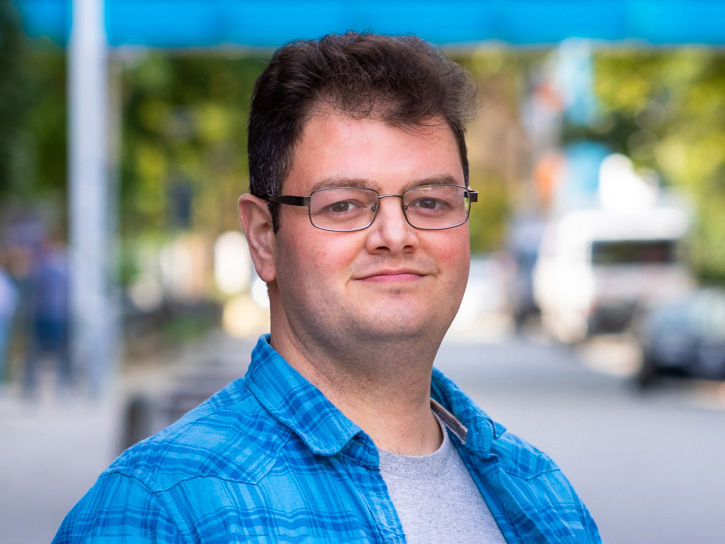 "Volunteering Has Opened Many Doors for Me"
Tareq had to discontinue his first degree due to the war in Syria. After fleeing and arriving in Germany, he is now exactly back at the point that he stopped six years ago. He is currently in the 4th semester of his civil engineering degree at Bremen City University of Applied Sciences, working on a specialization in infrastructure, and is looking for a topic for the bachelor's thesis that he will write in the future. When the student hasn't got any lectures and doesn't need to work, he volunteers for the Red Cross. Tareq spends around 12 hours each week volunteering.
"Volunteering has opened many doors for me. I have met people who immediately accepted me as part of society and were always welcoming." Especially voluntary work can do a great deal in terms of social participation.
"Every One of Us Can Fill a Gap in Society"
The funny and helpful student is very grateful for the successful new start in Bremen. He does, however, know that personal dedication is always important: "If you want to integrate yourself into society then you must get going and not wait for someone to knock at your door." Voluntary work is an important contribution to the community for him: "Every one of us can fill a gap in society. I would like to pass on this attitude to other people with my work."
OPEN CAMPUS Enriched with Intercultural Ideas
Even if the intercultural obstacles for the HERE AHEAD program participants may seem big at first, it's worth taking the step. This becomes clear in projects, for example during the preparation of the OPEN CAMPUS event at the University of Bremen, which takes place every two years. Students who support HERE AHEAD were happy to help organize the open day and the result was a colorful mix of intercultural activities. For example, the volunteers explained the Arabic characters and typical features of Arabic architecture to OPEN CAMPUS visitors.
"Volunteer Work Improves Language Skills"
"The acquisition of language skills is one of HERE AHEAD's main goals," says Dr. Christina von Behr, Managing Director of the HERE AHEAD Academy. "And we've seen that those who do volunteer work were noticed as being generally more linguistically agile." That is why the academy passes on the significance of volunteer work to Preparatory Studies Program, as Albatoul and Tareq once were, for their further life path. In the "Safari" mentoring program, graduates share their experiences in the voluntary projects. In the "Flüchtling für Flüchting" ("Refugee for Refugee") program, HERE AHEAD graduates support refugees when they arrive in Germany. They provide them with helpful information about authorities and show them other points of contact in the city.
Voluntary Work Recognized as General Studies
"One particular advantage that voluntary work has for a degree is that it can be recognized and count towards General Studies," says von Behr. As a former study advisor within the Faculty of Cultural Studies, she recommends this. "Additionally, the social contacts that are found are often key in entering the job market."
More Information:
Website www.aheadbremen.de/en