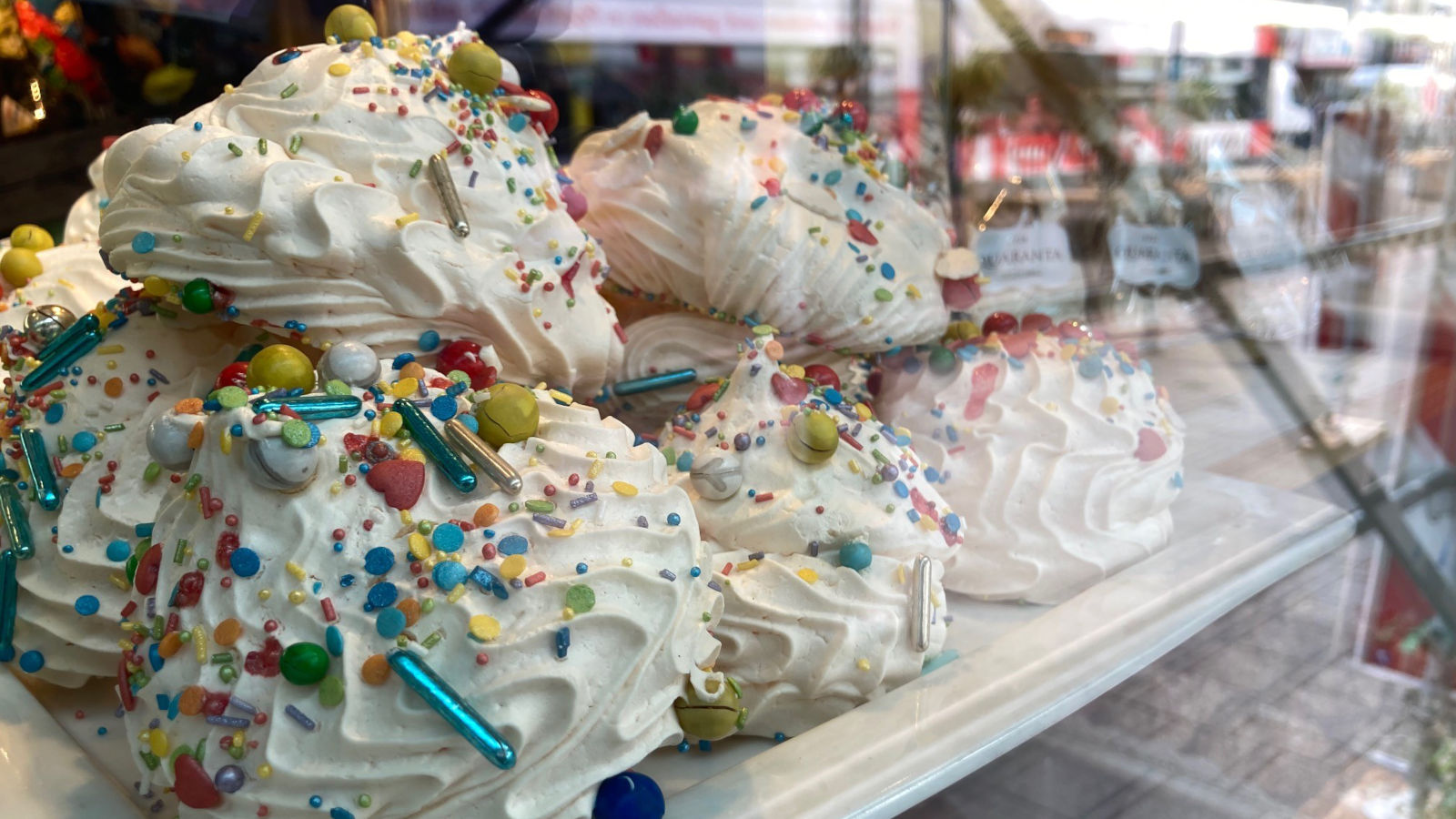 Hungry? Where to Shop for Groceries in Bremen
Need to stock up your fridge? This up2date. article provides a brief overview of the various shopping options in Bremen.
It's your first time living alone, and you want to cook your own meals. So where can you get all the ingredients you need to whip up your favorite dishes? When it comes to food shopping options, Bremen has something to offer for everyone.
Weekly Markets and Farm Stores
Bremen's weekly markets feature fresh fruit and vegetables, cheese and dairy products, meat and fish, flowers and plants, as well as many other products. The city's largest weekly market takes place every morning from Monday to Saturday at the Domshof. Other districts in Bremen host smaller weekly markets, such as the Findorffmarkt, on different days of the week. The University of Bremen also has a small weekly market in the Central Campus Building in front of the Glass Hall on Tuesdays and Thursdays. You can buy food directly from producers at small farm stores, where the products haven't had to travel far. For example, there are farm stores in Blockland, which can be easily reached by bike from the university. Here's a little tip: Take some change with you. Some farm stores have vending machines that dispense goods or feature a stand with a cash box into which you can put the money.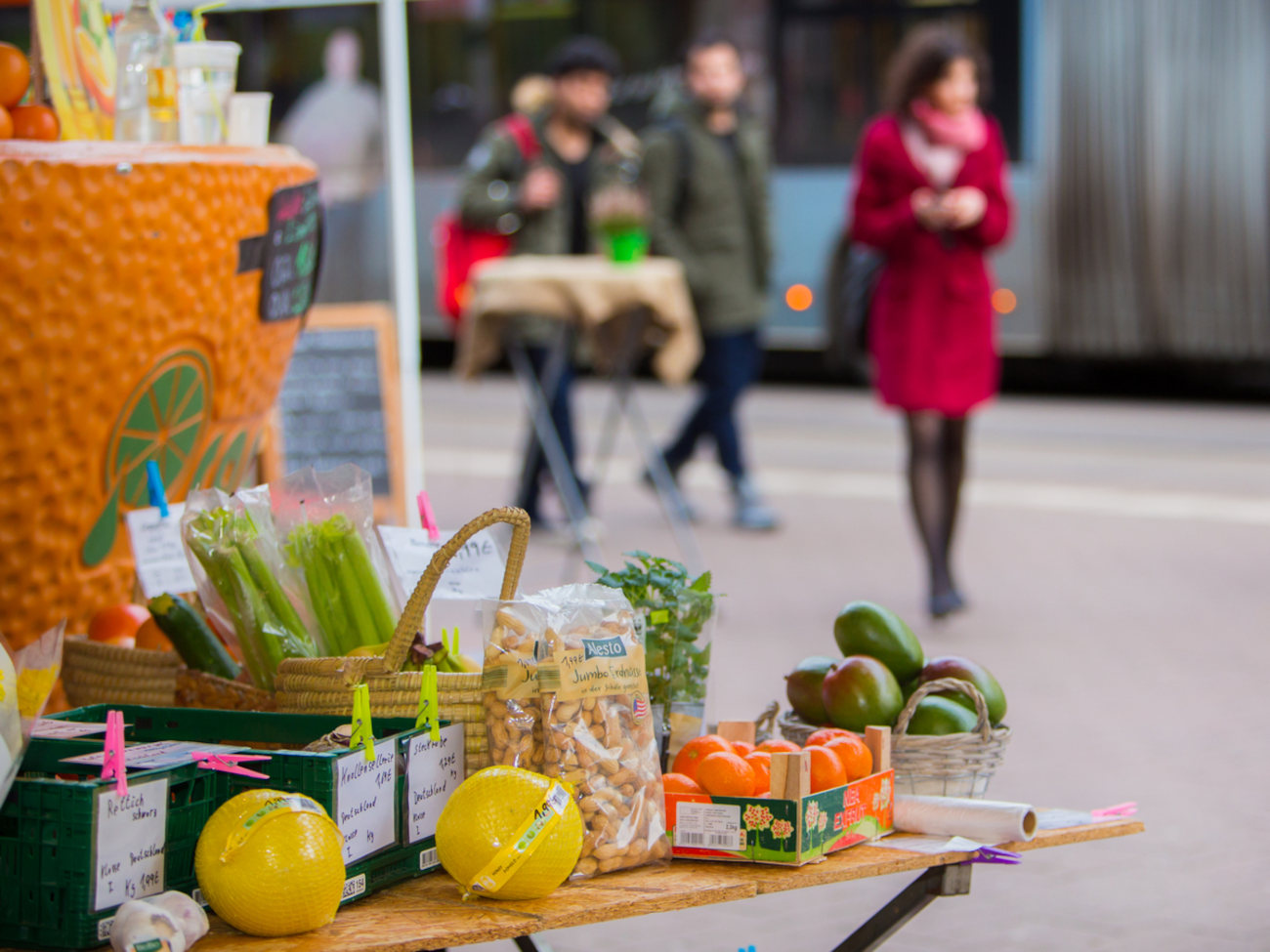 Save Food
Do you want to eat healthily and do something to combat food waste? Then you may want to consider using vegetable boxes. Every one to two weeks, you can have "rescued" fruit and vegetables delivered to your home via a special service; these fruit and vegetables haven't made the grade at supermarkets due to being misshapen. Food rescue apps are another great way to save some money and prevent food from being thrown away. These apps show you where there is leftover food at restaurants, supermarkets, or bakeries at the end of the day. You can then purchase these items via the app at low cost. It's usually a surprise what's inside your bag, but why not try something new?
"Unpackaged" Stores
In the Steintor, Findorff and Neustadt districts, you will find unpackaged or zero-waste stores. Here you can buy loose groceries and put them into the containers or bags you have brought with you to the store. Even products such as pasta, rice, muesli, flour, soaps, and cosmetics can be purchased without packaging, thus helping to prevent plastic waste. If you have forgotten your containers or bags, you can also buy jars or paper bags inside the store so you can take your shopping home.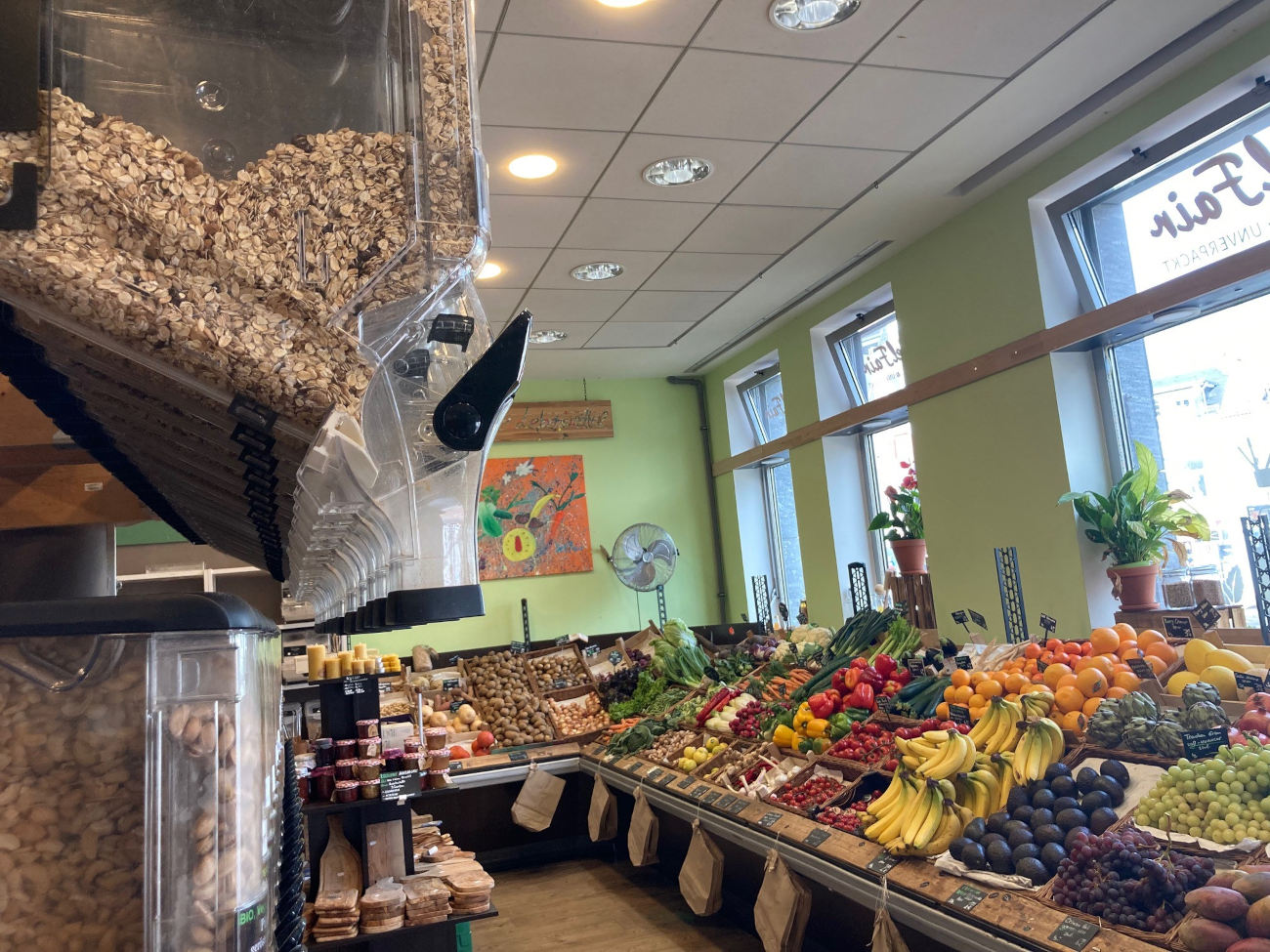 Harvest Your Own Food
Get your fresh fruit and local vegetables straight from the field in the summer and fall. Some farms in Bremen and the surrounding area welcome people to participate in the harvest. For example, you can pick your own strawberries or blueberries, meaning you get better value and fresher produce than what you find at the supermarket. Beyond harvesting in the fields at farms, you can also pick fruit in public spaces for free. Apples, berries, nuts, sea buckthorn, and wild herbs grow in many of the city's public squares. Apps show you what's in season and where you can harvest and forage for food. When harvesting and foraging, please ensure that you do not enter private property and that you treat the plants and your surroundings with respect. You can also pick apples and hazelnuts around the University of Bremen in the fall, for example. Why not incorporate a quick forage into your next walk with friends and bake some cakes together afterwards?
International Grocery Stores
In Bremen, there are many places where you can find the ingredients for rustling up a whole host of dishes from around the globe. Markets selling goods from Asia can be found throughout most of the city, such as in the historic center, Steintor, or Horn-Lehe. In addition to typical Asian spices and foods, these markets usually sell ingredients for dishes from all over the world. If you're looking for Indian or African spices in particular, you'll find plenty of smaller stores on Falkenstrasse or in the outskirts of the Neustadt. Turkish and Arabic grocery stores are also very common in Bremen and can be found in the Steintor, Gröpelingen, Neustadt and Woltmershausen districts. Are you missing your pierogi or borscht? Then go check out the city's Eastern European supermarkets, which are commonplace in the Vahr, Tenever, Blockdiek and Arsten districts. You can pick up Italian specialties near the airport and by the Steintor on Humboldtstrasse, while places selling Spanish delicacies can be found in front of the Steintor or Am Wall in the historic center. Some of the large supermarket chains also have sections featuring foods from different regions around the world.
Gourmet Stores
Gourmet food lovers will get their money's worth at the supermarkets found in major department store chains on Obernstrasse or at the large delicatessen supermarket by the Horn bus stop. If you prefer smaller places that provide a personal touch, check out the delicatessen stores selling a wide range of special products on Pieperstrasse or Böttcherstrasse in the historic center, on Ostertorsteinweg and Vor dem Steintor in the Viertel, on Hemmstrasse in Finndorff, on Wachmannstrasse in Schwachhausen, or on Pappelstrasse in the Neustadt. Here you will find coffee and tea, confectionery and candy, oils and vinegars, pickles and pastries, as well as all kinds of delicacies and ingredients for extraordinary dishes. During the festive season, you can also buy special delicacies and spices at the Christmas markets.
Discount Stores and Supermarkets
Every district of Bremen features the most popular discount stores and supermarkets. All these stores offer higher-priced branded products as well as own-brand items at a lower price. The larger supermarket chains also have a relatively wide selection of ready-to-eat vegan goods as well as regional products from farms in Bremen and the surrounding area. In many discount stores and supermarkets, it is also possible to buy products that are about to expire at a reduced price. There is usually a special section for reduced items in the store. All major supermarket chains sell organic goods, but a larger selection of certified organic foods is available at special organic supermarkets.
Further information
For more information on where to find all the above, check out the links below. While by no means exhaustive, the links are good starting point for grocery shopping ideas and finding food in Bremen (all links are in German).
Weekly markets in Bremen: overview with map and info
Apps to combat food waste (bundesregierung.de)
Picking your own fruit in Bremen and the surrounding area
International food stores in Bremen