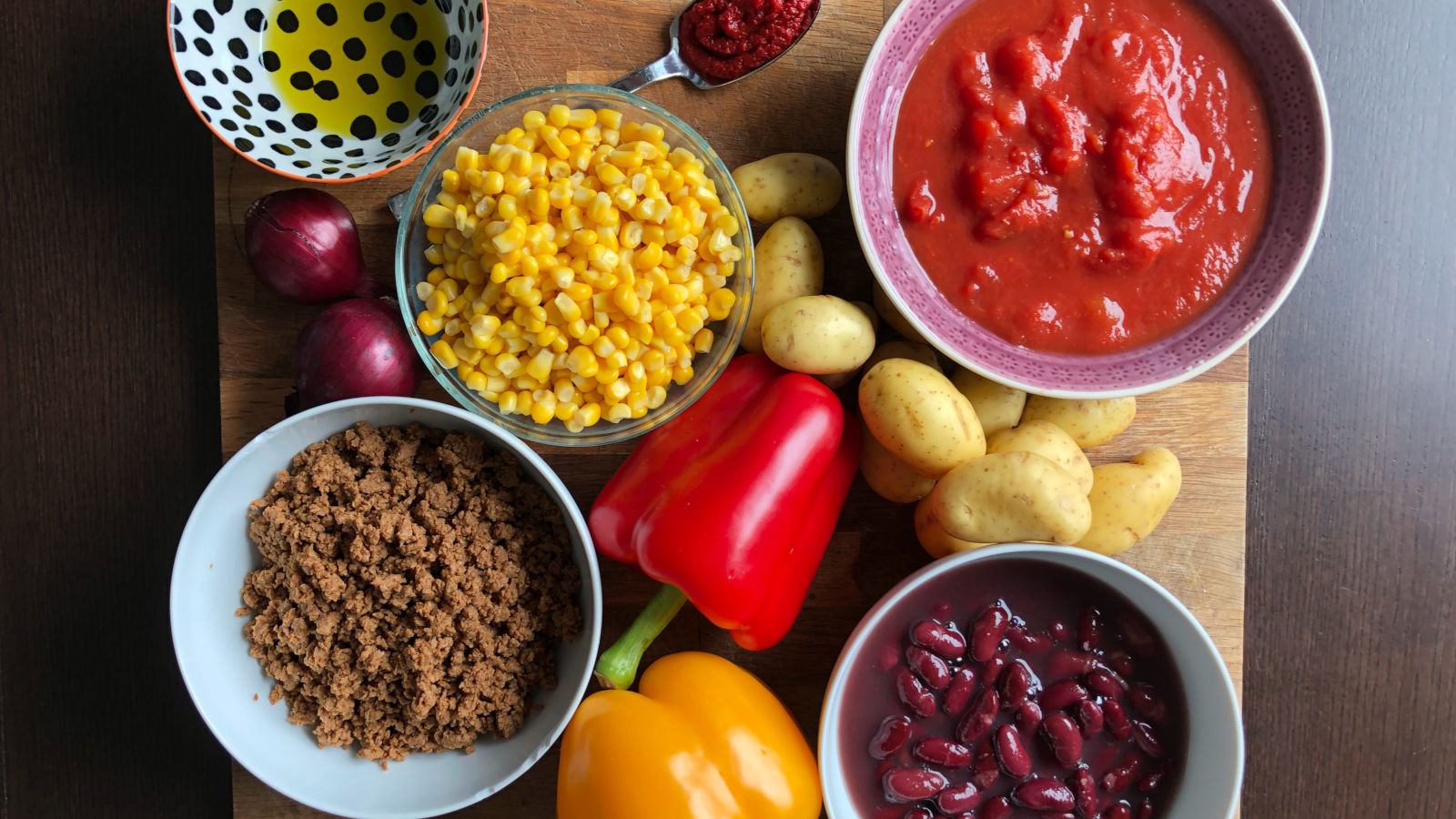 Mensa at Home: Try this Recipe
Part 7: You fancy a Mensa meal? We're going to show you how to cook one of the Student Services Organization's vegan winter dishes!
How about a warming chili sin carne for the last winter days? We tried this vegan variation for you.
The chili sin carne recipe:
Ingredients for four portions:
2 tbsp oil
2 onions
250 g vegan minced meat / soy minced meat
2 tbsp tomato paste
200 g dried kidney beans (or a 400 g tin)
1 liter water
400 g potatoes
1 red pepper
1 yellow pepper
1 tin of sweetcorn
1 tin of chopped tomatoes
Salt
Pepper
Chili powder
Paprika powder
Sugar
Cumin
To serve (optional):
(Vegan) crème fraiche
Parsley / coriander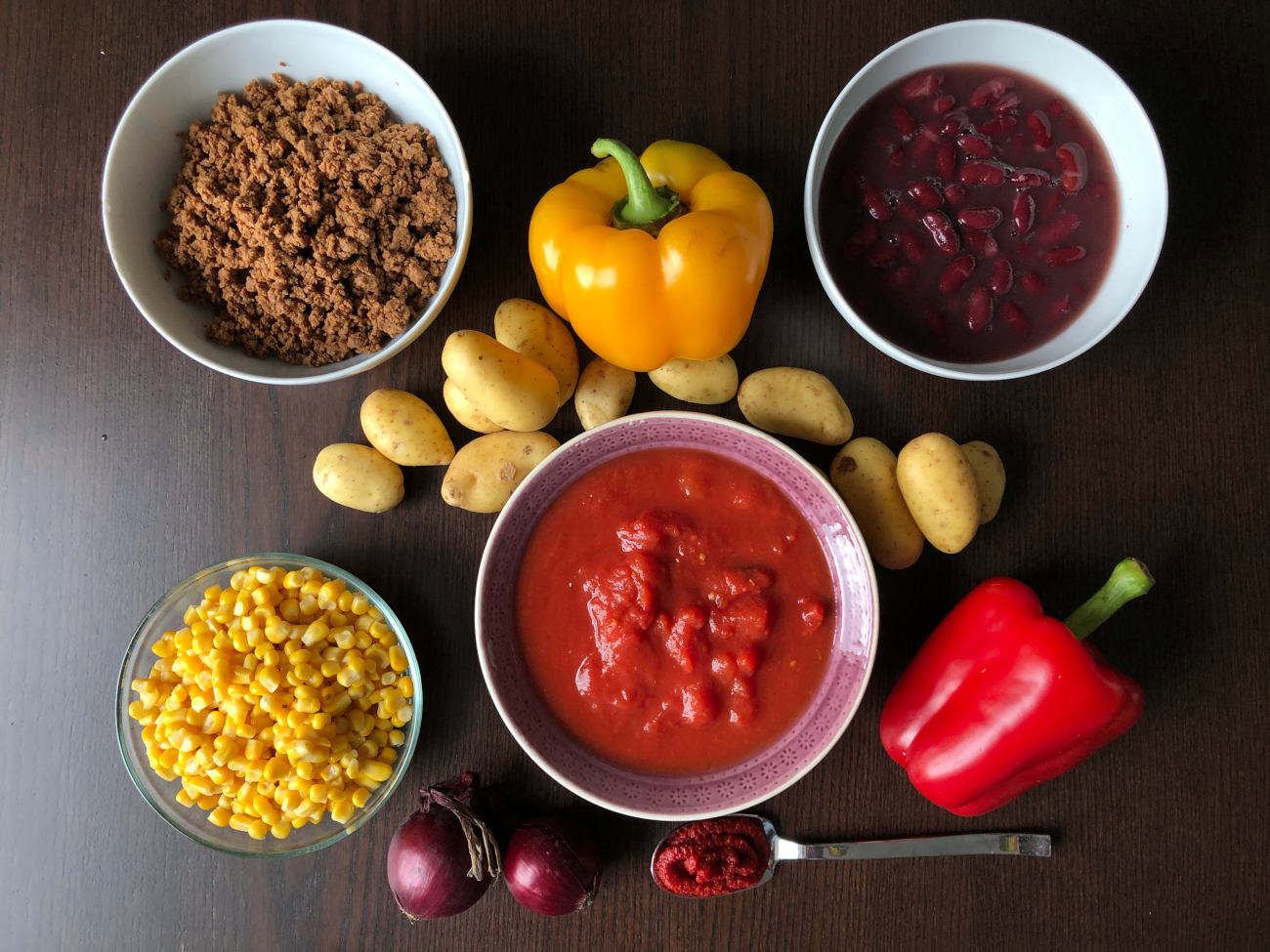 And this is how it's done:
Firstly, the beans need to be prepared. They need to be soaked in water one day in advance. Simply add the beans to one liter of water and let them stand overnight. Alternatively, you can use tinned kidney beans. If you decide to do this, use double the amount and add extra water later when cooking.
And before the real cooking starts, all fresh ingredients need to be prepared. Peel the potatoes and onions and cut them into cubes. Wash the peppers and also cube them. Drain the liquid from the sweetcorn and wash it in a sieve.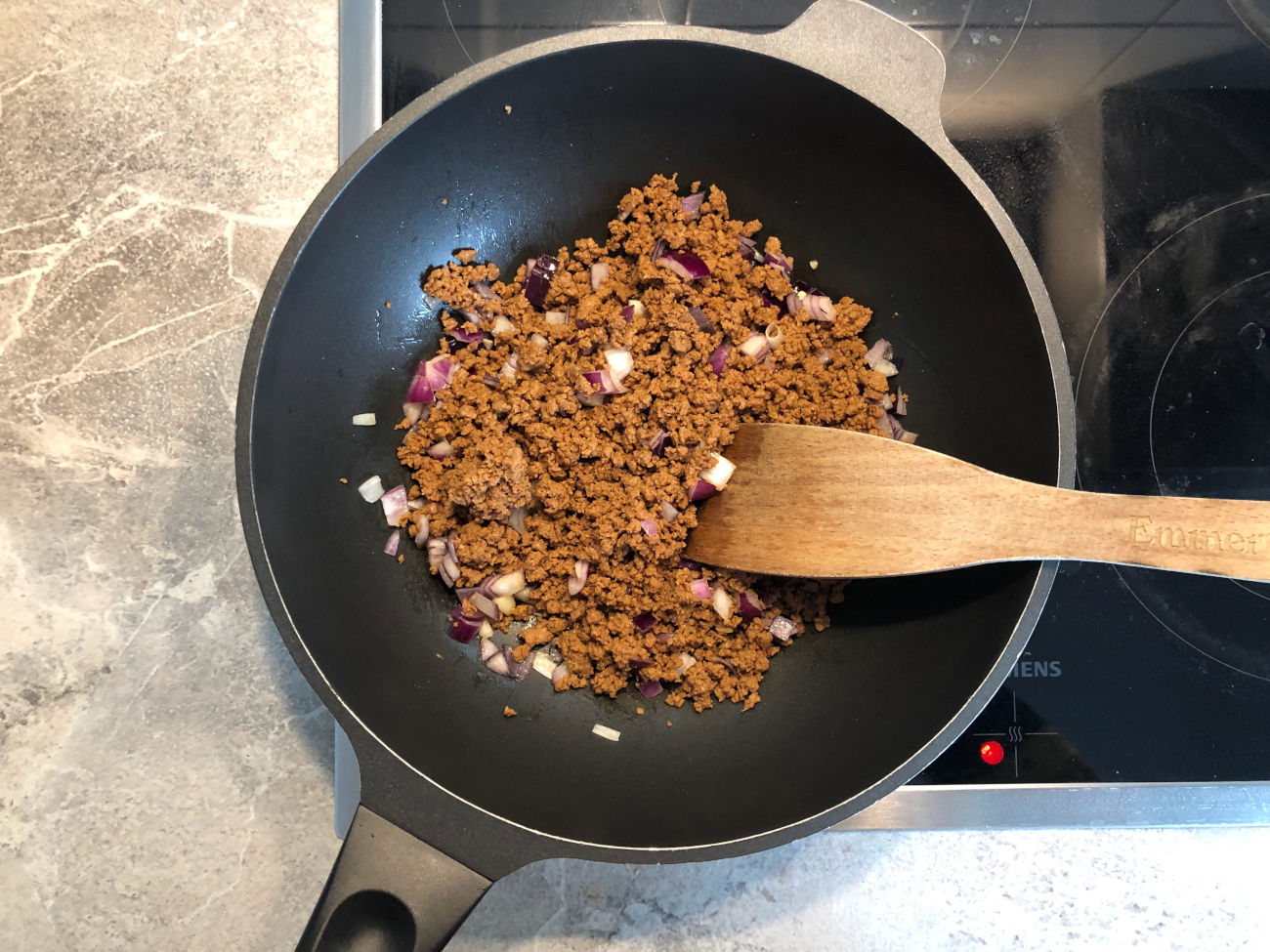 The next step is to add the oil to your already heated pan and sauté the onions. Add the minced meat and brown it together with the onions. Add the tomato paste and a little of the paprika powder. Now just add the beans and the water that they were soaking in. Allow everything to simmer for around 5 minutes.
Afterwards, add the cubed potatoes to the pan. Make sure that there is enough liquid to cover them and let the whole pan simmer for another ten minutes.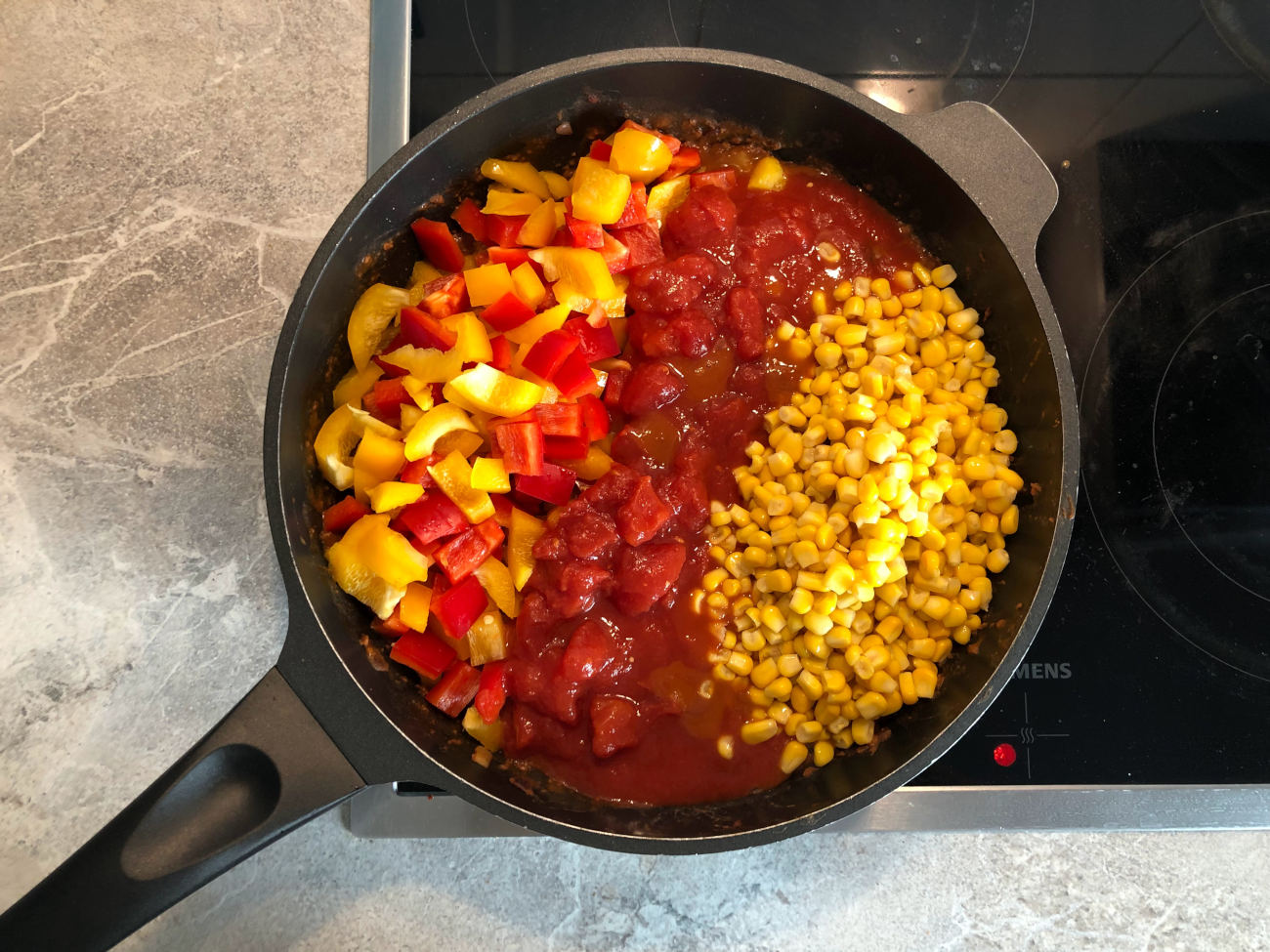 Nearly finished! Now you can add the chopped tomatoes, peppers, and sweetcorn and wait until everything is cooked through. Finally, add salt, pepper, paprika powder, chili powder, cumin, and sugar to taste.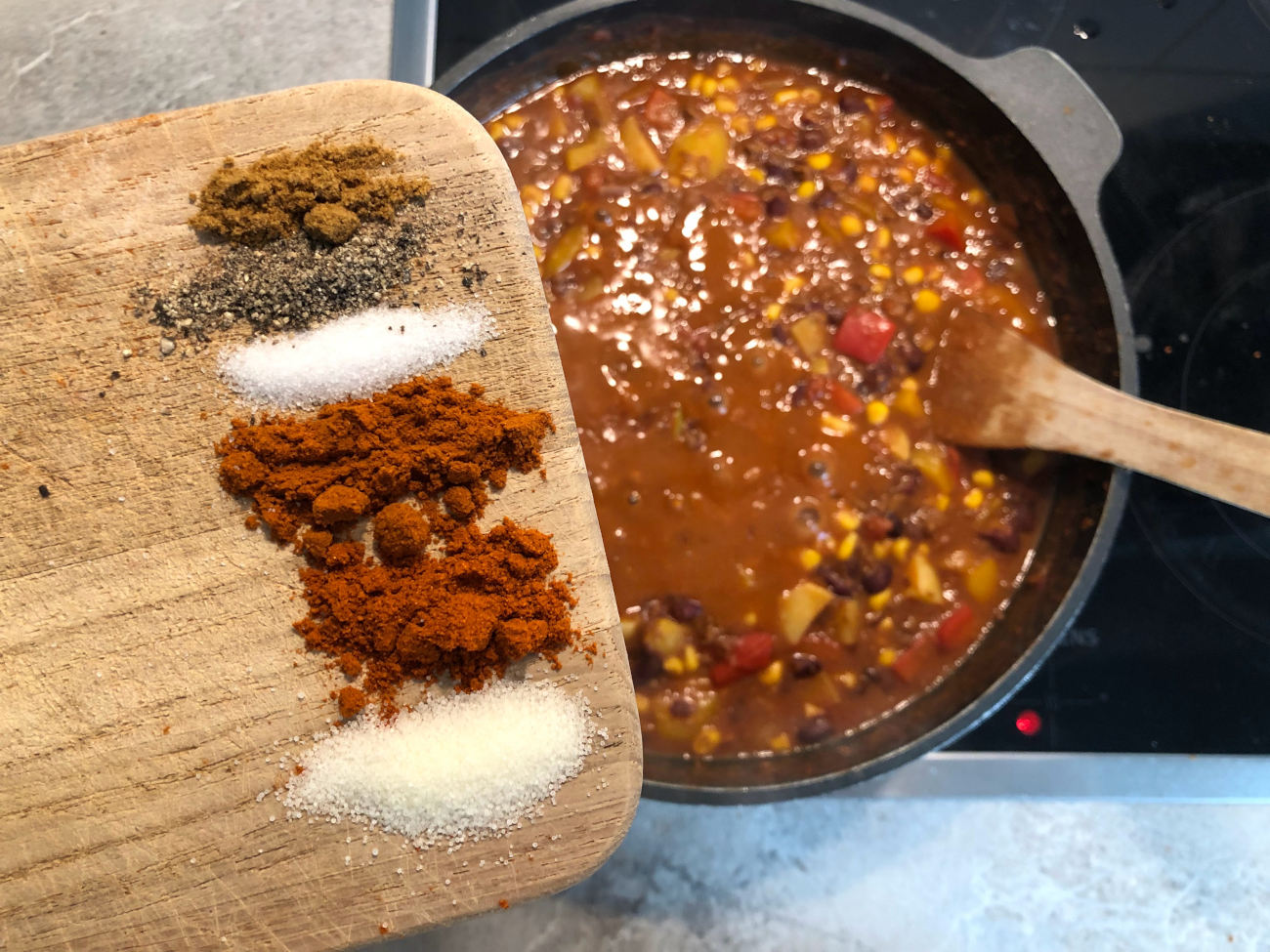 Time to dig in! We served the chili with a little vegan crème fraiche and parsley. You could also combine it with rice or bread.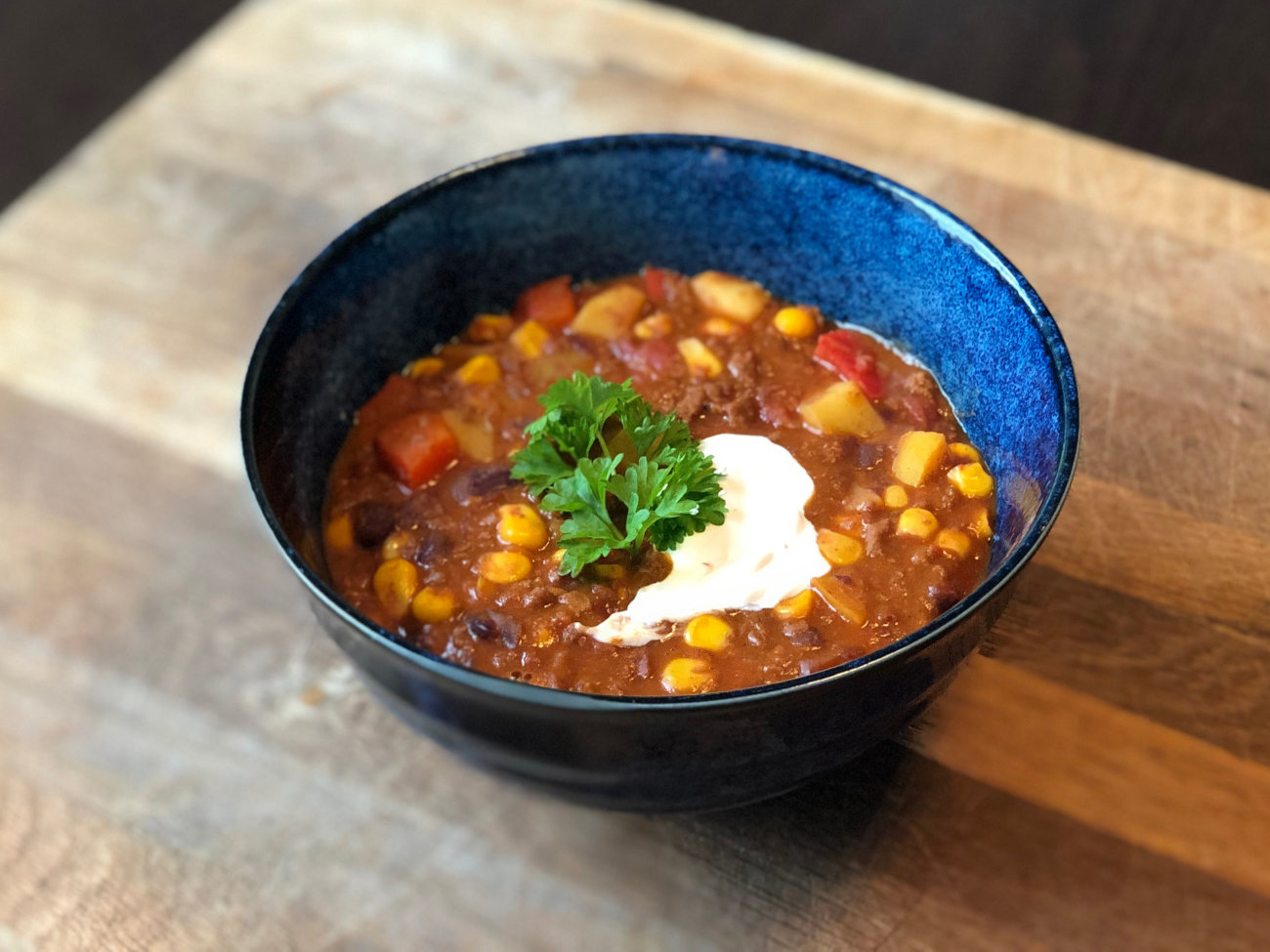 Bon Appetit!