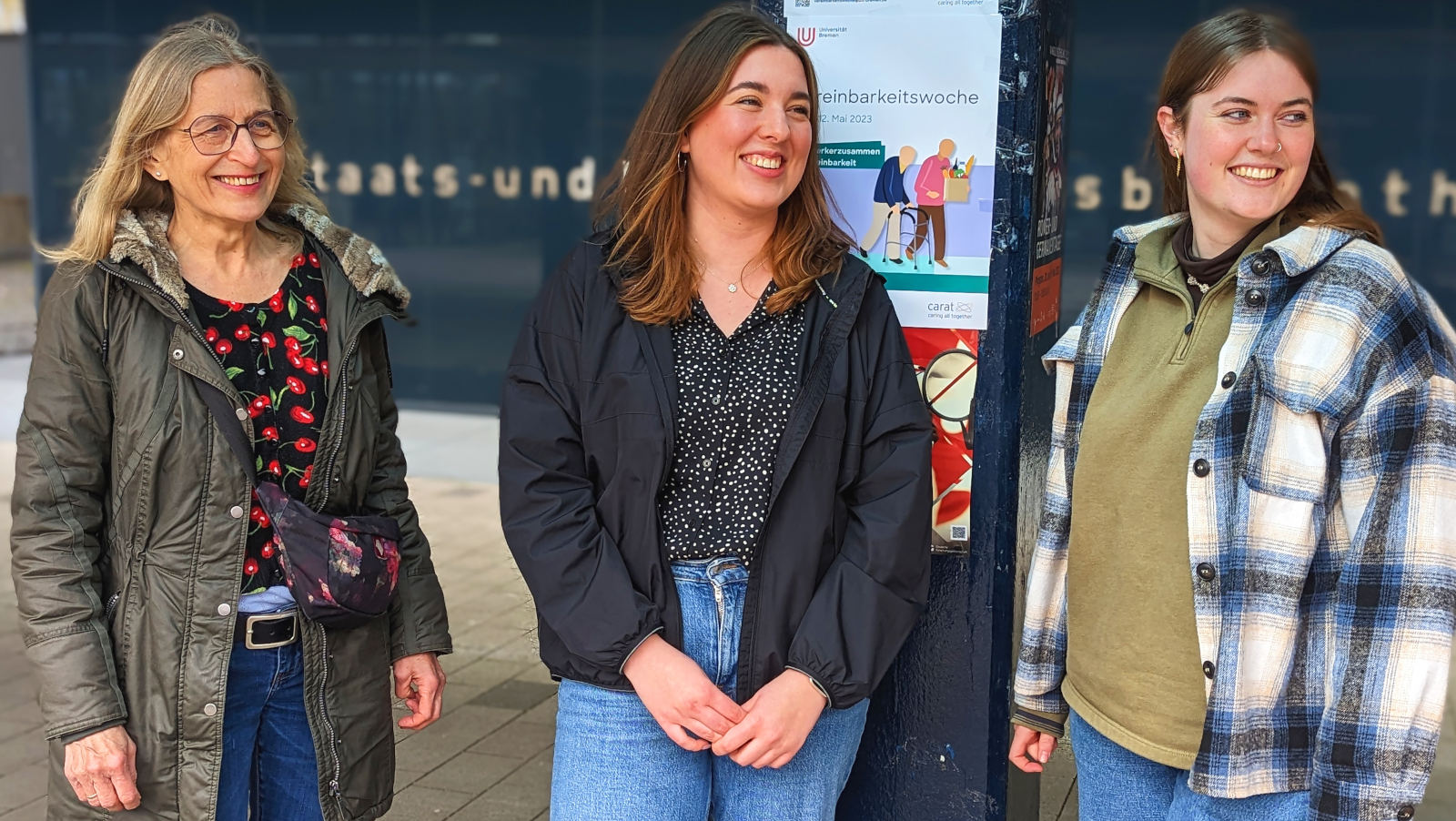 Reconciling University and Family Life – Is It Possible?
The Study Work Life Week will show you how this can work. This year, the week of events will take place from May 8 to 12, 2023 for the fourth time.
The Study Work Life Week is an annual week of events that addresses issues that come up throughout life which need to be reconciled with work, study, and everyday life. The Equal Opportunities Office, with the support of the "carat – caring all together" project, organizes the Study Work Life Week. Bettina Schweizer, Melina Brandt and Henrike Lichtenberg told up2date. what they hope to achieve with this week of events.
What does Study Work Life Week stand for? The week looks beyond the classic work-life balance topics at all aspects of life. This also includes challenging periods or invisible obstacles in everyday life, such as increased stress due to sudden illness or the closure of a childcare center. The speakers talk about discrimination at university, in everyday life, or at work and show us how a truly inclusive society can look like. "The aim of the Study Work Life Week is to inform, engage in discussion, and to overcome taboos," explains Bettina Schweizer, deputy head of the Equal Opportunities Office. At the same time, the events offer an opportunity for exchange and networking. The motto is "You are not alone!"
Who Is the Study Work Life Week Aimed At?
"The week is primarily aimed at members of the University of Bremen. Students, teaching staff, researchers, and administrative staff are all invited to attend. People from outside the university can participate as well," says Melina Brandt, student assistant at the Equal Opportunities Office. The talks on offer are approximately 50 minutes long and most of them take place digitally. University employees may attend up to two events during working hours, if the internal workflow allows for this.
The program will be available on the website of the University of Bremen. There, you can also find out which workshops exactly are on offer. Topics range from "Time and Self-Management" to "Relaxation Techniques in Everyday Life" and "Inclusion in the Working World." Bettina Schweizer says about her experiences over the past few years: "So far, participants have consistently reported that the Study Work Life Week has introduced them to new topics that are now a permanent part of their everyday lives." "Many participants also enjoy the mutual exchange," reports Henrike Lichtenberg, student assistant at the Equal Opportunities Office.
The 2023 program and registration are available here: https://www.uni-bremen.de/en/familie/study-work-life-week/study-work-life-week-2023