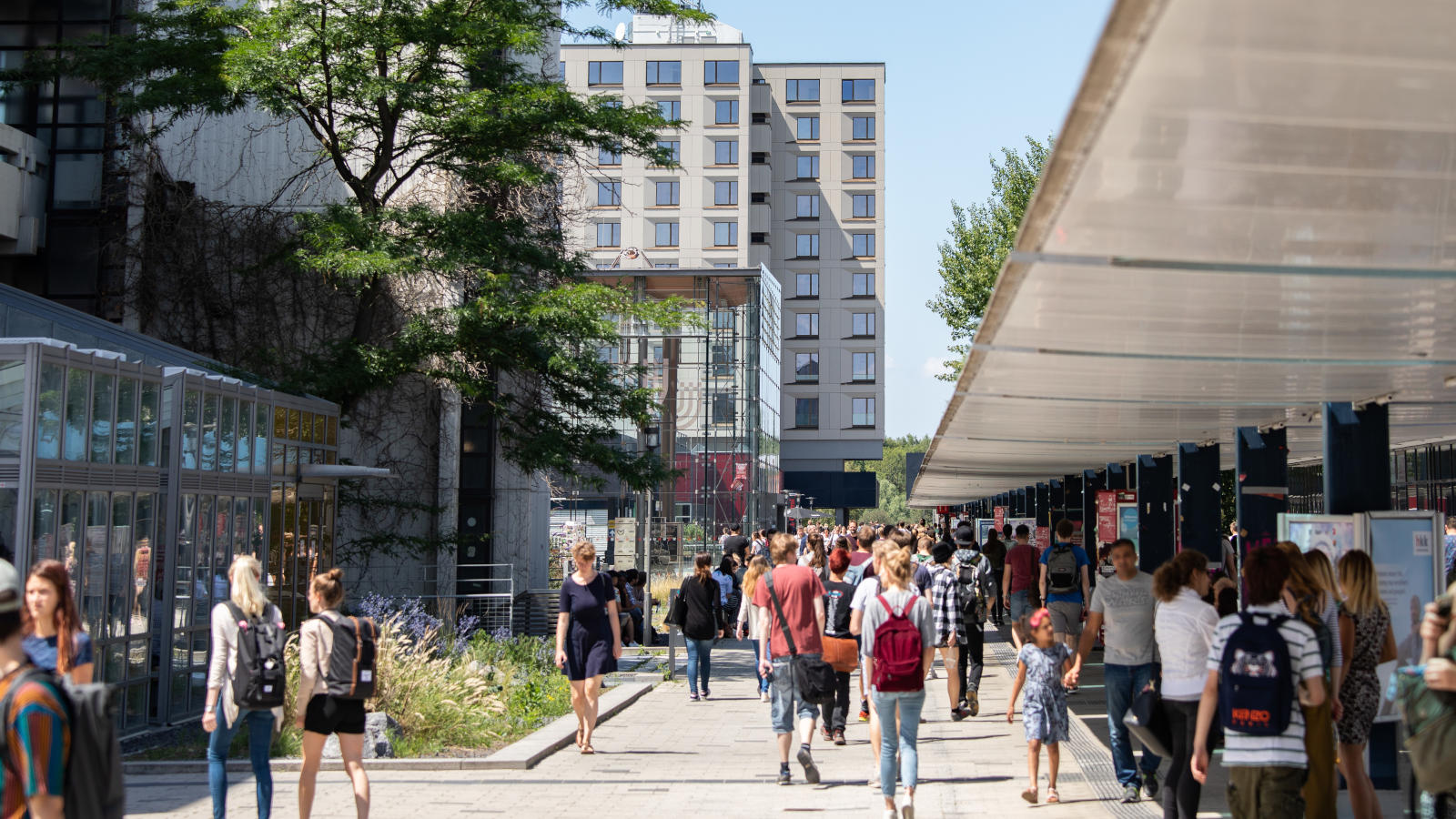 Student Initiatives: Who Does What?
Student Initiatives Enrich the University of Bremen and Enable Student Engagement.
Like the university, student initiatives are diverse offering networking, continuing education, events, and hands-on experience.
Want to make new contacts, gain experience, and get involved beyond lectures and seminars? Then University of Bremen's student initiatives are for you! An overview from up2date.
active e.V.
Who are you?
We are active e.V., the student consultancy from Bremen. Our association currently consists of approximately 62 students from various disciplines at the University and University of Applied Sciences Bremen as well as the University of Applied Sciences Bremerhaven.
What do you do?
active e.V. advises companies in the form of projects in various areas. But the focus is also on internal work in order to constantly develop the association further.
What can I expect?
Advanced training courses and workshops allow you to learn and train both hard and soft skills that are indispensable for the working world. In addition, project work enables you to build up a wealth of experience in disciplines such as self- and time management, controlling, presenting, teamwork – and you also have the opportunity to put into practice the theory you have learned from your studies. For us, reflection and learning by doing play a major role as well. That's why self-reflection of one's own work in the form of lessons learned are also included.
What do I get out of it?
active e. V. enables you to gain practical experience during your studies, which is enormously advantageous for when you start your career later. You also have the opportunity to gain valuable insights into companies and thus potential employers through workshops, projects, and working with other members as equals. In addition, you can take on leadership positions in project teams or within the association, if you choose. You will also meet many new people through internal association work and social events, allowing you to expand your social contacts.
AIESEC
Who are you?
AIESEC is the world's largest youth-led organization, and we are dedicated to providing young people with effective intercultural exchange experiences. In Germany, we work at more than 35 universities and have 1,000 volunteer student members who support us in this endeavor.
What do you do?
At AIESEC, we volunteer our time to work towards our mission of creating more intercultural understanding around the world and we are not interested in your money. As the world's largest youth-led organization, we know what it takes to create unforgettable projects abroad. We offer the opportunity to meet, live, and work with other students from different cultural backgrounds.
What can I expect?
Exchange and leadership development: AIESEC organizes and arranges international internships for young people. We specifically motivate students to take on responsibility and leadership positions. Accompanying seminars and conferences are designed to help students benefit from their leadership experience and exchange ideas with each other. You can also expect practical tasks in various areas such as sales, marketing, finance, and human resources as well as regular participation in (online) meetings and conferences.
What do I get out of it?
Simply put, a good time with many new experiences and friendships!
bonding
Who are you?
We are bonding, a colorful team of students from a wide variety of fields of study and with a large network across Germany.
What do you do?
We want to establish contact between companies and students at an early stage and, to this end, we organize free events including excursions, workshops, and company contact fairs for all students. During their studies, students should already have the opportunity to gain insights into possible professional areas and their later working life. That's why we want our events, our podcast, and our digital job platform to be the bridge that makes students' path to their professional life easier.
What can I expect?
We have weekly plenum meetings where we plan and develop projects together. As a member, you can try out and explore different areas such as project management, marketing, finance, or IT. Through internal training courses, you can constantly improve your skills and, in combination with our projects, you are able to gain valuable hard and soft skills. In addition, you can expect a nationwide network with the members of our other locations, our alumni, and companies. This will not only ensure a lively exchange, but also useful contacts. We combine all this with a lot of fun and our usual "bonding spirit" so that new friendships will quickly be formed.
What do I get out of it?
With us, you can already gain important practical experience during your studies, such as applied project and time management, teamwork, leadership experience, moderation, and controlling. Directly apply the theory you have learned from your studies and put it into practice in a relaxed environment where you can try things out. Grow from new tasks and experiences, get a first job reference, network with other people, and make lots of new friends.
Bremergy e.V.
Who are you?
We are Bremergy e.V. We compete with a self-built electrically powered race car against teams from other universities at both national and international events. We are a motivated team of students who find race cars fascinating and who would like to bring some practical experience into everyday student life, which can often be overly theoretical.
What do you do?
Together, we design, engineer, manufacture, and assemble an electric-powered race car every year. Not only does it have to deliver a great lap time at the events, but it also has to score points in various other tests such as the rain or tilt test.
What can I expect?
You can expect exciting team events in Germany and Europe, a dedicated team of students from a wide range of disciplines, and countless exciting topics related to our car and our organization.
What do I get out of it?
Working on a real race car is not only exciting, but also brings new experiences – from CAD to flow simulations and the creation of a business plan, everything is involved. You can also write papers and theses with us and make useful contacts in industry.
btS – Life Sciences
Studierendeninitiative

e.V.
Who are you?
We are btS – Life Sciences Studierendeninitiative e.V. We have more than 1,000 volunteer members nationwide and are active in 27 different offices across Germany.
What do you do?
We bring together students and doctoral candidates from all areas of the life sciences – and we want to think a step ahead while we are still studying. As an interface between students, universities, research institutes, and industrial companies, our goal is to build stronger links between these communities of interest in the life sciences.
What can I expect?
You can expect a lot of motivated and friendly people who are happy about every new face and who are also interested in the same or related fields of study. You can organize events together, make local and national contacts, and organize interesting events for you and your fellow students.
What do I get out of it?
Many new contacts, not only privately but also professionally, which could make it easier for you to start your career later. You can also look at what else is available after graduation, in academia, as well as industry. And, of course, you can learn and try out many things that aren't necessarily taught to you in your courses.
Erasmus Initiative Bremen

(EIB)
Who are you?
We are a nonprofit association of students and graduates in Bremen, most of whom are former Erasmus students themselves. Our goal is to promote cultural exchange and establish contact between students.
What do you do?
The EIB would like to introduce the city of Bremen, but also life in Germany in general, to the approximately 200 international students who are at the University as well as the Hochschule Bremen for their semester abroad. For this purpose, our volunteers organize around 20 events per semester in the city of Bremen and the surrounding area. These can be day and weekend trips, cultural events, and/or social events. We also coach our own Erasmus soccer team at the University of Bremen. In addition, we provide information and support to Bremen students seeking information about semesters/internships abroad and encourage local students to broaden their horizons through international university experiences.
What can I expect?
You will meet many different new people, cultures, and languages during fun events. You can also expect an open-minded and friendly team of EIB volunteers.
What do I get out of it?
You will learn how the numerous events are planned and executed. You are welcome to actively participate as well. You can also expand your contacts from around the world as well as your language skills and experience.
ROCK YOUR LIFE! Bremen
Who are you?
We are ROCK YOUR LIFE! Bremen – a nonprofit association of students from Bremen advocating for more educational justice.
What do you do?
With our one-to-one mentoring program between students and high-school students (i.e. 9th- and 10th- grade students in Bremen), we want to accompany socially disadvantaged young people on their way to a professional career or to secondary school. In this way, we are committed to creating more equal opportunities for young people so that everyone can develop their full potential, regardless of their social background. During our year-long mentoring program, mentor-mentee pairs meet together regularly to talk about school, job applications, hobbies, or other topics that are on students' minds. In addition, we regularly plan group events for all mentor-mentee pairs from the association and organize three seminar weekends to provide our mentors and mentees with optimal support.
What can I expect?
To make our mentoring program possible, we are always looking for individuals to support our team and to help organize and plan everything in the background. We have a wide range of tasks – from fundraising and marketing to supporting students and organizing events. Once a year, we also launch our mentoring program, where you can join us as a mentor for a Bremen high-school student!
What do I get out of it?
With us, you can get involved according to your interests and strengths, gain valuable experience for your later (professional) life, and do something good at the same time! Everyone can make a contribution to a fairer future.
More about ROCK YOUR LIFE! Bremen
UNICEF
Hochschulgruppe Bremen
Who are you?
We are the UNICEF Hochschulgruppe Bremen, a subgroup of UNICEF Germany. UNICEF is the United Nations Children's Fund.
What do you do?
We are committed to improving the lives of children around the world. Far too many suffer from hunger, have no access to water and education, or live in crisis areas. We draw attention to these problems and raise funds to support UNICEF locally. Instead of "just" walking around with a donation can, however, we focus on campaigns that create awareness and are also fun.
What can I expect?
Our motto is "Nothing is a must, everything is voluntary". There are many ways to get involved with us – from social media, planning and carrying out campaigns to workshops providing information and exchange, either online or at different locations in Germany. Networking is very important to us both locally and regionally – recently we have also started to establish contacts on an international level.
What do I get out of it?
First of all, of course, we benefit from your time and energy and would be happy if you could support us! But back to the question – you can be fully flexible with us. If you don't have much time, you can simply sign up for individual things that you feel like doing or take a break for a few weeks. You are free to do whatever you choose with us. And, of course, we are all extremely friendly, so you can only win with us!
More about UNICEF Hochschulgruppe Bremen
VWI / ESTIEM
Who are you?
More than 6,000 members. More than 20 regional groups. More than 40 university groups. We are the Verband Deutscher Wirtschaftsingenieure (VWI).
What do you do?
We provide opportunities for networking among industrial engineers. This is not only helpful during one's studies, but also creates valuable industry contacts. We conduct local workshops and training courses with companies or with our trainers and teach what can't necessarily be learned at university.
What can I expect?
The partner association European Students of Industrial Engineering and Management (ESTIEM) enables access to a European network of industrial engineers.
What do I get out of it?
ESTIEM provides access to multiday events in a European country. Not only do you get to know the country, the people, and the culture from a local's point of view, but you also learn skills that are relevant for industrial engineers.