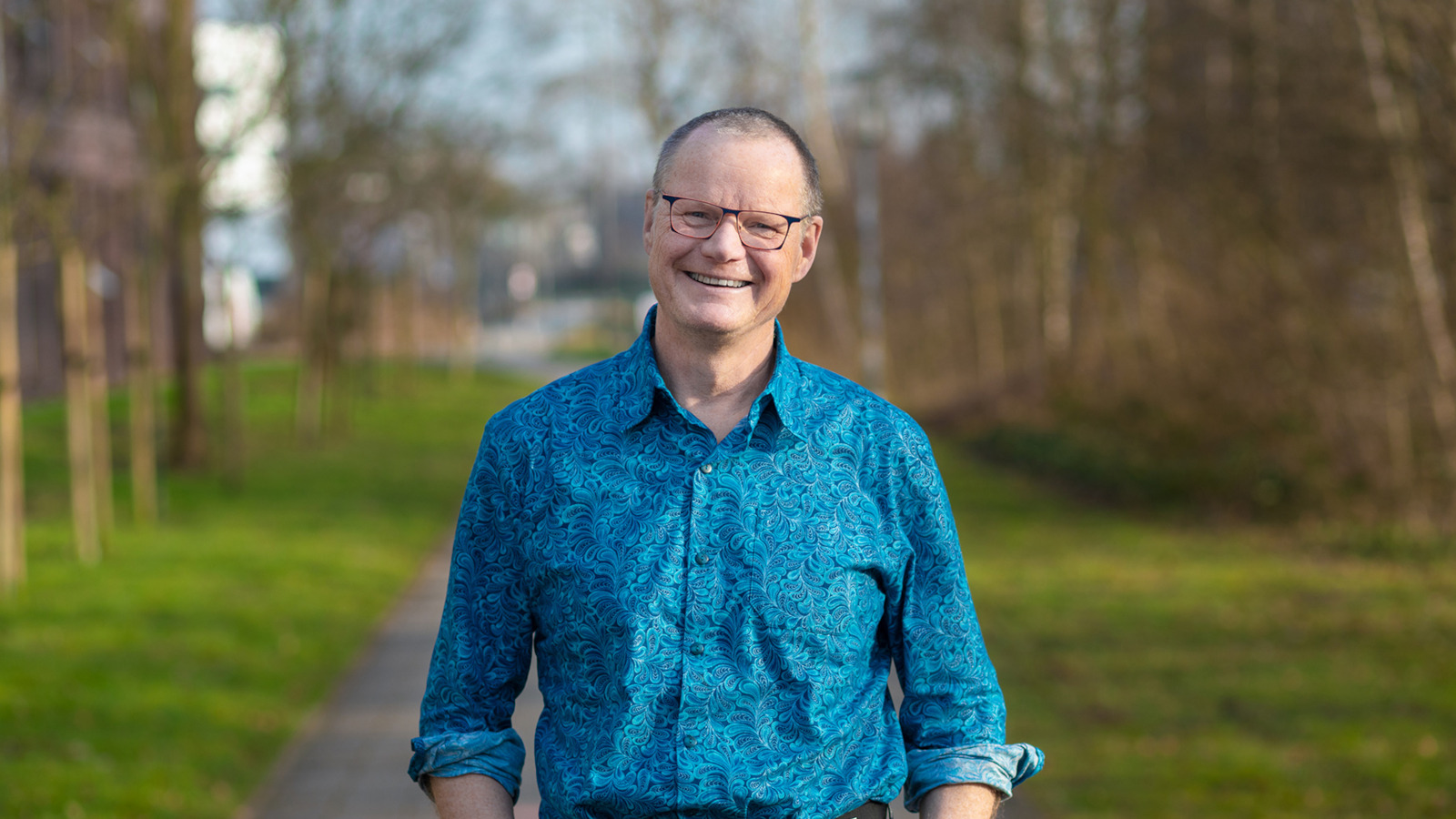 The Student Advisor
Insights into the work of Stephan Determann, head of the Central Student Advisory Service.
Stephan Determann has been working at the Central Student Advisory Service (ZSB) for 24 years. Initially, he still received consulting inquiries by post. Today, as head of the ZSB, he manages offers ranging from the degree database to the information day for prospective students.
The answer to the question whether he wants to be portrayed in the campus stories comes quickly: "Very happy," writes Stephan Determann, adding: "I would prefer a personal meeting to a virtual one." Later, over a cup of tea, he states that he also thinks so when it comes to the Student Advice and Counselling service. "If you sit face-to-face, a conversation can develop very differently. "A simple question about the application deadlines becomes – if those seeking advice are willing to do so – a conversation about what they personally want to study, the demands of parents and friends, about favorite subjects, and existential worries. When the interviewees see a little more clearly in the end, this is also satisfying for Stephan Determann. "Those moments when others say to me: 'That was a good conversation. Now I'm making headway,' are among the best my job has to offer."
Finding out What You Want to Study
He has now been working for the Central Student Advisory Service at the University of Bremen for 24 years, and has headed it for 18. "In my early days, we still received consulting inquiries by post and then sent out information leaflets," he recalls. These are still available, but there is also a wide range of other offers: Stephan Determann designed and built up the degree database, which offers an overview of all the university's subjects – from admission requirements to course content. His team also organizes events such as the information day for prospective students and provides advice by telephone, Zoom, and in person.
According to Stephan Determann, the questions in the consultations have remained similar over the years: Do I even want to study? What are the job prospects for different degree programs? What if my parents do not agree with my wish to study? And how am I supposed to find the right degree course for me? Together with those seeking advice, he tries to find out what their own wishes and interests are, beyond the expectations of others. "This is the most important question that you have to ask yourself – and then you can start to narrow down the courses that are suitable for you."
From Physics Student to Student Advisor
Stephan Determann had a similar feeling when he had to decide on a degree course after graduating from high school in 1981. He had a lot of interests back then, as he does now. He volunteered to help the homeless, but couldn't imagine studying social work. Instead, after his compulsory civil service, he decided to study physics. The subject was an obvious choice because he had already chosen it as an advanced course at school. "But I hadn't thought of what I wanted to do with it for a living."
During his doctorate, he regularly taught. He enjoyed conveying something to others, taking them further along their path. In addition to his scientific work, he completed therapeutic training – something that got his foot in the door for his position at the ZSB. "My career path wasn't always straightforward, and I had to look hard," he says.
Authentic Insights from Study Guides
He also wants to encourage people to engage in uncertain paths and try out the unknown in his Student Advice and Counselling service. "You only know what student life feels like when you've studied," he says. Many other questions can be clarified beforehand, for example, at information events in schools offered by Stephan Determann and his team. There is a lot of talk here about the differences between school and university. Some young people are unaware of the fact that there are not only exams at university, but also oral exams, and that it is often possible to decide for themselves whether they want to take an exam. "For many, studying is a black box, and we want to change that," says Stephan Determann.
This includes the program of the study guides: these are students with different subjects who give prospective students an insight into their everyday lives. At a meeting on campus, prospective students not only have the opportunity to ask personal questions, they often also come to lectures or the Mensa cafeteria. "This way, they get subjective but also very authentic impressions," explains Stephan Determann.
Especially in May and June, when the decision to study is on the horizon for many, he and his team are busy. For relaxation, he likes to row or sail. And in his free time, he is also keen to make sure that people around him feel good. He likes to invite others to his home, cook a delicious meal and put on some music. "And then I'll make the others dance."